60 Top Playgrounds in Sydney for Free Family Fun
60 Top Playgrounds in Sydney for Free Family Fun
Nothing spells FREE family fun like a day at the playground! We've rounded up 60 of the best playgrounds in Sydney to let your little wildlings run amok.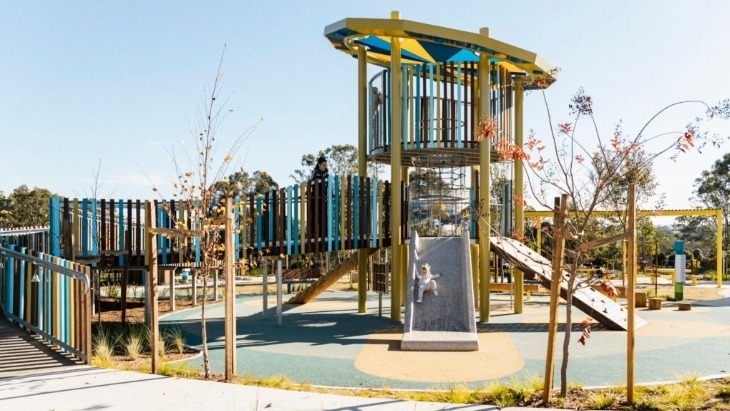 Sydney kids are very fortunate to enjoy so many amazing, sunny days in the land down under (FREE immunity-boosting vitamin D included!). And since we believe that the best play takes place outdoors while taking advantage of the spectacular Australian weather, we've rounded up all of our favourite outdoor playgrounds in Sydney to make the most of our amazing city. How many can you tick off the list?
Playgrounds in the Inner Suburbs
1. Wulaba Park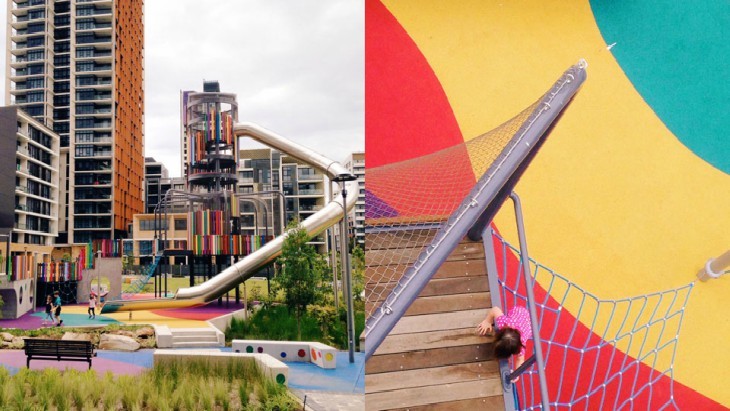 Families just love the Wonka-esque playground that is Wulaba Park.
With one of the most epic super slides you've ever seen (it stands at three-stories high!), colourful climbing towers, multiple observation decks, climbing nets, swings, and a large nearby lawned area with a handball court and two tennis tables, Wulaba Park is one of Sydney's most creative outdoor spaces.
Read our Wulaba Park Review.
Location: Amelia St, Waterloo
2. The Entertainment Quarter at Moore Park
With two outdoor playgrounds catering to kids aged six to 12, EQ in Moore Park is the ideal place for the kids to blow off some energy.
Both parks are fenced off and keep the rays away thanks to shade sails. Plenty of seating is available for parents to take a load off.
Location: 122 Lang Rd, Moore Park
RELATED:
Sydney's Best Playgrounds by the Water
FREE Water Parks in Sydney
3. Darling Quarter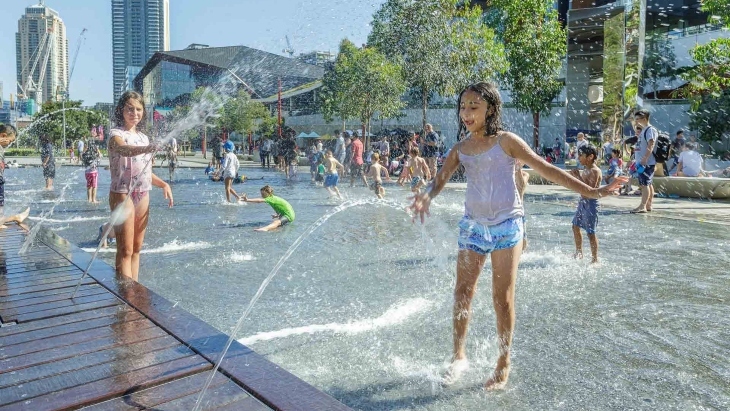 There is a world of play to be had at Darling Harbour!
The playground at Darling Quarter has an eight-metre long big slide, suspended balancing ropes, a 21-metre flying fox, a giant swing that rocks in all directions, an octanet, sand diggers, a supernova, mini slides built onto a hill, swings, climbing webs positioned close to the ground, and HEAPS of water play.
The only question that needs to be asked is, what should children begin with?!
Location: Darling Quarter at Darling Harbour
4. Chelsea Street Playground
This Redfern playspace is small but full of community spirit and was re-designed with help from kids at the local primary school.
Location: 39/43 Chelsea St, Redfern
5. Barangaroo Reserve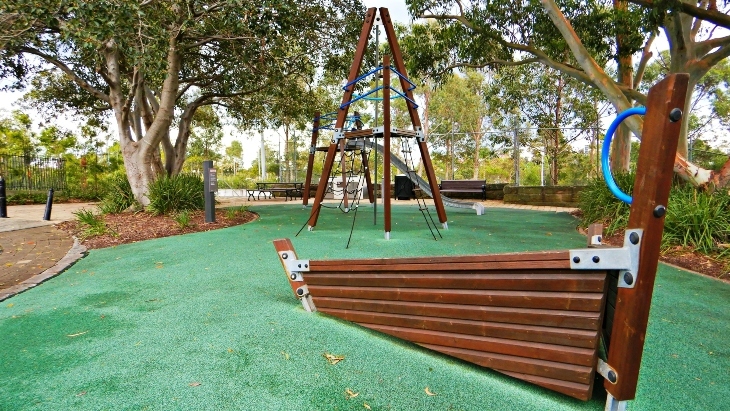 Nestled between Millers Point and Barangaroo Reserve (at the end of Merriman St), you'll find the tiny but oh-so-beautiful Clyne Reserve.
While the playground is a little on the small side, its location overlooking Sydney Harbour is absolutely stunning and the perfect spot to enjoy a picnic while the kids play.
BBQ facilities, tables, and shade are offered, and while you're in the area, you may as well go for a wander around Barangaroo Reserve.
Location: Hickson Rd, Barangaroo
6. Pirrama Park
Pirrama Park is just a stone's throw away from harbourside waters in Pyrmont.
The un-fenced playspace has spectacular views, water play, swings, sand play, ropes, and a roundabout.
The Call Me Harris Cafe is right next door for that essential coffee.
7. Strathfield Park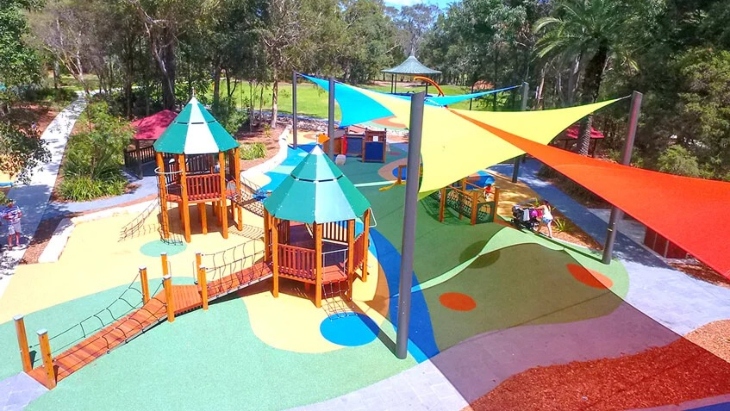 Your kids won't want to leave this epic playground at Strathfield!
Boasting three monster super slides projecting off tall climbing towers, a massive flying fox, a netted suspension bridge, and equipment for little ones, too, this playground in Sydney has adventure written all over it.
Whether your kids are big or little, they will find something at Strathfield Park to keep them entertained.
Read our Strathfield Park Review.
Location: Chalmers & Homebush Rd, Strathfield
8. Marrickville Park
Marrickville Park was given a major refurb a few years ago but still remains a local hangout. It has in-ground trampolines (that the adults love bouncing on, too!), a climbing structure and slide, a toddler cubby house, paths for bike riding, an outdoor gym and BBQs. Plus, really great coffee across the road.
Unfortunately, it lacks shade at certain times of the day, so be prepared with hats and sunscreen.
Location: 111 Frazer Street, Marrickville
9. Enmore Park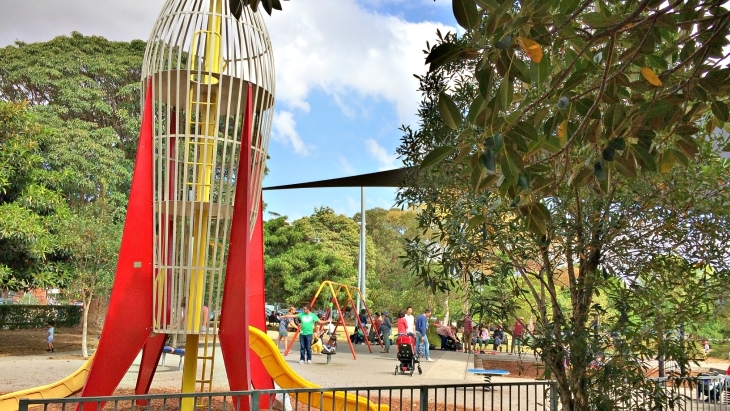 An old favourite of ours and a great hang-out after you go for a splash at Annette Kellerman Aquatic Centre.
We especially love the rocket slide, and there are great bike paths surrounding the park.
Grab a coffee at nearby Petty Cash Cafe and make a day of it - oh, and the Magic Yellow Bus Mobile Playgroup visits every Thursday from 9.30 am to noon during the school term.
Location: Between Enmore Road and Black St, Marrickville
10. Sydney Park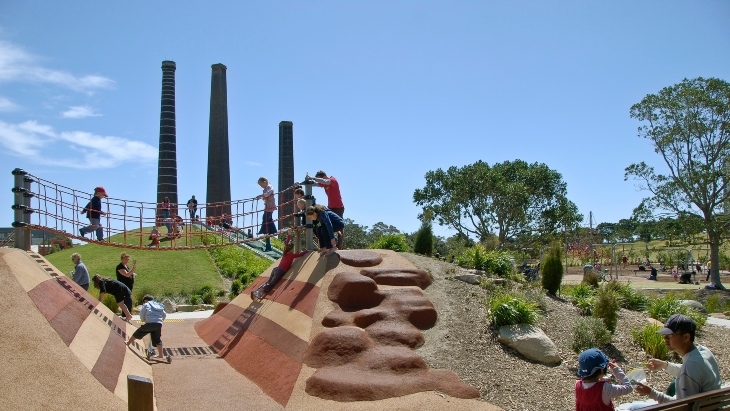 A mecca for adventurous kids, Sydney Park has everything and more!
Super slides, sand-play, loads of swings, synthetic hill climbs, a huge dog walking area, a cafe and miles of paths for exploring on bikes, scooters or on foot.
Pack a picnic and search for the duck pond or bring the bikes and make tracks for the purpose-built learner's cycleway, complete with real roads, streets, and fully working traffic lights.
Location: 416 Sydney Park Rd, Alexandria
Playgrounds in the Eastern Suburbs
11. Ian Potter's WILD PLAY Garden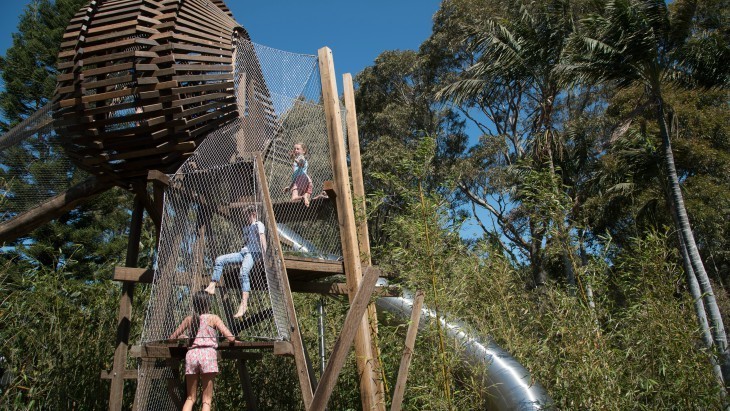 This all-abilities playground designed with children aged two to 12 in mind has been created to engage the five senses and reconnect children to nature, as well as provide them with a chance to take safe risks and get their hands dirty!
Features of Ian Potter's WILD PLAY Garden include 10-metre long Banksia Scrub tunnels, artesian water play with jets for the warm weather, wobbly rope bridges leading up to a climbing tower and a cubby house with a super slide to bring kids back to the ground level. Plus, teepees, a swamp area, dry creek beds, and lots more. Go wild!
Read our Ian Potter's WILD PLAY Garden Review.
Please note: the WILD PLAY Garden closes for a month of maintenance in August every year.
Location: Off Grand Dr, Centennial Park
12. Bondi Beach Playground
How could you go past those views or that location?
Bondi Beach Playground has an awesome shaded sandpit and is most suitable for children up to four years.
Location: Bondi Beach Park, Bondi Beach
13. Parsley Bay Reserve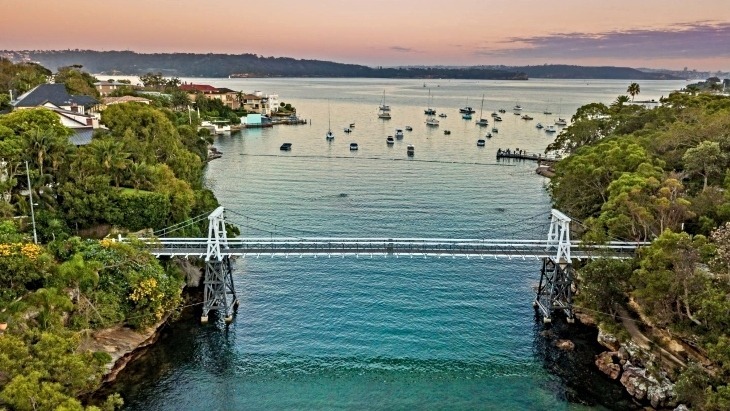 This idyllic park-beach-playspace combo in Vaucluse has recently received an upgrade making it one of the best inclusive playspaces in the east.
The rope tunnels, merry-go-round, ladders, swings, and elevated pathways will keep the kids entertained for hours.
Location: Parsley Rd, Vaucluse
14. Marks Park
An idyllic spot overlooking the water just off Marks Lane in Tamarama, Marks Park recently underwent a renovation but is now open for a good play in the sun.
Location: Marks Lane/ Kenneth St Bondi, Fletcher St, Tamarama
15. Arthur Byrne Reserve
One of our favourite playgrounds in Sydney, Arthur Byrne Reserve is located right by Maroubra Beach, offering great views, and the kids will love the pirate ship!
If you're staying in the area for the day, the Malabar Beach Playground is another great spot with killer views!
Location: 307 Fitzgerald Ave, Maroubra
16. Bronte Park
Nestled right next to Bronte Beach, Bronte Playground has plenty of grass for little ones to run, play and ride, plus a super-cool wooden climbing tower.
Location: Bronte Beach
17. Grant Reserve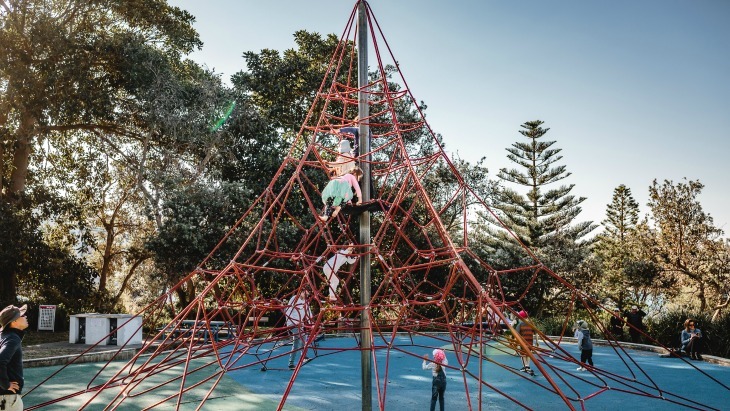 Grant Reserve in Coogee is the perfect adventure park for summer, as it's right by the beach!
Take the coastal walk right up to this awesome playspace, which has an epic spider's web in its heart (the reason why it's known as a 'spider park' by the locals!).
At Grant Reserve, you'll find small slides for little ones, swings, climbing areas, musical play elements, a boat-shaped play structure, a spinning wheel, fun mirrors, and more.
In a great location near toilets, shaded picnic areas, shops, cafes and the beach, what more could you ask for on a summer's day with kids?
Read our Grant Reserve Review.
Location: 151-191R Beach St, Coogee
18. Cook and Phillip Park
And something for the older children! In the city's centre is this fenced Cook and Phillip Park, suitable for kids five years and up.
Location: 51 Cathedral St, Woolloomooloo
19. Eddie Ward Park
There are two playgrounds at Eddie Wark Park, with the fenced one for toddlers located away from the road. The older kids' park, though unfenced, has a skate bowl!
Location: 9/57 Marlborough St, Surry Hills
20. Bieler Reserve
This gem in Randwick is fully enclosed and is not too big and not too small!
It has kiddie-friendly equipment ideal for younger tots, and its giant climbing spider's web will definitely appeal to older kids. It's only a short walk to local cafes and shops for a much-needed coffee fix.
Location: 56 Gilderthorpe Ave, Randwick
21. Queens Park
Located on Darley Road in Randwick, Queens Park is nestled among endless green parklands. It has rubber flooring on the ground and loads of equipment, including swings, a shaded sandpit and a sit-on sand digger.
Location: 207 Darley Rd, Randwick
22. Sir Joseph Banks Park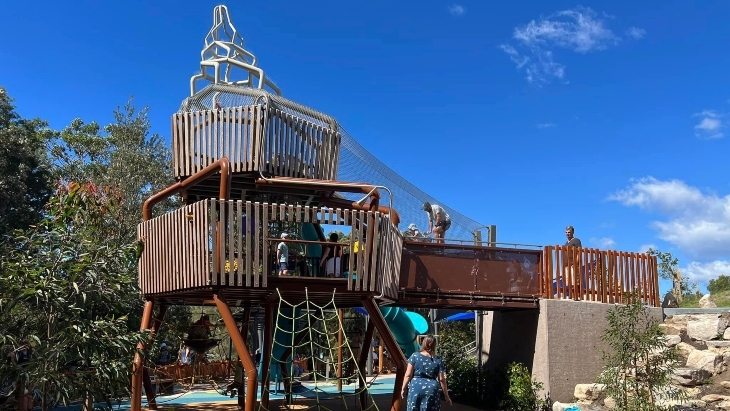 Another new playground to open in Sydney in 2023, Sir Joseph Banks Park is a playground designed for kids, by kids!
Located in Botany, Sir Joseph Banks Park was brought to life thanks to a $2.5 million grant from the NSW Government's Legacy Grant program and is set to become the new hotspot for kids to play to their heart's content on play towers, two high slides, climbing nets, trampolines, lower slides for the little ones, timber balance and agility equipment, rock scrambling and climbing walls, a flying fox, musical play, sandstone art, sensory play items and more!
Location: Tupia St, Botany
The West & Greater West
23. Livvi's Place, Elara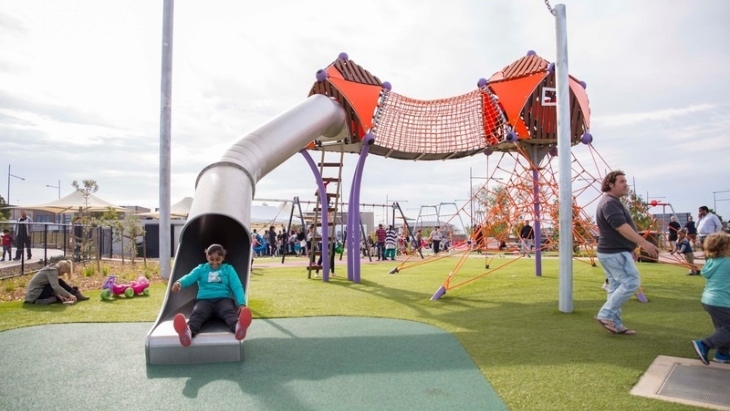 Are you even a parent in Sydney if you've never been to Livvi's Place?!
Possibly one of the most well-known playgrounds in Sydney, Livvi's Place at Elara is 7,400 square metres of total outdoor fun with so much for kids to do, including a water play zone, a flying fox, slides, swings, climbing nets, a carousel, fun glider, trampoline loop and even a basketball half-court!
Location: Marsden Park
24. Domain Creek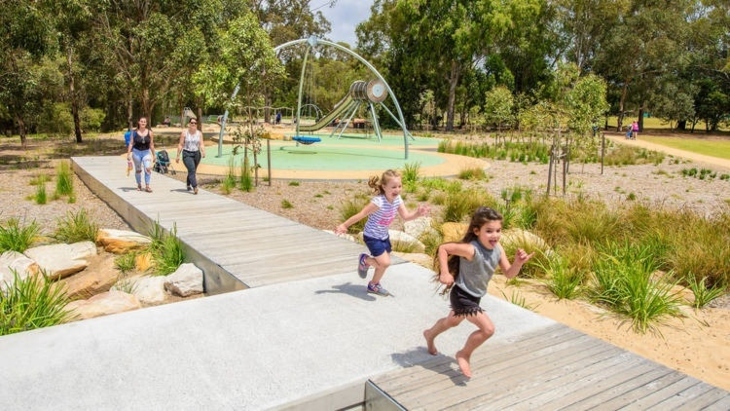 Situated inside Parramatta Park, the Domain Creek Playground was a $2-million investment.
There's a double flying fox, spinning carousels, tall slides that kids need to climb rope ladders to get to, and a climbing net that is strung low to the ground.
The whole playspace is connected by walkways and ramps, meaning wheelchairs and prams can get around smoothly. There are sandpits, small trampolines built into the ground and water pumps for hot days!
Location: Park Ave & Park Parade, Westmead
25. Casula Parklands

Casula Parklands was designed for inclusivity, accessibility and lots of fun, so there really is something for everyone!
At Casula Parklands, little ones have their own play space with slides, a mini rock climbing wall, tunnels and a ropes course, and older kids will love the eight-metre-long Sky Walk, climbing tower, huge tunnel slide, swings and merry-go-round.
Casula Parklands is an expansive playground that also boasts a ninja course and double flying fox that adds to the impressive array of equipment.
The playground is well equipped for a full day of family fun with a dog park, walking track, and shaded picnic areas, plus the Casula Powerhouse Arts Centre is next door!
Location: Powerhouse Rd, Casula
26. Variety Livvi's Place, Glenfield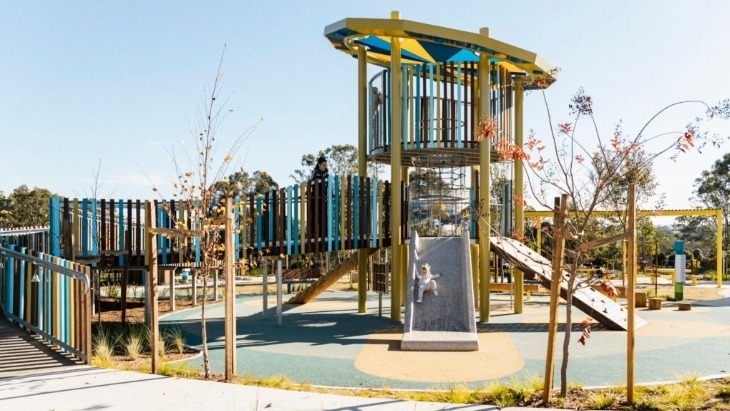 For an award-winning playground in Sydney, look no further than Variety Livv's Place in Glenfield.
The park only opened in 2021 and has already won an award from the Australian Sport, Recreation and Play Innovation Awards for Playground Design and Development. The inclusive play space has equipment for all capabilities and offers loads of attractions for active kids.
Location: 22 Bougainville Rd, Glenfield
27. Bungarribee Park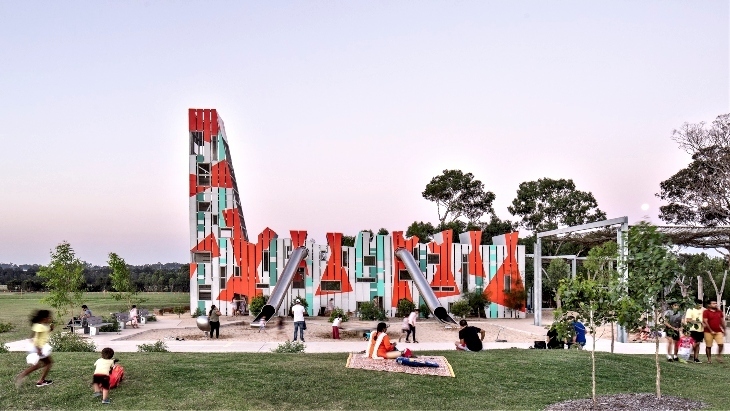 Touted as the largest park in Sydney, the $15-million, 200-hectare Bungarribee Park is a wide, open oasis of natural green spaces and interesting places to explore, as well as an awesome state-of-the-art playspace that includes a jaw-dropping 50-metre flying fox and an epic 14-metre tall climbing tower, slides, plus giant swings, balance beams and a water play area.
There are also BBQs and picnic shelters, walking and cycling tracks and one of Sydney's largest off-leash dog zones.
The surrounding parklands at Bungarribee Park are perfect for picnics and free play, and the surrounding wetland is home to thousands of native trees and wildflowers to discover.
Location: Doonside Rd & Holbeche Rd, Bungarribee
28. Lizard Log
This award-winning nature playground has been designed to blend into the natural environment - so be careful you don't miss it!
There are water play elements (exactly what you'll need during summer) as well as a rock-climbing wall, logs to balance on, a big sandpit with diggers, a nest swing, a super slide, a flying fox and lots more. As far as Sydney playgrounds go, Lizard Log really is one of the favourites!
Read our Lizard Log Review.
Location: The Horsley Dr and Cowpasture Rd, Abbotsbury
29. Fairfield Adventure Park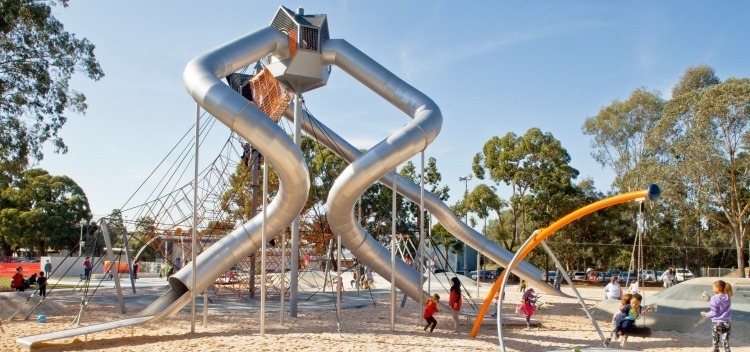 Fairfield Adventure Park has been around for a few years but is still one that impresses the young kids and the tweens too!
Fairfield Adventure Park has one of the biggest playground slides around that must be seen to be believed.
Read our Fairfield Adventure Park Review.
Location: Vine Street, Fairfield
30. Koonoona Park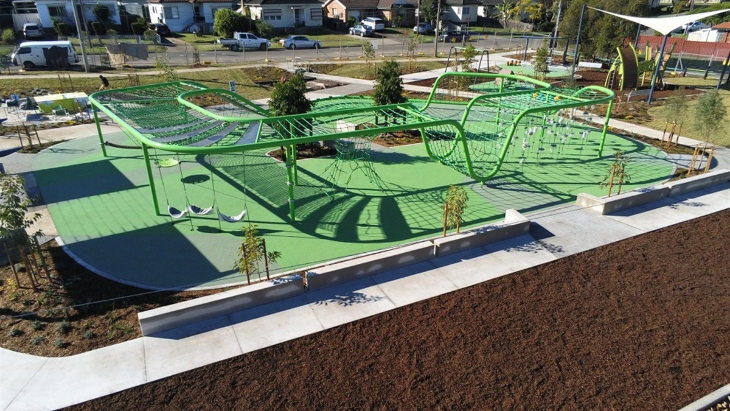 For those kids who love to get their ninja on, Koonoona Park in Villawood is an awesome Ninja-themed play zone.
With a massive ropes course for all-day Ninja training plus a cubby house, merry-go-round, nature play, swings, a seesaw, and plenty of shade, Koonoona Park is a huge hit with the kids.
Location: 1 Karella Ave, Villawood
31. Blaxland Riverside Park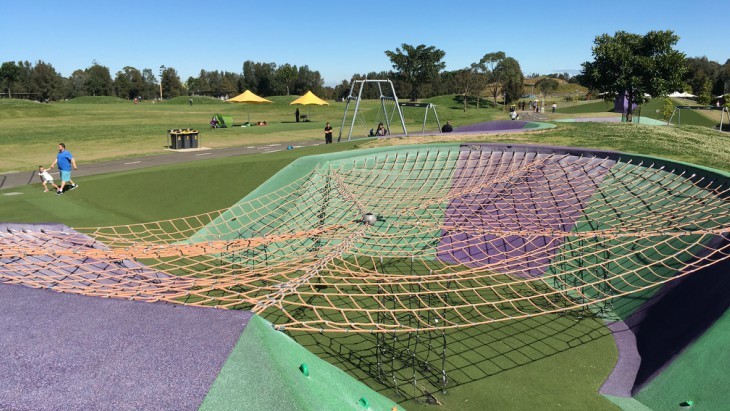 Blaxland Riverside Park sure does have the WOW factor!
It will feel like you've entered the Teletubbies world with purple and green astroturf hills and endless play spaces surrounding you.
One of the most popular playgrounds in Sydney offers hidden slides and tunnels cut into hillsides, climbing nets, a massive spinning satellite dish, a Viking swing, a double flying fox, and a HUGE water play area where kids can get totally soaked.
Just be mindful - there's no shade, so on summer days, so make sure the kids have hats and sunscreen!
Location: Jamieson St, Sydney Olympic Park
32. Livvi's Place, Ryde
Everyone's favourite playground in Yamble Reserve will surely be a hit with your kids.
The colours, the architecture, the game playing, the climbing, the fun - you can see why it's one of the most popular playgrounds in Sydney!
Location: 194 Quarry Rd, Ryde
33. Phoenix Park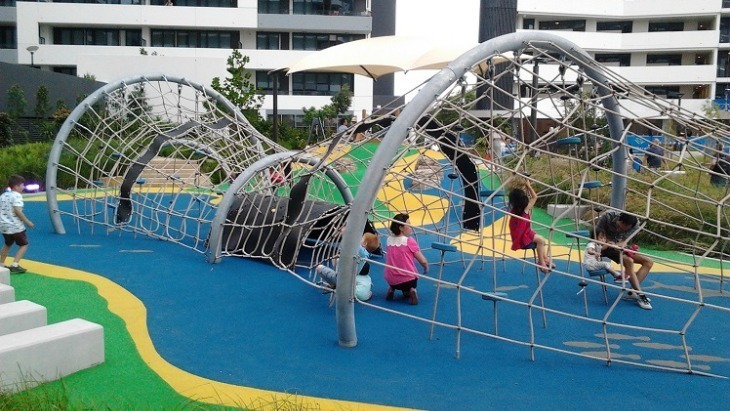 For the really little ones, this playspace n Rhodes is a winner.
Near the Parramatta River, the theme of Phoenix Park is fishing, hence the super cool net rope structure. Equipment is based on challenging children's balance, coordination, agility and strength whilst engaging all their five senses through a range of materials and artworks used in the construction.
Location: 47 Shoreline Dr, Rhodes
34. Willowdale Park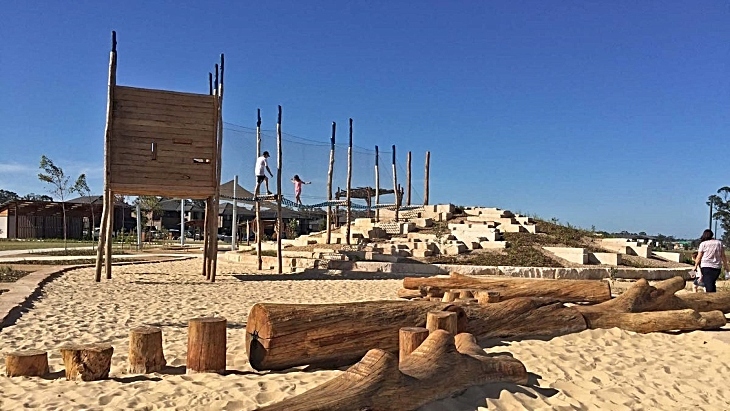 This regional park within a community estate offers an amazing adventure zone with striking wooden features and fun natural play elements.
Willowdale Park features an impressive bicycle and scooter challenge plus two 40-metre flying foxes. There is also a bespoke cubby house (made of recycled timber from the site) with an aerial walkway and a slide into the sandpit below, plus an amphitheatre, balance beams, swings and water play - aka playground heaven!
There is plenty of open space for ball games and running around, plus electric BBQs, picnic shelters and beautiful surroundings.
Location: Jamboree & Baden Powell Ave, Denham Court
35. Oran Park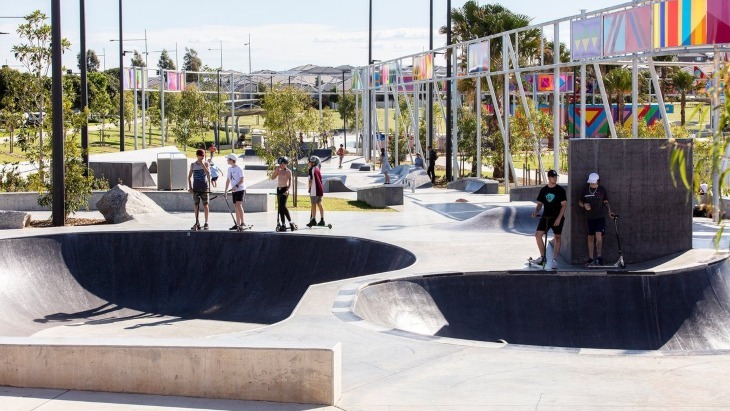 A whopping $9-million-dollars went into the development of Oran Park, which took two years to build and was well worth the wait!
Oran Park offers up adventures in droves at the Dawson-Damer Park and Julia Reserve Youth Precinct. Water play, adventure play, sports, group games and more are available in the sprawling 2.5-hectare Oran Park.
Location: Corner of Dick Johnson Drive and O'Toole Avenue, Oran Park
36. Variety Livvi's Place, Hammondville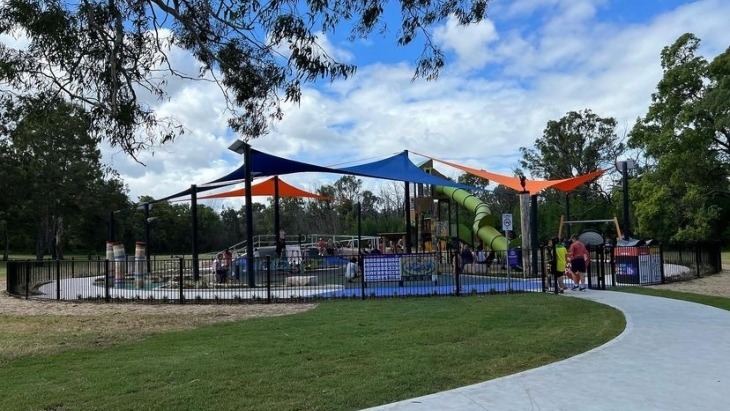 One of the newer playgrounds in Sydney (and another Variety Livvi's Place to add to the list!), Variety Livvi's Place in Hammondville offers plenty to do for active kids, including a custom-built play tower with an eight-metre-long slide, inclusive seesaw, custom-built embankment slide with an inclusive exit, pod swing, inclusive carousel, interactive play items such as talk tubes, playhouse, harmony bells, hand pipes and babel drum, inclusive trampolines, nature play, and sensory and quiet areas.
Location: Stewart Ave, Hammondville
37. West Epping Park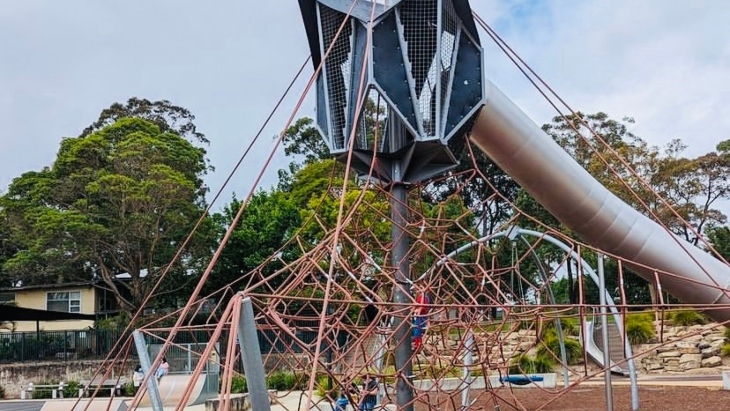 West Epping Park is a terrific spot for little ones who love to climb, as the main focal point of the park is the epic climbing tower and massive slide.
If the climbing tower is too high for smaller kids, there is loads more for them to discover, including smaller slides, spinners, swings, a preschoolers' play zone, a basketball court and even a skate park!
Location: Dent St, Epping
38. Linear Park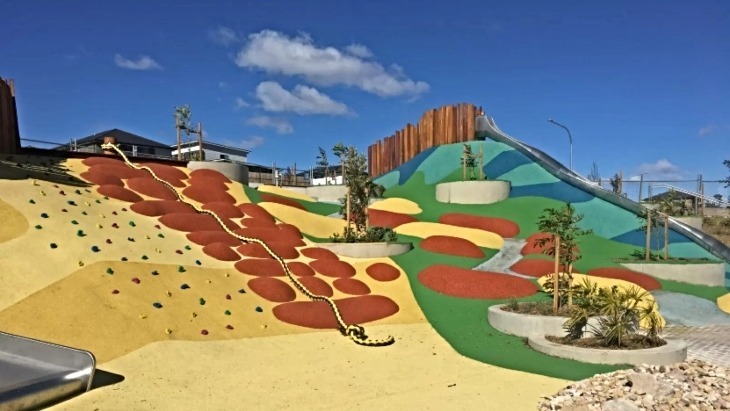 Could this be one of the most colourful playgrounds in Sydney?!
Linear Park at Mulgoa Sancturay in Glenmore Park gives us Dr Seuss vibes every time we see it, with its kooky and colourful offerings.
Kids are invited to go crazy on Linear Park's slides, rainbow obstacles, climbing ropes, swings and water features - fun!
Location: 169 Bradley St, Glenmore Park
39. Tench Reserve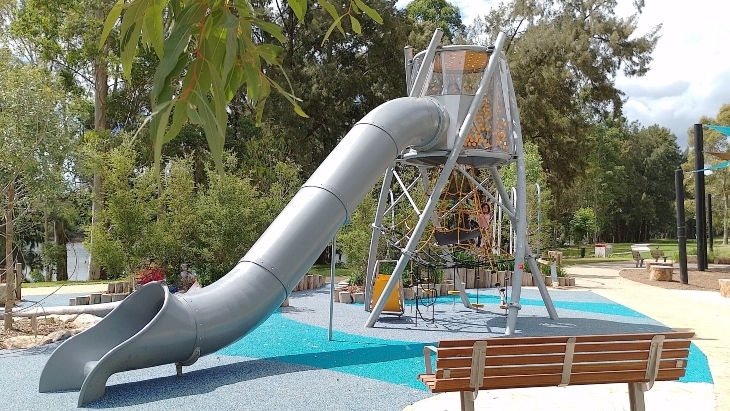 One of the newest playgrounds in Sydney to open in 2023, Tench Reserve hugs the Nepean River and offers plenty more than just a gorgeous outdoor setting.
The new play space is part of the revitalisation of Tench Reserve. It offers energetic kids plenty of opportunities for outdoor play, including a mega tubular slide, additional slides, a rock climbing wall, four different swings, trampolines, a fun water-play zone with tipping buckets, and plenty of shade and barbecue facilities for a relaxing family day out.
Location: Tench Road, Jamisontown
Playgrounds in South Sydney
40. Ador Park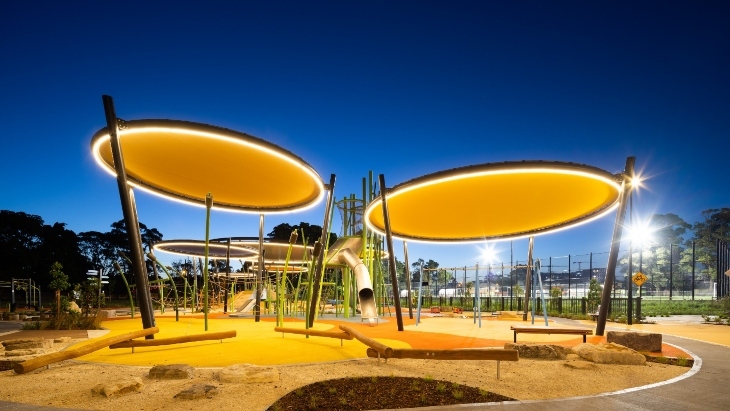 Rockdale's Ador Park in Ador Reserve Precinct is quickly becoming one of the best playgrounds around after its mega upgrade in 2021.
A huge, nine-metre high climbing tower is the centrepiece of Ador Park, plus there's loads of other equipment to keep active Sydney kids busy, including tube slides, balancing beams, ramps, boardwalks for scooters, swinging accessories, and more.
There's also an awesome skate park and plenty of barbecuing facilities.
Location: West Botany St, Rockdale
41. Oatley Park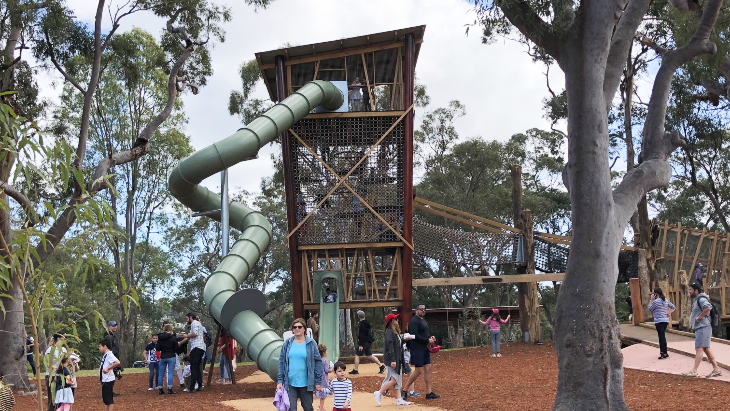 As part of the NSW Government's Everyone Can Play Program, this inclusive play space located along Southern Sydney's Georges River is one of the biggest we've ever seen!
Oatley Park Adventure Playground is a nature-lovers dream utilising the natural landscape of the park's bushland setting and adding equipment constructed predominantly from natural materials.
At Oatley Park, there are plenty of trees to provide shady spots and loads of fun features to keep active kids busy.
Oatley Park's centrepiece is a huge three-storey timber structure with a winding slippery dip, ropes, ladders, tunnels and more. The play tower promises lots of adventure for brave kids! There's a smaller slide on the bottom level for the littlies, plus a climbing net, lower play deck, worm tunnel and gangplank.
Other cool features include a flying fox and a stationary steam train.
Location: 1 Dame Mary Gilmore Rd, Oatley
42. Carss Bush Park
You can do it all at Carss Bush Park! Here, you'll find a fully fenced toddler area with a swing, slide and plenty to climb, as well as two long flying foxes with a boarding platform, a giant slide, a large circular climbing frame, a sandpit, an onsite cafe, and just about everything else.
A play surrounded by bushland will be topped off perfectly with a paddle on the foreshore of Kogarah Bay.
Read our Carss Bush Park Review.
Location: Carwar Ave, Carss Park
43. Como Pleasure Grounds
Como Pleasure Grounds is one of those beautiful outdoor locations you could spend the whole day at, just relishing the sunshine, nature, and stunning waterfront location.
The pirate-themed playspace is a riot for adventurous kids who'll love pretending to 'walk the plank' in the pirate ship or burning lots of energy on the giant climbing net. Make a day of it by going for a stroll along the pedestrian bridge that runs over the water and looks down at the Marina and the boats. There's also great coffee nearby.
Location: 2A Cremona Rd, Como
44. L'Estrange Park Mascot
With PLENTY of room to move and a spongy floor for children to run around, L'Estrange Park in Mascot is the place to be.
There are two sides to the playground, one being age-appropriate for up to six-year-olds, the other for up to 12-year-olds. You'll find a sandpit, water play items, a bike track with road signs, climbing webs, slides, jungle gyms and more!
Location: King & Sutherland St, Mascot
45. Bonna Point Reserve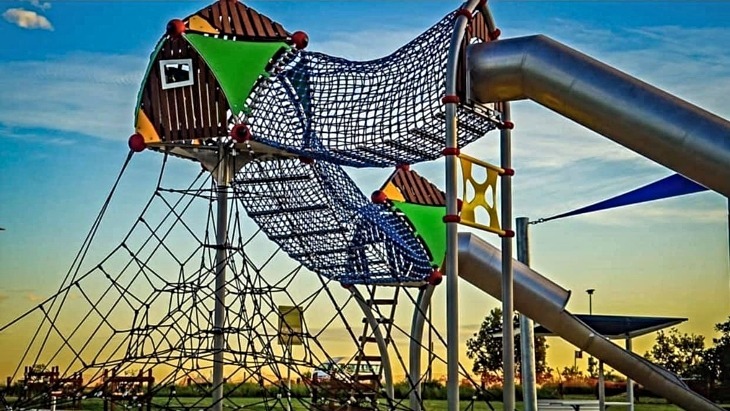 If your little ones love heights, they will love adventuring to new heights at Bonna Point Reserve.
Bonna Point Reserve opened in 2020 and has been exciting little adventure seekers with Sky-pods, a labyrinth of elevated rope walkways, and the epic four-metre slide!
Location: 310-312 Prince Charles Parade, Kurnell
46. Bexley Park
The kids never want to leave this little gem!
Bexley Park is surrounded by many lush, green, open spaces, perfect for a big run around or a family picnic. There are wooden climbing structures, swings, slides, a flying fox, and a merry-go-round.
Bring your bikes to ride on the track, or use the quirky vintage-style two-way telephones that keep children occupied for surprisingly longer than you'd expect.
Location: Cnr Stoney Creek Road and Henderson Rd, Bexley
47. Shelly Beach Playground
In Cronulla, you'll find sea views and equipment for younger and older children to swing, slide and climb at Shelly Beach. There's a liberty swing for disabled children too.
Location: 70-110 Ewos Parade, Cronulla
Playgrounds on the North Shore & Northern Beaches
48. St Leonards Park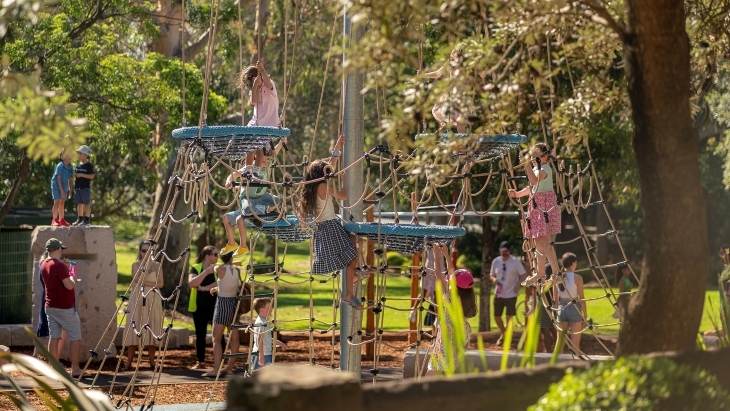 If it's been a few years since you visited St Leonards Park, you'll be pleased to hear it's just been completely refurbished, so there's now more to see and do for older kids.
The refurbishment of St Leonards Park includes upgrades to the junior play zone and new additions to make the play space more accessible for tweens 12 and over.
The new tweens' playspace at St Leonards Park includes:
a giant 360-degree swing
climbing structure with monkey bars
eagles nest climbing and hiding structure
skysurfer swinging and balancing equipment
cool track ride
a climbing boulder
and balance beams.
Location: Miller St, North Sydney
49. Storey Park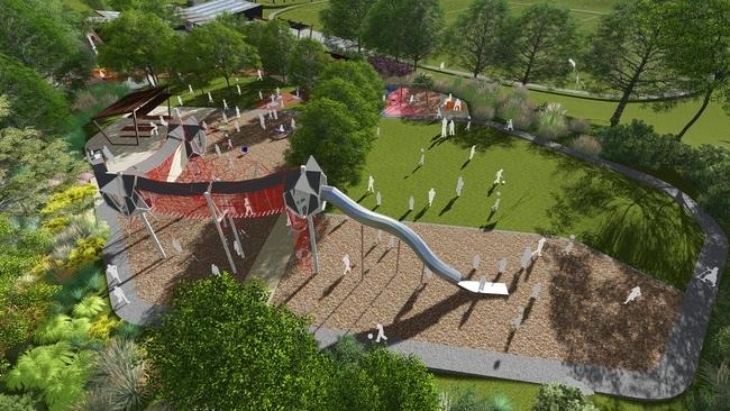 $4.5 million dollars was splashed out on Storey Park in Hornsby, so you know you're getting real-deal play equipment at this spot!
Along with the mega climbing tower, other super fun amenities include a fully fenced inclusive play environment, bike and scooter tracks, trampolines, a kiddie playground, looped slides, a merry-go-round, climbing walls, BBQs and plenty of shade. Enjoy!
Location: 12 Old Berowra Rd, Hornsby
50. Clifton Gardens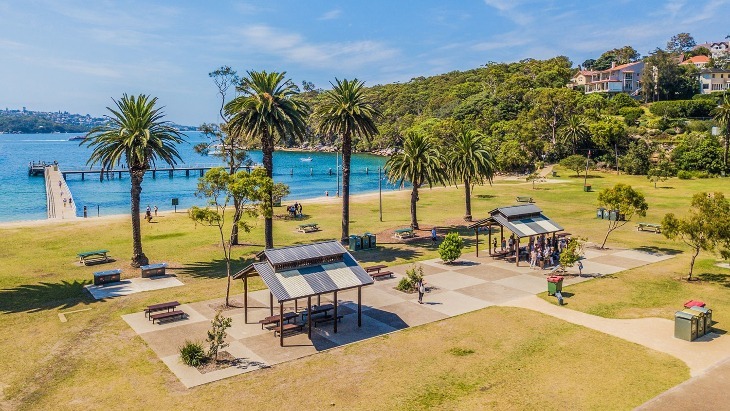 Modern seesaws, swings, climbing structures, a dedicated toddler area, plenty of shade, and coffee nearby – it's easy to see why Mosman's Clifton Gardens is such a popular spot for families.
Location: Morella Rd, Mosman
51. Bobbin Head Playground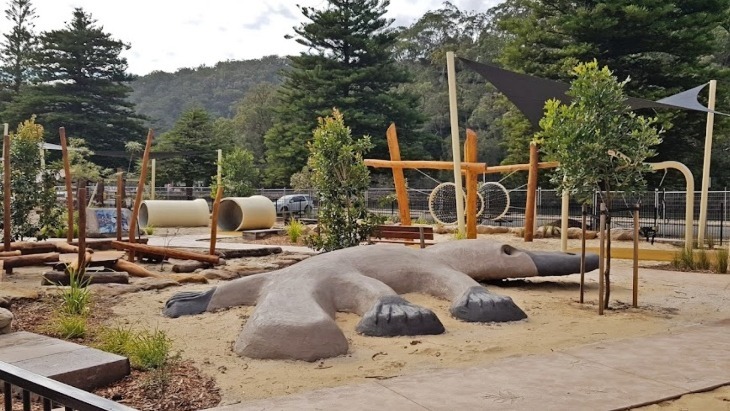 Bobbin Head is one of the newer playgrounds on the North Shore and is a nature-lovers dream spot, with lovely wooden features throughout, including a wooden cabana, wooden log maze, climbing structure, swings, play tunnels and a giant platypus.
Location: 1002 Bobbin Head Rd, North Turramurra
52. Waitara Oval
After undergoing a reno in 2019, Waitara Oval is now an inclusive - and fenced - space with shade sails and artwork by local communities - adorable!
Location: 22 Waitara Ave, Waitara
53. Bicentennial Park West Pymble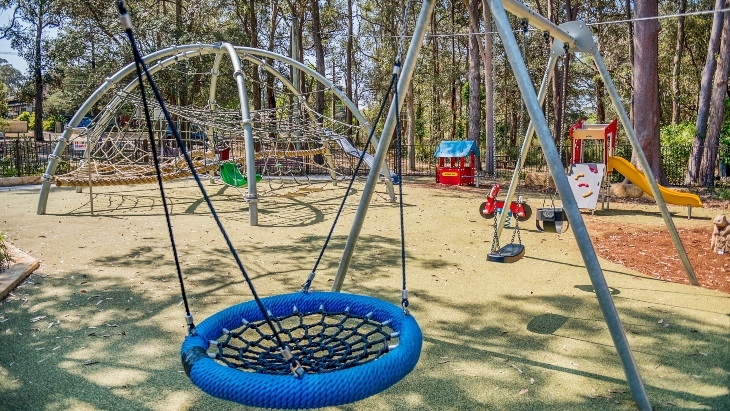 We love the huge fenced 'Golden Grove' inclusive playspace at Bicentennial Park in Pymble with soft-fall paths and an all-abilities swing seat and slide.
Location: Prince Of Wales Dr, West Pymble
54. Wahroonga Park
This park was renovated back in September 2014 and remains in great shape.
There's equipment for little kids, including mini trains, toddler swings, slides and springers, as well as entertainment for the older kids, including a flying fox, a moving roundabout, a half-sunken pirate ship and lots more.
Location: Coonanbarra Rd, Wahroonga
55. Flying Fox Park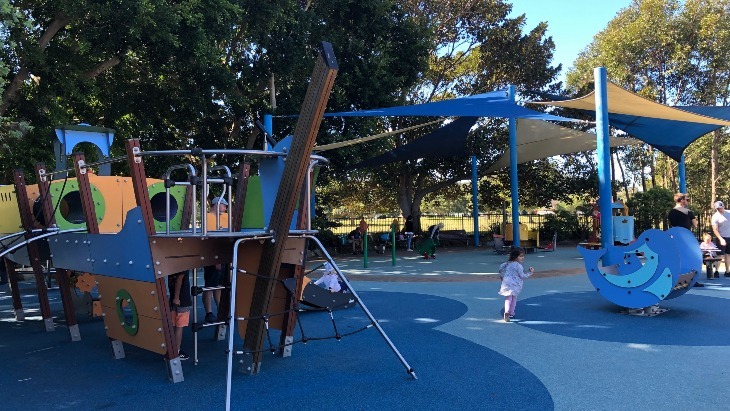 Continually ranked as one of the top kids' playgrounds on the Northern Beaches, Flying Fox Park in Mona Vale and the adjacent Winnererremmy Bay have so much to offer kids and families.
The park itself is completely fenced in and spacious enough for kids to feel like they've got space to run, jump and play. The two highlights of the park – the giant climbing net and the giant flying fox – will keep kids entertained for hours, plus there are swings, slides, giant ships, and a scooter/bike track.
Winnererremmy Bay is an expansive park with a little beach next to the park that's perfect for playing sports, bike riding, picnics and birthday parties. The onsite Flying Fox Cafe is always open for that necessary caffeine hit.
Location: Mona St, Mona Vale
56. Rocketship Park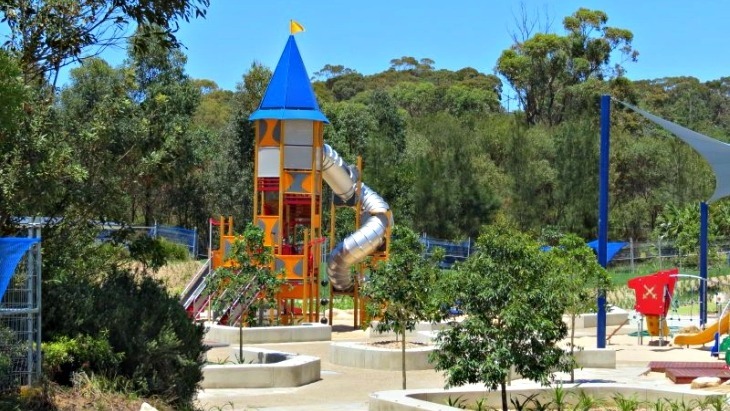 While this Northern Beaches playground isn't fenced in, that doesn't stop kids from having a fabulous time out in the sun!
What makes Rocket Park (also called Warriewood Valley Playground) so special is its two separate play areas for toddlers and bigger kids. The giant (and we mean GIANT!) rocket ship and slippery dip in the middle of the park will certainly entice older kids, while the toddler play area with jungle gyms, mini swings and mini slides will keep little tots happy and active.
Another giant feature of the park is the giant slides that even parents will want to have a go on!
Location: Casuarina Drive, Warriewood
57. Collaroy Beach Playground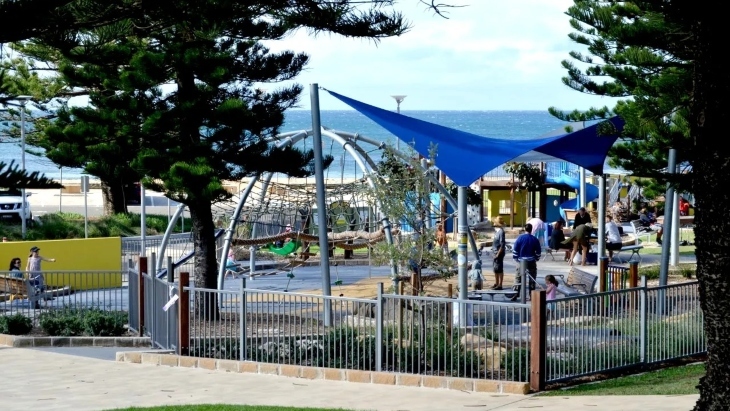 Another popular beachside playspace, Collaroy Beach Playground offers stunning views of Collaroy Beach and plenty of entertainment for the little ones.
With climbing walls, swings, slides, percussion instruments, a merry-go-round, a seesaw, and a giant climbing tower, the kids won't know what to play on first! There's also a Liberty Swing for less abled children.
Toilets are available at the nearby surf club, and parking is available in the adjacent beach car park, though this can get full on weekends.
Location: 10 Birdwood Avenue, Collaroy
58. Berry Reserve, Narrabeen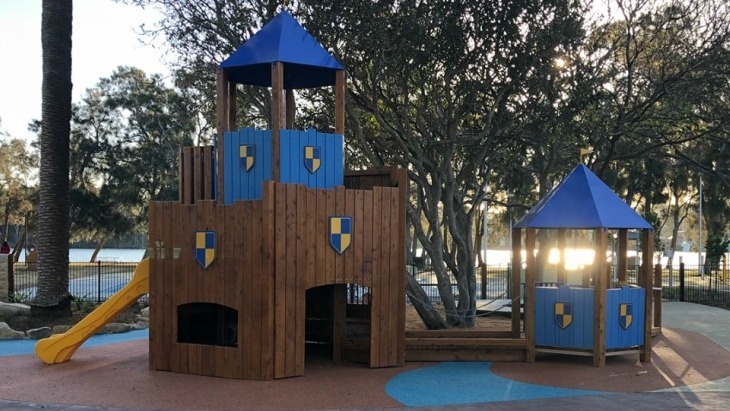 Quickly climbing the ranks as the best playground on the Northern Beaches, Berry Reserve has been drawing in the crowds since it opened in 2018.
Also referred to as the Tramshed Cafe Playground, this tram-themed playspace is oodles of fun for all train-obsessed kiddies, and the views of the adjacent Narrabeen Lake don't suck either!
Featuring a giant wooden climbing castle, slides, tram tracks, mini ticket booth, mini trampolines, swings, mini train platform, percussion instruments, and a sand play area, the kids are in for hours of tram-themed action.
The Tramshed Cafe is right next door and serves yummy coffee, breakfast and lunch.
Location: 1395 Pittwater Road, Narrabeen
59. Dee Why Beach Playground
A trip to Dee Why Beach simply isn't complete without a play at Dee Why Beach Playground.
It might be a little smaller than other Northern Beaches spots, but Dee Why Beach play area (officially named Michaela Howie Playground) is always buzzing with happy and active kids.
Located on the southern tip of Dee Why Beach Park, the play area features a jungle gym, slides, and swings. There's plenty of seating nearby, plus the sprawling hilltop of Dee Why Beach Park is ideal for family picnics and birthday parties.
As an added bonus, there are loads of cafes right across the street serving great coffee.
Location: 137 Oaks Avenue, Dee Why
60. St Ives Playground

For kids who aren't afraid to scale to new heights, St Ives Playground is a huge spot with some pretty huge slides!
Located at St Ives Showground, this fun play space has epic slides, a toddler play area, a merry-go-round, flying foxes, and plenty more!
Location: St Ives Showground, 450 Mona Vale Road, St Ives
EXTRA: Lemur Forest Adventure, Taronga Zoo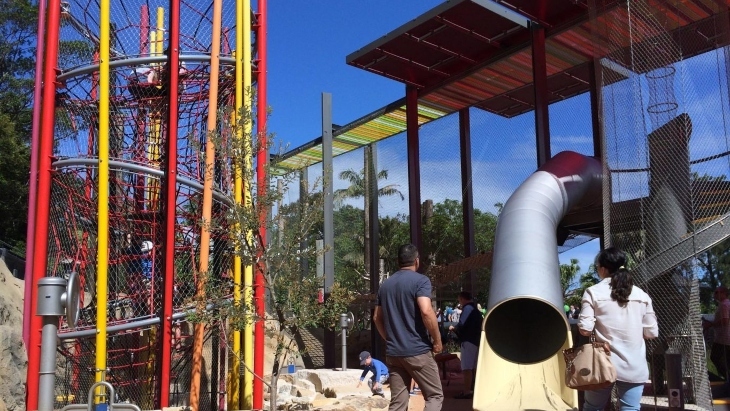 Little lemur lovers will love this animalistic playground at Taronga Zoo!
There's a densely packed multi-layered forest, a moat, a waterfall, climbing pods, balance challenges, insect sculptures and lots more. We also love that this play area is also directed towards older children through to the early teens because we believe there's definitely not enough challenging equipment around Sydney for them.
Taronga Zoo has another amazing playspace right in the heart of the petting zoo with climbing structures, slides, water play and plenty more!
More Outdoor Adventures in Sydney
Sydney's Best Beaches for Kids
Where to see Sunflowers Near Sydney
Family Fruit Picking

Have you signed up to our newsletter? Join ellaslist to get the best family and kid-friendly events, venues, classes and things to do NEAR YOU!