You Can Do It All At Carss Bush Park & Playground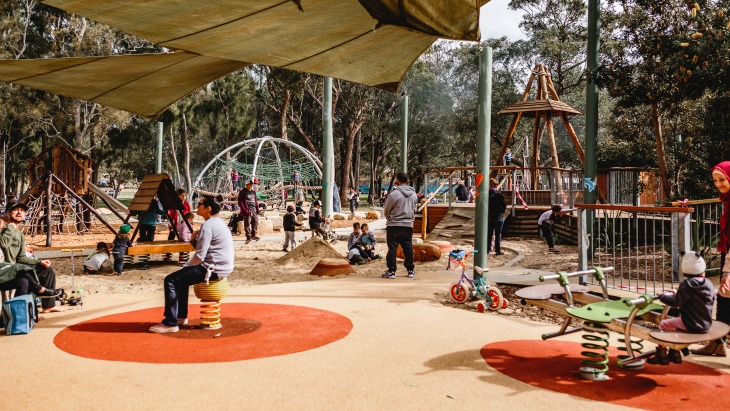 For a full family day of fun, Carss Bush Park has it all - a great playground, wide-open spaces, awesome facilities, and water to paddle in! Here are her top tips to make your visit here a memorable one:
What Makes This Playground A Great Option For Parents And Kids?
Carss Bush Park playground is located in the foreshore of Kogarah Bay in the St George area and is surrounded by beautiful open spaces, bushland, and water. It's the perfect place for a BBQ or kid's party with a playground that caters to kids of all ages and abilities, as well as lots of open spaces for playing ball games. There is also a small beach which is perfect for paddling and building sandcastles. There are lots of picnic tables, both sheltered and unsheltered to sit and have a snack.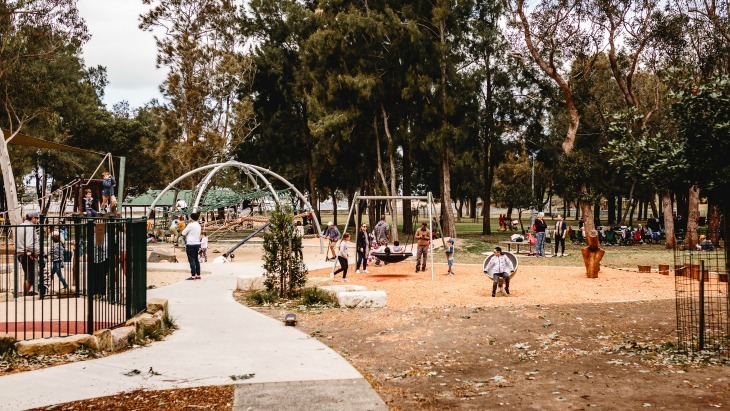 What Equipment Is There To Play On?
The playground features the following… a fully-fenced toddler area with a toddler swing, slide & climbing toys for younger kids to play on, as well as small picnic tables for little ones to sit & enjoy a snack break, an accessible section of playground so that children with special needs can play safely and easily, a giant silver metal slide for older kids which is accessed by climbing a rope bridge, two sets of swings, a flying fox with two flying foxes and a nice raised platform which makes it easier for most kids to be able to get onto without parental help, a large rope climbing frame, a wooden log balancing area surrounded by soft sand to break any falls, a wooden climbing structure with various ways to climb (including a ladder, rope ladder, mountain-climbing style foot & hand-holds, and slides to take back down.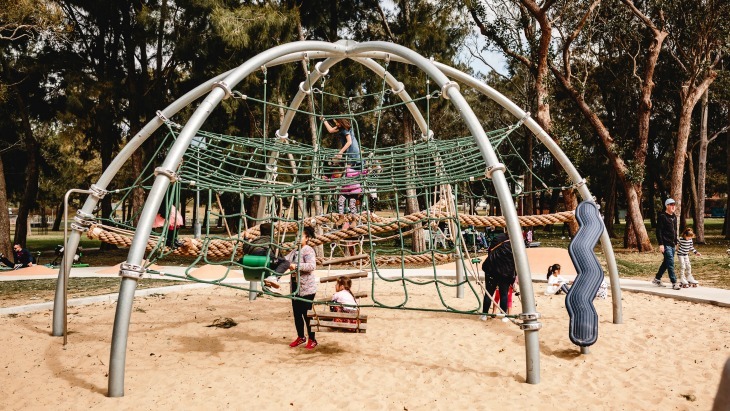 I was impressed with how well the playground caters to kids of all ages & abilities, making it the perfect choice for families of kids with a broad range of ages. There is also a small section with ramps for kids to ride scooters & bikes, as well as a bike track close by.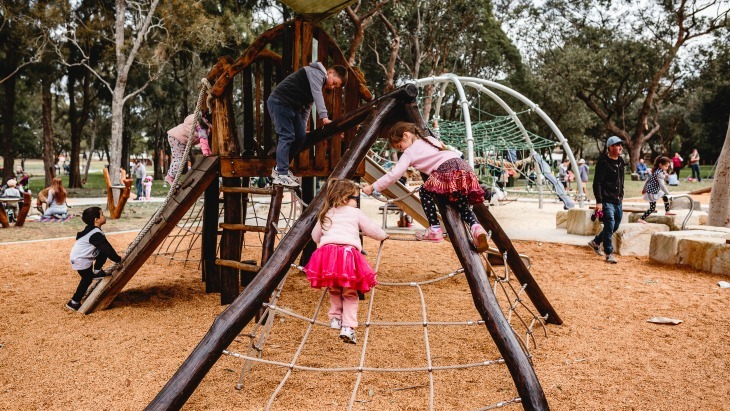 There is a small inlet which is perfect for paddling in the water in the warmer months, further enhancing the park & playgrounds appeal.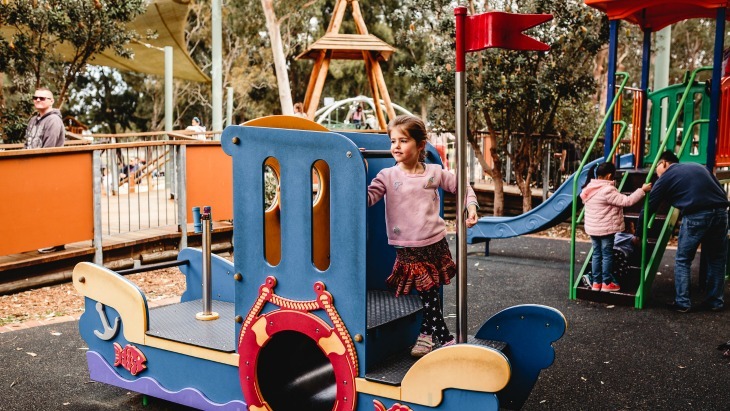 What Facilities Are There?
There is a cafe/restaurant right next to the playground, which serves both sit down meals and also has a kiosk for takeaway coffees and snacks. There is plenty of parking, with two car parks only a short walk from the playground. There are also plenty of public toilets which are kept nice & clean.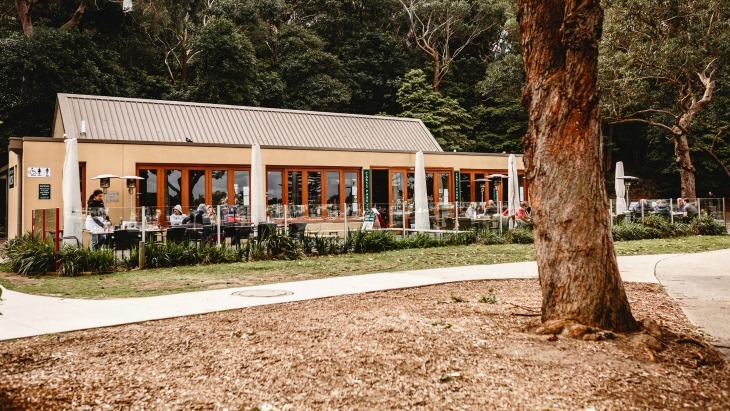 What Was The Kid's Verdict?
The kids loved it, we had a 2-year-old, 4-year-old and 6-year-old and they were all able to find & play on equipment that was perfectly suited to their age.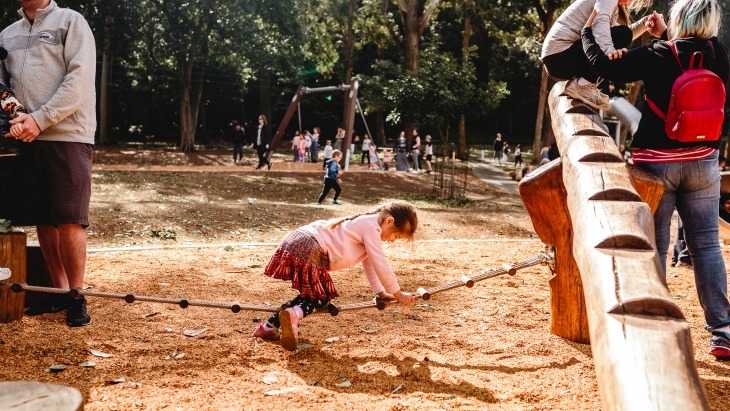 The flying fox was yet again a hit with the 6-year-old, and because there are two of them, the wait to have a go, even with lots of kids there, wasn't as long as other places we've visited that only have the one flying fox. The toddler loved the enclosed toddler area and it gave mum a chance to stand back and let him test his skills without needing to be helped with climbing.
Top Tips
It can get quite windy because it is right on the water so best to check the weather forecast before heading down, as there also isn't a lot of shelter to be found from the rain. There is lots of trees and plenty of shade sails though so there are a lot of lovely shaded spots to sit & watch the kids while eating a picnic lunch.
Our top tips for when you visit Carss Bush Park:
Take a short bushwalk behind the playground and see some of the largest remnant trees in the St George area. It's a perfect length bushwalk for the under 5-year-olds.
Dip your toes into the man-made rock pool as you wander around the other side of the park.
On Sundays the local history museum is open in the afternoons for a small fee $2 per adult.
There is a great fish and chip shop located close by, Fishbox and Co, perfect for grabbing dinner and taking to the park on Summer evenings.