The Inner West❜s Best Kept Secret Playground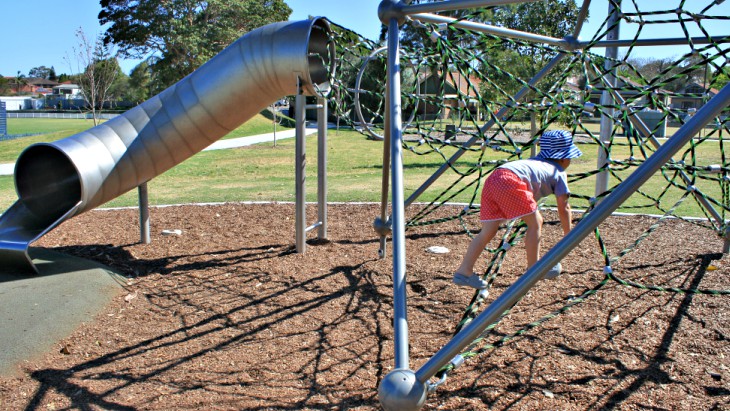 By: Alex Harmon, ellaslist
Despite being open around a year, for some reason this playground has managed to slip under the radar - maybe it's because the locals don't want you to know about it! I hope I am not ratting out my neighbours by spilling the beans, but I believe this park is too good not to share. The playground at Marrickville Park (corner of Livingstone and Sydenham Roads) was given a $3.3m upgrade last year and now includes brand new equipment, a picnic area with BBQs, fitness equipment, new gardens, bike paths and if you look closely - Sporting Walk of Honour plaques. The oval now has a bright white picket fence and the toilets are sparkling clean, including a parents room and accessible toilets.
What We Love About It
It's only a small park but it definitely packs a punch with three in-ground trampolines you can bounce along from one to the next, a tube slide with ropes climbing structure attached to it, a stand-on see-saw, swings, a toddler cubby house (with steering wheel and binoculars) and a merry-go-round. My son especially loved the trampolines, he squealed with delight and told me it was "same as like a bouncy castle." Considering I spend $3 for a few minutes on the jumping castle at Marrickville Markets, I am thrilled.
Surrounding the park is a smooth footpath perfect for scooters and bikes, an off-leash dog area and a fitness station that probably wasn't designed for toddler to play on, but is too good for them to resist.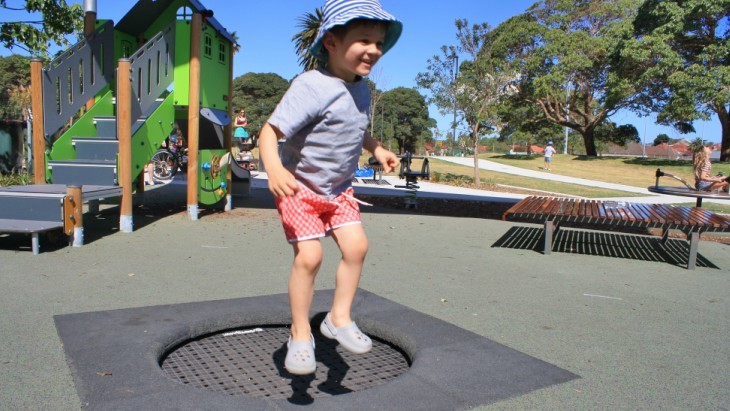 One thing that I really like about this playground is how close the BBQ area is to the toddler end of the park, meaning parents can sizzle sausages while watching their kids play (something that other parks often don't think of). And it has a real community feel with lots of families dining al fresco, having a few quiet ciders and using the BBQs (especially now that it's daylight savings). Families seem to mingle here more than other playgrounds, maybe it's because you see the adults having fun and bouncing on the trampolines rather than sitting privately on their phones (guilty).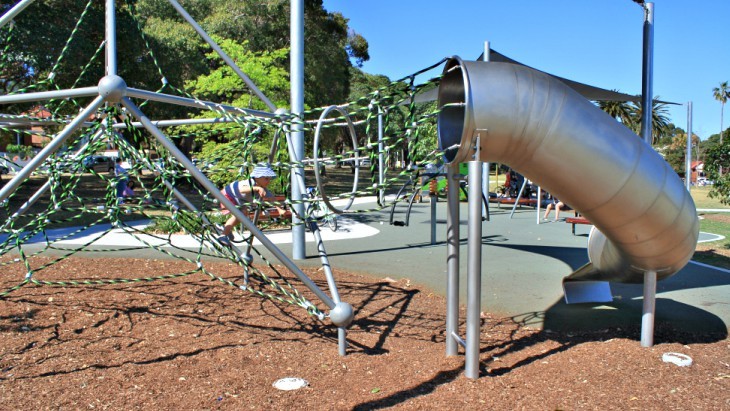 What They Could Do Better
Like a lot of new playgrounds in Sydney, there just simply isn't enough shade (sigh). There is a shade cloth over part of the playground but not in the BBQ area or over any of the benches. If you want relax in the shade you have to sit on the grass under the trees - so bring a picnic blanket. The amenities are shared with the sporting oval so they are a *bit* far away for little legs, I hate to complain about this but when my toddler needs to go, he *needs* to go if you get my drift. Luckily we always take his scooter to the park, so he can scoot over there pretty fast.
Can I Get Coffee?
Yes, a big plus to this playground is its proximity to Bespoke and Grind, a bicycle themed cafe with delicious coffee and produce. Try the Pork Belly Burger - it will blow your mind. Then go for a work-out on the fitness station or play a game of tennis - who am I kidding?! - I might just have a bounce on the trampoline....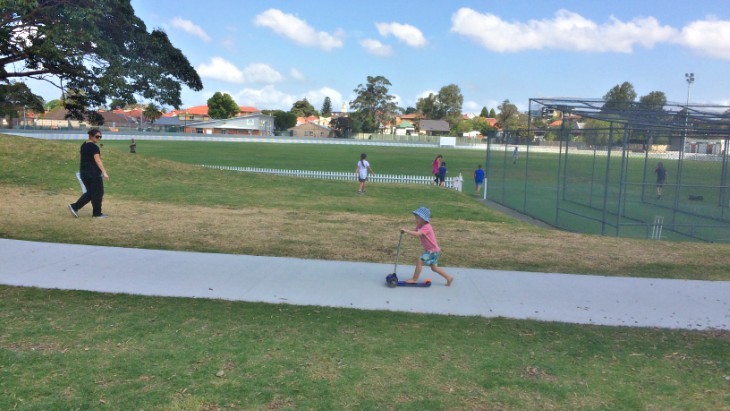 Top Tips
Don't forget the sunscreen and hats.
There is nearby free street parking but has been pretty scarce on the weekends that I have visited. I am told during the week is much better.
Invite your mates and have a BBQ - you might even make some new friends!
Check out the new Sporting Walk of Honour (on the footpath) and WWII memorial.
Bring scooters/bikes, have a game of tennis or cricket at the oval.
Grab a takeaway coffee from Bespoke and Grind.
If this park is too hot for your crew, try the nearby Steele Park which has waterplay and lots of shade!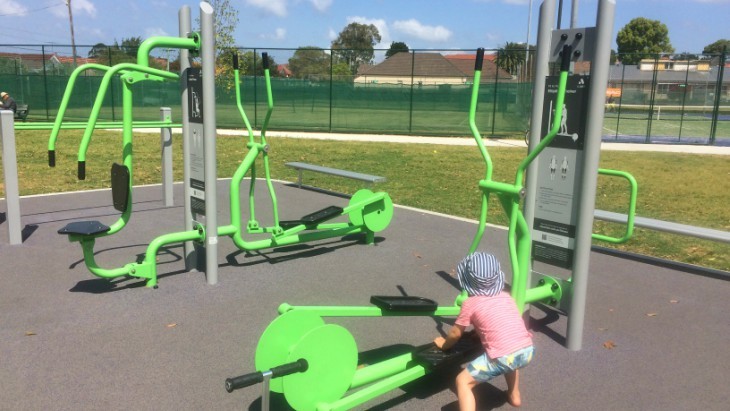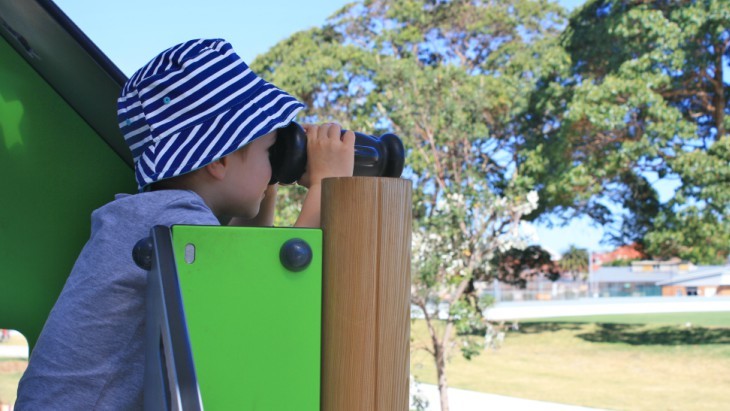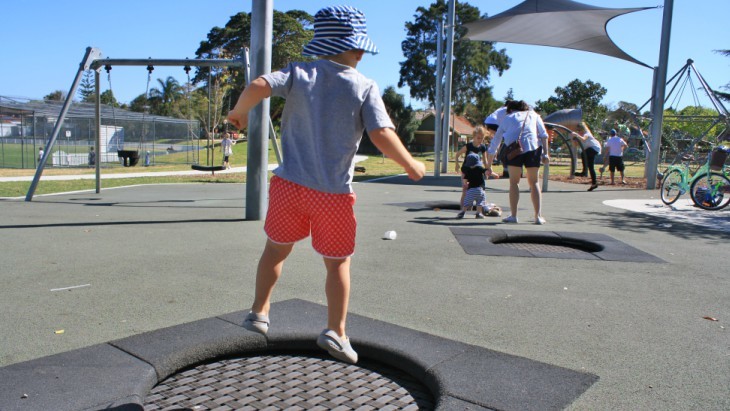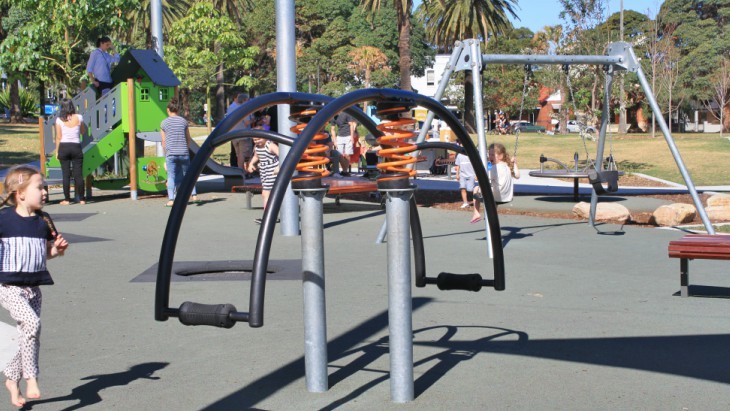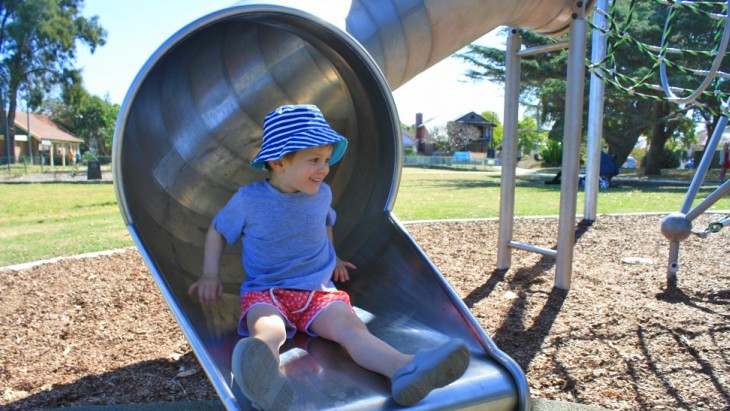 Reviews
Drives me nuts that so many playgrounds don't have enough shade!