Interactive Water Play In Marrickville Equals A Summer Of Fun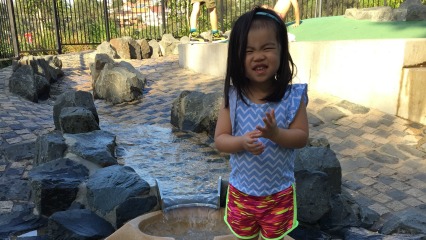 By: Karina Lee, ellaslist explorer
During those hot Summer days, my 2 and half year old daughter loves playing in the water and getting wet! Located within Steel Park on Illawarra Road and next to the Cooks River, this waterpark is the perfect place to fulfil that little need of hers.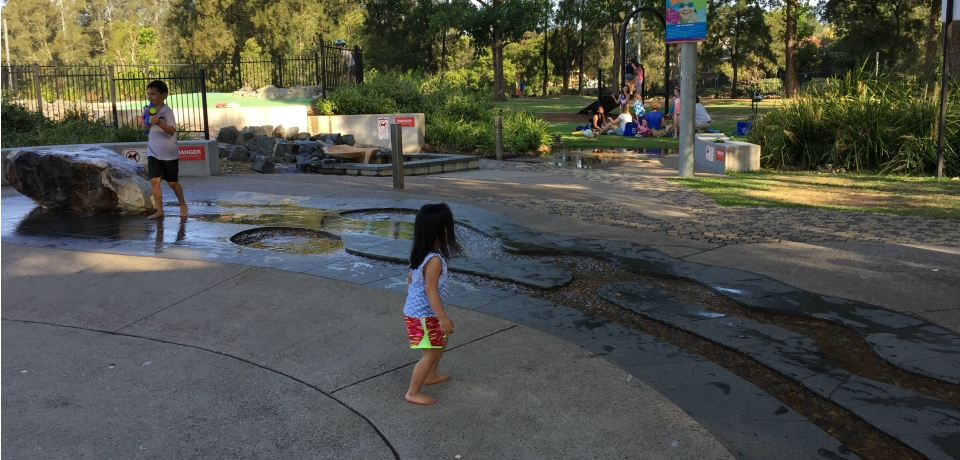 Covered Waterplay Park

This interactive waterplay park is not only a fun recreational space, but it is also a demonstration of the entire water cycle through its collection of fountains, flowing water, jets and sprinklers. According to the website, water for the park comes from the roof of the Debbie and Abbey Borgia Centre and is fed into the play features before being treated onsite and recycled. A simple push of a button is required to activate the water features which lasts for 10 minutes.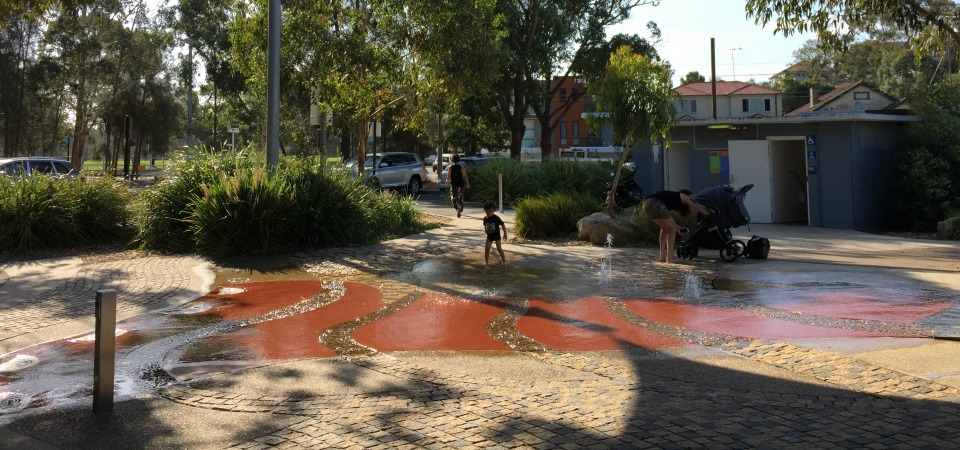 My daughter had a blast running around the jet sprays and pushing the buttons to get that water action flowing! The surface is not slippery, although some parts of it were made of pebbles and my daughter found it uncomfortable walking on this with her little feet. There is plenty of dry land amidst the water flow so adults are able to hold onto their children's hands without actually getting too wet, if at all.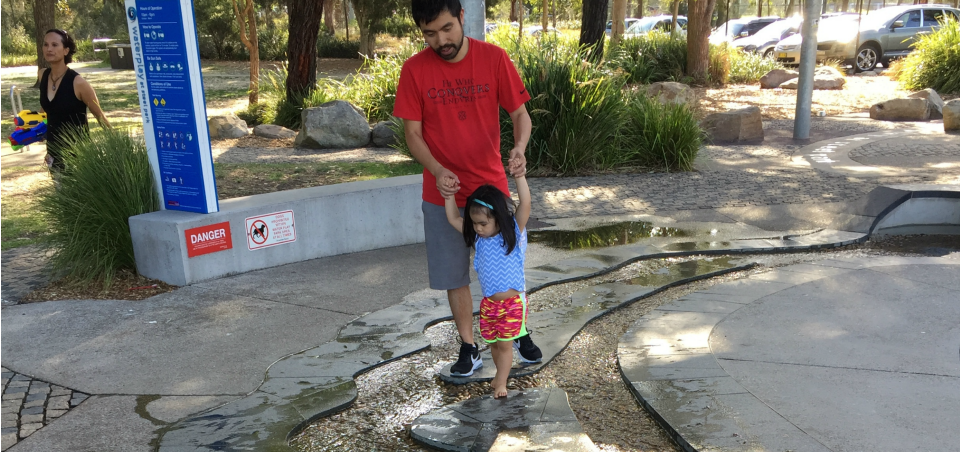 Big Fun Playground

This spacious playground is shaded by trees and contains slippery slides, see-saws, swings for both babies and older children and a climbing frame – all built on either mulch or a soft surface.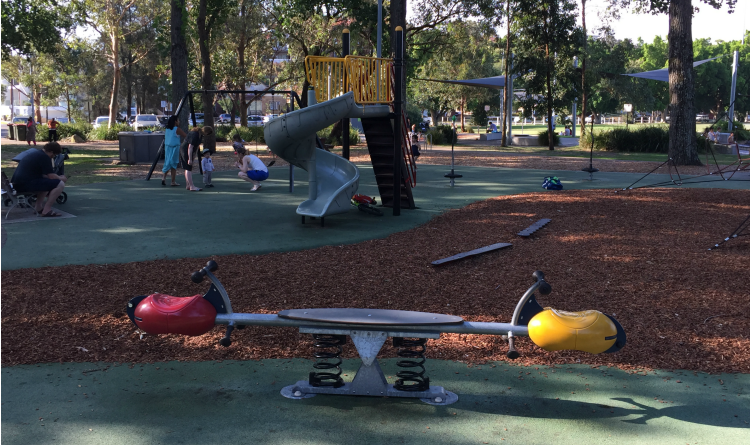 Large Flying Fox

Lots of fun for both kids and adults! My daughter was too scared to go on, but I had a fabulous time! It travels a fair distance and is quite high above the ground so young children may require some assistance from adults.
Picnic Facilities With
BBQ

There are picnic tables and BBQs available, with some tables under cover. This area is generally well shaded by trees so even if you are not under cover, you will not be completely exposed to the sun. This park is also next to the Cooks River so it is quite a serene and relaxing spot to have a picnic.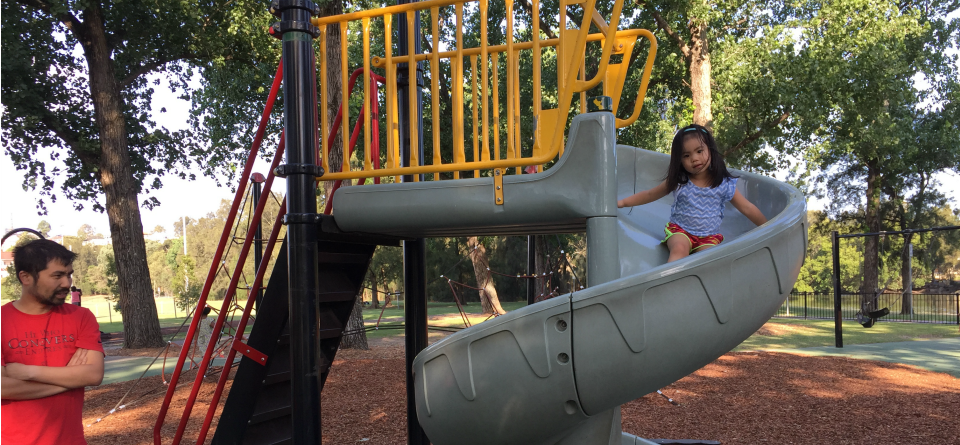 Good For Younger Children

Unlike some other water parks with their big jets of water and gushing streams, this park seems quite tame – perfect for little toddlers who are a little apprehensive about being blasted with water or being soaked from head to toe! We also came around 4pm on a hot weekday afternoon so it wasn't very busy which made it safer for the little ones to play without being bowled over by too many running children. The playground also has plenty of play equipment designed for very young children.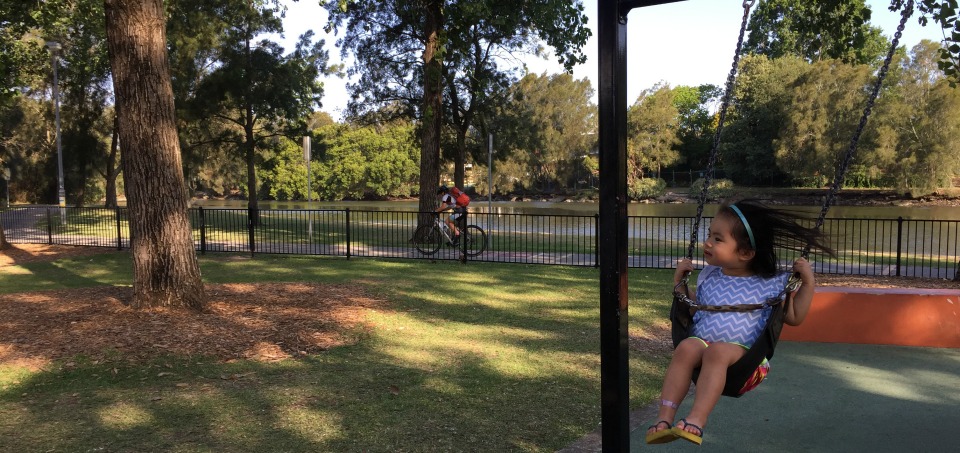 In a Nutshell

Nearest cafe: Georgia's Kitchen or Adora Handmade Chocolates across the Cooks River. The Steel Park Cafe that was part of the Debbie and Abbey Borgia Centre is currently closed.
Toilets: Toilet facilities are located next to the waterplay area. There is one accessible toilet with a change table
Shade: The waterplay park is under shadecloth. The picnic area and playground are shaded by trees. Covered picnic tables are also available.
Enclosed: The playground and waterplay park is only partially enclosed. There is a fence that travels alongside the playground and the cycling track beside the Cooks River. There is also another fence partially surrounding one of the water features adjacent to the park.
Parking: Free onsite parking is available for 4 hours and opens 6am to 9pm. Street parking is also available nearby.
Public transport: There is a bus stop on Illawarra Rd and Wharf Street.
Best feature: The flowing water, jet sprays, sprinklers and the large flying fox!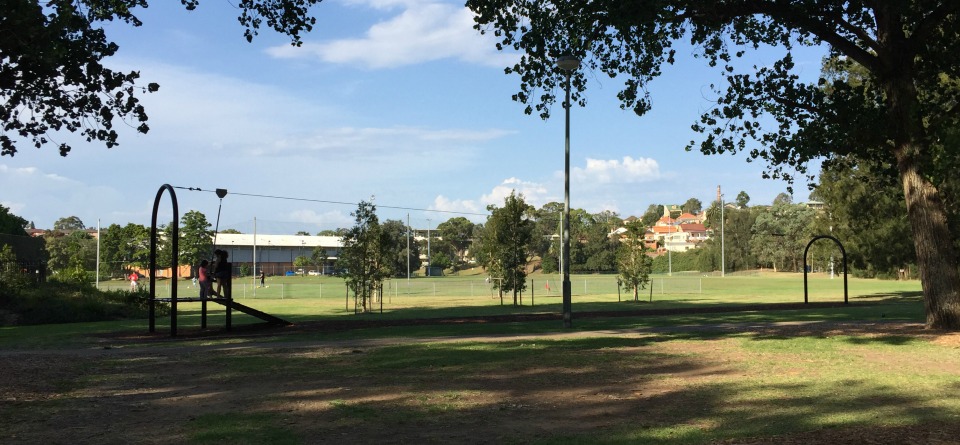 What You Need to Know

Address: 531-565 Illawarra Road, Marrickville
Opening hours: Daily between 10am and 6pm, from October to March.
More Info: Visit their website.