Sydney Park Playground And Bike Track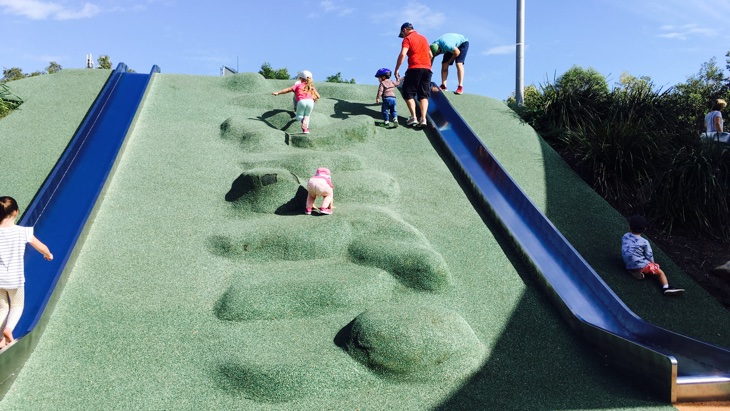 Is Sydney Park Playground the best fun playground in Sydney? It's certainly in the running as far as we're concerned. The playground itself is massive, there's LOADS of interesting equipment for all ages, and one of the best parks for older kids.
Fun Play Equipment for All Ages
There are large climbing nets, bridges, swings and slides. We particularly love the slides, lots of different gradients and wide enough for an adult to slide down too. They are all built into a hill so instead of steep steps the kids all scramble up the spongy rubber flooring which has footholds like a mini climbing wall, making it really safe, the kids love it and it's awesome for tiring them out! Another great thing is the sandpit area - it's raised to adult waist level so it's easy to play with the kids without the constant crouching down. The park has a nice kiosk, shaded benches and fancy (although too few) family toilets. There's a small car park attached which can get a bit busy at weekends if you arrive late.
Bike Track
Now to the best bit, just 200 meters from the playground you'll find the purpose-built learners cycleway, complete with real roads, streets and fully working traffic lights. Kids of all ages are on ride-ons, scooters and bikes navigating the mini streets and having their first lessons in road safety. It's just fab! The surrounding park is lovely, and quite unique because there's a huge grassy hill with an amazing view of the city. It's especially good for flying kites and a good game of rolling. A great day out, worth travelling to - thoroughly recommended.
More Playground Fun
Best Fenced Playgrounds in Sydney
Best Cafes Near Playgrounds
Favourite Playgrounds in Sydney