Secret Beaches in Sydney: 20 to Avoid the Crowds
Secret Beaches in Sydney: 20 to Avoid the Crowds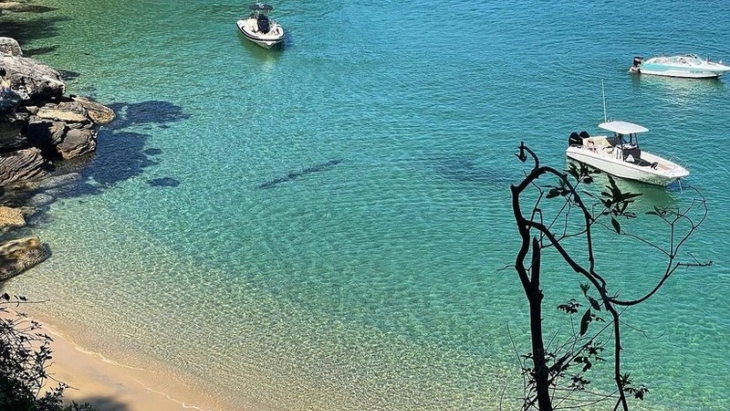 If you're dreading the crowds and chaos at the likes of Coogee and Bondi this summer, then you should make these secret beaches in Sydney a priority to visit.
Some of these hideaways you may never have heard of, some are really difficult to find, and some are more kid-friendly than others, but all these secret beaches in Sydney will provide you with a bit of relief from the crowds and give you a bit of seclusion.
Note: Some of these spots are un-patrolled, so always keep an eye on your little ones!
Secret Beaches in Sydney: 20 to Avoid the Crowds
1. Resolute Beach, Ku-Ring-Gai Chase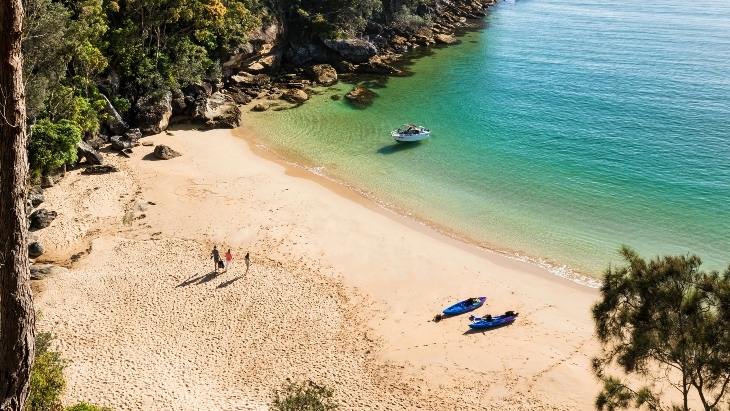 One of the most secluded beaches in Sydney, and possibly one you've never even heard of! Once you're inside the Ku-Ring-Gai Chase National Park, head to the Resolute Picnic Ground. From here, begin the Resolute Loop Trail to Resolute Beach, where there are virtually no tourists and likely almost no other swimmers so you'll actually have a Sydney beach all to yourself.
This secret beach offers views over Pittwater and the Barrenjoey Headland where you can enjoy a stunning 60-metre stretch of sandy beach, with very calm waters and small reaches of rocks on either side, so you are practically in your own beach cocoon. Note: You will need to pay for entry to the National Park.
Location: West Head Road, Ku-ring-gai Chase
RELATED:
Top Kid-Friendly Beaches in Sydney
Sydney's Top 10 Rock Pools
2. Congwong Beach, La Perouse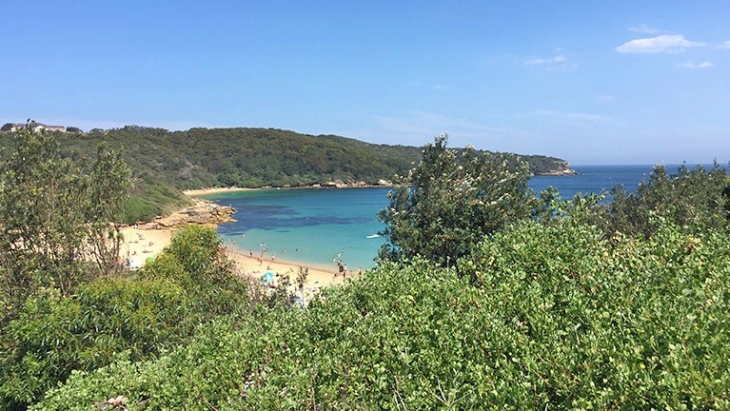 Make your way down sloping sand to one of the most secluded beaches in Sydney in the Botany Bay National Park, where you can look out to Bare Island.
The water at Congwong Beach is pretty much completely flat, so it's perfect for inexperienced swimmers, mums wanting a truly relaxing swim and snorkellers. If you're lucky, you might catch the ice cream boat - literally, a little boat you can buy ice creams from that travels between Congwong and Little Congwong beach.
Location: 1532R Anzac Parade, La Perouse
3. Yarra Bay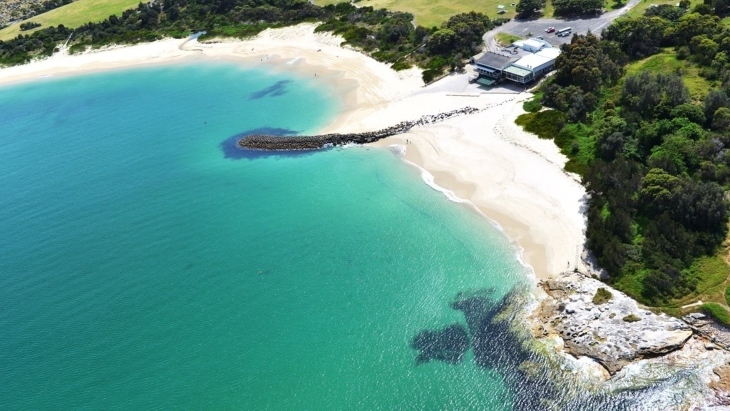 Just around the corner from Congwong Beach, Yarra Bay is another relatively secret beach in Sydney on the northern side of Botany Bay in Phillip Bay. The southern side of Yarra Bay is protected by Yarra Point, and the calm waters are due to the bay's southwesterly orientation.
Location: 21w Kooringai Ave, Phillip Bay
4. MacKenzies Bay Beach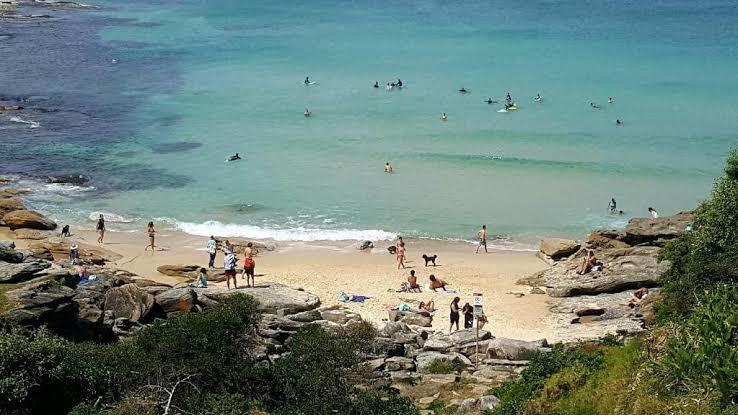 This beach is so secretive that it only comes out to play every few years! MacKenzies Bay Beach is found hidden away in the eastern suburbs, around 100 metres north of Tamarama.
Usually, you would miss this secret beach on your Bondi to Coogee walk because its shoreline is rocky and inhospitable. But, every now and again, MacKenzies Bay Beach appears - for just a few months! As of December 2019, the beach has returned, so head down to MacKenzies Bay Beach for a frolic (it's not patrolled, so we'd recommend just dipping your toes). It's also a dog-friendly beach!
Location: 100 metres north of Tamarama Surf Club, 1A Pacific Ave, Tamarama
5. Jibbon Beach, Bundeena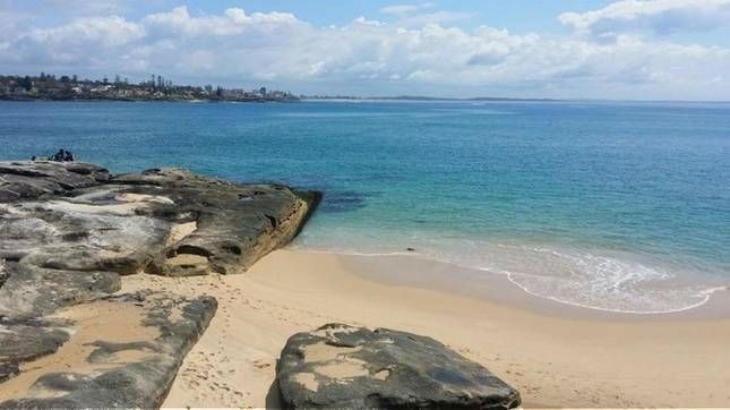 Next up on our list of secret beaches in Sydney, this one is found nestled in the Royal National Park in Sydney's south.
The water at Jibbon Beach is quite flat for a fair distance, but there is a sudden drop, so be careful with little swimmers! Jibbon Beach offers an extremely long 700-metre stretch of sand, so you're destined to pick your own quiet place to relax far removed from others.
From Jibbon Beach you can also access a trail walk to check out the sites of well-preserved Aboriginal engravings - an amazing experience.
Location: 1 Neil St, Bundeena
6. Darook Park Beach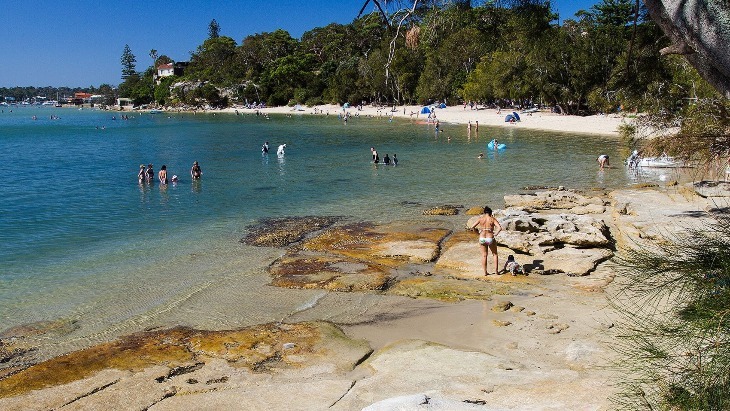 Ask any Sutherland Shire local, and they'll claim that Darook Park Beach is the best beach in the world, and they might be onto something.
Darook Park Beach is a west-facing beach and offers calm waters, plenty of shade and the opportunity to catch the sunset of an evening - bliss!
Location: Darook Park Rd, Cronulla
7. Kutti Beach, Vaucluse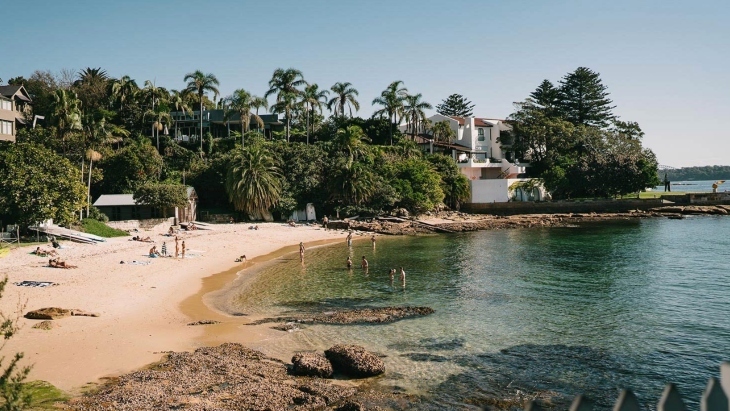 Kutti Beach is probably one of the hardest beaches to find - if you don't know what you're looking for, you simply won't find it. But trust us, it's possibly the best of the secret beaches in Sydney!
Kutti Beach is located between Parsley Bay and Watsons Bay in a completely residential area. At the end of Wharf Road in front of the Vaucluse Sailing Club, you have not hit a dead end. Look carefully, and you'll see a wooden staircase painted white behind a white picket fence that's roughly as narrow as a person's shoulder width. Head down the stairs, and you'll find what seems to be a private Sydney beach for the mansions that enclose it.
Bonus: Dogs are welcome here, too, when on a leash!
Location: The end of Wharf Road in Vaucluse
8. Store Beach, Manly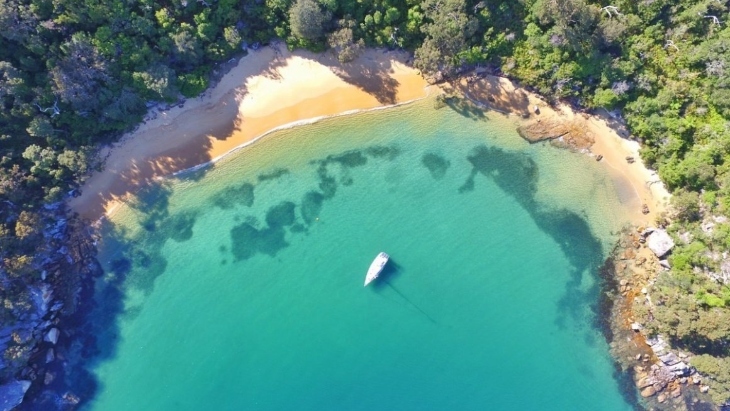 If you don't mind having a bit of an adventure to get there, then Store Beach in Manly is for you!
This secluded beach is only accessible by boat - we recommend hiring a kayak from Manly Wharf and paddling around to this 200-metre stretch of isolated beach.
With all the thick vegetation surrounding you, you'll feel miles away from the city and those pesky summer crowds. Pack a picnic to take with you on your beach adventure - there's no easy way off Store Beach once you arrive! Looking for a more family-friendly day out in Manly? We have just the guide.
Location: North Head, between Quarantine Beach and Collins Beach
9. Gordons Bay, Between Coogee & Clovelly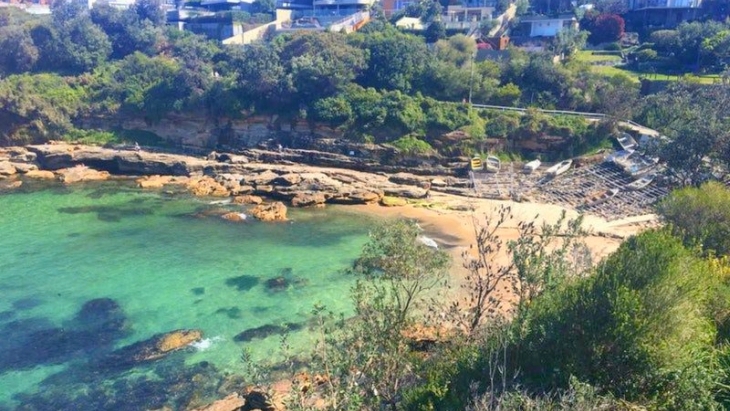 While Gordons Bay is no longer one of the top secret beaches in Sydney for locals, if you're ever visiting the Eastern Suburbs, check out Gordons Bay rather than the much, much busier Clovelly and Coogee beaches on either side of it.
It's a delightful, picture-perfect little curve of water with fishing boats stacked on either side and plenty of rocks to climb and explore (or sunbake on, as the locals do). Stop off as you enjoy the coastal walk, which is one of Sydney's best, no doubt.
Location: Major Street, Coogee
10. Manly Dam
You probably never thought to swim here! While Manly Dam is not quite a beach, it's undoubtedly a well-kept secret body of water.
Although parking costs more on weekends if you're not a Northern Beaches resident, Manly Dam is the perfect old-school swimming spot. It's a hotspot for water skiers, mountain bike riders, picnickers, bushwalkers, and swimmers, of course.
It has abundant flora and fauna life, and the swimming area is huge, great for toddlers to paddle in the shallows and stronger swimmers to venture further out.
Location: 112 King St, Manly Vale
11. Chinaman's Beach, Mosman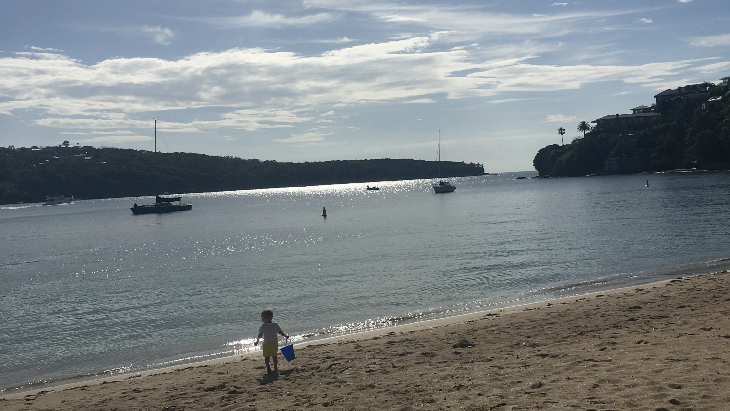 Chinaman's Beach is a 250-metre stretch of unpatrolled beach that gets forgotten because the super kid-friendly Balmoral Beach is close by.
A wave is a very hard thing to come by at Chinaman's Beach, so it's a perfect spot for toddlers and a relaxing swim in a residential area with homes you're bound to turn green with envy over.
Chinaman's Beach is properly secluded, so bring your own snacks and enjoy the tranquillity of overlooking the boats as they bob around in the clear water. Parking is available at the adjacent Rosherville Reserve, which also has toilets and a playground if you feel like a play.
Location: Access via Rosherville Reserve, 46 Hopetoun Ave, Mosman
12. Lady Martins Beach, Point Piper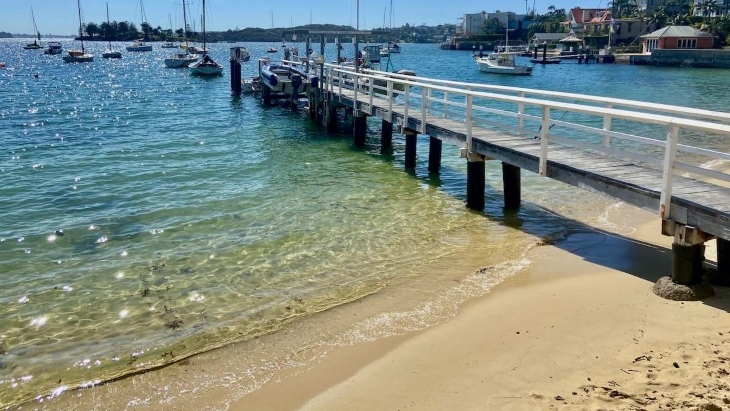 Lady Martins Beach's hidden location keeps the crowds at bay on most days - you might even have this beach all to yourself if you're lucky!
Nestled beside the Royal Prince Edward Yacht Club, Lady Martins Beach is down a narrow lane (off Wolseley Road) and offers a very secluded (rather narrow!) stretch of pristine beach that's sure to become your new favourite of the Sydney beaches listed. Enjoy the views of the city skyline as you take a dip.
Location: 160 Wolseley Rd, Point Piper
13. Bungan Beach, Pittwater
Gorgeous white sand, with 40-50-metre sandstone cliffs on either side, Bungan Beach provides the perfect nook for a secluded beach experience.
Bungan Beach is a long 600-metre stretch of beach with a few surfers but never unbearable crowds. Access to the beach is via Myola Road, Newport.
Location: 97 Myola Rd, Newport
14. Wattamolla Beach, Royal National Park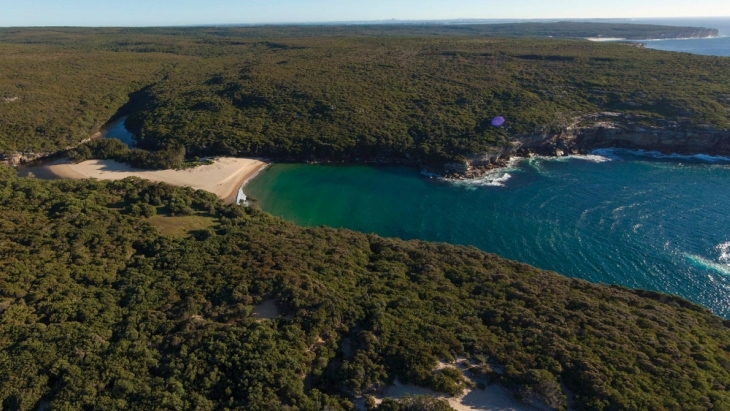 Wattamolla Beach offers the perfect adventure spot - walking tracks, snorkelling, swimming, fishing, picnicking, exploring, or just hiding away from the hustle and bustle. The Wattamolla Lagoon is perfect for little swimmers.
This previously secret beach in Sydney can get pretty busy on weekends, so for the most secluded experience, visit Wattamolla Beach during the week!
Note: you will need to pay for entry to the National Park.
Location: Wattamolla Road, Royal National Park, Sutherland Shire
15. Paradise Beach, Avalon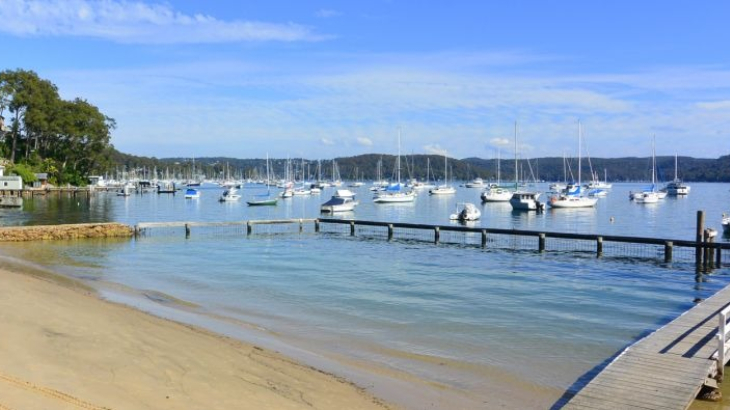 If the name alone doesn't convince you to go for a peek, splash and wonder, Paradise Beaches' almost completely secluded location should!
Located at the end of Paradise Avenue in Avalon, Paradise Beach backs onto Pittwater and is the definition of secret beaches in Sydney. It has very small waves, which is perfect for new swimmers, babies and toddlers, and the wharf that juts out is a popular spot to grab some rays. Parking is very limited on the residential street, so you might have to count on luck.
Location: Paradise Ave, Avalon Beach
16. Forty Baskets Beach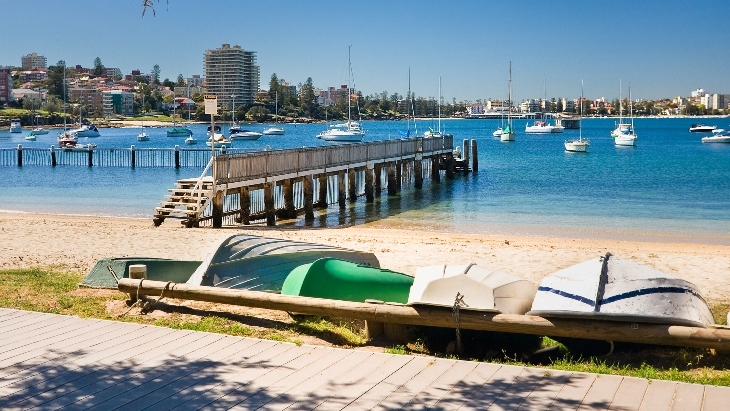 Another hidden slice of paradise on the Northern Beaches, Forty Baskets Beach is a great alternative to nearby Manly or Fairlight if you're keen to try somewhere near and hopefully avoid the crowds while you're at it.
Forty Baskets Beach is located at Manly Cove along the Spit to Manly walkway, and there's parking is available at Beatty Street in Balgowlah Heights.
Location: Beatty Street, Balgowlah Heights
17. Castle Rock Beach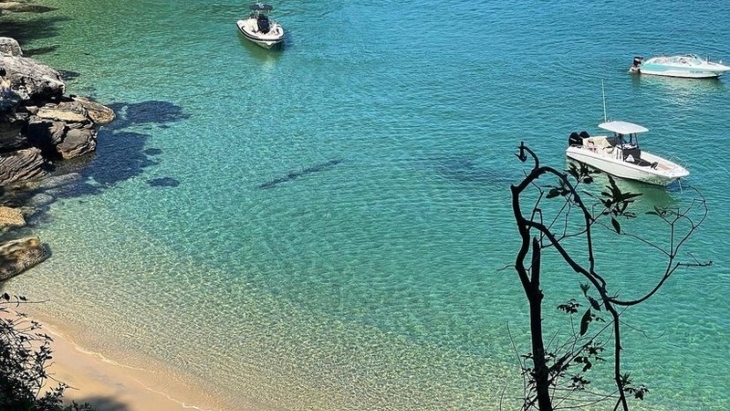 Castle Rock Beach is so secret you can only access it on foot!
Castle Rock Beach is also part of the Manly to Spit Walk and can be accessed via Ogilvy Road in Clontarf. If you're coming on foot and enjoying the coastal walk before going for a dip, Castle Rock Beach is located at Stop 7 on the Manly to Spit Walk.
Location: Access via Ogilvy Road in Clontarf
18. Echo Point Beach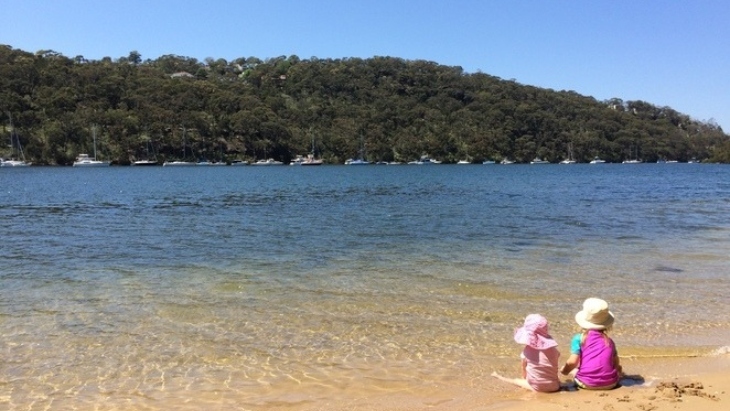 Another secret beach in Sydney on the Lower North Shore, Echo Point Beach is nestled by Echo Point Park in Roseville. Most visitors to Echo Point come for the barbecue facilities, kids' playground, or for a bite to eat at Echo on the Marina, but some don't know that there's actually a slice of beach at the lower end of the park.
Head down the stairs from the picnic area along the waterline, and you'll find a lovely wave-free beach for paddling with the little ones.
Location: Babbage Road, Roseville
19. Delwood Beach

Another secret beach in Sydney on the north side, Delwood Beach faces south along the Fairlight Walk between Fairlight Beach and Manly Cove.
Delwood Beach is the perfect spot to lay down a picnic blanket, go for a refreshing dip, or to enjoy being in such a breathtaking location.
Access to this secluded spot is via a wooden staircase just off the Manly to Spit Bridge coastal walkway.
Location: The Crescent Delwood Beach, Fairlight
20. Collins Flat Beach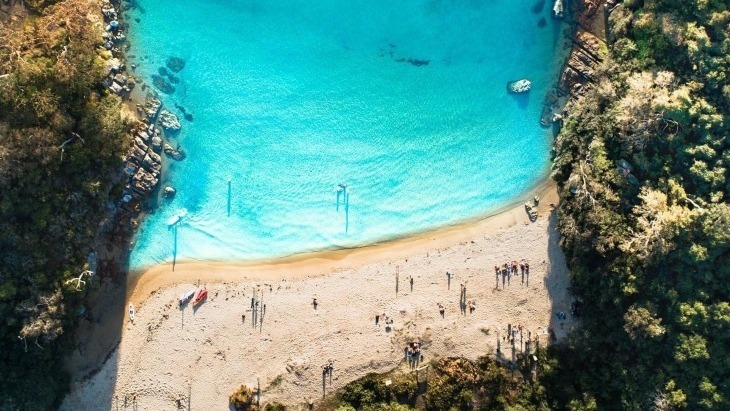 Just around the corner from Delwood Beach, you'll find another secret beach in Sydney, Collins Flat Beach.
Collins Flat Beach is the ideal spot to tuck yourself away from the world for a few hours. With Sydney Harbour views, calm waters, a trickling waterfall and plenty of picnic opportunities, we highly recommend adding this sweet spot to your weekend to-do list stat!
Location: Collins Beach Road, Manly
Other Summer's Day Outings
Sydney's Best Cafes by the Water
Where to Grab the Best Fish & Chips in Sydney
Fabulous Fruit Picking in Sydney

Have you signed up to our newsletter? Join ellaslist to get the best family and kid-friendly events, venues, classes and things to do NEAR YOU!
Reviews
Just a heads up on Wattamolla Beach, Royal National Park: This beach is pretty popular already and on nice days/weekends and police will close the road in. The only option to have some quiet time here is during the week if at all. If you make a trip from Sydney down the South Coast there are some smaller less popular beaches plus a lot of sight seeing for free :)