The Best Rock Pools in Sydney
Preschoolers
Family
Kids
Mums & Bubs
Teens
All Ages

Need a cool, fun place to escape the heat with your littlies in the warmer weather? There's something truly magical about rock pools - they're set against gorgeous beach backdrops, are full of hidden treasures to provide young ones with hours of exploring and adventuring, and are the ideal temperature on a hot summer's day.
How many ocean pools are there in Sydney? Too many to mention, since we seem to discover new ones every month! For now, we'll focus on our favourites.
10 of the Best Rock Pools in Sydney
1. Dee Why Rock Pool, Dee Why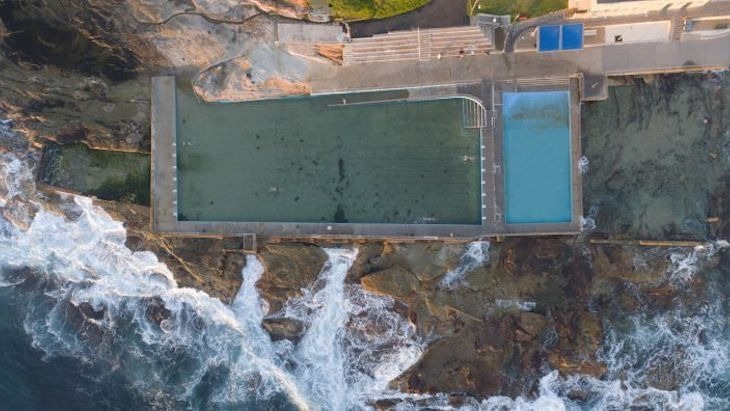 Dee Why Rockpool is perfectly located right near the promenade along the beach. With natural sandstone and concrete walls, this 50-metre pool has a special toddler area. It's well maintained with plenty of shallow water for splashing around. There are toilets and showers close by.
2. Minerva Pool, Dharawal National Park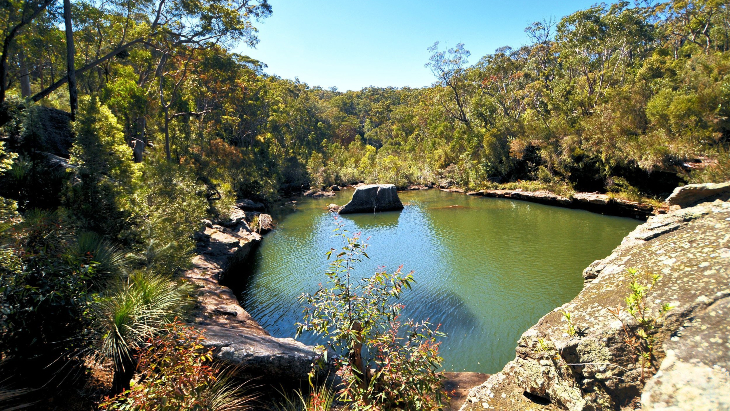 At the end of a short bushwalk in the Dharawal National Park, Campbelltown, you'll find the Minerva Pool, a pristine waterhole with sandstone features and a small stone island. Unpack a picnic lunch and spend some time enjoying the view as you watch the waterfall cascade into the rock pool below. Please be mindful that this is a sacred site for the Dharawal People and an important part of Aboriginal culture, so tread carefully and with respect during your visit. The Tharawal Local Aboriginal Land Council asks that only women and children enter the waters of Minerva Pool. The Minerval Pool is only suited to older kids as it is quite steep.

3. Freshwater Rock Pool, Freshwater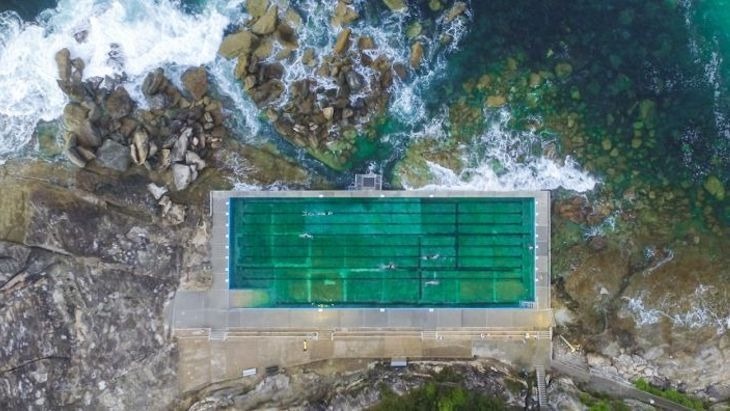 Warringah council maintains 6 rock pools in the area, and this one is situated at the northern end of Freshwater Beach. It's a 50-metre lap pool, perfect for kids who want a proper swim without the size constraints of many rock pools and without the waves and traffic of the ocean. Similar to Newcastle's Bogey Hole, it has the structure and security of a man-made pool but with all the gorgeous scenery and natural elements of the beach.
4. Bogey Hole, Bronte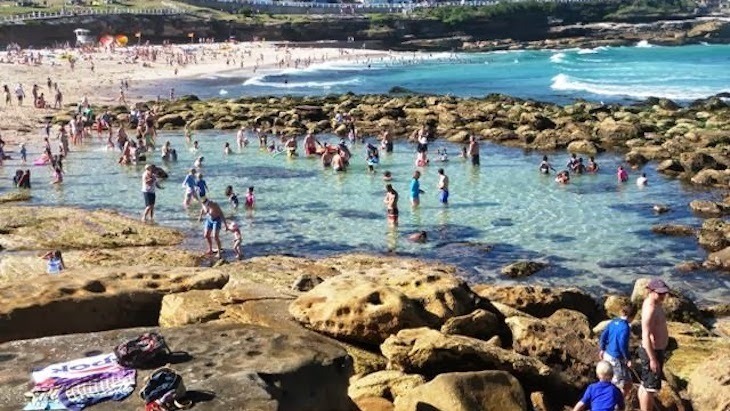 Sydney's Eastern Suburbs has some of the best rock pools around, and Bogey Hole is no exception. Only revealing itself during low-tide, this small and shallow rock pool makes it easy to keep an eye on your kids whilst they explore all the natural wonders swimming, crawling and sliding about. Why not top off the day with lunch at Bogey Hole Cafe?
5. Giles Baths, Coogee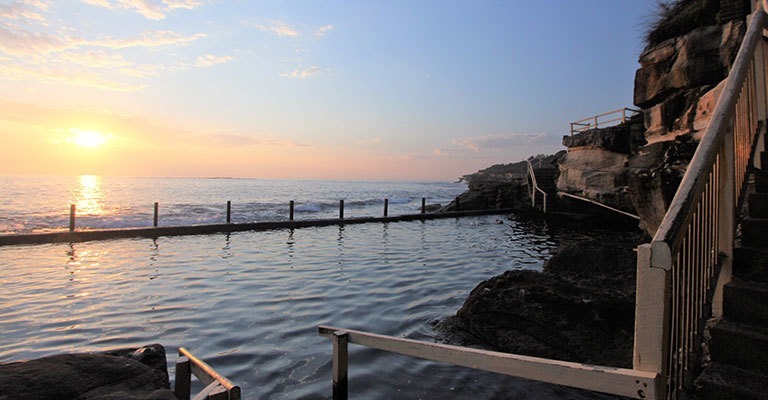 Giles Bath is quite a large rock pool, with rocks for climbing and most suitable for older children. It's set away from the summer mayhem of Coogee beach, found up a hill that the locals just couldn't keep a secret. Also nearby, check out the women's only McIver's Ladies Baths which is Australia's last remaining women's-only seawater pool.
6. North Curl Curl Rockpool, North Curl Curl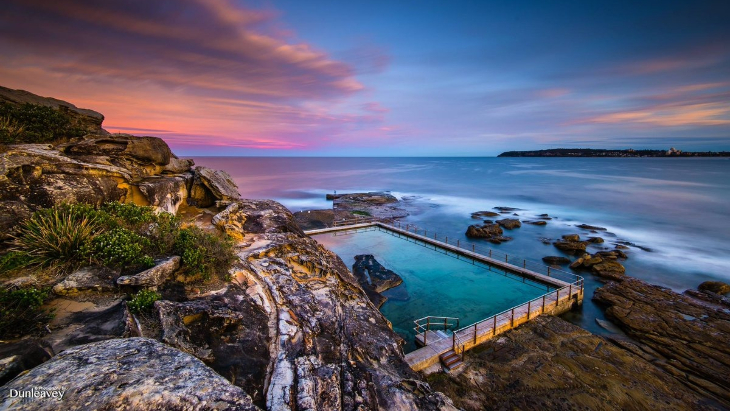 A hidden gem and the locals' best-kept secret, you'll find this 25-metre rockpool near the end of the North Curl Curl Beach Headland. Note that during high tide it can only be accessed through the coastal walk along the headland.
7. Bronte Baths, Bronte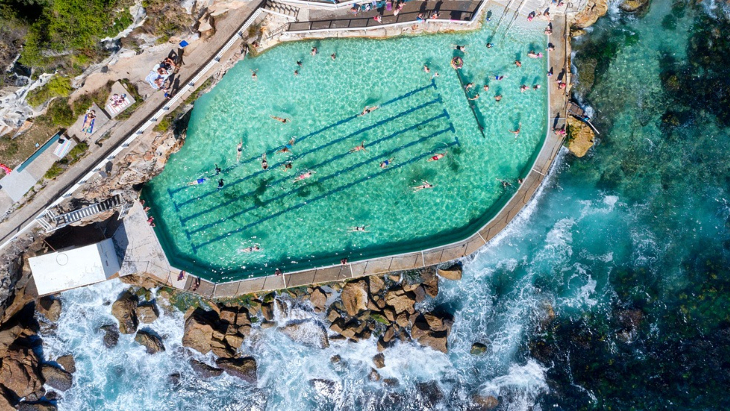 Wylie's Bronte Baths, the Bronte Ocean Pool, Bond's Ocean Pool... whatever you call it I think we can all agree that you can't have a list of awesome Sydney rock pools and not mention Bronte Baths. This gorgeous rock pool is adored by almost all of Sydney because it's that spectacular, and the perfect spot to go for a dip on a hot summer's day. The kids will love it, trust us!
8. Fairlight Rock Pool, Fairlight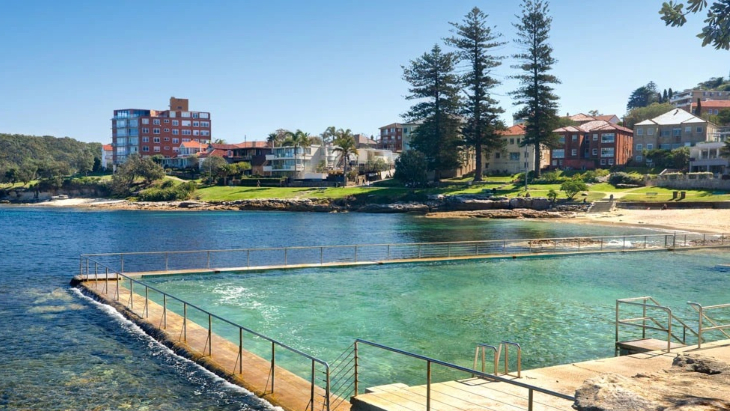 Also known as Fairlight Ocean Bath, the Fairlight Rock Pool is pretty spectacular. The structured rock pool is also surrounded by untamed rocks for plenty of exploration, and the adjacent beach makes for a perfect family day out.
9. Oak Park Beach Baths, Cronulla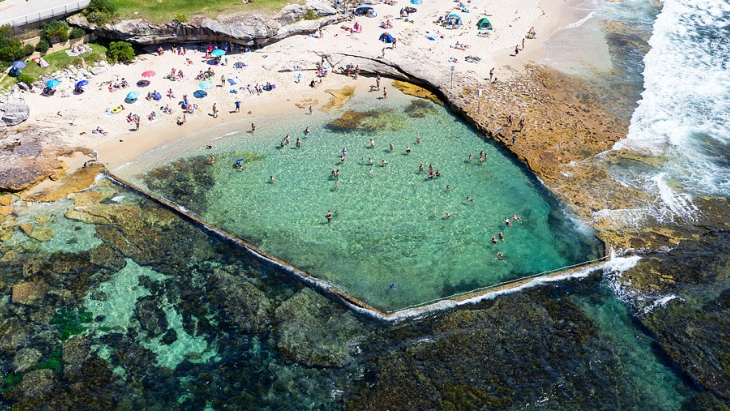 Located on the Cronulla Esplanade, Oak Park Beach Baths are super popular so expect the rock pool and adjacent beach area to be rather busy on a weekend. Grab the kids and get to Oak Park Beach Baths early to enjoy the pristine waters and prime beach location.
10. Palm Beach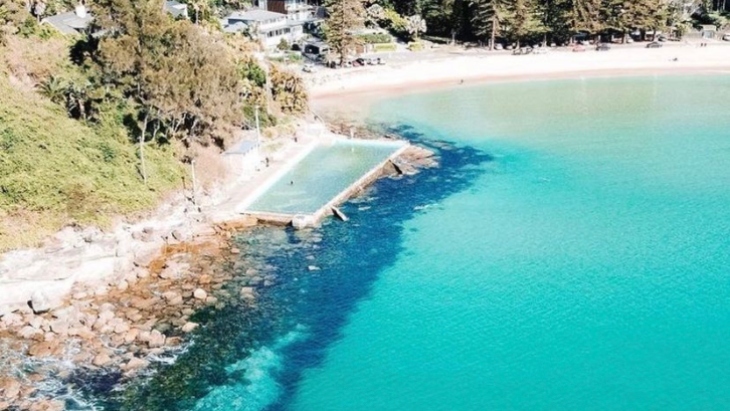 The picturesque seaside suburb is not only famous for Home & Away! Palm Beach is frequented by Sydney families almost every day of the year thanks to its generous offering of watering holes to suit all tastes, including a glorious rock pool. The Palm Beach Rock Pool is located on the tip of the southern end of the beach and can be accessed via Ocean Road. Once you've had your refreshing dip, stop by one of the nearby cafes for some summer refreshments.
Bonus: The Bogey Hole, Newcastle
Put this on your weekend road trip itinerary! Newcastle's finest rock pool has the structure and security of a pool, but the natural edginess of the ocean. It's large and enclosed, perfect for kids wanting to make a big splash. With an incredible convict history dating back to 1820, kids will enjoy exploring every crevice of this rock pool with endless ocean stretching out in front of it.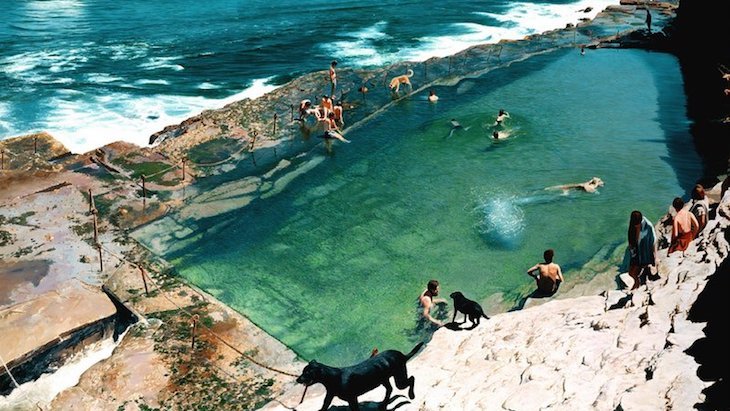 Safety Tips for Rock Pool Adventurers
Remember that rock pools are a part of nature and this means marine life inhabits these small spaces. Whilst rock pools are a tactile experience, keep an eye out that your children aren't picking up bluebottles, sea urchins, blue-ringed octopus, or anything you're not sure is safe.


Whilst some of the rock pools listed are shallow, kids, especially weaker swimmer and younger children should always be within your reach.


Rock pools are usually surrounded by slippery, mossy rocks, so no running!


Make sure young children and weak swimmers wear floaties, even in shallow water.


If one of these rock pools are in a new and unknown area, ask lifeguards and locals where to go and which areas are safe.


Rock pools attached to the ocean can be subject to the whim of the waves, so only let your kids take a dip in the pool if the water is calm and stable.
Want More Swimming in Sydney?
Five Idyllic Royal National Park Beaches
Sydney's Best Indoor Swimming Pools for Kids
Sydney Beaches the Whole Family Will Love

Have you signed up to our newsletter? Join ellaslist to get the best family and kid-friendly events, venues, classes and things to do NEAR YOU!
Reviews
I'm very concerned by the irresponsible recommendation of taking kids to the figure 8 rockpool. Many adults had to be rescued from that site last summer. Yes, it is far safer at low tide, but not a place for children. http://www.smh.com.au/environment/figure-8-pools-instagram-craze-drives-risky-behaviour-in-royal-national-park-20160110-gm30cf.html
Burning Palms, Royal National Park is a dangerous place for kids. Calm days like the photo are rare, you must look at tides and wave conditions first to see if it's safe before doing the hike.
Mahon Pool at low tide is beautiful, lots of starfish. My toddler loves it there.
Wow! This is really impressive and amazing lists of rock pools for kids. Thanks for sharing <a href="aurapools.net" rel="nofollow">APS</a>
Great article - thank you :) ..one that's definitely worth mentioning, though, is Fairlight Rock Pools (look up 'Fairlight Beach'). It's about a ten minute walk from Manly Wharf (lovely walk, too!) & has a shallow pool for very little ones, a larger pool that's even good for burgeoning snorkelers, & some beach for anybody wanting deeper water - this also also great snorkeling.
I must get to the one at Burning Palms and some of the eastern suburbs ones this summer. I know the Northern Beaches ones very well and there isn't a bad one amongst them. But two faves in our family are North Curl Curl for it's marvellous fish (bring snorkelling gear) and then North Narrabeen, the most iconic and photographed of them all.