The Best Natural Swimming Holes in Sydney and Beyond
The Best Natural Swimming Holes in Sydney and Beyond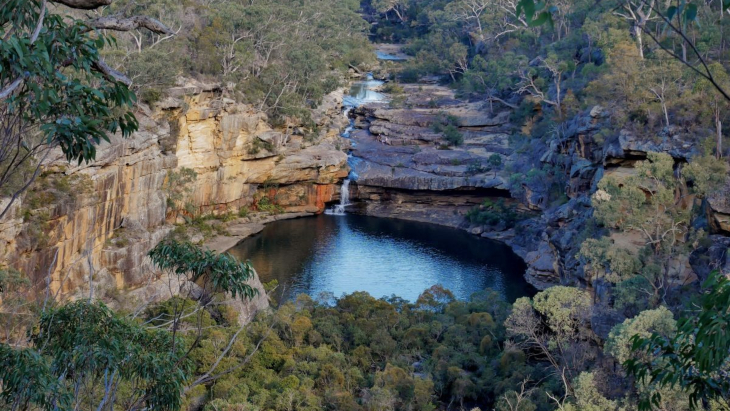 Remember that scene in Now and Then when the girls stop off after their bike ride for what looks like one of the most refreshing dips in a natural swimming hole? I've always wanted to do that too! And thanks to the abundance of natural swimming holes NSW has to offer, we can!
If you need to cool off in summer, fewer spots are as naturally refreshing as a natural swimming hole. Yes, the beach is awesome, and some might argue better, but when you've visited every beach in Sydney twice, a dip in nature's freshwater bounty sounds pretty good.
The Best Natural Swimming Holes in Sydney & Beyond
1. Karloo Pools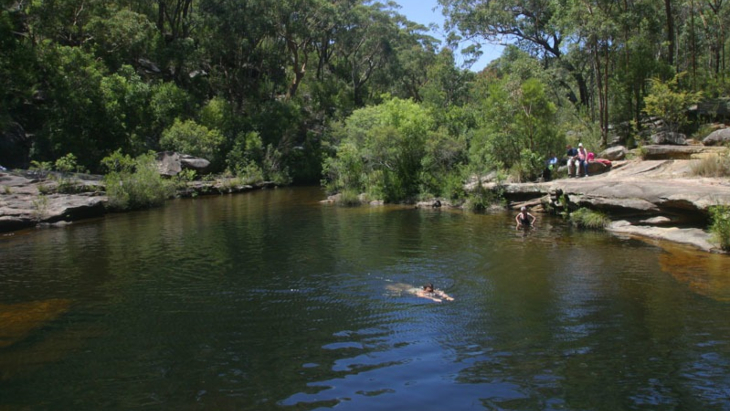 A crystal-clear emerald swimming pool awaits you at Karloo Pools in the Royal National Park.
The gorgeously rugged surroundings and quintessential sounds of the surrounding bushland make for a pretty spectacular day out with the family, not to mention the refreshing dip at the end of the 3km trail!
Location: Royal National Park near Heathcote
RELATED: The Best Rock Pools in Sydney
2. The Needles
If you're keen to share your natural swimming hole adventures with your furry friends, The Needles in Engadine is also a dog-friendly swimming spot in Sydney so bring the whole family along.
Located on the Woronora River, The Needles is one of the larger natural swimming holes on our list and is the perfect spot for the family on a stinking hot summer day.
It's easy to park at the junction of Woronora Road and Carmel Place but the walk down the unsealed road to get to The Needles is around 20 minutes. If you're in the mood for exploring the area a little further, look for the Engadine Lagoon Trail sign, and you'll be able to take a dip in another stunning natural swimming hole at the Engadine Lagoon.
Location: At the junction of Woronora Road and Carmel Place, Engadine
3. South West Arm Pool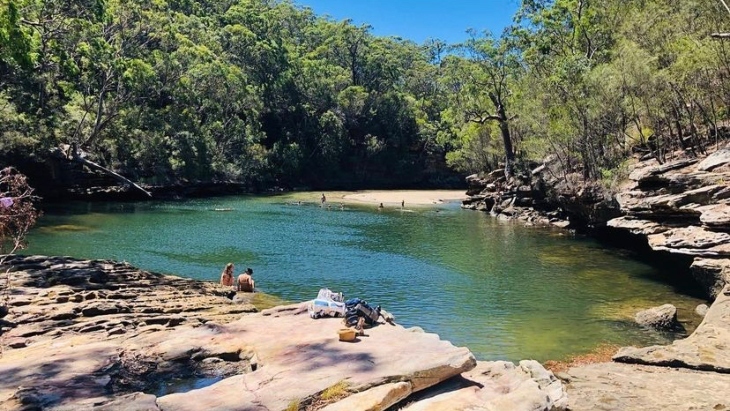 Another gem in the Royal National Park, the South West Arm Pool is the place to be for swimming, rock sunbaking and soaking up the abundance of natural beauty around you.
South West Arm Pool can be accessed on the Winifred Fire Trail, which means that you'll also see the stunning Winifred Falls on your adventures. The fresh waters of Port Hacking at South West Arm Pool is also a great spot for kayaking.
Location: Royal National Park
4. Lake Parramatta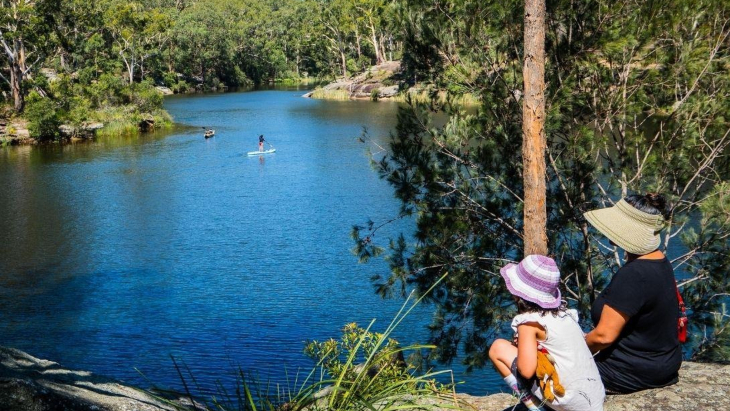 A beautiful natural swimming hole just two kilometres from the Parramatta CBD, Lake Parramatta offers plenty of water action every summer when it opens in October.
Swimming in Lake Parramatta is via Lake Parramatta Reserve and is patrolled during the open season (usually from October), so it's one of the safest ways to enjoy a splash with the family in a gorgeous natural body of water.
As expected, the summer months can get very busy at Lake Parramatta, so we recommend arriving early!
Location: Lackey Street via Bourke Street, North Parramatta
5. Jellybean Pool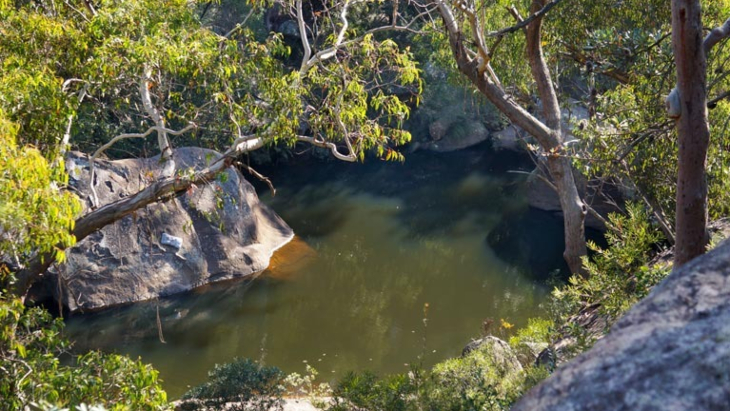 The next time you're out and about in the Blue Mountains and the weather calls for a refreshing dip, make sure you add the Jellybean Pool to your itinerary.
Located near the Glenbrook entrance of the Blue Mountains National Park, Jellybean Pool is a mesmerising natural watering hole surrounded by looming boulders and picturesque vegetation. The waters closest to the beach area are shallower and perfect for little swimmers.
Location: the Blue Mountains National Park near Glenbrook
6. Glenbrook Gorge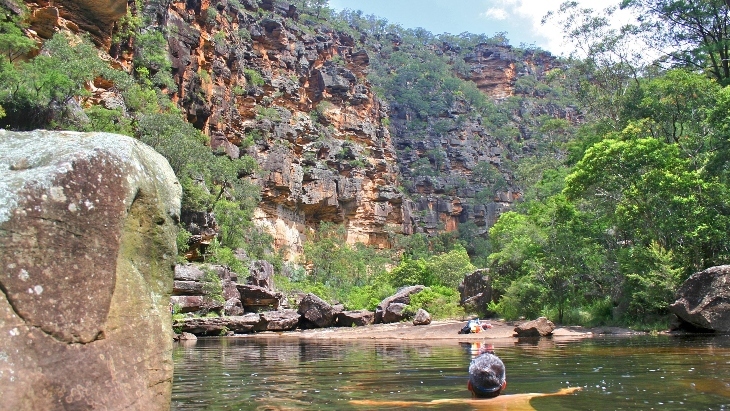 Possibly one of the most underrated spots in the Blue Mountains National Park, taking a dip in Glenbrook Gorge will make you really feel at one with nature.
If you're visiting Jellybean Pool and it's too busy for your liking, Glenbrook Gorge is a fantastic plan B (although some may say this swimming hole is better!). Park at Glenbrook NPWS Visitor Centre car park and enjoy the 1.25-kilometre bush walk down to the Gorge, where you can nestle yourself amongst the looming red and orange cliffs.
Location: Bruce Street, Glenbrook
7. Simmo's Beach, Macquarie Fields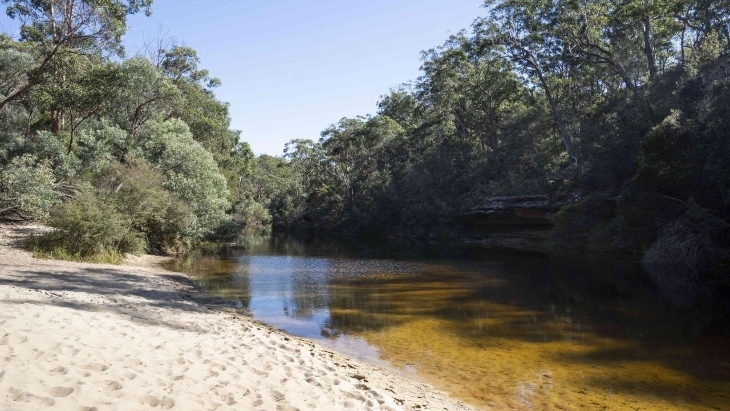 Don't be fooled by the name, Simmo's Beach is still considered a natural swimming hole and is nothing like your run-of-the-mill beach.
Located on the Georges River in Macquarie Fields, Simmo's Beach is an inland beach and bushland swimming hole that just screams family outing, so much so that there are even picnic and barbecue facilities and a kids' playground!
Location: Fifth Avenue, Macquarie Fields
8. Minerva Pool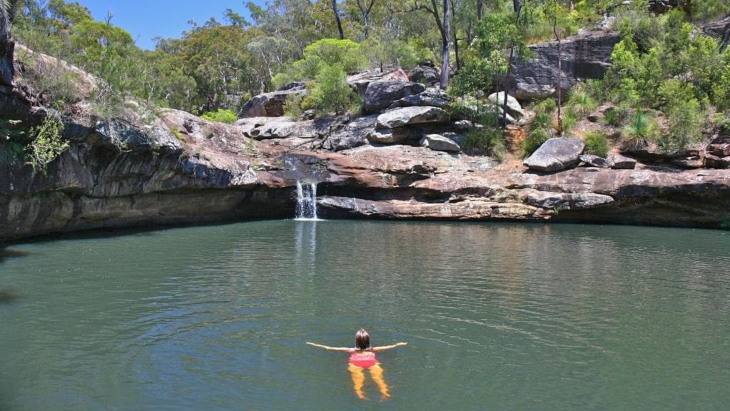 *Please note that Minerva Pool is a sacred spot, so please treat the area with the utmost respect.
The stunning Minerva Pool in the Dharawal National Park is so sacred that only women and children are allowed to enjoy the waters.
Discovered by Aboriginal Dharawal People many moons ago, the site of the Minerva Pool is believed to hold immense cultural significance to its people (women in particular) and is classified as a sanctified women's place - no males allowed!
The walk to Minerva Pool from Victoria Road, Wedderburn is around 2.5 kilometres return. If you'd prefer to include the whole family, there's another freshwater swimming hole at the end of the Jingga Walking Track near O'Hares Creek that allows everyone to go for a refreshing dip.
Location: Dharawal National Park near Wedderburn
9. Clarence Dam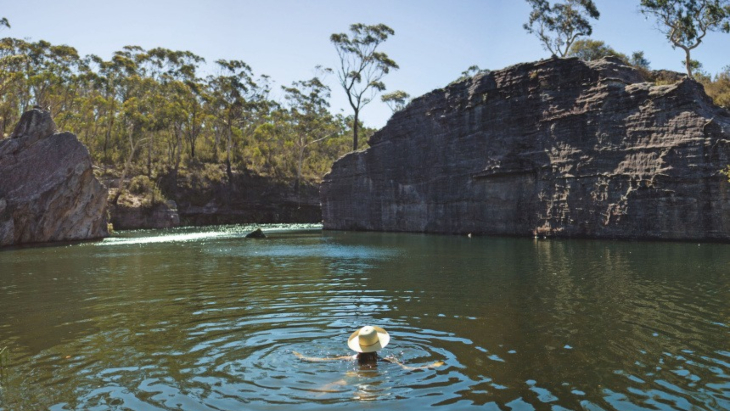 Clarence Dam in Clarence is so perfect for a freshwater splash it even has a hanging rope swing for that quintessential jump!
Also known as the Dargan Creek Railway Dams, Clarence Dam has cool waters in the warmer months, with some spots deeper than others. The looming rock formations that surround the waters make you feel as though you're swimming through an ancient canyon – definitely one for the family bucket list!
Location: Just off the Bells Line of Road near Clarence NSW
10. Ivor Rowe Rockpool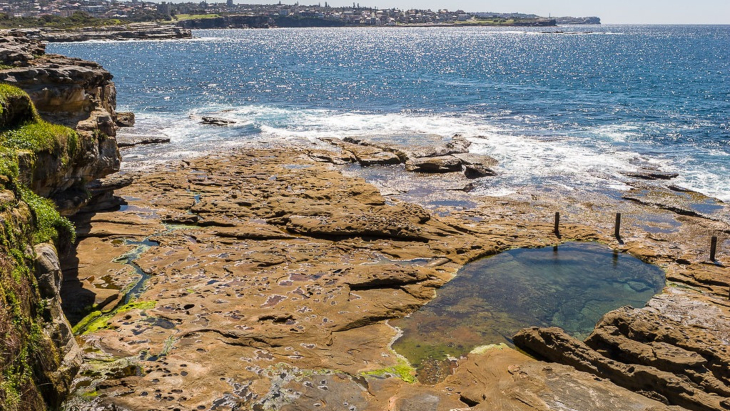 If you'd rather stay close to the city for freshwater salvation, you can't go past Ivor Rowe Rockpool in South Coogee.
The small but mighty rockpool near Bunya Parade in South Coogee is shallow enough for everyone to enjoy a refreshing dip on a stinking hot summer day.
If you're visiting with the kids, it's best to go at low tide to avoid dangerous waves and, of course, be mindful that this popular rockpool gets very busy on weekends.
Location: Bunya Parade, South Coogee
11. Mermaids Pool, Southern Highlands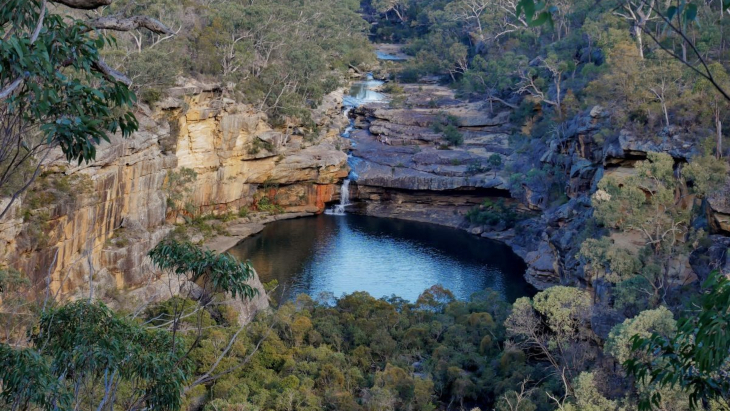 A true bushwalking adventure with a very refreshing finale is on the itinerary when visiting Mermaids Pool in the Southern Highlands.
This secluded swimming spot in the Tahmoor Gorge is so quintessentially Australian that you'd be forgiven for thinking you were knee-deep in a swimming hole in Kakadu.
The path to get to Mermaids Pool is, unfortunately, rather tricky and dangerous at times, so this swimming stopover is only recommended for older, very capable kids and families who are experienced with hiking.
Location: On the Bargo River at the start of Tahmoor Gorge, Southern Highlands
Other Outdoor Adventures in Sydney
Discover Hidden Spots in Sydney
Where to go Snorkelling With Kids
Kid-Friendly Caves to Visit Near Sydney

Have you signed up for our newsletter? Join ellaslist to get the best family and kid-friendly events, venues, classes and things to do NEAR YOU!