The Best Indoor Swimming Pools in Sydney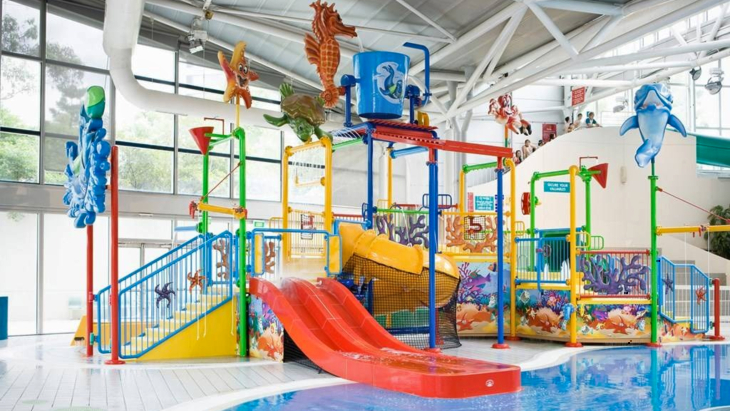 Whether it's pouring rain, the weather's too cold or hot for the beach, there's always a Sydney indoor swimming pool for a fun, low-cost, weather-proof kid's activity. Here are our picks of the best indoor pools in Sydney.
The Best Indoor Swimming Pools in Sydney
City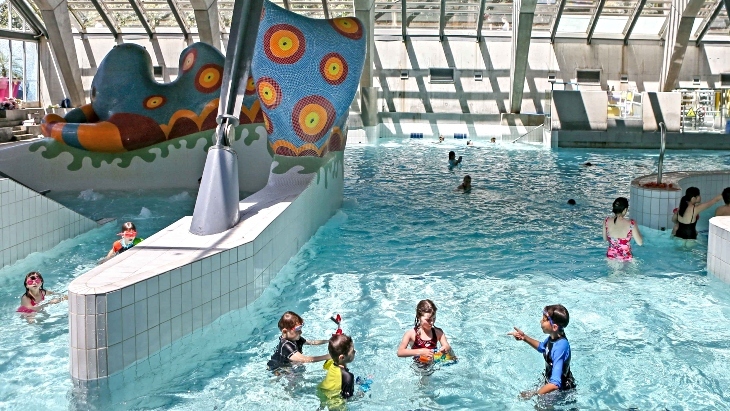 Cook and Phillip Park Aquatic Centre located right in the middle of the city, is easy to get to and well served by public transport. There is a decent-sized children's pool with a water slide and cute mosaic sculptures to swim around, plus a 33-degree heated baby pool that you can use when there are no classes going on (afternoons are best). It's also right across the road from The Australian Museum so splash around then head to the museum for a few more hours of indoor fun. Read our Cook and Phillip Pool review.
For more museum+swimming fun, plan a visit to the Ian Thorpe Aquatic Centre followed by the Powerhouse Museum next door. There's a good-sized leisure pool, shallow at one end and excellent for babies, plus fountains and bubbles for the kiddies to play with.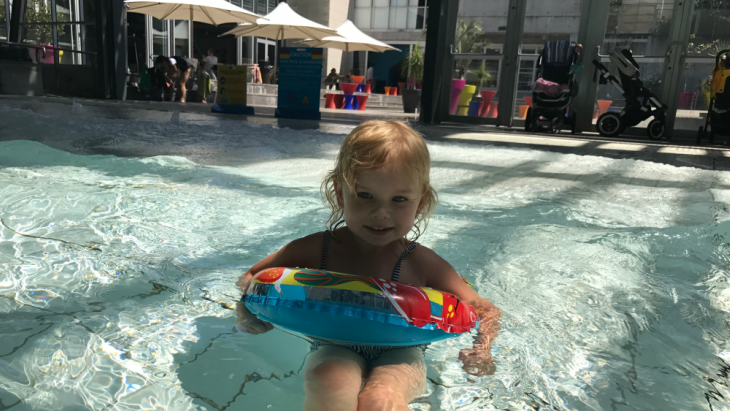 We know you'll all be desperate to go for a swim at Sydney's newest indoor pool, the Gunyama Park Aquatic Centre in Zetland. The amazing new facility is attracting plenty of keen families and swimmers all wanting to check out the first Olympic-sized swimming pool in Sydney since the 2000 Olympics! Gunyama has both an outdoor and indoor pool on offer.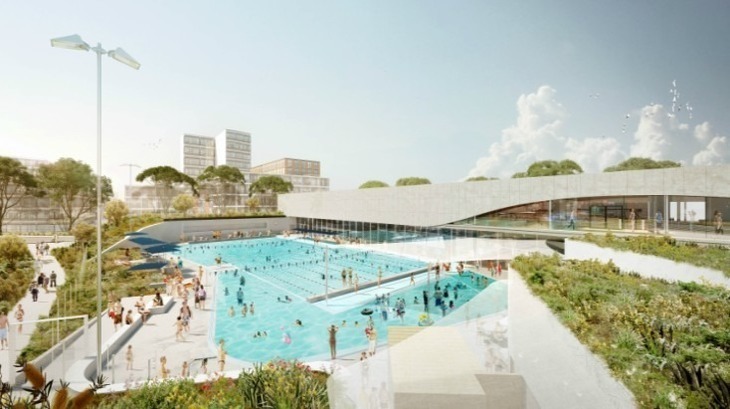 Greater West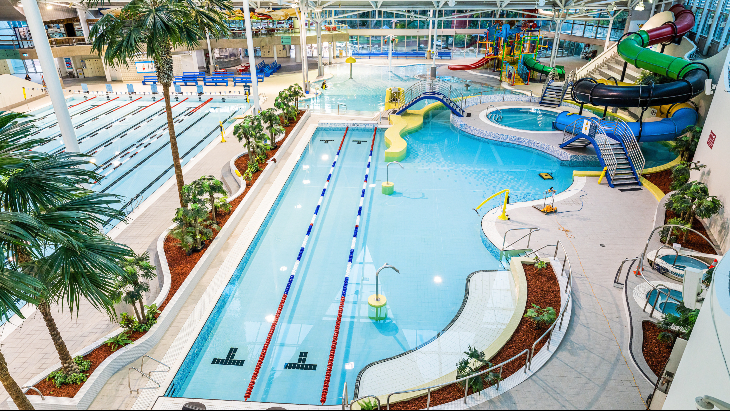 TOP PICK: Sydney Olympic Park is our ultimate favourite AND the whole pool has just undergone a mega renovation! It has the very best pool in Sydney with amazing water play areas, a whirlpool and a giant waterslide. The Olympic Park Aquatic Centre's amazing Splashers Water Playground (main picture) will keep all ages happy for hours and there's plenty of parking plus a couple of indoor cafes as well. Read Splashers Water Playground review here.
Ripples Leisure Centre in St Mary's has an indoor pool that is heated to a temperature of 29 degrees all year round. The children's area is such a big hit with its slide, water buckets, plus a mini spa for everyone to enjoy.
The Springwood Aquatic Centre is more than just a leisure centre! With an amazing leisure pool (pictured below) with a children's beach area, a cute Noddy water car, a huge waterslide and a turbo pool, the little ones will enjoy their splash-about for hours.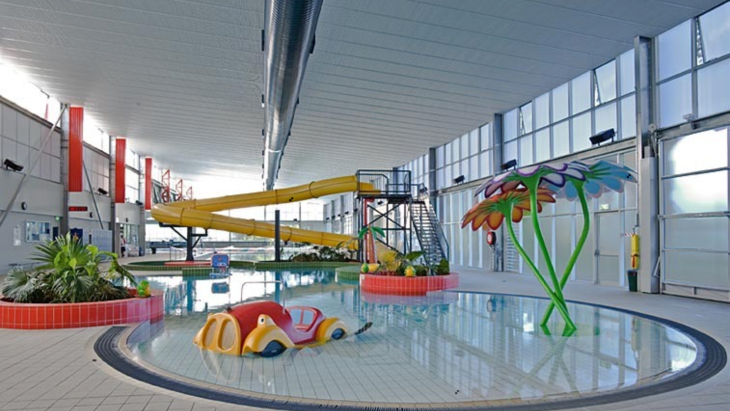 Inner West
The Annette Kellerman Aquatic Centre is a great place to spend a rainy or hot summer day. There's a fab toddler splash pool with fountains and water features to keep the littlies endlessly amused. Once you have worked up an appetite, stop in at the kid-friendly cafe next to the pool for a post-swim snack.
Leichhardt Aquatic Centre has six swimming pools which include two children's pools – a shallow-heated indoor toddler pool and an outdoor mushroom play pool specifically designed as a kid's aquatic playground with a nice lawn area adjacent to it.
Eastern Suburbs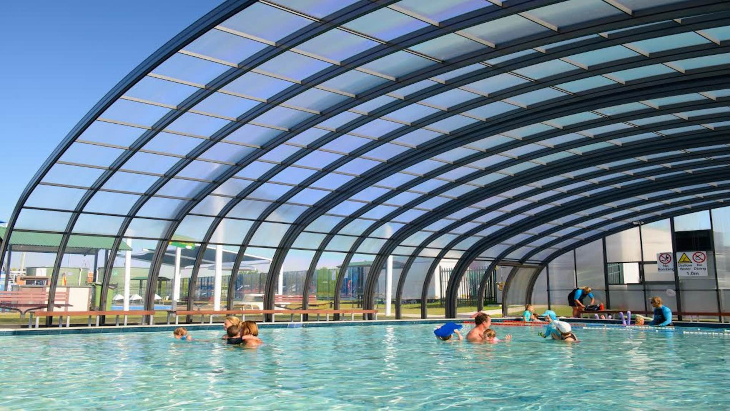 The Des Renford Leisure Centre in Maroubra offers both indoor and outdoor swimming fun for the whole family. Both pools are luxuriously heated so you can go for a dip and play all throughout the year. Please remember to book via the website as casual play is not available at Des Renford at this point.
North Shore
Lane Cove Aquatic Centre - this place is great for families. The indoor leisure pool is really big and there are lots of fun water features (the fountain tunnel is a real favourite!). Parking is easy with a council car park just across the road.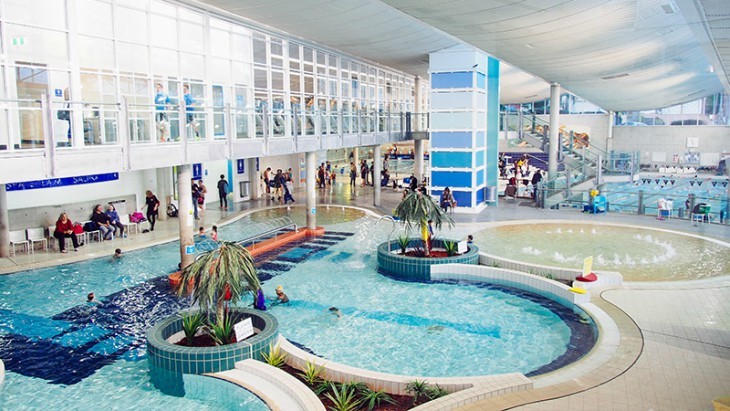 Willoughby Leisure Centre has a great big indoor kids pool, which often has giant inflatable fun sessions-call ahead to see if the giant slides are up. Please note that the Willougby Leisure Centre will be closed from September 2022 for a massive $20-million-dollar upgrade.
The Hornsby Aquatic and Leisure Centre has a heated leisure pool with a zero-depth entry leading into a walking zone and fun water features for kids, a two-metre high enclosed water slide for children and a heated, 25-metre indoor pool for learn-to-swim activities. There is also a creche!
Northern Beaches
The Warringah Aquatic Centre is the place to be on a rainy day. The indoor heated Olympic sized pool has a designated Fun & Splash area for the kids and when they are worn out, mum can drop them off at the excellent on-site creche and swim a few laps! A visit to the Warringah Water Playground is also a must-do!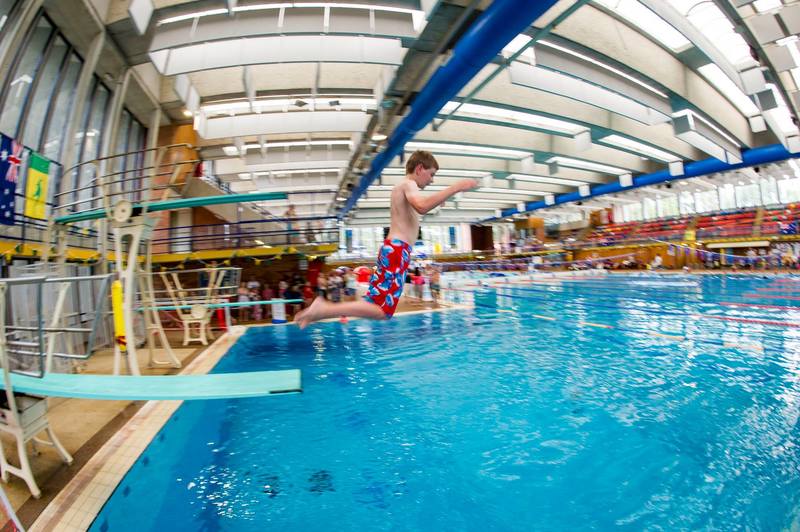 North West
Head to Ryde Aquatic and Leisure Centre for loads of watery fun for big and small. Waterslides, a wave pool (weekends and school holidays), bubble whirlpools, wading pools and a rapid river are the main attractions here.
South Sydney/St George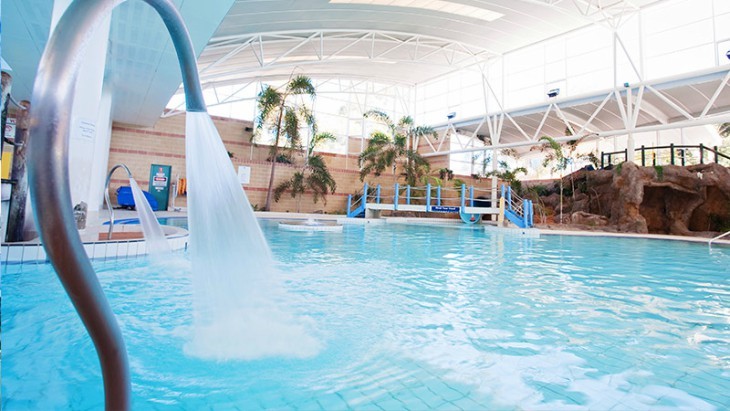 Hurstville Aquatic and Leisure Centre is another great indoor pool for kids. With a nice sized indoor leisure pool with a slide and an onsite cafe and creche, it's an easy place to spend a few damp hours.
Sutherland Shire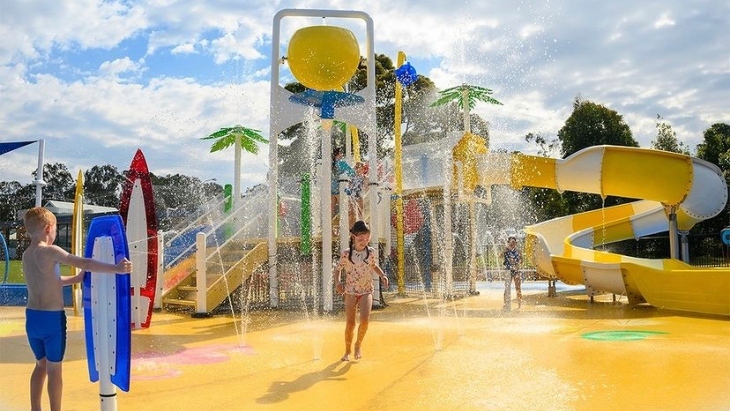 The Sutherland Leisure Centre is massive with a heated indoor pool, family fun areas, cafe, creche and fitness facilities. There's also a water splash park with slides outside if you want to save that for a sunny day!
You can also check out the ellaslist Swimming Directory for more pools and learn-to-swim providers in your area.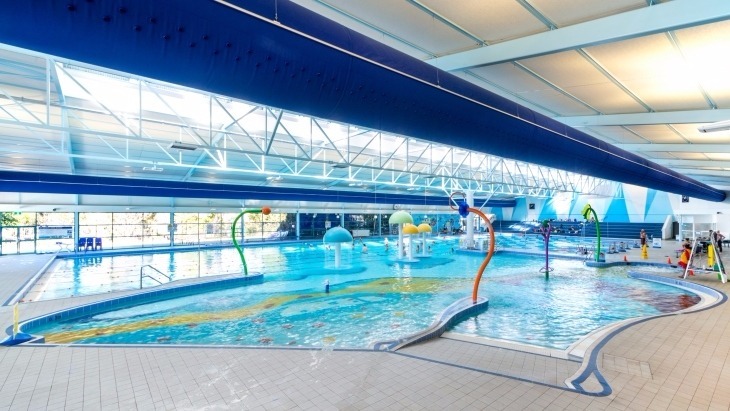 More Water Fun to Make a Splash
Top FREE Water Parks for Kids in Sydney
Sydney's Best Playgrounds By The Water
Amazingly Fun Water Slides In Sydney
Have you signed up for our newsletter? Join ellaslist to get the best family and kid-friendly events, venues, classes and things to do NEAR YOU!
Reviews
The attraction is really good, where kids can go down the slides, water buckets, and even there is a current pool. But unfortunately they only open the kids section area during Sat and Sun only so if you come during the week, you just can only play in the pool with the little ones. And during Sat & Sun it can be crowded as heck, and the toilet can be a bit of disaster, dirty and trash everywhere. Not to mention the family changing rooms take FOREVER, like maybe per family took AT LEAST 30 min and the queue is a bit of disaster during the weekend. Just do yourself a favour, rinse yourself with the public shower and just take a proper shower at home, where it's clean and no queue.
Nice we love to enjoy the pools
I grew up in Wattle Grove & swam at 'The Whitlam Centre' in Liverpool. that was over 10yrs ago & i recently took my son, 5 1/2yrs of age, & we BOTH had a phenominal day! 10/10 2 indoor pools, 1 pool has about 6lanes with a reasonable size swimming area (used for aqua-arobics occassionally), the second pool is for the kids but adults are more than welcome to swim, walk & enjoy. it has big mushrooms with water falling down from the rim of the shrooms, colour tiled art work at the bottom of the pool, a teeny baby pool added on, a whirl pool (not always on, & not as awesome as it sounds but really good fun). A reasonable tree slide with water dropping down before the mini slide. both pools are heated!! inside theres 2 or 3 spa's "Adult Only". outside has 100m lane pool, non-heated with around 12 lanes. and another kids pool with water sprayers & whirl pool too. its worth a family outing expecially if you live close by!! i loved it as a child, loved it now as an adult/mother and will always love it years to come!! cjeck it out! i promise you wont be dissapointed! sincerely, Tara x.
Worth the trip to Lane Cove, as it's warm, even in winter. Safe and patrolled carefully, it is very child friendly. It can get manic on a hot day, but we go early in the morning, to beat the lunchtime crowds. Cafe has the basics, but food isn't healthy - would recommend packing your own. Free parking is also a positive aspect.
It was a hot day when I took my 6y old daughter in January. It was mayhem, with too many people in the pools and it felt dangerous. I had to stay ultra close to my daughter, a competent swimmer, as there was an overwhelming number of adolescents and adults using the children's pool and slides. I lost her at one point, as there were 18y boys acting crazily in my way. I wouldn't recommend it for young children. It just wasn't adequately patrolled or safe. There should be an age limit on the children's pool and equipment, so little ones can be safe.
I have to agree the best of the best and the one we always travel to is Sydney Olympic Park Aquatic Centre. We have our lesson there and then there is a play area great for small and big kids. A fun day out for all.