21 FREE Water Parks in Sydney

We are so lucky to be blessed with so much warm weather in Sydney, and so many fun ways to cool off! Apart from our beautiful beaches, there are fantastic water playgrounds in Sydney with epic water features for FREE fun in the sun - splashtastic!
21 FREE Water Parks in Sydney
1. The Playground, Darling Quarter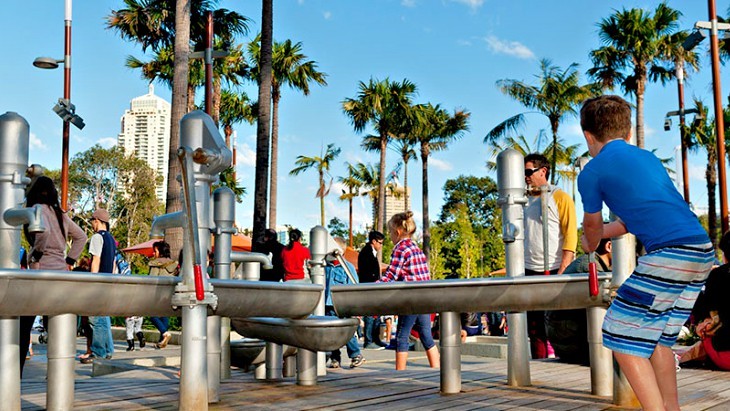 For adventure in and out of the water, the huge children's play area at Darling Quarter Playground is an absolute must! Surrounded by the hustle and bustle of Darling Harbour, this impressive play space is a kids oasis, right in the city. The vibrant playground is a wonderland of balance ropes, giant swings, a jumbo ring, a big slide and slide hill, a flying fox, an octonet and sand pits with diggers. After tackling that terrain the kids will need to cool down, and the fabulous 'Water Works' aquatic play area is the place to do it. It's a masterful maze of waterways where kids control the flow, via switches, gates, a water wheel and an Archimedes water screw! There are also pump stations and water squirts.

2. Blaxland Riverside Park, Homebush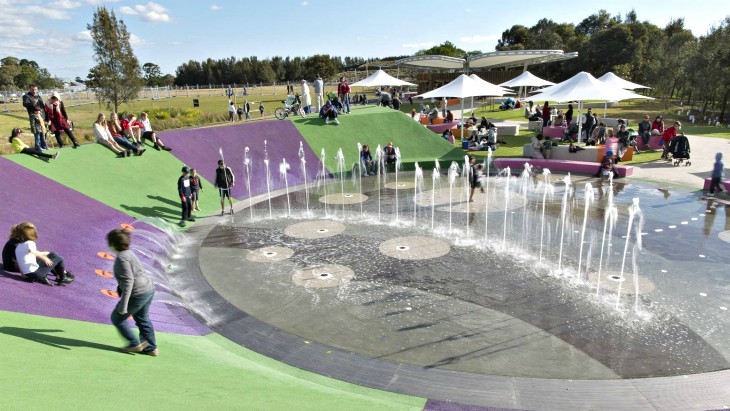 Blaxland Riverside Park is a unique play space with a diverse range of activities and challenges for kids of all ages and abilities – and it's home to the largest outdoor water play facility in NSW . The park boasts a double flying fox, mega-swing, tunnel slides, scramble wall, spinning play disk, Viking swing and a multi-level tree house, plus a range of spraying water fountains and jets, all spread over three hectares of parkland along the Parramatta River. With its amazing architectural equipment and bright, cheerful colours, this spectacular waterside park is a world away from your average playground.
3. Pirrama Park, Pyrmont
The award-winning, multi-million dollar Pirrama Park is one of the most thoughtfully designed parks in Sydney, and perched right on the harbour's edge. Kids have a blast immersing themselves in the aquatic play space while parents sit back and soak up the stunning surroundings. The unique adventure playground has fun water play features like sprinklers and fountains, which are a hit on a hot summer's day. There is also a big sandpit, climbing structures, slippery dips, swings and musical play equipment to keep little adventurers entertained. There's plenty of room to ride a bike, kick a ball or have a picnic!
4. Livvi's Place, Marsden Park
Livvi's Place Elara in Marsden Park is an expansive kids playground featuring a water play zone, a flying fox, slides, swings, climbing nets, a carousel, fun glider, trampoline loop and a basketball half-court - and a really cool bike track. Spend the whole day here in the good weather!
5. Steel Park, Marrickville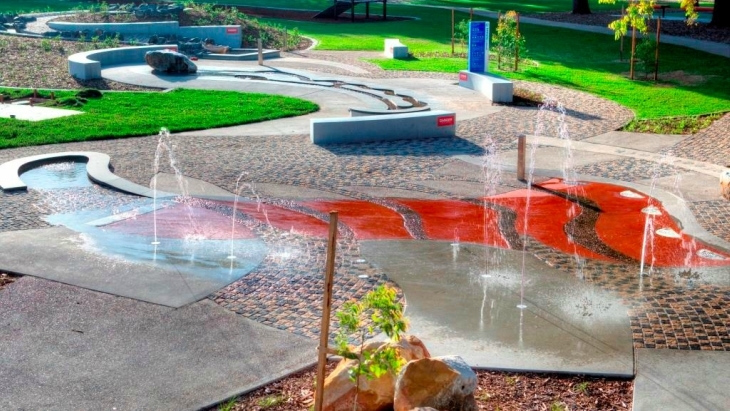 Steel Park in the inner west suburb of Marrickville has a lovely playground with equipment to suit both the little one and older children, surrounded by plenty of space, lots of grass, poplar trees providing great shade and a great view of the Cooks River. However, its Waterplay Park is still the main drawcard. The interesting series of water features include interactive fountains, jets, sprinklers and misty spray elements, designed to encapsulate the total water cycle. The 'source', 'rills' and 'estuary' features demonstrate the environmental process in action. It's safe, creative and lots of fun.
6. Wild Play, Centennial Park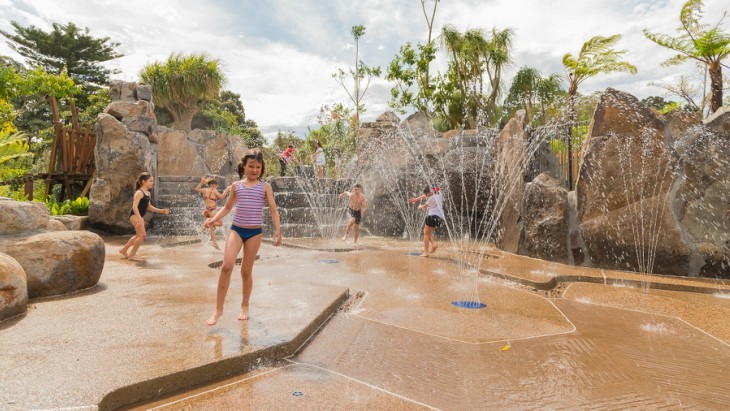 The gorgeous Ian Potter WILD PLAY Garden is a family oasis within Centennial Park with one of Sydney's best aquatic areas. Surrounded by unique rock formations, the artesian water play space has flowing jets with plenty of space for children to run through. The surrounding natural wonderland also includes a bamboo forest, Banksia Scrub tunnels, rope bridge access to a climbing tower, a cubby house with a super slide, teepees, a swamp area and dry creek beds.
7. Putney Park, Putney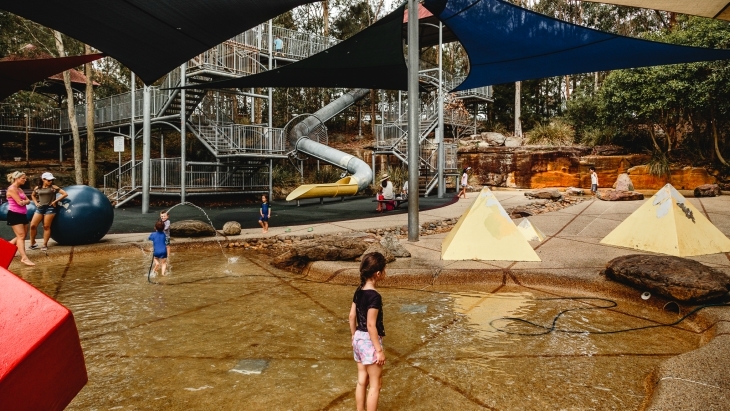 Right on the waterfront, beautiful Putney Park is an expanse of lush lawn and natural wonder. The fantastic main playground boasts a huge tube slippery dip, large climbing net, lookout tower and combination equipment. Plus, it is heaven on a hot day with its large water feature – two shaded paddling pools linked by a little stream for hours of splashing fun. For the older kids, there's another playground near the river with a huge spider rope climbing frame suspended over a big sandpit. There is also a smaller playground at the southern end of the park with equipment suitable for young children.
8. Nurragingy Reserve Water Park, Doonside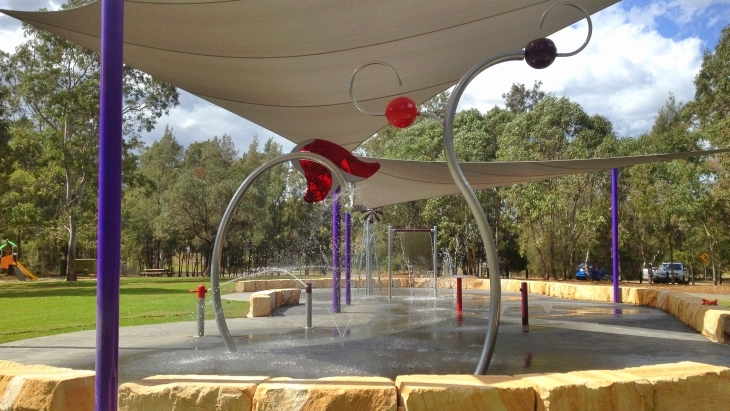 The water play park at Nurragingy Reserve is a huge gem for kids in Sydney's west where temps can soar. This free aquatic park facility features a number of fountains, hoses and waterfalls to help you cool off while having fun in the picturesque Western Sydney Parklands. There is also a huge playground alongside the water play area, with sandstone, jarrah logs, river stones, recycled timber sleepers and shipping ropes.
9. James Ruse Reserve Water Playground, Parramatta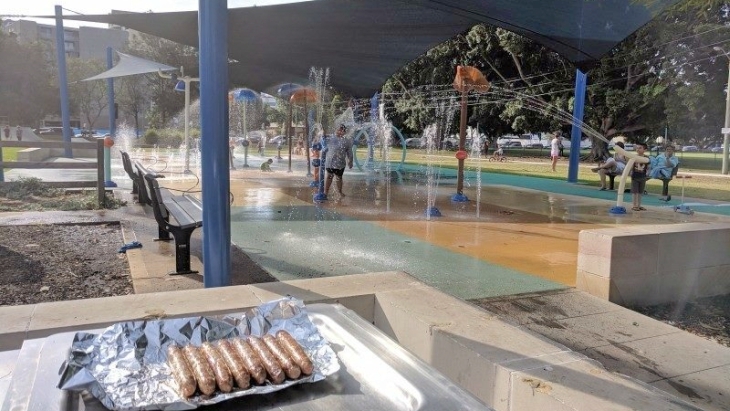 James Ruse Reserve has a delightful shaded water play area with a variety of interactive water features like water jets, fountains, tipping buckets and sprays. Kids of all ages will love getting into the aquatic action during the warmer months of the year.
10. Granville Water Park, Merrylands
**The water playground at Granville Park is currently closed and might be relocated to Granville Swimming Centre - stay tuned.**
Granville Water Park is a sustainable splash park has an amazing array of fun water features which continuously collects and recycles its own water. The kids can splash about in the fountains, sprays and the synchronised tipping buckets that dump a 1600 litres flood of water every minute!
11. Cathy Freeman Park, Sydney Olympic Park
Our favourite feature of Cathy Freeman Park is the gigantic Olympic Cauldron with cascading water which the kids will love splashing in. There is a large grassy area perfect for picnics. You also have your choice of playgrounds nearby along with a variety of cafes. There is also an outdoor chessboard.
12. Blacktown Showground Precinct, Blacktown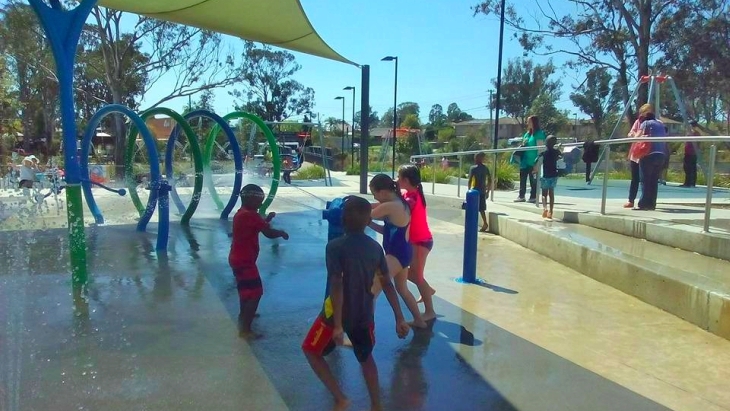 Francis Park at the Blacktown Showground Precinct has a fun waterplay zone that features a sheltered area with varying sized water troughs, a hand wheel water pump, a concrete water maze and spurts and sprays coming from all over – just perfect for the kids (and adults) on a warm, sunny day. There is also a Junior Playground for little ones featuring an activity unit, swings, a rotating ball, play tables, balance beams, rubber mushrooms and more! The Big Kids Playground boasts a Flying Fox, balance cable and beams, climbing units, slides and more.
13. Curry Reserve Water Play Park, Elderslie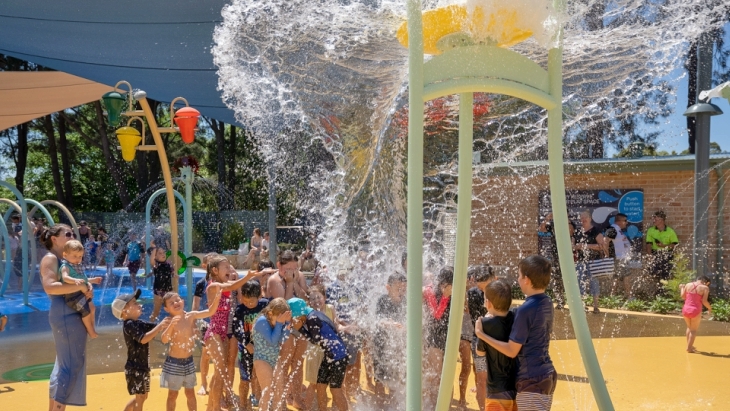 Curry Reserve playground on Camden Valley Way features three play zones for all ages including a toddler zone, 36 play features including a toddler's 'discovery stream,' a capacity for 176 users, shade sails covering two-thirds of the water play area and zero-depth water. The water will be heated too so you can splash around well into the cooler months!
14. Dawson-Damer Park, Oran Park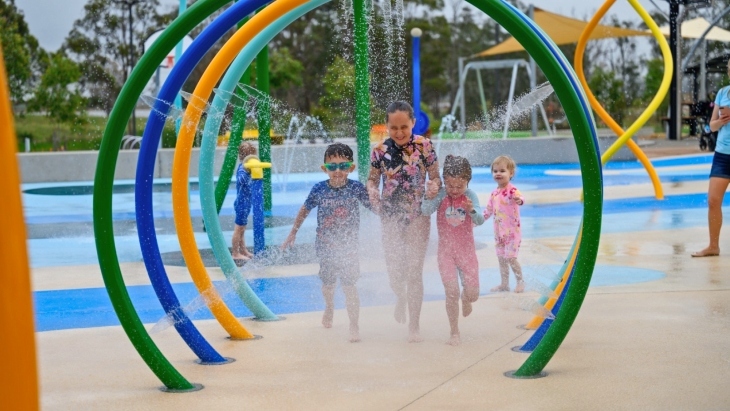 One of the newer water parks in Sydney, Dawson-Damer Park in the sprawling Oran Park is the place to splash on a hot summer's day. The free water park offers 30 water features including a large dump bucket, water slides, water spinners and more.
15. Philip Ruddock Water Playground, Dundas Valley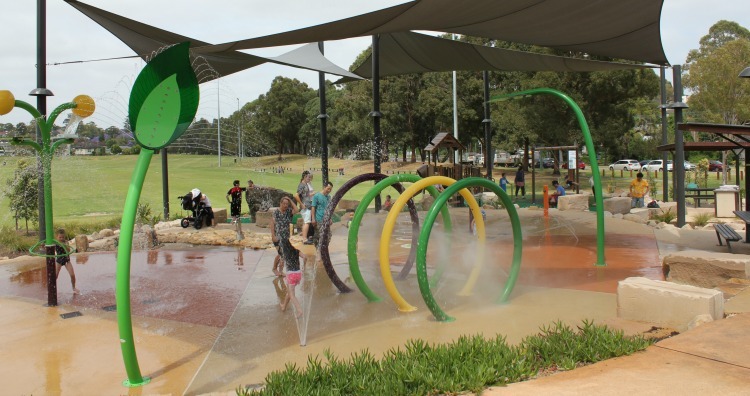 The Philip Ruddock Waterpark was an initiative of Parramatta Council's 'Cool Parramatta' campaign to give western sydney repreive from the sweltering summer sun. Water features are integrated into fun playground equipment for hours of cooling off. There is also a playground with a fort structure, slide and some swings and nearby BBQs and picnic shelters for the whole family to enjoy.
16. Mary O'Brien Reserve, Zetland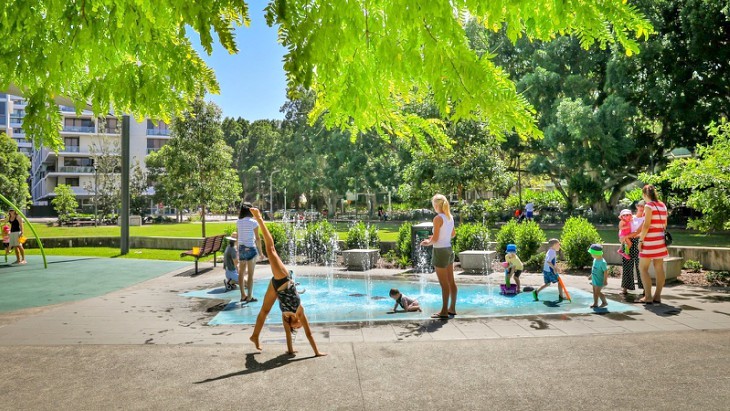 Mary O'Brien Reserve boasts an expansive lush green area for picnics and running around, two awesome age-appropriate playgrounds with lots of interweaving structures to climb and a water play area! Jets shoot water skywards on blue spongy flooring - perfect for a splash around on a hot day.
17. Plough And Harrow East, Western Sydney Parklands
Plough And Harrow East Playground has a hamster wheel, flying fox, a 5-way swing, climbing structures, a pentagonal swing set, a spinning ring, a little cubby house with a slide and lots of things to climb. Of course, there is also a water play area with a few pumps and turnpikes that get released into a little mini dam that kids can direct the flow of by moving the rocks around.
18. Lizard Log, Abbotsbury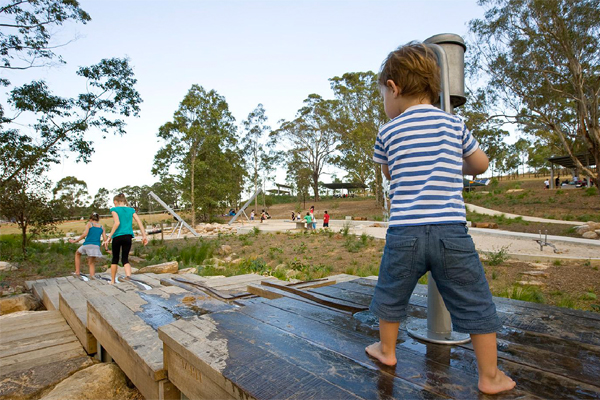 Voted the number one playground in NSW and the ACT, Lizard Log is a natural wonderland with bushland feel that encourages nature play at its finest. It has all kinds of play equipment including a double flying fox, giant swings, climbing wall and slide, sand diggers and balancing beams - all made from recycled timbers and trees that died onsite. The cool water play area has a deck with a pump where kids can watch the water cascade through a series of wooden channels down to a final waterfall created by the naturally occurring rocks and bush.
19. Bigge Park, Liverpool

Hours of refreshing fun is on the agenda at Bigge Park on 124 Bigge Street in Liverpool. The kids will have endless hours of fun running through sprayers, mini water buckets and the hero of the playground, the giant water bucket! Bigge Park has shade sails for sun protection.
20. Werrington Lakes Playground, Werrington
After children exhaust themselves running and playing in the expansive park and multi-age play equipment at Werrington Lakes Park playground, they can head over to the splash pad where jets will shoot up and soak them on a hot day. This Penrith venue is well worth a visit, boasting a duck pond and BBQ area - everything you need for a family day out.
21. Symbio Wildlife Park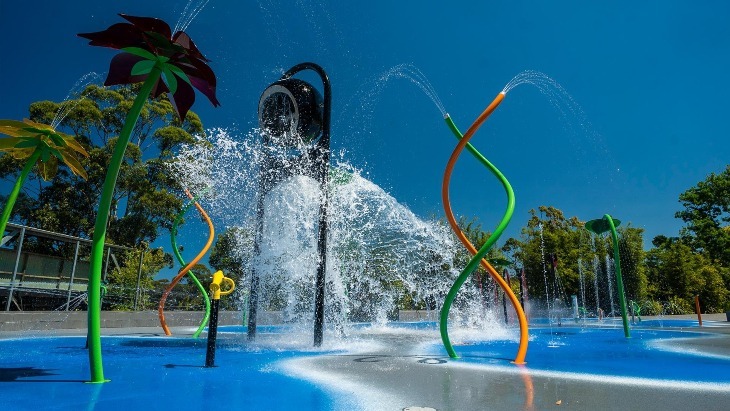 Ok, so Symbio Wildlife Park isn't exactly free entry but their awesome splash park is free when you visit the park - cool! This spot is the perfect cool down after checking out all the adorable animals at the park and it offers plenty of splishers, splashes and an epic water bomb the kids will love! There's also plenty of shade and seating available.
Splash Some More
The Best Rock Pools For Kids In Sydney
Sydney's Best Indoor Swimming Pools For Kids
Best Playgrounds by the Water
Have you signed up to our newsletter? Join ellaslist to get the best family and kid-friendly events, venues, classes and things to do NEAR YOU!
Reviews
You missed one of the best inclusive water play parks in Sydney. Deerbush Park at Fairfield Showground has one of the best new splah parks and it was designed for people with all abilities. It also has a disability toilet and adjustable change table.
Symbio Wildlife Park has an amazing Splash Park, it is free for use when you visit all the animals at the zoo.
Just to add, symbiotic see in Helensbough has an great water splash playground
Hi, Thank you ... Couple of additions .. There is a great park with a water play area (lots of fountains) at the park in Dee Why... Walter Gors Park ... 36 - 40 Howard Avenue, Dee Why NSW 2099 Also a small water play area in the great park at Collaroy Beach.
For those of you requesting water play on the north side, please check out this article: https://www.ellaslist.com.au/articles/free-water-play-parks-in-north-sydney
No waterplay parks on the northside of the bridge except Taronga Zoo. It is very expensive to enter and kids sometimes just want to play in the water.
Auburn Swim Centre now has heated outdoor water play with a double wide slide (so parents can go down with the kids) and Birrong Leisure Centre has a good water play too. Both are ones you pay for. Bigg Park at Liverpool now has a water play area with shade cloth over
Macquarie Fields Leisure Centre is great fun. There is an outdoor water play area for children and there is also a dry playground area for those that have had enough water. There is undercover tables and BBQ's. There is also 3 indoor pools of varying depth for a sun free environment and there is an outdoor pool for those that would prefer the open air. The staff are really nice too!
What about the northside???
Just what we need built in and around port augusta south australia because temperature gets so scorched here its not funny plus we need something here for the kids to keep them entertained. We've got nothing here. If only the mayor of port augusta would look at things like that for everyone.
Would live to know all about theses free water parks please
We went to Olympic water park was awesome my one year baby loved it
We never been in the water park But in the summer we . well Gracias
Love the article! There's a new water play park in Zetland...would love you to check it out and give it a review :)
i have been to a few of these and 1 thing i will say is that the one im parramatta /harris park was an awesome park but the fact it had no toilets is appauling, my son had an accident due to there being no toilets.. . if they get toilets then its perfect
The water park at Macquarie fields pools is pretty good to!
Hello Kiyara, here at ellaslist we're always on the look out for activities and venues around Sydney and surrounds, so if you have any suggestions please send them through to [email protected] Thanks!
There should be some of these water parks in Wollongong. Well not just Wollongong all over nsw. Why just in Sydney?
Awesome water parks. Just what i was looking for to take the kids this school holidays
I go to the one at Olympic park and it's great for the kids but it does get very packed and then there isn't enough room but like I said it's GREAT for the kids
Have been to Blaxland Riverside Park a number of times. Great place for all ages. Has a small kiosk and bbq areas aswell. Open space to kick a ball around and explore. Everyone has a great time cooling off in the water adventure park.
The one at Blacktown Showgrounds is excellent too - undercover, cafe, playground, 10 minutes from the train station...
winning! Love the parks kids play for hours
i have been too Granville and the blaxland parks and my kids loved both. Now I know the other 6 locations I will visit them in coming days, cheers
Steele Park is great. It small and has a shade sail covering it. Great for 2-3 year olds. Also a great playground next to it. Gets busy so parking can be hard and there is a great coffee shop just a little walk back towards Earlwood across the river.