Kid-friendly Beaches in Sydney
Kid-friendly Beaches in Sydney
Mums & Bubs
Preschoolers
Toddlers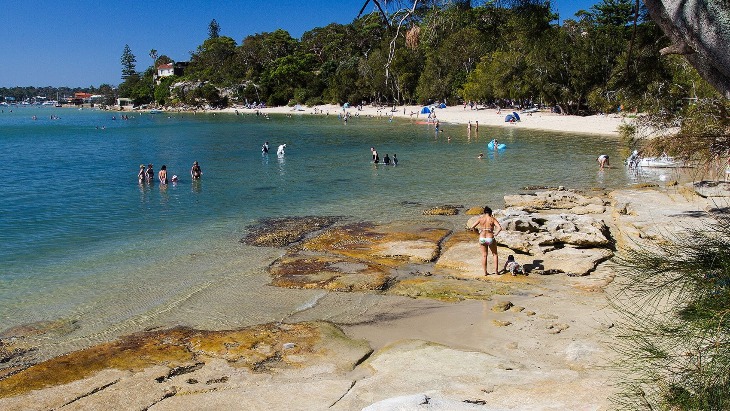 Sydney is blessed with more months of great weather than bad weather throughout the year, which is why we Sydneysiders spend so much time at the beach. It also doesn't hurt that Sydney beaches are pretty spectacular!
Whether you're new to the Sydney beaches scene or have visited your local many times and need new waves and sands to explore, we've compiled a long list of the best kid-friendly beaches in Sydney to soak up those summer rays. Some of these are big-wave beaches, and some are little bays for little explorers - enjoy!
Kid-friendly Beaches in Sydney
1. Parsley Bay Reserve, Vaucluse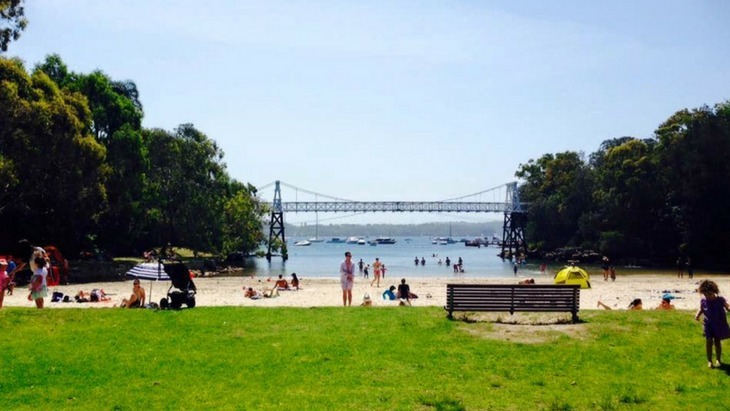 Shhh… Parsley Bay Reserve is one of the best kid-friendly beaches in Sydney. We rank it as the most idyllic park-playground-beach combos in the East. It's a park, a beach, a bushland walk, and a great kids' playground all in one. Being a bit off the beaten track and with limited parking at the reserve itself keeps this glorious space clear of the masses.
There are public toilets with showers and a kiosk for drinks, coffee, sandwiches and snacks.
Location: Parsley Rd, Vaucluse
RELATED:
Shhh... the Secret's Out: Here are 15 of the Best Secret Beaches in Sydney
2. Balmoral Beach, Mosman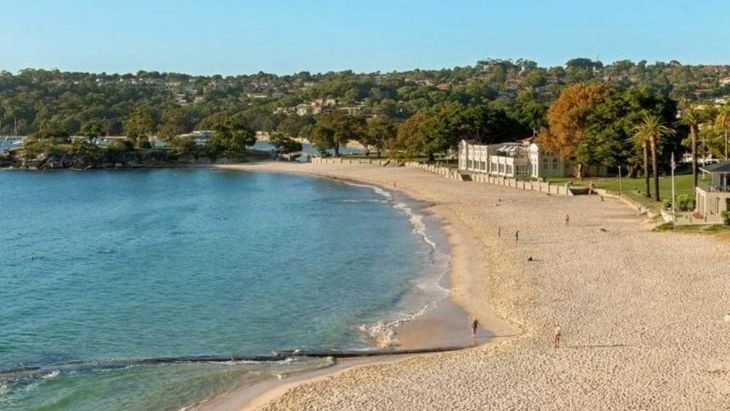 We absolutely love beautiful Balmoral Beach for its calm and protected harbour beaches, shady picnic areas and fabulous Balmoral Baths.
Balmoral is divided into three main beach areas, and on sunny days, these sandy beaches are full of families enjoying the relatively sheltered conditions of this harbourside location.
There are cafes and restaurants, enclosed harbour baths, BBQs and wonderful picnic spots. It's also easily accessible, both by public transport and car, and aside from off-street parking, there's a dedicated paid parking area at the southern end of the beach.
Be aware that while this is a very kid-friendly beach in Sydney, it is not patrolled by surf lifesavers.
Location: The Esplanade, Balmoral
3. Greenwich Baths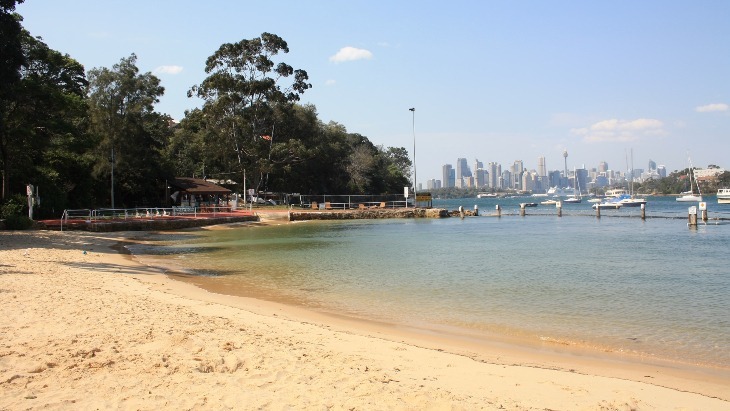 If you're after a fabulous hideaway with spectacular harbour views in a calm, relaxing beach suitable for your splashing toddler, you won't go wrong with Greenwich Baths.
Greenwich Baths have a netted swimming enclosure that makes the waters safe and calm, plus a shaded beach with plenty of room for bubs and toddlers to paddle, splash and roam.
Bear in mind that the Baths are run by Lane Cove Council with lifeguards, so there's an entry fee to this gorgeous spot. Also, note that Greenwich Baths are only open during the on-season - usually from September to April - and closed during winter. It's best to check their website before visiting.
Location: Albert St, Greenwich
4. Palm Beach
You truly feel like you're in a holiday destination when visiting Palm Beach, so add it to your summer beach hitlist asap!
The rock pool at the southern end of Cabbage Tree Boat Harbour is a firm family favourite, a walk up to the lighthouse is never out of the question, and a picnic in the grassy area is always a good idea. The calm waters near the shore are nothing for young swimmers to fret over, and the waves out back are perfect for bodyboarding.
Location: Ocean Rd, Palm Beach
5. Bronte Beach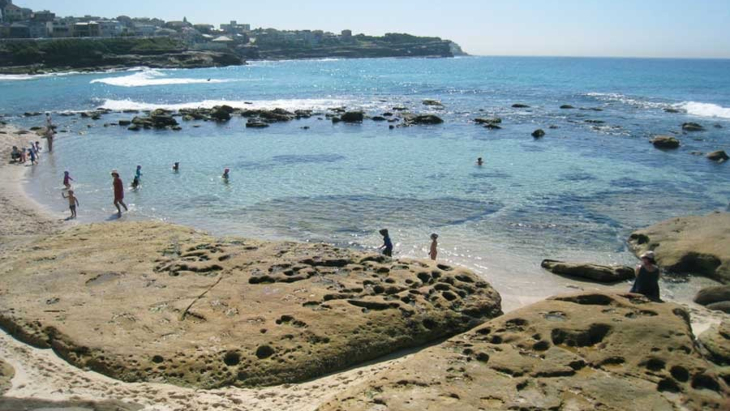 Bronte Beach can get some killer surf, but head for Bogey Hole, a shallow enclosed natural pool on the south side of the beach. It's excellent for the kids with its smooth sloping sand, gentle lapping waves and plenty of rock pools nearby to poke about.
The seawater swimming pool is also at this end, and you'll also find free showers, toilets and changing facilities. Beware, there is no shade on the beach, so early mornings and late afternoons are best or bring a sun tent.
For snacks, you'll find the kiosk on the north end of the beach and plentiful cafés. Be warned, they can get jam-packed at weekends, which can be difficult with a stroller. Not all cafes have high chairs, but it pays to ask!
Location: Off Bronte Marine Drive, Bronte
6. Congwong Beach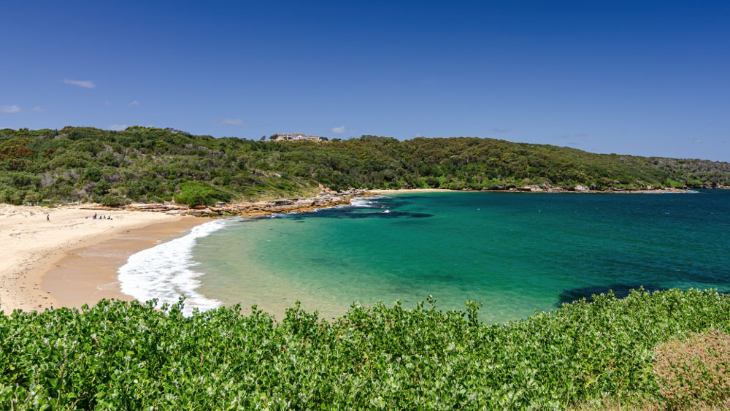 If you're out and about in La Perouse, head to Congwong Beach for some pretty spectacular and calm waters.
Still a relatively secret beach, Congwong Beach is on the smaller side, close to the Anzac Parade entrance to the Kamay Botany Bay National Park. As a National Park beach, Congwong Beach is not pet-friendly but is certainly one of the best kid-friendly beaches in Sydney, with its calm waves and warm waters during summer. Bring an umbrella, as shade is limited at Congwong Beach.
Location: Close to the Anzac Parade entrance to the Kamay Botany Bay National Park.
7. Clontarf Beach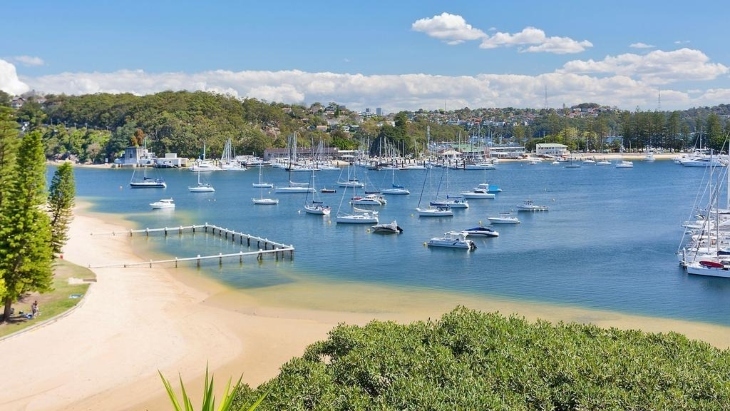 We rate Clontarf Beach and Reserve as one of the best kid-friendly beaches in Sydney, with its fabulous location on the foreshore of Middle Harbour, BBQs, toilets, cafe and netted swimming area.
There is also a well-equipped and shaded unfenced playground with activities for toddlers and older children, plus a toddler bike path around the sandy play area. Parking is available on site, and there's an excellent little kiosk on the beach and a restaurant.
Location: Sandy Bay Rd, Clontarf
8. Shark Beach, Nielsen Park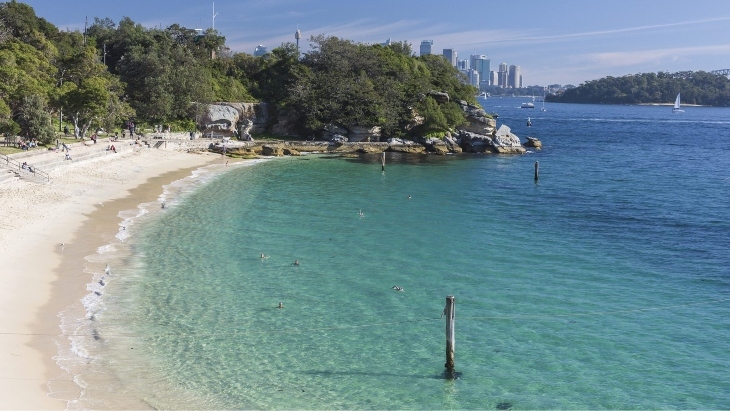 *Shark Beach and the promenade are currently closed for a seawall refurbishment until further notice.*

This Vaucluse Harbour beach has harbour views and a net-enclosed swimming area!
There's a restaurant, cafe, plenty of shade offered by gorgeous fig trees, and surrounding natural parklands with an abundance of space, and is an absolute family favourite - you're bound to see a few families enjoying the sunshine here! Make sure you arrive early, as this kid-friendly beach gets pretty busy during summer.
Location: 6 Steele Point Rd, Vaucluse
9. Little Manly Cove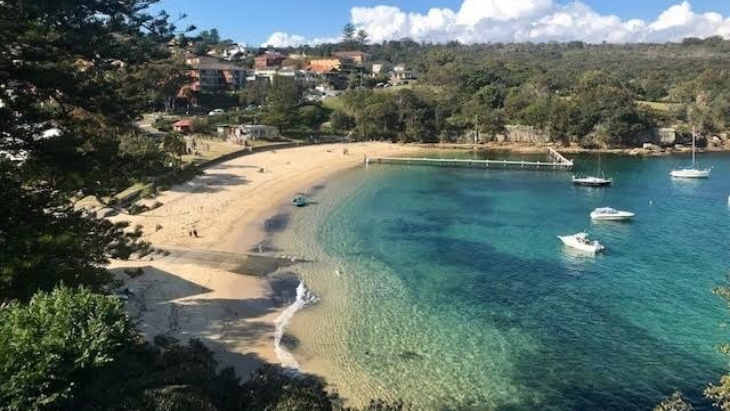 A peaceful little spot away from the bustle of Manly, Little Manly Cove is a compact beach with a swimming enclosure perfect for babies, toddlers and preschoolers.
Overlooking this quiet cove beach is Little Manly Point, with a gorgeous playground suited to the littlies ones on a shaded, grassed reserve. With a cafe on-site, you won't need to go far to enjoy a cuppa after your kids cool off.
Location: Stuart Street, Manly
10. Bundeena Beaches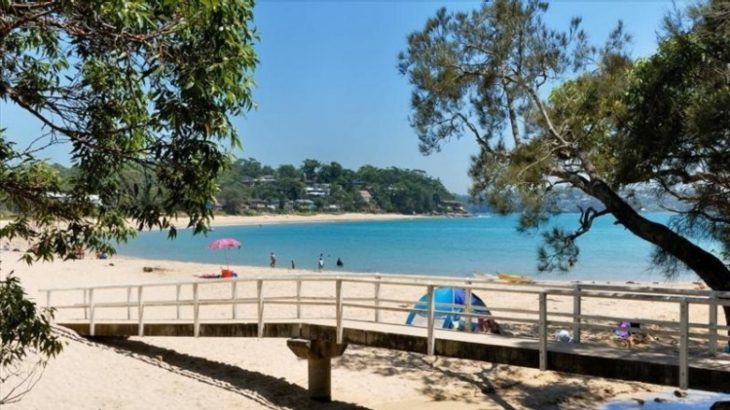 A gorgeous family-friendly beach in Sydney just over an hour from the CBD, Bundeena is definitely worth a day trip, with several beautiful beaches to explore. Bundeena is accessible by ferry from Cronulla or via the Royal National Park by car.
Hordern's Beach is the area's main beach, close to the ferry wharf amid a cosy little village with a playground and quaint cafes littered along the strip. The best spot for the littlies to splash and play is along Bundeena Creek, south of the wharf. With lots of shade covering the gently flowing creek, you can definitely enjoy a peaceful lie on the sand while the kids play close to you.
11. Deeban Spit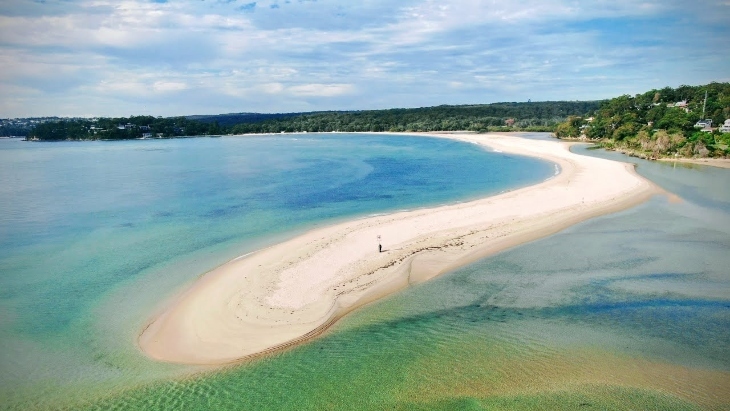 If you're up for a little adventure, venture a little further inland from Bundeena to adjacent Maianbar, and you'll find the absolutely breathtaking Deeban Spit. The exceptionally calm waters and the stunning sand strip that appears at low tide are the ideal spots for a splash with your little splashers.
12. Bayview Park, Concord
In the Inner West Suburb of Concord - known as the 'Parklands Suburb' - Bayview Park is right on the water with stunning views of the Parramatta River. The parkland offers lovely shaded areas from surrounding trees and an accessible beach where children can play in the sand and explore the rock pools at low tide. There are also covered picnic tables, barbecues and toilets.
Plans are currently underway to make Bayview Park a safe spot for natural river swimming with the addition of a new netted swimming area and shower facilities.
Location: Bayview Park, Concord
13. Collaroy Beach
Collaroy Beach is a long stretch of sand that combines with Narrabeen Beach for about 3.4km. Usually known for its surf, the central area suitable for parents with little ones is at the southern headland between Beach Road and Florence Avenue. Here there is a fantastic fenced playground, a car park, an adult ocean pool, a shallow toddler pool and rock pools.
While it's not a terrific swimming spot, the rock pools are a favourite for your tiny explorer with a little bit of guidance. Help them explore and spot a few sea creatures and sea life living amidst the rock formations, and you'll have a distracted afternoon cooling off.
Location: Pittwater Road, Collaroy
14. Darook Park Beach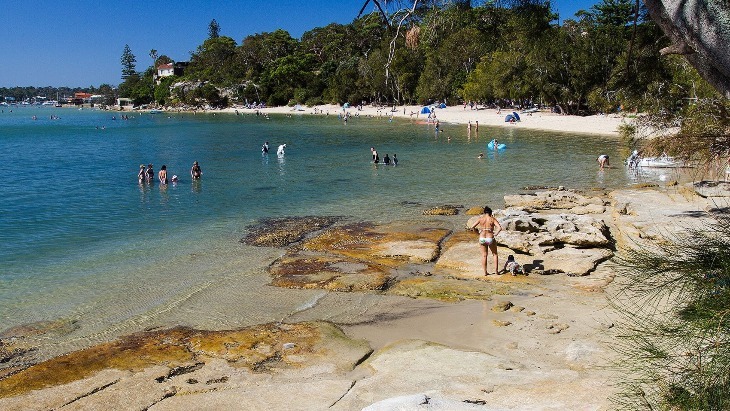 Darook Park Beach is a pretty special Sydney beach, to say the least! It's in the Sutherland Shire and is a local gem thanks to plenty of shade, small waves for the kiddies and some of the clearest and bluest water around.
Keen for a coffee while you relax? There's coffee about 10 minutes up the road at Little Parrot Cafe.
Location: Darook Park Road, Cronulla
15. Camp Cove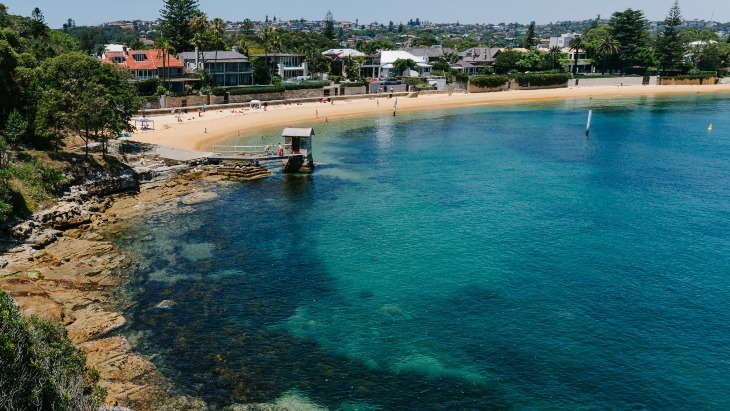 Did you know that Sydney is home to an award-winning beach? And no, it's not Bondi! Camp Cove beach near Watsons Bay was once awarded the honour of being Australia's Best Beach (beating Bondi, no less!) and is a firm favourite in our repertoire of the best kid-friendly beaches in Sydney.
Along with beautiful clear-blue waters and clean sand, Camp Cove beach has a kiosk to stock up on your beach day refreshments.
Location: 23 Victoria Street, Watsons Bay
16. Avalon Beach
Avalon is another popular beach and surf spot on the Northern Beaches.
While parking can be hard to come by on busy weekends during the summer, there is loads of beach for everyone to enjoy, so you're bound to nab a great spot. Bring your umbrellas, as there's limited shade available on the sand, but the nearby grassy areas next to the kids' playground offer some shade. BBQ areas are available for a picture-perfect picnic day.
Location: Barrenjoey Rd, Avalon
17. Milk Beach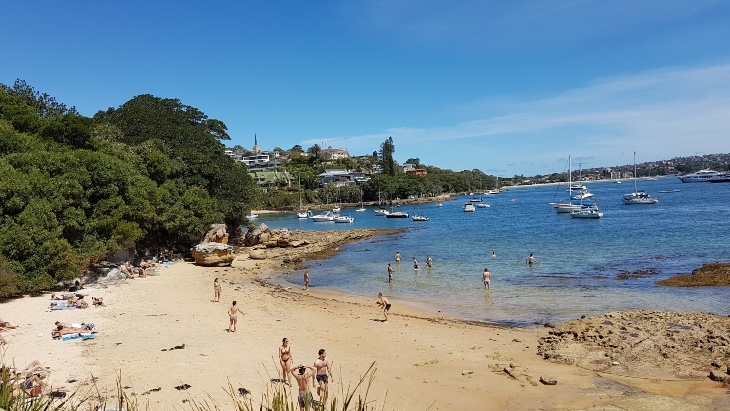 Another popular kid-friendly beach in Sydney, Milk Beach still remains somewhat of a hidden gem.
Located along the Hermitage Foreshore Walk and tucked into Hermit Bay, Milk Beach offers stunning views of the harbour skyline along with kid-friendly waves and the opportunity to goggle at the million-dollar boats bobbing past in the harbour.
Location: At the base of Hermit Bay within the Sydney Harbour National Park.
18. Shelly Beach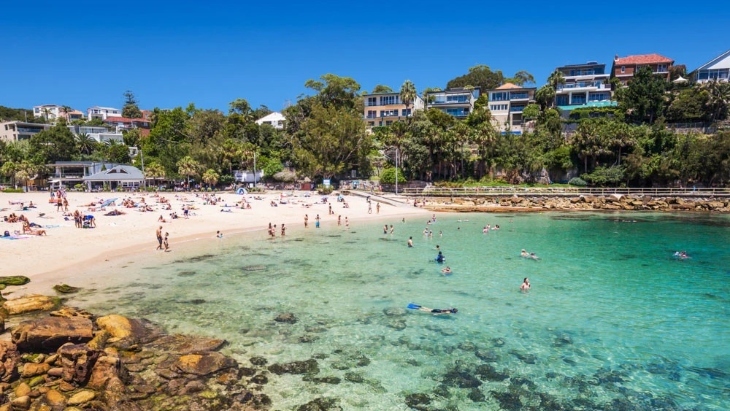 Golden sand, a large shady reserve with picnic tables, rocks for mini explorers to clamber on, the super kid-friendly Boathouse (that is RIGHT on the beach), and just a short walk from Fairy Bower rock pool…there's no shortage of family fun at Shelly Beach, part of Cabbage Tree Bay.
It's secluded, has an ocean pool on the south end, is ideal for toddlers, and has a reef perfect for snorkelling and spying on marine life. All the boxes have been ticked!
Location: Marine Parade, Manly
19. Dee Why Beach
Dee Why Beach is a great surf beach and an awesome summer spot for families too.
If you're with young children, snag a spot at the south end near not one but TWO ocean pools - that's hours of exploration time covered while you sunbake! If this isn't enough, there's a fully fenced playground at the south end too. There is another playground and an oval near the large car park. Across the road from the beach, there is no shortage of eateries and shops to browse, so a day at Dee Why really can keep you busy for hours.
Location: The Strand, Dee Why
20. Redleaf Beach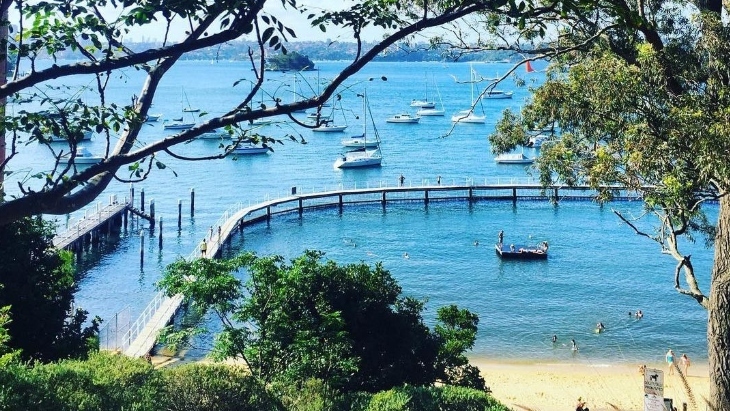 A beautiful and calm beach with its own enclosed ocean pool - what more could you ask for?
Redleaf Beach is an awesome harbour beach that is ideal for those looking for calm waves and a relaxing ambience. The enclosed swimming area is about 90m by 60m with boardwalks wrapping around it - fun to stroll around, and two floating pontoons that older kids will enjoy jumping off! The grass is sloping and perfect for relaxing in the sun, and there's a nice little kiosk to top it all off.
Location: 536 New South Head Road, Double Bay
21. Whale Beach
Just around the cliff from Palm Beach, you'll find gorgeous Whale Beach, with its signature pinky-gold coloured sand. It's just 600 metres long and has 40-metre high sandstone headlands on either side and a 25-metre safe and shallow rock pool at the south end.
Although its surf can get pretty big, the small playground with sand play area and the rockpool where crabs can be found scuttling still present a major drawcard for families.
Location: Whale Beach Rd, Whale Beach
22. Cronulla Beach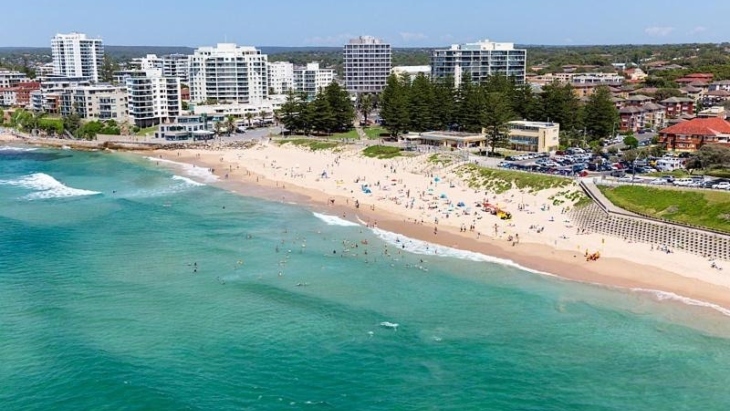 One of the most popular kid-friendly beaches in Sydney, you can't beat Cronulla Beach for a day in the sun. Although waves can get quite big and probably not ideal for toddlers, it has still earned a place on our list of the best Sydney beaches.
Cronulla Beach is nestled near parklands and cafes, and you're bound to spy a score of surfers doing their thing. The rockpool sits adjacent to the ocean so it's still possible to have a relaxing swim.
Location: Mitchell Rd, Cronulla
23. Malabar Beach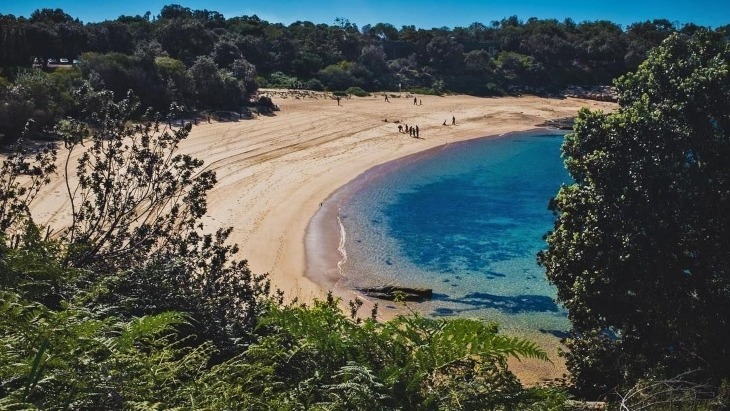 Definitely a lesser-known Eastern Suburbs beach, but another great beach to visit with young children. There's a big green park for some running around, a gated play area, BBQ and picnic facilities, and the sandy shoreline at Malabar Beach is a great place to pick up some green, amber and blue glass pieces smoothed by the water.
The long headlands on each side of the beach protect it from rips and surf, a must-have feature of any kid-friendly beach. Don't forget to check out the Malabar Ocean Pool, located near Malabar Beach in Long Bay (just below Randwick Golf Club.)
Location: 1-3R Fishermans Road, Malabar
24. Salmon Haul Reserve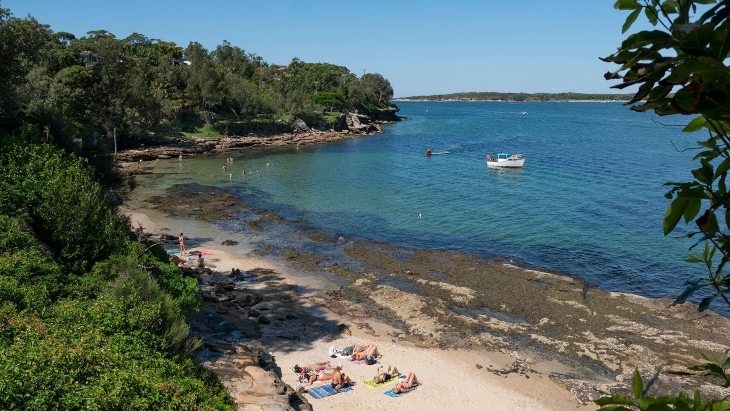 If you're after one of the best kid-friendly beaches in Sydney with teeny-tiny waves, head to Salmon Haul Reserve in Cronulla.
This is a non-patrolled beach, so make sure to watch your little swimmers, who are sure to love paddling in the cool, calm waters overlooking Port Hacking. Plus, they'll enjoy going for a little play in the playground at Salmon Haul Reserve after their swim!
Location: Gowrie Street, Cronulla
25. Bondi Beach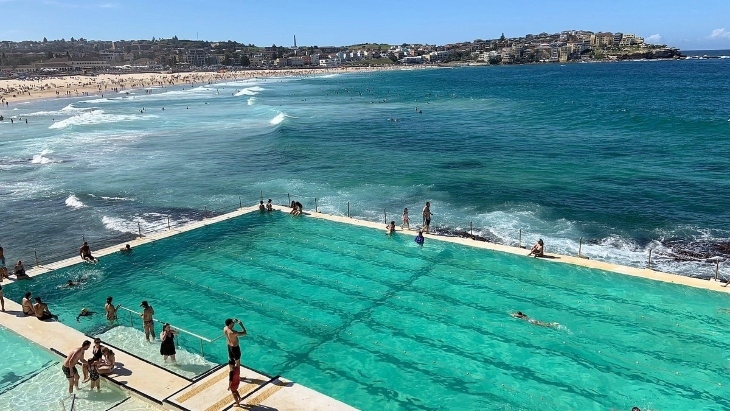 Last but definitely not least, there's Bondi Beach. This iconic beach is a favourite for families (& LOTS of them) for good reason!
Although Bondi Beach is almost always packed, and traffic and parking are likely to be a bit of a nightmare, it really does have it all.
There are a plethora of awesome eateries on the beaches' doorstep, a fully fenced playground, a skate park for action lovers, the perfect tanning area at the Grassy Knoll, a pool where kids can always be found having a splash decorated with beautiful aquatic murals, and pretty calm waters at the North end.
Location: Queen Elizabeth Drive, Bondi Beach
More Sydney Beaches to Try
If you've got some adventurous souls in your tribe, why not make a weekend of it and explore Sydney's Royal National Park Beaches? These Sydney beaches have a much larger surf for the older, more confident kids and the views are incredible!
IMPORTANT BEACH SAFETY INFORMATION
Always swim between the red and yellow flags – surf lifesavers have identified this area as the safest spot to swim in the water. It's also a good idea to always swim with a friend.
Make sure you read any safety signs at the beach and you are always welcome to ask lifeguards for more safety advice. If you find yourself needing help in the water, stay calm and attract attention.
Check conditions before you go and find a patrolled beach by visiting www.beachsafe.org.au.

Have you signed up to our newsletter? Join ellaslist to get the best family and kid-friendly events, venues, classes and things to do NEAR YOU!
Reviews
Have a look at clairville on Sydney's northern beaches
Little Bay is also good, has shade, with nice and calm waters for the kids
Our favourite is Maroubra beach which has an excellent play area, bbq's, kiosk, beach, coastal walkway.