Fairfield Adventure Park Offers Endless Adventures for Kids
Fairfield Adventure Park Offers Endless Adventures for Kids
Mums & Bubs
Toddlers
Preschoolers
Kids
Family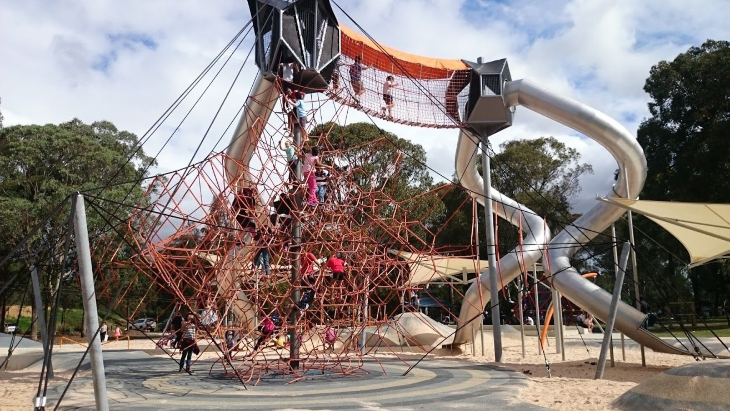 Mention the term 'Best Playground in Sydney' and you'll likely hear many families quickly intercept with claims that their local playground is the best in Sydney. Well, I think you'll agree with us when we say that Fairfield Adventure Park truly is one of the best playgrounds in Sydney!
We went for a play ourselves to see what all the fuss is about and were thoroughly impressed!
Fairfield Adventure Park Offers Endless Adventures for Kids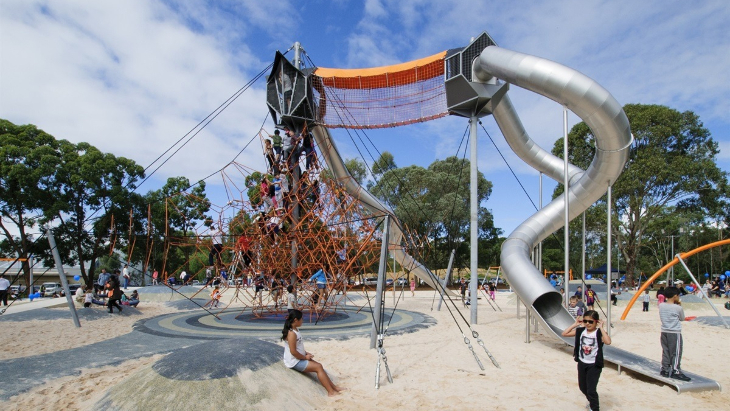 How to Get to Fairfield Adventure Park
Fairfield Adventure Park is easy to find on foot from Fairfield Station or by car (it's situated just off a major road – Horsley Drive).
The Park is situated right next door to Fairfield Leisure and Aquatic Centres, which means that in the warmer months, you could pop in for a swim and then burn off any leftover energy on the play equipment or vice versa. There is ample parking, although we would imagine that on hot days when pool visits are at a premium, this could become an issue. That being said, we arrived on a Sunday morning when the park was filled with families and drove straight into a spot.


Highlights to look forward to at Fairfield Adventure Park:
three enormous slides
four flying foxes
a rope tower
sandpit and digger
foosball table
obstacle course
BBQs
picnic shelters
sports field with basketball court
kiosk (seasonal)
Visiting ice-cream van (seasonal).
RELATED:
Outdoor Adventures at Western Sydney Parklands
Sky-High Adventures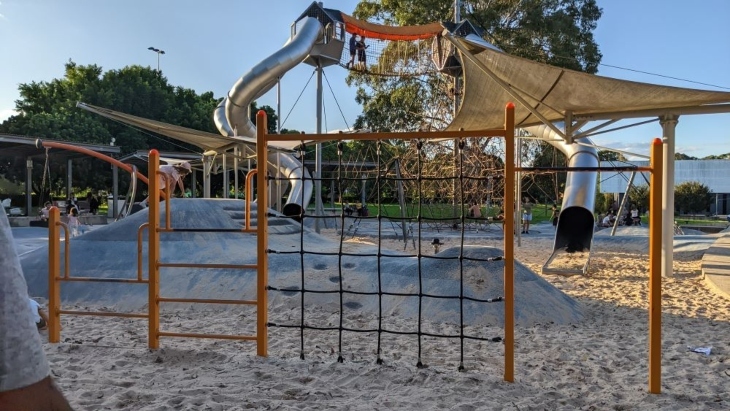 The main focal point of the playground is the super-duper 11-metre high climbing frame that takes you up to a sky bridge and platform where children can choose to venture down one of three spectacular slides.
While Mr three-year-old initially jumped at the opportunity to go down the slides (albeit with his dad), it soon became apparent to us all that there was no way they could both make it up the climbing frame. Older kids, however, would find this challenge an absolute ball!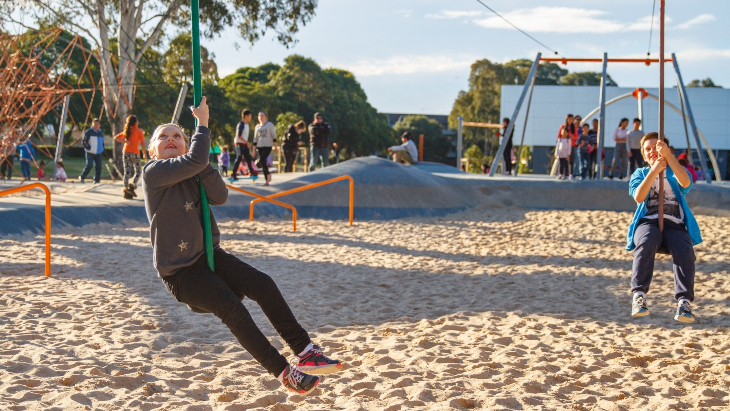 What's a playground without a flying fox? Fairfield Adventure Park offers one for all the adventurous kids to go for a swing/sway combo!
Something for the Little Ones
Initially, it may seem that younger visitors to the park have been ignored, but this is not the case.
There are enormous sand-covered areas, so bring your buckets, spades and sand-safe toys! Mr three-year-old had an absolute ball on the trampolines, swings and smaller climbing frames.
Strange as it may sound, he also really enjoyed watching the antics of the older children and marvelling at how high they could get on the climbing frame.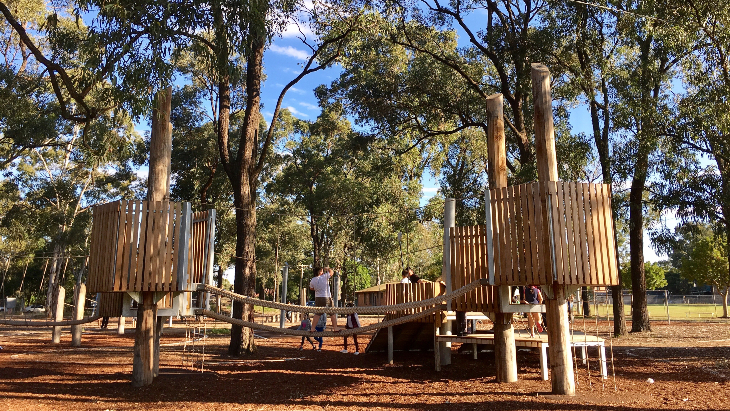 Although the bulk of the park's equipment was a little beyond the reach of our little ones, Mr three-year-old expressed a strong desire to return when he's 'big'.
It was wonderful to see a council reaching out to older children, who are often the ones who find themselves at a loose end and providing them with space where they can channel their boundless energy into something positive while reconnecting with the joy and freedom of childhood.
Birthday Parties at Fairfield Adventure Park
While there isn't a cafe on-site, there are BBQs, picnic tables, toilets on site, and a lovely little rotunda that some visitors had set up for a birthday party.
The park would be a terrific outdoor birthday party venue with many shady areas on the periphery of the play equipment, and we could certainly imagine myself throwing a no-fuss party here in years to come.
Other Playgrounds to Visit in Sydney
Check out the Cool Wylde BMX & Mountain Bike Facility
Botany's Ultimate Adventure Playground: Sir Joseph Banks Park
Sydney Playgrounds by the Water