ellaslist Checks Out The Shiny New Wulaba Park, Waterloo
Family
Kids
Mums & Bubs
Preschoolers
Teens
Parents Only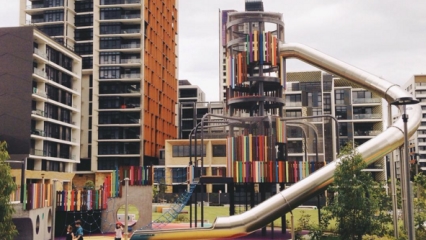 By: Matt Allison, ellaslist explorer
As residents of Waterloo we've long been awaiting the opening of Wulaba Park, one of several new parks that have opened up in the ever growing Green Square prescient. Wulaba is the traditional Gadigal name for the Rock Wallaby, once a regular sight in the Waterloo area, paying homage to both traditional culture and the land.
Much Excitement
The focal point of the park is its gigantic 'slippery dip' slide that towers over the park at 3-stories high. I'm not sure who has been more excited about visiting, me, or the kids. The park has been cordoned off for months, but we were able to sneak in a visit ahead of the 'official' launch on the 2nd of April.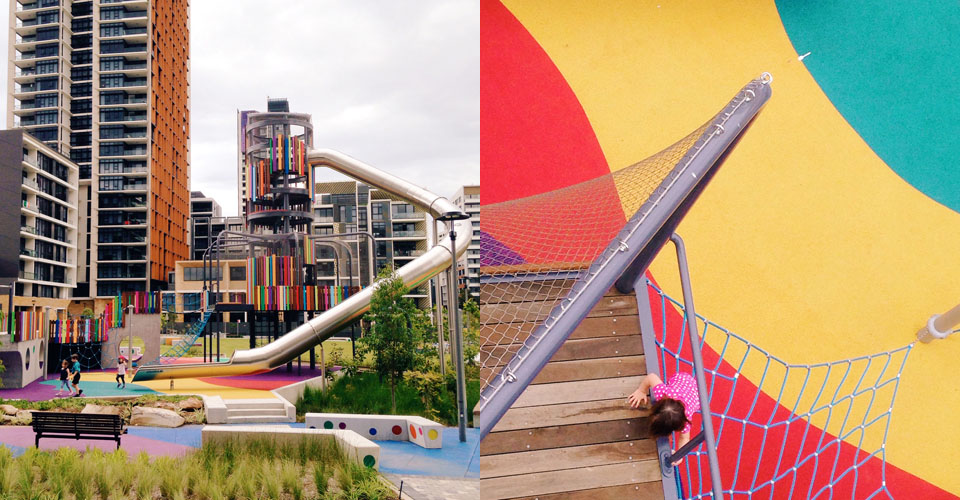 The colourful new Wulaba Park
Packed with Equipment
The Park is joint collaboration between the City of Sydney and Meriton and beyond the flagship slide, also features a colourful climbing tower, decks and a vast array of nets and swings. In addition to the play equipment the park also features a large lawned area with both a handball court and two table tennis tables.
Large concrete blocks invite play and discovery while the towering colourful balustrades add a magical touch, awash with colour and surrounded by an almost dream like curved pathway that criss crosses the park in alternating colours.
Stuart Noble Landscape Architects headed up the design in conjunction with fine artist Nuha Saad who has created a series of public artworks throughout the park using colourful resin disks that lend a kinetic energy that flows throughout the design.
The
HUGE

Slide

While at first glance the slide can feel rather daunting, the designers have made accessing it easy via a series of rope ladders hidden within the climbing tower, my young daughter (3.5 years) still requires a bit of assistance climbing in them, but they are easily traversed by my elder son (5.5 years).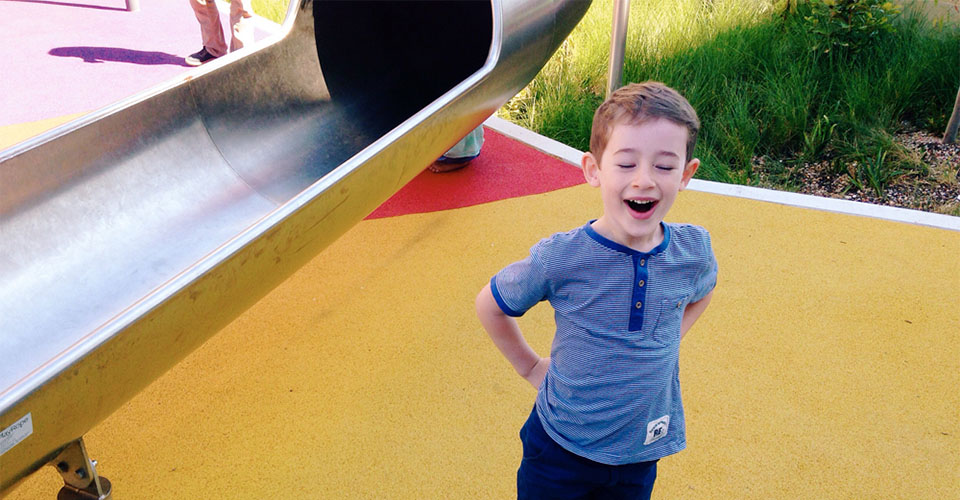 Super fun slide at Wulaba Park
Toddler & Pre-Schooler Action
For smaller children there are also swings available, one for young toddlers with added support, another for pre-schoolers, as well as a communal net swing that can easily accommodate 4-5 young children at a time.
The concrete play structures provide ample entertainment geared towards preschoolers as well as a set of climbing nets, even the stairs are graded offering smaller steps for younger children and larger ones for older children.
Beware: This is not a Gated Playground
The park is located at the end of cul-de-sac and surrounded by neighbouring buildings, which keeps children moderately contained, but it's worth noting that the surrounding pathway is a shared car zone, limited to 10kms an hour, but the park is not fenced off completely.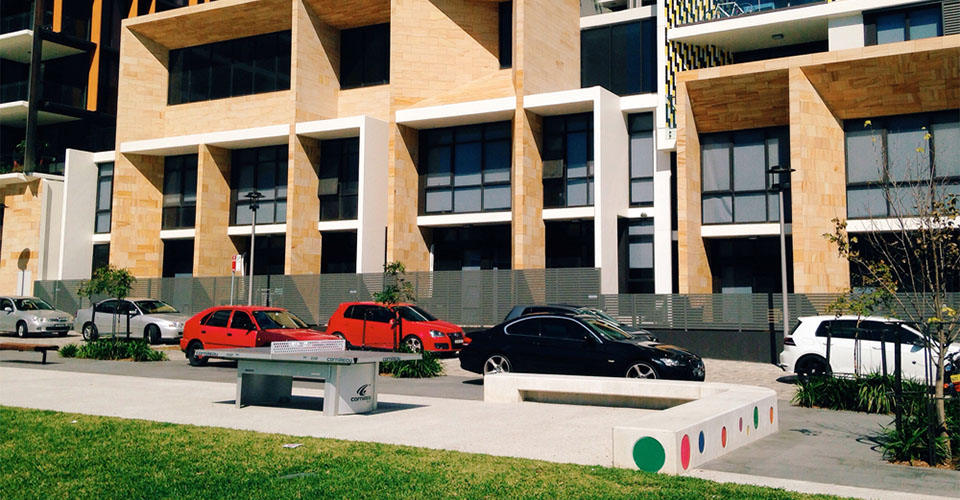 Table Tennis area at Wulaba Park
Parking
Several 2-hour parking bays have been provided, though these fill up quickly, especially on the weekends and you may need to park in neighbouring Zetland and walk over if you can't find a spot.
The park also features self-cleaning toilets on site as well as six barbecues for entertaining and hosting birthday parties or family events.
Where to Eat
Recently a coffee shop has also opened up at the entrance on Amelia Street providing teas, coffees and light meals, though the park itself is a stones throw away from East Village, which provides a host of dining options.
Our children have fallen in love with Wulaba Park, my daughter in particular, naming it "The Best Park Ever!" and it's quickly become a firm family favourite, dare I say stealing pole position from Sydney Park, her previous favourite.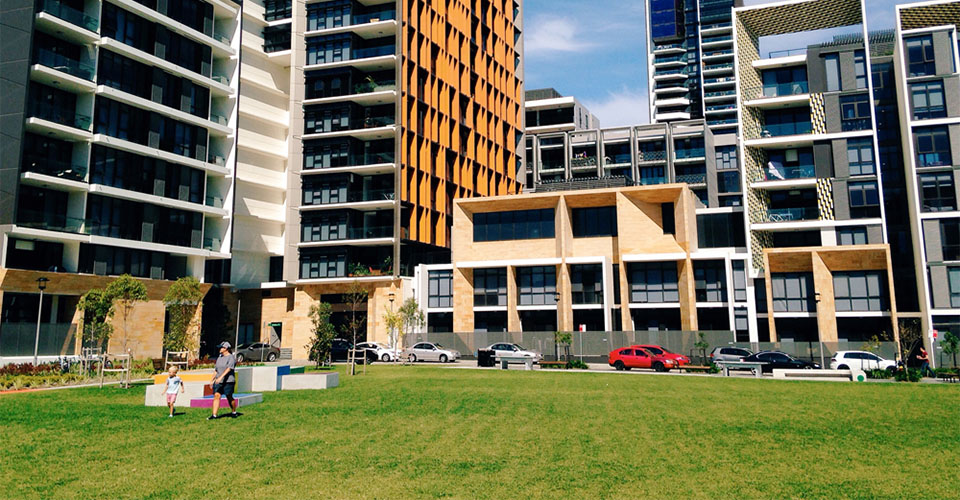 Lawn area at Wulaba Park
Overall Wulaba Park provides a great day out for families, be it a long leisurely picnic, barbecue or even an after school treat, there is something for everyone.
ABOUT MATT ALLISON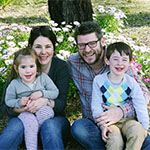 I'm Matt, husband, father and multidisciplinary creative. My family moved to Sydney a year ago from Cape Town, South Africa and have been discovering all it has to offer through regular family outings and after school adventures. I work part-time as a social media and content strategist and share our adventures on Instagram through candid photos of our Sydney life.