The Best Fenced Playgrounds in Sydney
By Phoebe Ackland, ellaslist
One less thing to worry about! Fenced playgrounds provide so much more peace of mind for parents, knowing your cheeky and adventurous sprouts can't wander off onto roads and wind up in all sorts of trouble. Here are some of the best loved fenced- off playgrounds in every corner of Sydney, that your child won't even want to escape from!
City

Chelsea Street Playground - This Redfern playground is small but full of community spirit, recently re-designed with help from kids at the local primary school.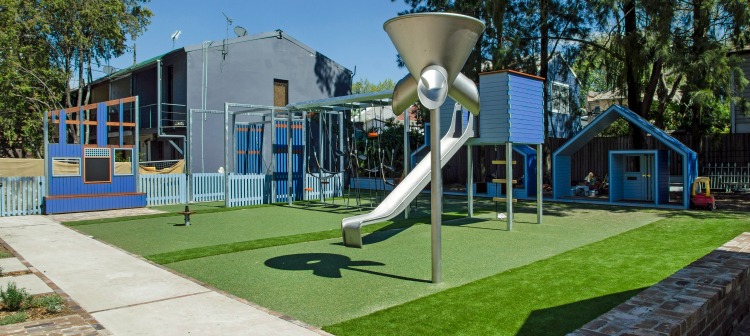 Source: Chelsea Street Playground, City of Sydney
Cook and Phillip Park Playground - Finally something for older children! In the city's centre is this fenced park, suitable for kids 5 years and up.
Eddie Ward Park Playground- There are 2 playgrounds here- the fenced one for toddlers is away from the road, and the one for bigger kids, though unfenced, has a skatebowl!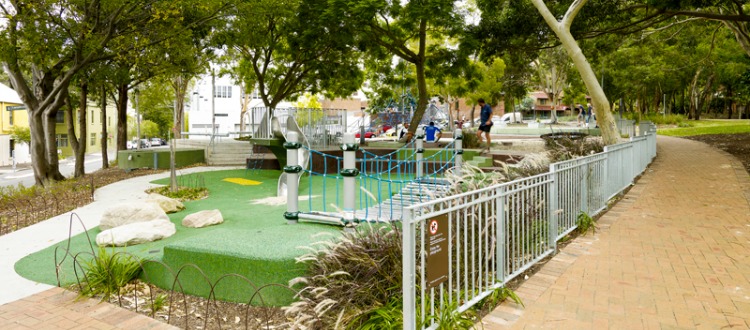 Source: Eddie Ward Park Playground, JMD Design
Eastern Suburbs

Bieler Reserve Playground- This gem in Randwick is fully enclosed, not too big and not too small. It's all pretty brand spanking new equipment ideal for younger children, but with a large climbing spider's web for older children. A small walk to local cafes and shops.

Source: Bieler Reserve Playground, Randwick City Council
Bondi Beach Playground- How could you go past those views or that location? There's an awesome shaded sandpit, and is most suitable for children aged 0-4 years. Read more about it here.
Queens Park Playground- On Darley Road, this one is amongst endless green parklands. It now has rubber flooring on the ground, and a load of equipment including swings, a shaded sandpit and a sit-on sand digger. Read more about it here.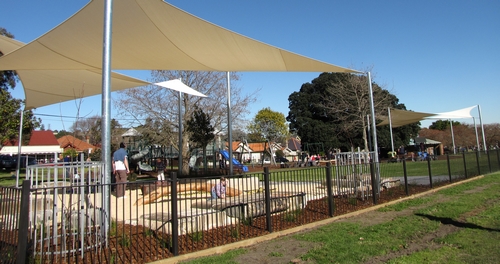 Source: Queens Park Playground, Centennial Parklands
Bangor Park Playground- Word must've got out for this Coogee playground, because despite it's non-central location, it always seems to be busy! It's fully fenced off, has shady tarps overhead, spongy flooring, cool slides and a dog-park surrounding it.

Source: Bangor Playground, Randwick City Council
L'Estrange Park Mascot- This one is a sports field and park on the corner of King Street and Sutherland Street, and it's fenced playground has PLENTY of room and spongy floor for children to run around. There are 2 sides to the playground, one being age appropriate for up to 6 year olds, the other for up to 12 year olds. You'll find a sand pit, water play items, bike track with road signs, climbing webs, slides, jungle gyms and more!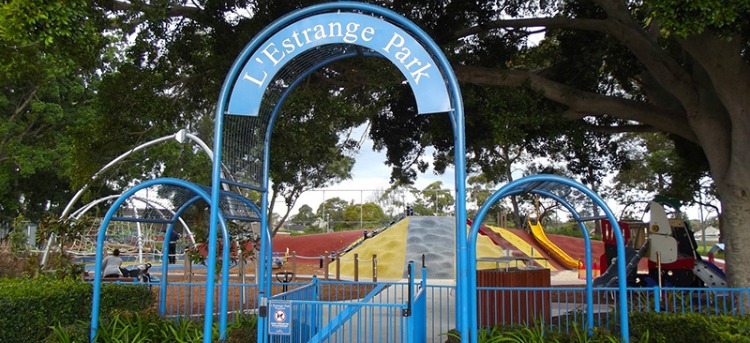 Source: L'Estrange Park Mascot, City Of Botany Bay
Northern Beaches/North Shore Sydney

Dee Why Beach Playground- With shady tarpaulins, heaps of seating, proximity to a rock pool and the gorgeous beach, make the most of Dee Why's recent promenade and facility upgrades.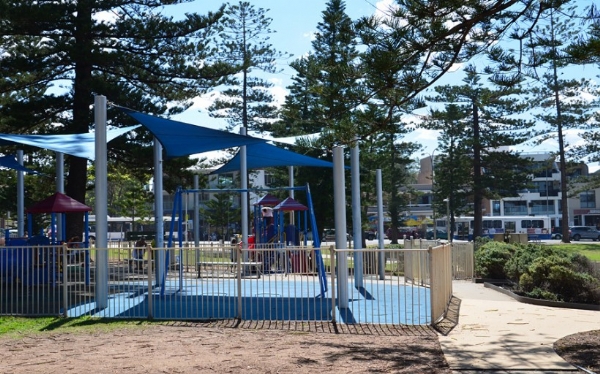 Source: Dee Why Beach Playground, Manly Australia
Collaroy Beach Playground- Sometimes you just can't go past a fresh ocean breeze. This is again in perfect proximity to water, has excellent views, and surrounding cafes. If you love this one, try the Balmoral Beach playground at the Esplanade (but prepare for busy weekends), Little Manly Point playground or Manly's Lagoon Park playground. All are super close to water.
Passmore Reserve Playground- In Manly Vale, this one's enclosed due to the nearby lagoon. It's a old school wooden playground structure with a natural bush vibe.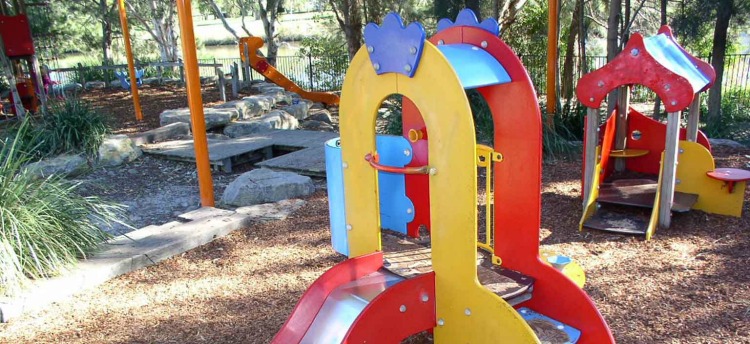 Source: Passmore Reserve Playground, Northern Beaches Council
Wahroonga Park playground- This one was renovated back in September 2014, but remains in great shape. There's equipment for little kids including mini trains, toddler swings, slides and springers as well as for the older kid's including a fast-paced flying fox, a rotating roundabout, a half-sunken pirate ship and lots more.
Inner West

Livvi's Place- In Timbrell Park, Five Dock, this is a truly spectacular park. It is built for all ability levels, able-bodied or not. It's got a powered round-a-bout, nets to climb, slides (with wheelchair accessible ramps) and so much more. This park was recently renovated, so enjoy it while it's pristine.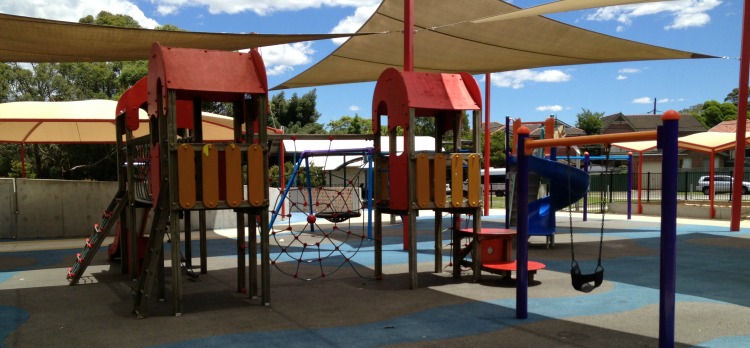 Source: Livvi's Place Timbrell Park, Playful Possum
Burwood Park Playground- It may not have brand new equipment, but kids won't care! It has a beloved flying fox, swings, spring rockers and a wobbly-walker.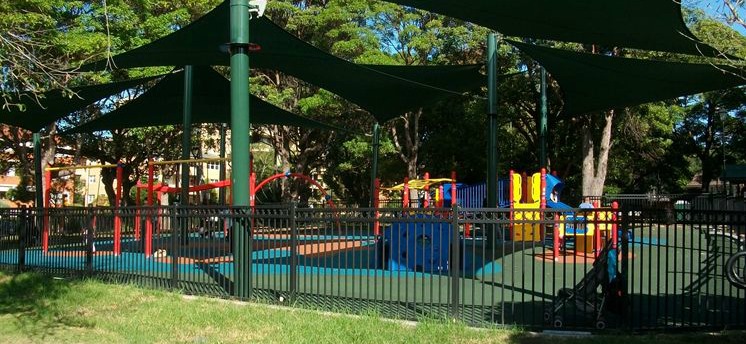 Source: Burwood Park Playground, Municipality of Burwood
Camperdown Memorial Rest Playground- There's something for all ages here! The sandpits, wobbly bridge, and woody, bushy feel give this park a very natural, earthy vibe.
Brays Bay Reserve in Rhodes- In a fantastic picnic spot, there's a fully fenced playground for a little ones and an open one for older kids with a spider's climbing web. Bring your golf clubs to use on the mini putt putt area too!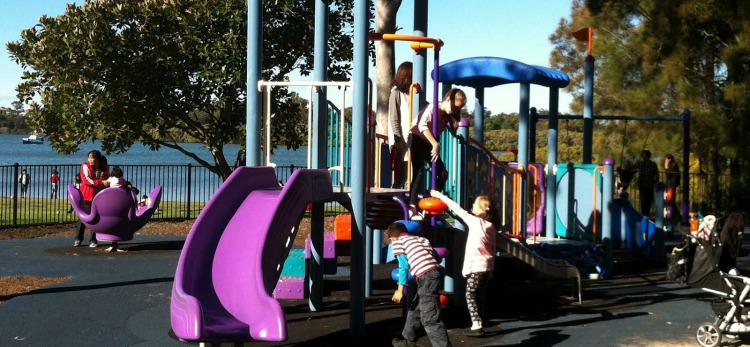 Source: Brays Bay Reserve, Family Fun Sydney
Robyn Kemmis Reserve: A medium sized fenced playground on Franklyn Street, Glebe suitable for all ages- it's a lovely pocket park with grassy lawns, plenty of greenery and a BBQ.
Source: City Of Sydney
Greater West

Doyle Ground- Often out west, playgrounds are situated in expansive parks and green spaces where fences aren't as necessary as in the city. However, this north Parramatta playground is on a 7.6-hectare sports-ground and is totally enclosed. A simple playground that gets the job done!
Larry Bolitho Reserve- a medium-sized, fully fenced playground with a bird's nest swing, rope walls, a merry go round and synthetic grass covering the floor.
River Park- the only fully fenced playground by Parramatta River in Ermington. It's best suited for children aged 5 years and under and has equipment including swings, a see saw, a cubby house, spider web wall, and boat-shaped climbing structure.
North Rocks Park: In Carlingford, this playground is shady, with lots of equipment to climb, a rope net to climb, mini rock-climbing walls, a wobbly bridge, and lots more.
Caroline Chisolm Park: In Winston Hills, this fenced playground is perfect for really little ones with slides built into the ground, a bird's nest swing, fun mirrors, balance beams and lots more. It is surrounded by larger parklands with tennis courts for odler families too.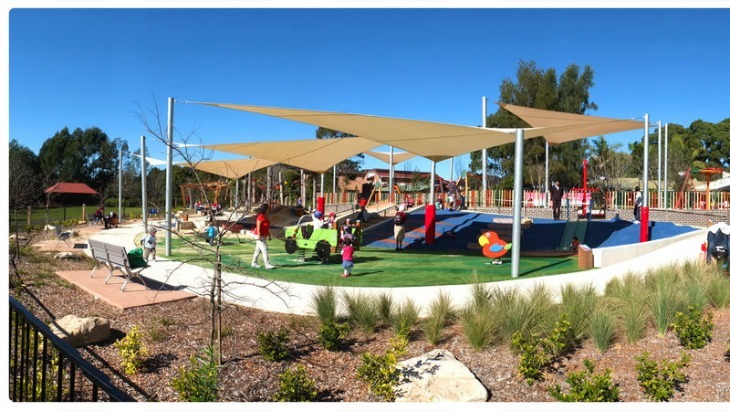 North West

Bernie Mullane Reserve- Kellyville's fully enclosed playground ticks all the boxes- it has shade, a wheelchair accessible swing, all kids of equipment and nearby amenities (and coffee!)
Wollundry Park- in Pennant Hills, this quaint park is near the train line, has soft ground, and its overarching gum trees are full of cockatoos. Mums can watch on from the picnic shelters.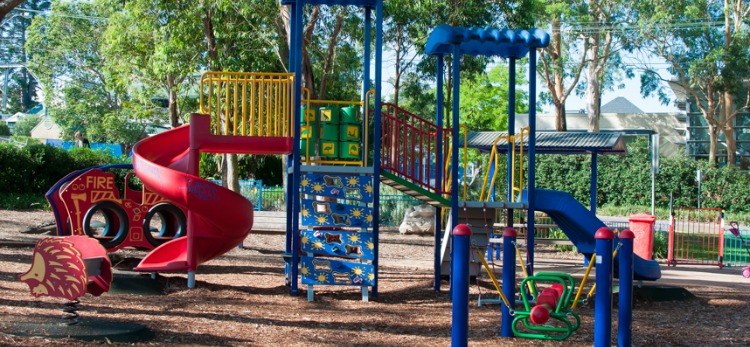 Source: Wollundry Park, Hills District Mums
Livvi's Place- This chain of highly accessible playgrounds is a hit in Yamble Reserve, Ryde. The colours and architecture of each piece is just gorgeous!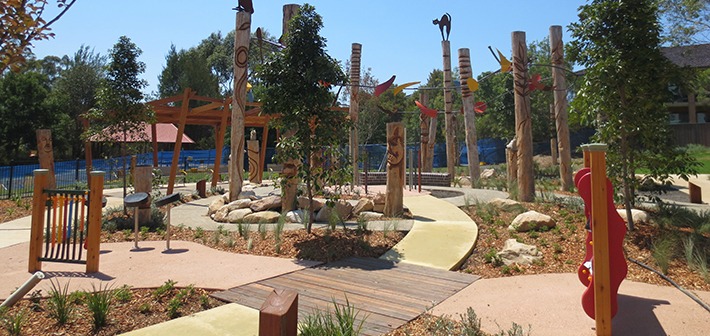 Source: Livvi's Place Ryde, City of Ryde
Beecroft Train Playground- Next to Beecroft Train Station, this one has recently be revamped. Tots and toddlers, in particular, will love this train-shaped, padded floor playground, with a train-spotting wall for children to ogle passing trains! There's great coffee shops nearby too.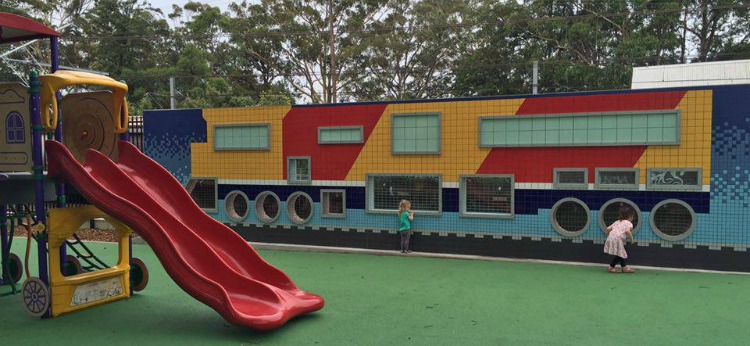 Source: Beecroft Playground, Hills District Mums
South West

Mount Annan Botanic Gardens Playground- In a gorgeous location, little ones will love the sandpit with mini buckets on pulleys, and of course, the flying fox. You can explore the amazing grounds after you play.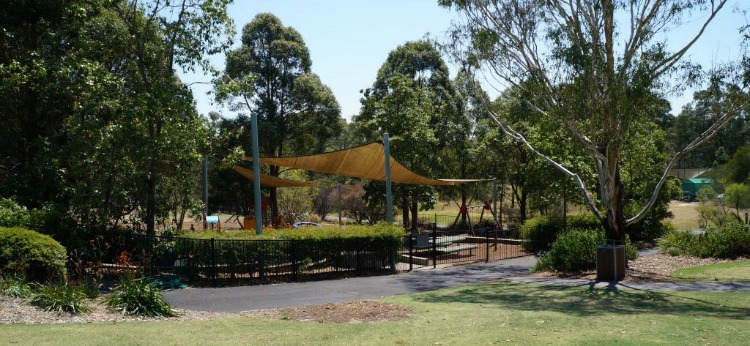 Source: Mount Annan Botanic Gardens Playground, hellosydneykids
South Sydney/St George

Kyeemagh Beach Playground- In Brighton Le Sands is this bright-yellow fence enclosed playground near the beach, with all the usual fun equipment to be enjoyed. We just love beach playgrounds.
Carrs Park- Newly renovated enclosed playground with plenty of space, BBQs, and away from the main road.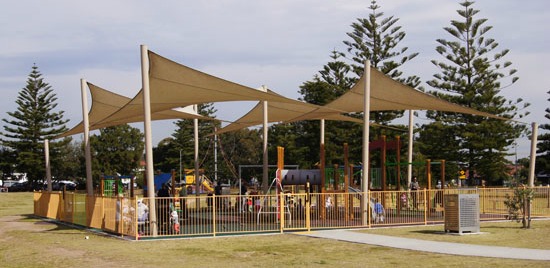 Source: Kyeemagh Beach Playground, hellosydneykids
Cook Park Playground- the pine log fencing at this Rockdale park has been recently replaced with steel. It is a small playground, but has a fun sailor/nautical theme to it.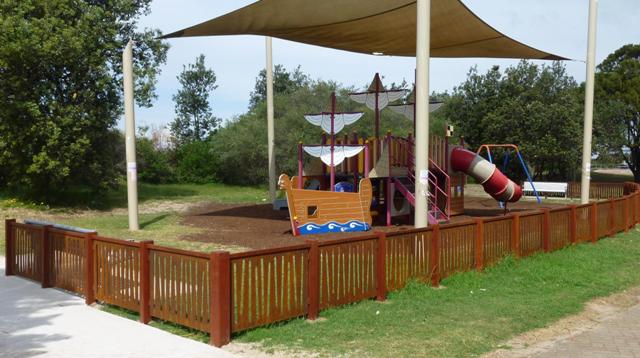 Source: Cook Park Playground, Rockdale City Council
Sutherland Shire

Shelly Beach Playground- In Cronulla, you'll find sea views and equipment for younger and older children to swing, slide and climb. There's a liberty swing for disabled children too.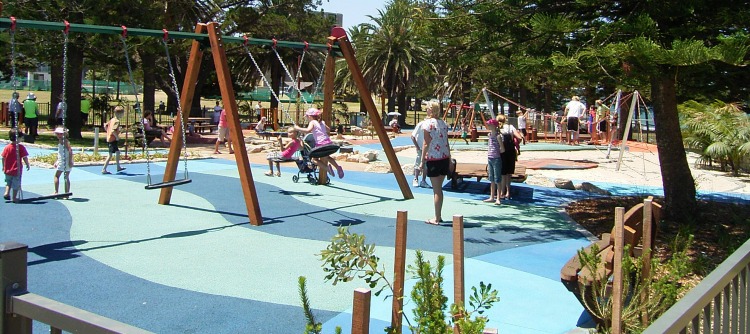 Source: Shelly Beach Playground, sydney.com
Hint: Search your local council website for a full list of local, enclosed parks in your area. Is your favourite not on our list? We want to hear about it! Comment below.
Reviews
Thanks for this list of playgrounds.There is one in Glebe,its a beautiful park,with lots of play area for kids and also picnic spots if you want to celebrate birthdays.I would recommend that.Hope you can add it to your list.It is just opposite the broadway shopping centre.
Thanks so much Kim for this valuable feedback. We will remove this from our list.
I would certainly give Rouse Hill Regional Park a miss at the moment, it's extreamly run down with lots of broken activities, it's actually quite dangerous to small children, there are huge holes in the softfall making it very easy to trip the flying fox has also been closed.
Thanks Kellie. We haven't explored these ones yet but they sound great. Thanks so much for the recommendations.
Great list....would definitely recommend adding the Beecroft Train Playground next to Beecroft train station and Brays Bay Reserve in Concord/ Rhodes :-)
I think the best fenced park on the EAST is in Mascot on King Street and Sutherland Stree 'le estrange park'