You Can Spend The Whole Day At The Brand Spanking New Strathfield Playground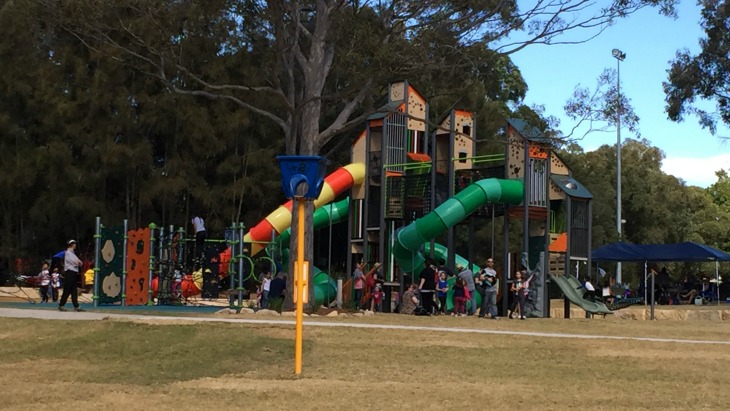 By: Christine Huynh, ellaslist explorer
We love to explore new playgrounds, especially playgrounds that boast modular play areas that are suitable for both small and big kids alike. The Strathfield City Council has recently upgraded Strathfield Park and it now has two amazing playgrounds; a disability access playground, closer to the Chalmer's Rd side, and another newly upgraded play area, closer to the Homebush Rd side.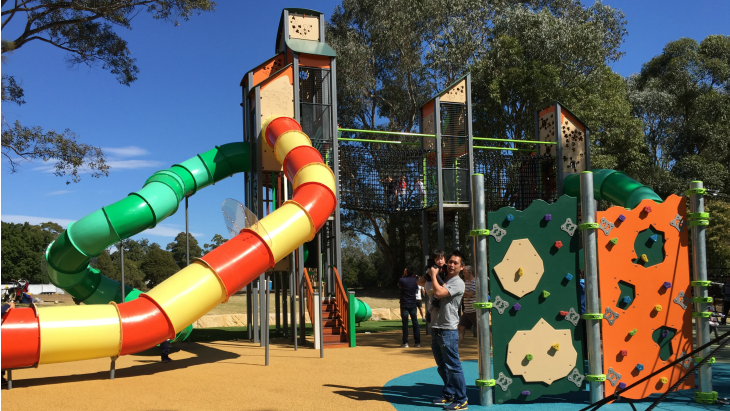 Buzzing With Community Spirit
We visited the playground bright and early on Father's Day, just one day after it was completed. The sun was shining and there was literally not a cloud in the sky. We expected to see a few families littered across a semi-quiet residential park, but we were pleasantly surprised to see the playground buzzing with life. There were at least 100+ kids and parents running, jumping, laughing, eating and screaming with joy! The locals were obviously well aware of this park upgrade, and we could see many families walking from the streets, hand in hand, towards the already very busy playground.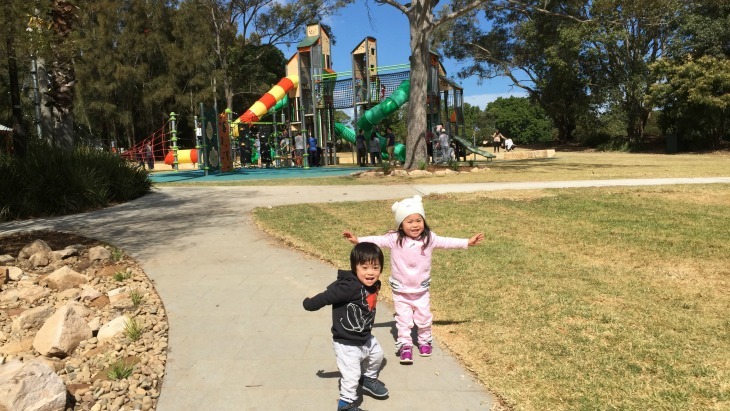 Every Kind Of Equipmet Imaginable
We entered Strathfield Park through Homebush Rd. I first noticed the multiple types of swings, all different shapes and sizes. My kids especially loved the section that resembles a cubby house, which featured all sorts of climbing contraptions, suspension bridges and slides. My kids also enjoyed climbing the small synthetic hills which featured a netted tunnel, perfect for little hands to grab hold of and climb through. They then giggled as they slid down the double slide in unison.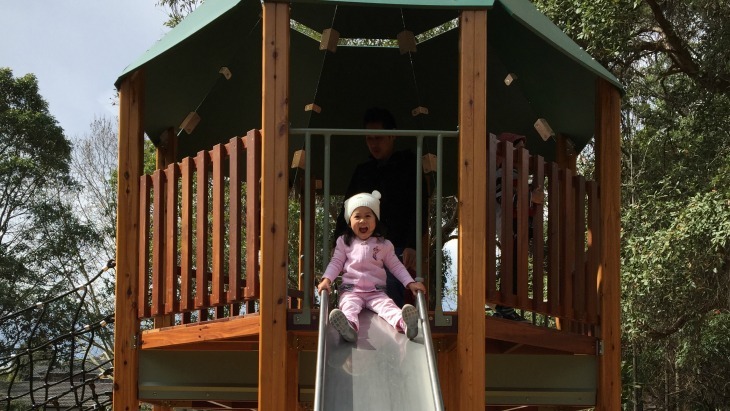 Teepees & Musical Play
My toddler enjoyed the village-like feel of the playground. There were mirrors that distorted their features or made them look upside down. They used the little teepees as hiding places and the distorted mirror drum to sing songs and dance around. My kids enjoyed playing the extra-big xylophone-like contraption before running off to walk along the balance beams. The spinning carousel was also a hit and they spun around until they were too dizzy to walk.
Super Slides!
It gets better! Especially for preschooler to older age kids! Don't get me started on the three towers. The three towers feature multiple monster slides. My preschooler screamed "wow" when she first set eyes on the three towers. She swiftly climbed up multiple levels and tried every single one of these slides. I had thought that she was too little for this part of the playground, but she had no fear and kept coming back for more. She waved at me from the top of each tower and yelled out "Mummy, look at me!" and then proceeded to scream happily down each slide. This section of the playground is not for the faint hearted, and if you have a child that is easily scared or has not quite mastered climbing, then please watch them carefully.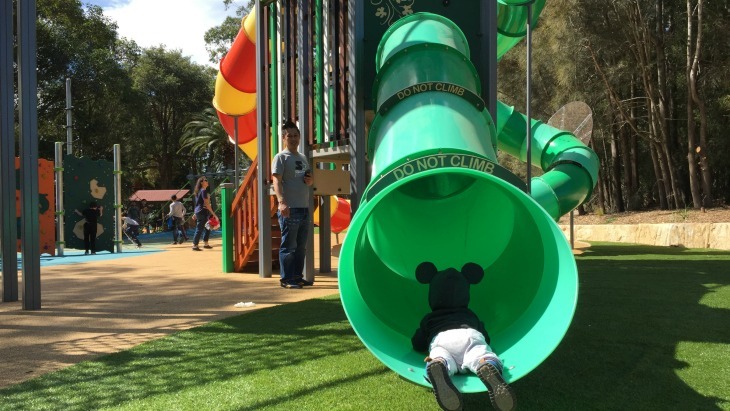 Climbing Webs & Flying Foxes
My little monkeys also enjoyed the climbing equipment next to the three towers which features a web of netting and climbing wall. Then, they noticed the flying fox. No great playground is complete without a flying fox. It lasts for a few seconds but you literally feel like you're flying. What is there not to like?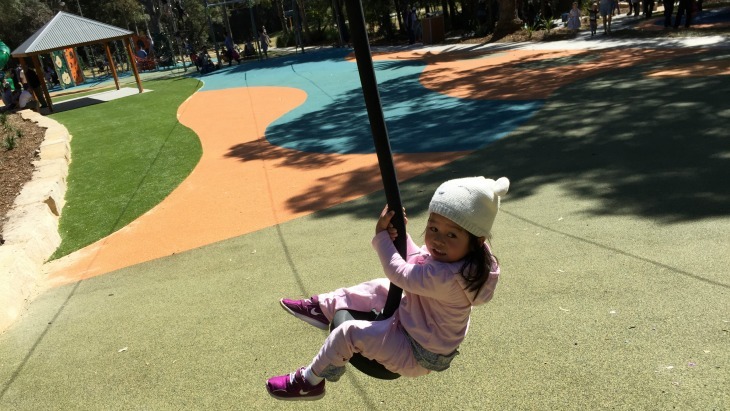 All in all, the new upgrades to Strathfield Park are great. My family loved it and it was a nice location for a picnic lunch once the kids were ready for some down time. Make a day of it and enjoy all the facilities that this park has to offer!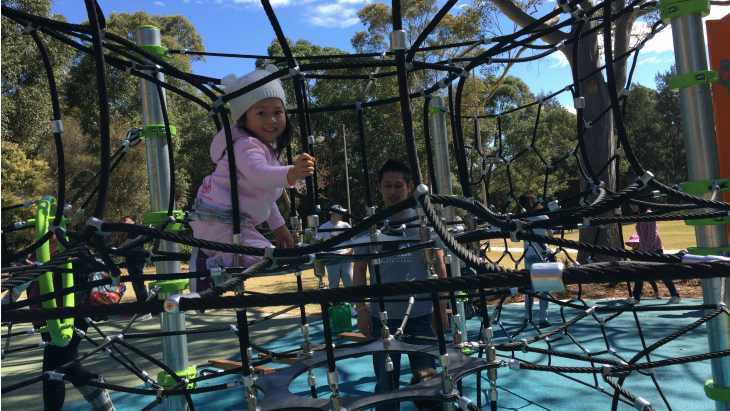 In A Nutshell:
Nearest cafe:
The park is located in a residential area and a cafe is not located on site. To take full advantage of our time at the park, we just packed a picnic lunch. We noticed that everyone else seemed to have the same idea!
BBQ facilities are also available at the park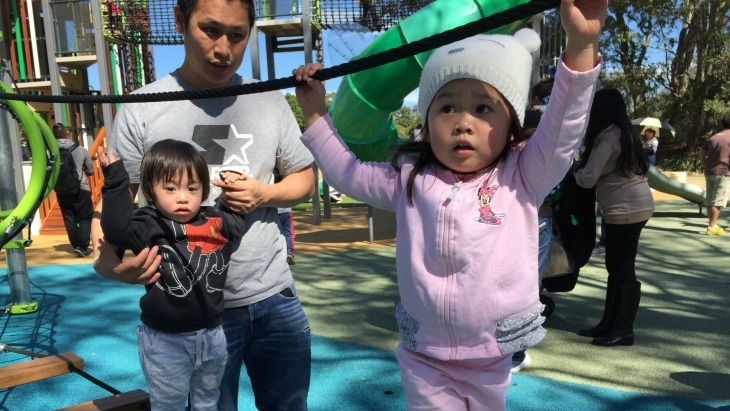 Toilets:
Toilets are located near the playground, closer to Chalmer's Road. For a map of the exact toilet location, click here: https://toiletmap.gov.au/Toilet/1618.
Shade:
There are a number of kiosks located across the play area which provide shade. The park is also lined with trees which provide plenty of shade. There are also park benches and plenty of shaded areas for you to place a picnic blanket for seating.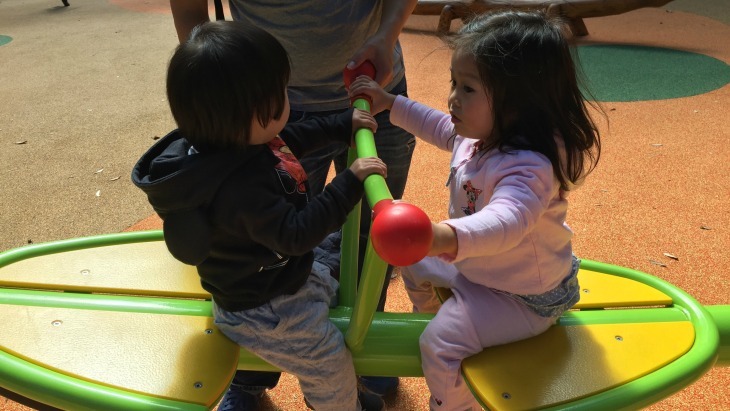 Enclosed:
The playground is not enclosed and the nearby streets are relatively busy.
Parking:
Street Parking on both Homebush Road and Chalmer's Road. Both general parking and disabled access parking are available.
Public transport:
Bus: Bus 480 Services a number of bus stops that are located very close to the playground on Homebush Rd.
Train: From Strathfield station, you can take Bus 480 directly to a bus stop that is located near the playground on Homebush Rd. The journey only takes 6 minutes.
Best features:
My preschooler's favourite: The three towers with the monster slides was my preschooler's favourite. She spent the majority of her time climbing and sliding. Please be aware that this section of the playground is for kids with advanced motor skills and are not afraid of heights.
My toddler's favourite: The mini village was my toddler's favourite. He enjoyed running through the cubby house, going down the slides and running up the mini synthetic hills. That said, my toddler loved the entire playground and was able to use most of it with close adult supervision.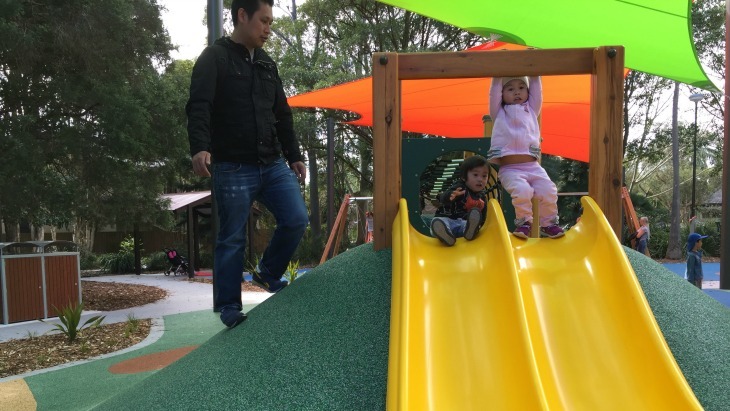 What You Need to Know
Construction nearby: The playground is located within Strathfield Park itself, which encompasses a large area. At the time of writing, there was still a fair bit of construction being completed within the wider park but the actual playground is 100% complete and safe to use. Just keep this in mind when you decide where to park. We found it easier to park at Homebush Rd. Visit the website to find out more about the construction in the park.
Food options: There are no cafes or restaurants within a quick walking distance to the park so bring a picnic or snacks if you want to make the most of your time there. There are BBQ facilities but it did not seem close enough to the playground so we packed a cute little bento box lunch and some fruit and nuts for snacking on later.
Strathfield is perfect parties. If you arrive early enough, there are a few kiosks located within the playground. When we visited, we saw one kiosk decorated with balloons for a child's birthday party.
Try to arrive early to secure parking. Street parking is limited and the park gets busy in the morning.
Address: Homebush Rd and Chalmers Rd, Strathfield, NSW
For more details about the upgrades, visit the website.