Ultimate Guide To The Best Sydney Playgrounds For Kids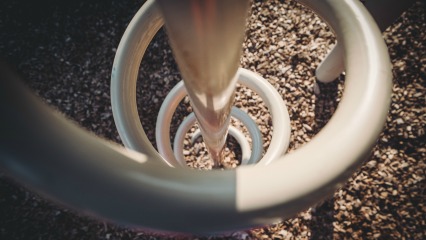 Nothing satisfies kids and their bottled up energy better than a thrilling playground. Luckily, Sydney has some awesome ones, whether your child is into wicked water play, fun flying foxes or super slides. Here are our top picks:
Flying Fox Playground, Mona Vale
A hugely popular family destination on the Northern Beaches that has it all- an enclosed playground, giant bike/scooter track, BBQ's, picnic facilities, a little sandy beach and a great cafe. Like it's namesake, the highlight of this park is the flying fox that picks up a fair bit of speed, as well as a giant rope climbing web, a saucer swing and a bouncing see-saw. There is plenty of fun to be had for both little and big explorers- check out our full review and more pics here.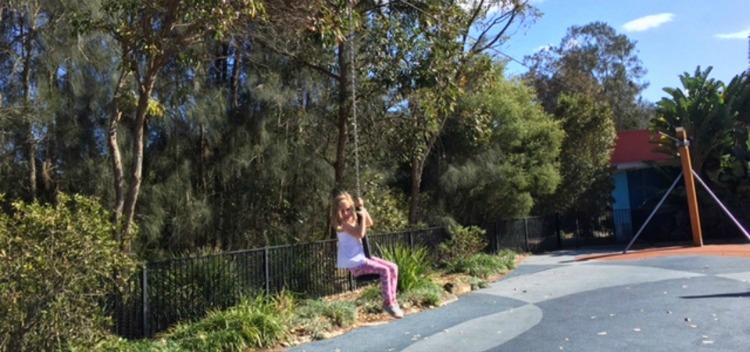 Fairfield Adventure Park, Fairfield
Older children, in particular, can explore 'til their heart's content- the focal point of this playground being an imposing 11-metre tall climbing frame, which takes kids to a platform with 3 slides that they can choose to descend from. The flying fox is an impressive 33 metres long, and little ones are encouraged to pack a bucket and spade due to all the sand available for them to get their hands messy. There are also swings, climbing frames and trampolines for kids to enjoy, definitely one to check out. Read more and see more pictures here.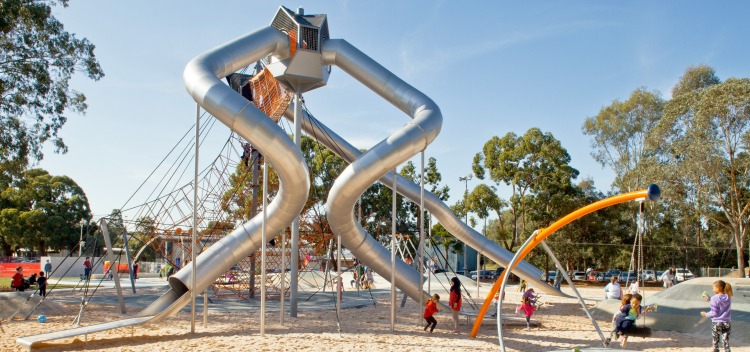 Livvi's Place, Ryde
This all-inclusive playground is pretty epic. It is organised into themed areas and features two flying foxes, swings, slides built into the hill, a spinning rope pyramid, sandpit with water play, a hammock, and sensory and tactile play including musical instruments, mirrors and more. It's a big playground, fully fenced, and is wheelchair accessible; it ticks all the boxes that all kinds of families could need. Read and see more about this fantastic playground here.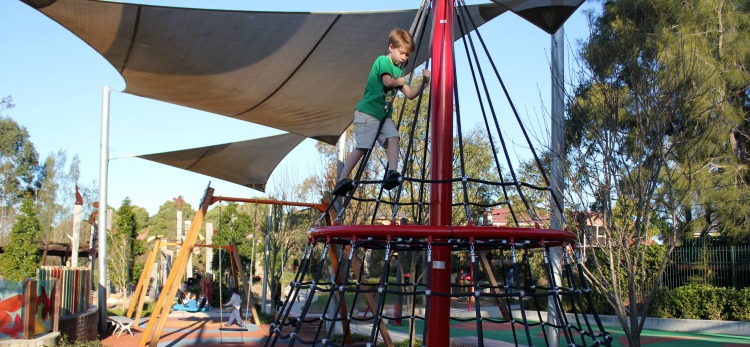 Livvi's Place, Five Dock
Recently refurbished, Livvi's Place in Five Dock is back and better than ever! This playground is more amusement park than play area, boasting a merry-go-round, flying fox, ropes course and water play area. There's a kiosk just outside the playground for parents to grab a coffee where proceeds go to the Touched by Olivia Foundation- the initiative behind this string of incredible, all-inclusive havens for all kinds of kids. Read more about it and see more pictures here.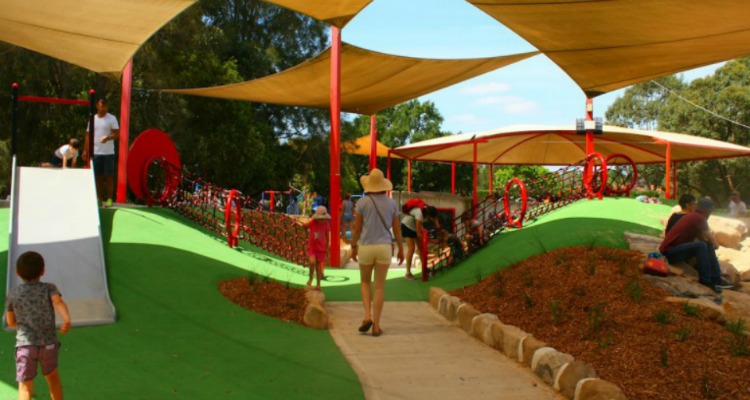 Domain Creek Playground, Parramatta
Situated inside Parramatta Park, the Domain Creek playground was a $2 million investment. There's a double flying fox, spinning carousels, tall slides that kids need to climb rope ladders to get to, and a climbing net that is strung low to the ground. The whole playground is connected by walkways and ramps, meaning wheelchairs and prams can get around smoothly. There are sandpits, small trampolines built into the ground and water pumps for hot days! Read more about this great playground and see more pictures here.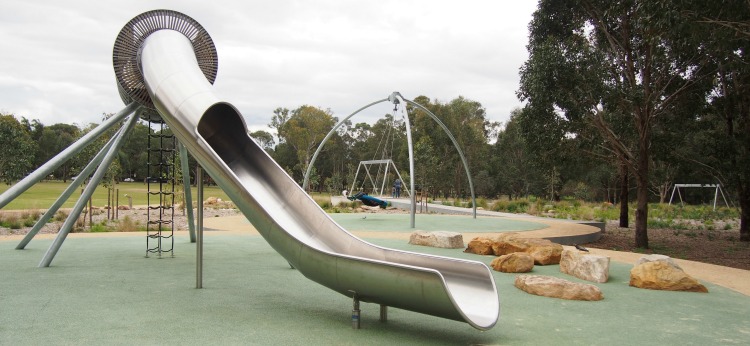 Wulaba Park, Waterloo
This one is something out of Willy Wonka's magnificent factory! It is bursting with colour, the highlight being a towering 3-storey slippery dip. There are climbing towers, nets and swings, a handball court and two table tennis tables- it doesn't get much more deluxe than that! It's still got that new-playground sheen to it, so get there before it wears off. Read more about Wulaba here.
Bexley Park, Bexley
Our kids didn't want to leave this playground! This playground is surrounded by lots of lush, green, open spaces, perfect for a big run around or a family picnic. There are wooden structures to climb, swings, slides, a flying fox, and a merry-go-round. Bring your bikes to ride on the track, or use the quirky vintage style 2-way telephones that keep children occupied for surprisingly longer than you'd expect. Read more about Bexley Park here.
Blaxland Riverside Park, Silverwater
Believe us- this playground has the WOW factor. There is a vast amount of space and endless play opportunities including hidden slides built into hills, a massive spinning satellite dish, suspended ropes course, cycle track, Viking swing, double flying fox, a large wooden climbing fort and water play on safe spongey flooring! This playground can keep families entertained for hours, especially on hot days. Read more about it here.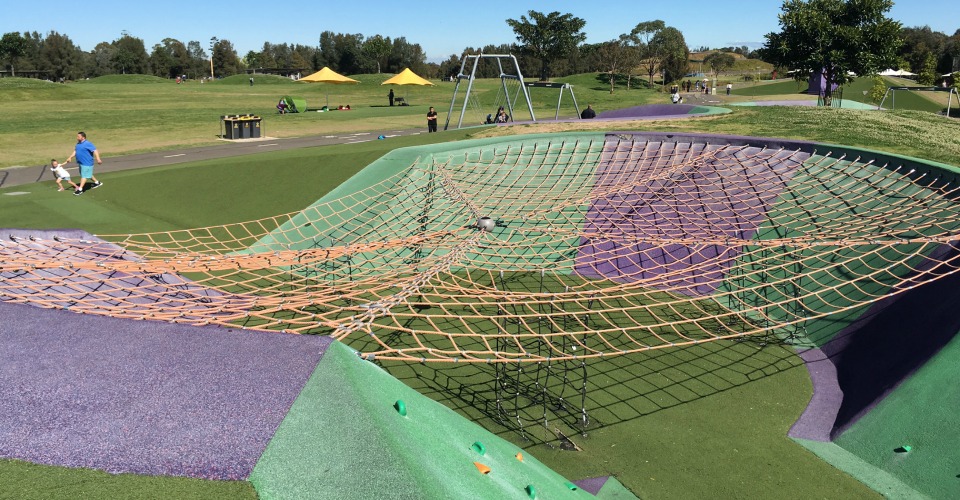 Various Playgrounds, Centennial Parklands
Heading to Centennial Parklands is like entering a green paradise for families- nowhere does outdoor entertainment and activities like Centennial Park. We recommend the Paddington Gates playground, the Fearnley Grounds playground and the playground next to the Centennial Homestead. Some of the features you'll find are bike tracks, sandpits, equipment mostly targeted to under 5s, as well as great spots to start up a ball game, feed ducks at the pond, grab a coffee, or just RUN AROUND! Read about where to find each playground here.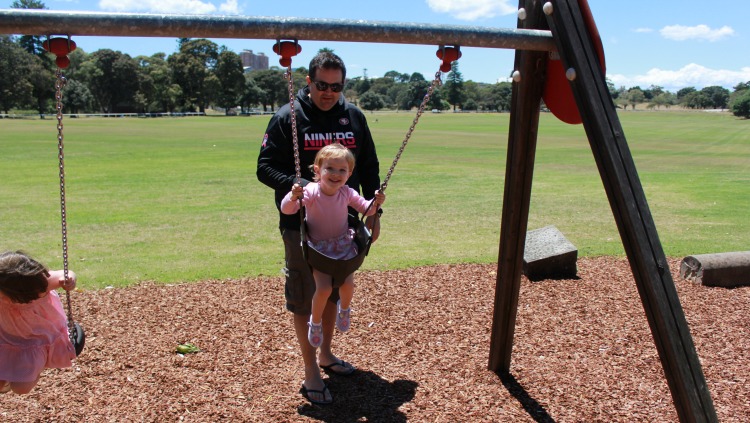 Darling Quarter Playground, Darling Harbour
There is a world of play to be had at Darling Harbour. The playground here has an 8 metre long big slide, suspended balancing ropes, a 21 metre flying fox, a giant swing that rocks in all directions, an octanet, sand diggers, a supanova, mini slides built onto a hill, swings, climbing webs positioned close to the ground, and HEAPS of water play. The only question that needs to be asked is, what should children begin with?! Read more about the Darling Quarter playground here.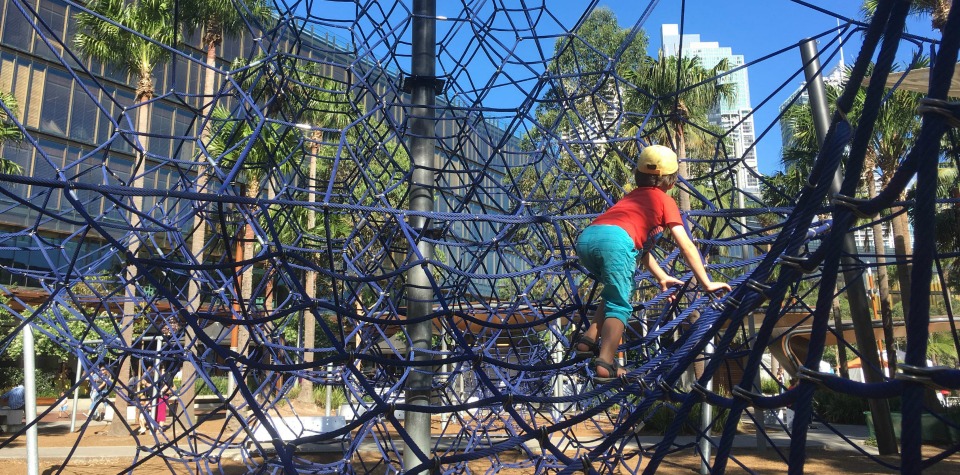 Our Top Pick: Queen's Park Playground
We just LOVE a good playground-cafe combination, and the Queen's Park playground and Queen's Park Shed cafe do just the trick. The playground is fenced so you can enjoy a fabulous coffee in peace and watch on as your kids have a ball with a large sandpit and diggers, swings, slides, and a baby climbing gym. The food at the nearby (and we mean right nearby) cafe is to die for, and they are super kid-friendly. Other families and mums mostly occupy it with prams. Read more about it here.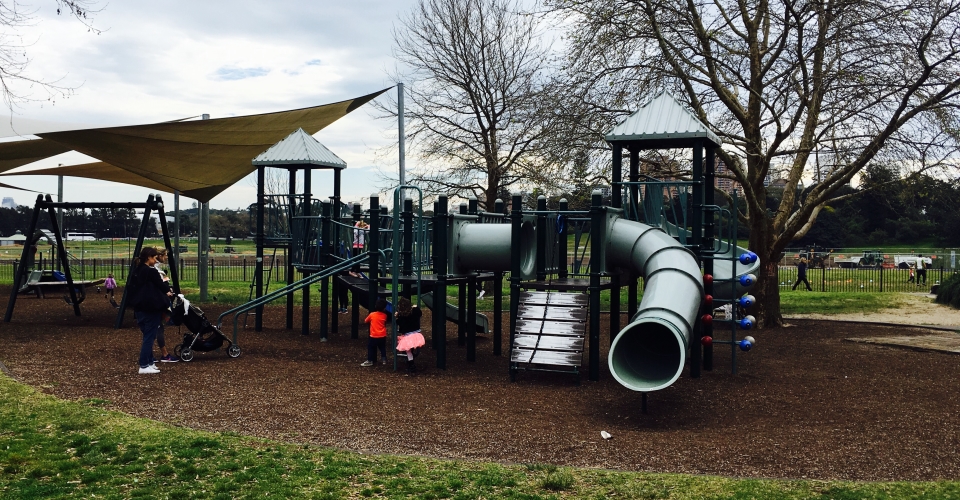 More Awesome Playgrounds For You
Water Play Parks
In Summer, water play parks are the best local spot to hang with young families. You need our great guide to the best water play parks all over Sydney the next time a warm day hits. Our favourites include the interactive water play at Steel Park in Marrickville, the tipping buckets at Philip Ruddock Water playground, the awesome playground and water park at Darling Quarter, the family favourite James Ruse Reserve water park, the cannons and fountains at Granville water park, and the epic water play at Blaxland Riverside park that has the WOW factor. Be sure to check out the wild garden and water play when it opens at Centennial Parklands, and check out the water splash areas you probably never knew existed.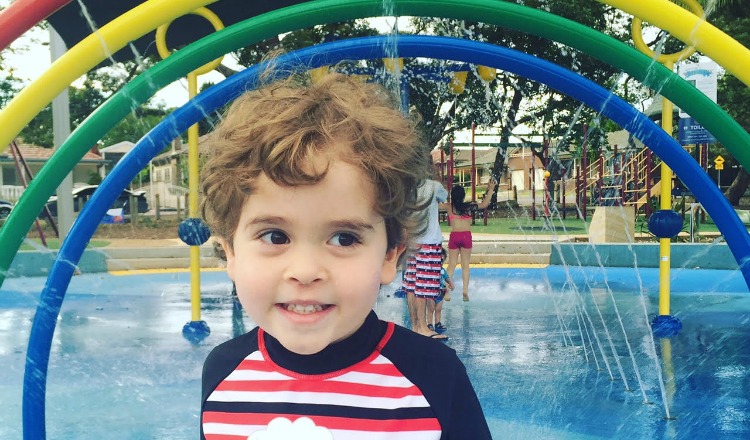 The Number 1 Playground In
NSW
The results are in, and according to the Australian Institute of Landscape Architects, Lizard Log Park and Playground is the best in NSW! Referred to as "Nature's Wonderland", Lizard Log encourages wild play, constructed out of natural materials with a bushland feel to it. You'll find a massive sandpit filled with log formations to climb over, rope walls, water spouts, a triple flying fox, rock scramble entry to the slides, and lots more. Read more about why Lizard Log was chosen as the best of its kind, and the other shortlisted NSW entries here.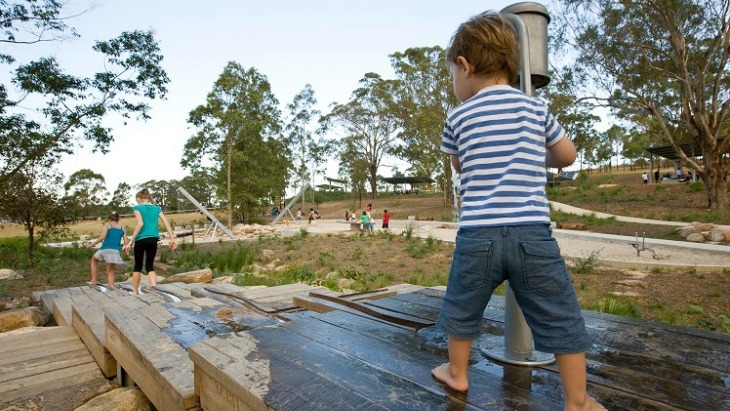 We Have Sydney Families Covered
It's no secret that little ones can double as escape artists- if your toddler is no different, try one of Sydney's fenced playgrounds. If you like equipment that sparkles, try one of our favourite new playgrounds in Sydney. For a hint of nostalgia, check out the few old-fashioned playgrounds still existing in NSW, before they get upgraded! For playtime that's enjoyable for adults too, check out one of our favourite cafes near playgrounds so you can eat, then play! For rainy days, try an indoor play centre inside a shopping mall, or to see what we rate as Sydney's finest, check out our list of Sydney's top 5 playgrounds here. If you find yourself on the Sunshine Coast, here's your guide to their best playgrounds for kids. While Australia boasts some pretty great playgrounds for kids- they are nothing compared to the insanely creative playgrounds in Denmark, or the very best playgrounds in the world!