The Best Creative Playgrounds In Sydney
By: Phoebe Ackland, ellaslist; feature image via AILA
At ellaslist, we LOVE all things playgrounds- whether they're fenced, near a great kid-friendly cafe, or have an in-house play area, we love to explore them, meet up with friends at them, and share them with you guys!
There are certain Sydney playgrounds, however, that stand out from the crowd. Special features and fantastic design make some play spaces more creative than others, equalling an epic play session for our little ones. Here are our top picks for playgrounds that go above and beyond:
1. Lizard Log, Western Sydney Parklands
The cat was out of the bag when Lizard Log, otherwise known as 'Natures Wonderland', was voted the best playground in NSW by the Australian Institute of Landscape Architects. It takes nature play to a new level with a massive sandpit and sand diggers, logs to climb over and jump across, rock scramble entry to the slides, a triple flying fox and water spouts. It's wide open and spacious with plenty for kids to explore and more than enough space tire out their little legs.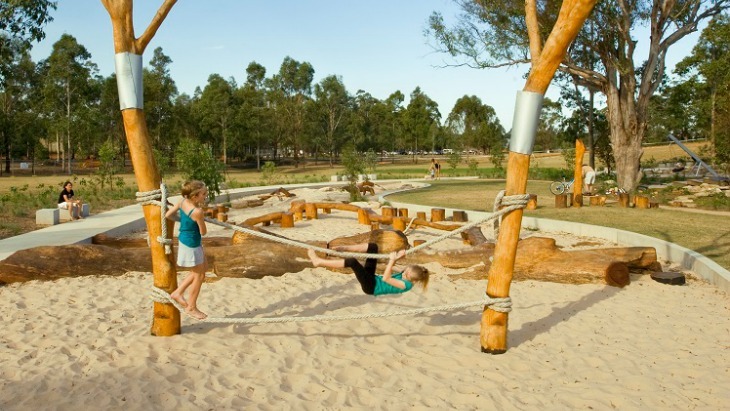 2. Wulaba Park, Waterloo
This playground is totally Willy Wonka-esque. Thie giant slippery dip is definitely the focal point, towering at 3 storeys high, as well as featuring climbing nets, a pod swing, and lots of climbing structures and look-outs in bright, bold colours. There is even a handball court and two table tennis tables on the lawn beside the playground. In quite an industrial part of town, this playground sticks out in the best possible way.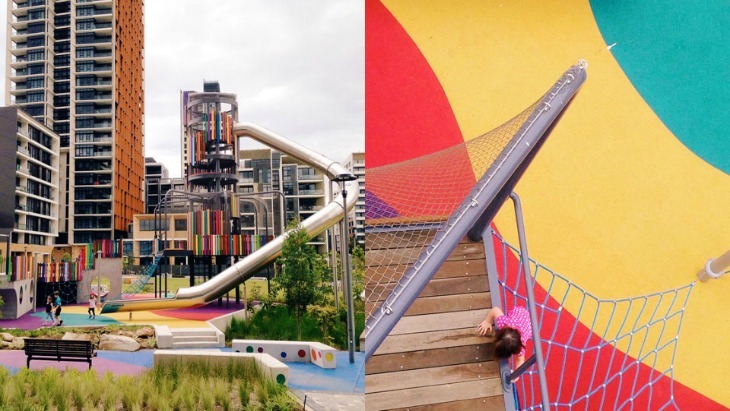 3. Lemur Forest Adventure, Taronga Zoo
Little lemur lovers will love this animalistic playground! There's a densely packed multi-layered forest, a moat, a waterfall, climbing pods, balance challenges, insect sculptures and lots more. We also love that this playground is also directed towards older children through to the early teens, because we believe there's definitely not enough challenging equipment around Sydney for them.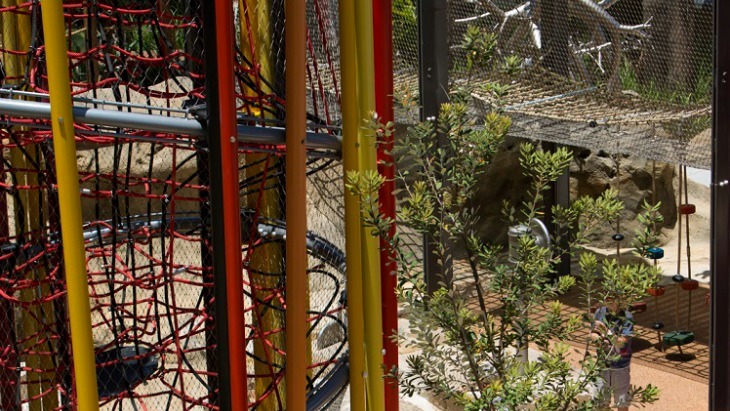 4. Central Park, Rhodes
For really little ones, this is a wonderful play space. In close proximity to the Parramatta River, the theme of this design is fishing, hence the super cool net rope structure. Equipment is based on challenging children's balance, coordination, agility and strength whilst engaging all their five senses through a range of materials and artworks used in the construction.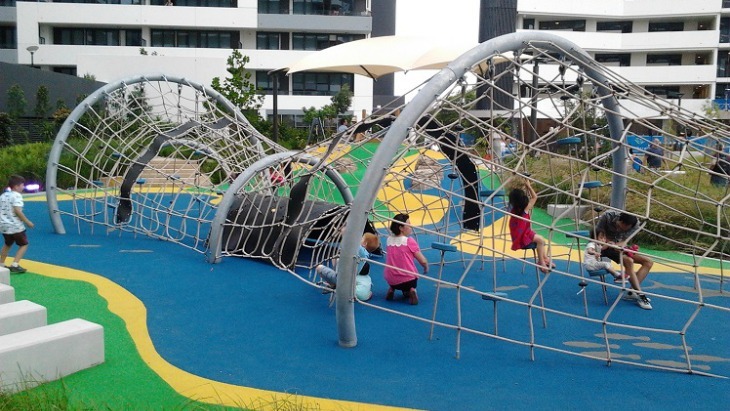 5. Blaxland Riverside Playground
This huge playground has the WOW factor, that's for sure. Children can explore the peaks and troughs of all the purple and green hills of spongey astroturf, moving between epic water play, hidden slides, climbing ropes, Viking swings, flying foxes, spinning satellites and lots more. Children will never get bored with all the elements in this super creative playground.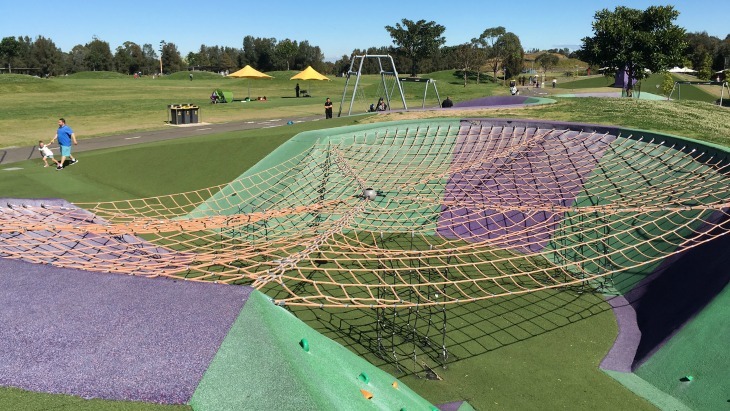 6. Darling Quarter Playground, Darling Quarter
There's a world of play at Darling Quarter, boasting HEAPS of dry and wet fun. The playground features flying foxes, Viking swings, an octanet, slides, tunnels and a sandpit, and the water play features include water fountains, stepping stones, water troughs with metal and rubber attachments to change the direction of water flow, water pumps and so much more. There's a great kiosk and plenty of shade, with heaps of museums and attractions nearby, so definitely stop off here when exploring the harbour.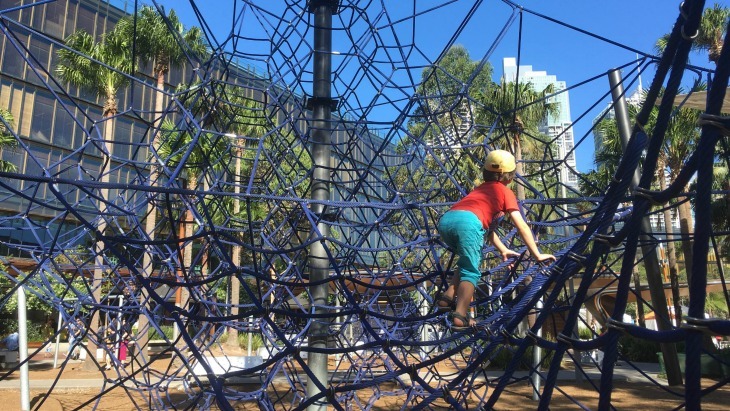 7. Bungarribee Playground, Western Sydney Parklands
This one is still brand spanking new, and was opened in March 2017! The $15 million parklands upgrade has seen a fantastic playground come to fruition, which includes a massive 50-metre long flying fox, a 14-metre tall climbing tower, slides, giant swings, balance beams, water play features, BBQs, picnic shelters, cycling tracks, and lots more.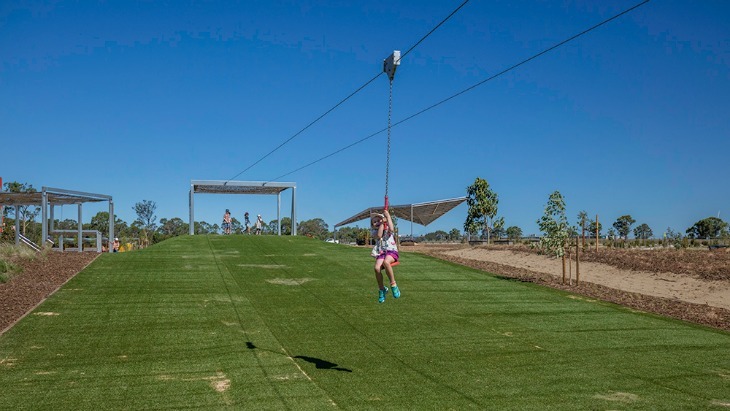 8. Fairfield Adventure Park
This playground is conveniently located near the Fairfield Leisure and Aquatic Centre, so a swim followed by a play could be on the menu in the warmer months! There is an 11-metre high climbing frame, a sky bridge and platform, three super slides, sand pits, a 33-metre long flying fox, trampolines and lots more.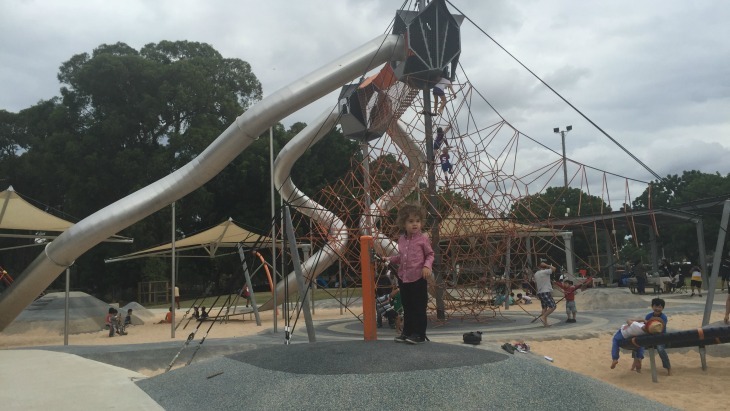 Know a GREAT playground that we should add to our list? We want to know about it! Comment on Facebook, and maybe even send us a photo.