The Best Playgrounds In Sydney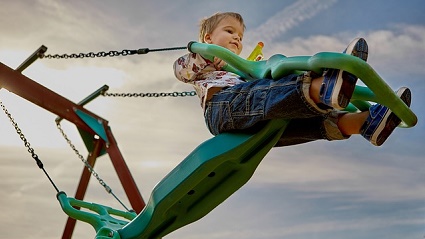 ellaslist COVID-19 update: Please note that all the information on the website is correct at the time of publication. Please check the relevant website before visiting a venue or destination for the latest COVID-19 information. ellaslist is not responsible for any cancellations or closures.
By: Jo McPherson, ellaslist explorer
How lucky are we to live in the best city in the world for the variety of its children's playgrounds? I found it really hard to select just a few as there are so many! So my criteria was based on which playgrounds my daughter requests to go to and which playgrounds I enjoy going to. Based on that, here are the best kids playgrounds in Sydney!
1. Blaxland Riverside Park

This is one of my favourite waterside parks, situated along the Parramatta River at Olympic Park Sydney. There is free parking but I advise you to get there early when the weather is nice as it can get busy. There is so much to do for all ages. We always start at the adventure playground that has giant swings, slides, cargo nets, double flying fox and log swing. We move onto the amazing climbing tower that requires a little flexibility for me but my child loves it. Then after a picnic lunch or a snack from the café we conclude our trip with a splash in the water area.
Additional things to do nearby include:


Walk, cycle (you can hire bikes) or run along the riverside walking trail


Visit the historic Newington Armoury and ride the Heritage Train (weekends only)


Have a

BBQ



Ride a Segway


Vist Birdlife Discovery Centre
Where? Blaxland Riverside Park, Jamieson St, Sydney NSW 2127

Source: Sydney Olympic Park
2. Darling Quarter Kids Playground

Oh my, this playground is a child's delight. There's a gigantic circular swing that encourages group play/ cooperation, a tangle of wobbly balance ropes, giant steel slides and a flying fox. The centrepiece is the giant Octonet: 83 square metres, rising 10 metres high. This climbing structure caused me huge anxiety when my child was young as I was sure she was going to tumble but now she delights in reaching the top and bellowing "I'm the king of the castle!" Further along there are sand play areas with sand diggers and some shelter from the sun. But the best part is the water squirts, pump station, water scoop, water screw and canal system with moveable dams. It is wonderful to watch the children play and explore. This playground needs parents/carers to keep an eye on their children and have clear guidelines about where they can play. When my child was young she could only play where I could see her. Now at 7 years of age she is allowed to play in each of the areas but must tell me before she moves areas so that I can follow and keep a reasonable eye on her. The playground gets very busy and it is easy for little ones to become lost.
Additional things to do nearby include:


Imax


Wildlife Sydney Zoo


Aquarium


Madame Tussauds


Chinese Gardens


China Town
Where? Daring Quarter is located at 1-25 Harbour Street, Sydney, NSW, 2000

Source: Darling Quarter Facebook
3. Livvi's Place Five Dock

This beautiful playground was designed and built for children of all abilities by the "Touched by Olivia Foundation". Equipment includes a double flying fox, climbing nets, spinning rope pyramid, sand play, musical instruments, birds nest swing, satellite dish spinner, Tandem bull rider and an amazing motorised round about. I love this playground for children of all ages. It is fenced and gated so that children cannot run off, there are easily accessible toilets and BBQ and eating areas. There is plenty of space for children to relax on the grassy hills too. An additional benefit that I really love is the café right beside it and there's plenty of free parking.
Where? Timbrell Park, Henly Marine Drive, Five Dock
4. Livvi's Place Ryde

Another amazing playground created by the "Touched by Olivia Foundation" is Livvi's Place in Yamble Reserve Ryde. This fenced playground is full of brilliant equipment for children of all abilities and will please adults and children alike. There is a large sandpit, a birds nest swing, a spinning dish, a musical play area and a car to climb all over! There's a tunnel to play in and a large area covered with rubber softfall with handholds, excellent for people with mobility issues. There are different areas that offer different play experiences e.g. imaginative, calming or stimulating. At the calmer end there are some beautiful decorated poles and animal structures. Within the playground there are bubblers, picnic tables and BBQs. Within Yamble Reserve you can find walking paths a cycle path and toilets are just outside the playground. BYO coffee!
Where? Yamble Reserve, Quarry Road, Ryde

Source: City of Ryde
5. Putney Park

This is a slightly older playground that could probably do with sprucing up but is a lovely alternative to the busy city playground. It has the beauty of having a lookout tower and super long water tube slide for older children and shallow, shaded paddling pools too. There's a big climbing net and junior play structure too. All this is situated on the Parramatta River with toilets close by. There is free parking but bring your coffee as there is not a café nearby that I know of.
Where? 55 Pellisier Rd, Putney NSW 2112, Australia

Source: City of Ryde
We are a small family originally from the UK. Dave (my husband) and I are in our 40's and moved to Sydney about 10 years ago; we can't imagine living anywhere else now.
We have one daughter, Ellie, who is 7 and into anything that we offer her. She loves craft, drama, dressing up, swimming (particularly as a mermaid), cycling and anything else you may suggest she does. We also have a gorgeous dog, Rosie who is our best friend and ball lover.
Dave is an IT architect and in his free time used to play many computer games however now we have a home, his free time is used to garden and do the
DIY
jobs that I am really hopeless at.
I'm a teacher and work with children and their families that have autism. It is a rewarding job and I love it. I also love the school holidays where Ellie and I can go off and explore Sydney.
We all love travelling and doing new things; we are often browsing the 'net for interesting things to see and do. Every school holiday we are busy doing things. My friends are always saying "you do so much with Ellie; you are always doing something different"! I wouldn't have it any other way.