40 Things to do in Melbourne With Babies, Toddlers & Kids
40 Things to do in Melbourne With Babies, Toddlers & Kids
Mums & Bubs
Toddlers
Preschoolers
Kids
Teens
Family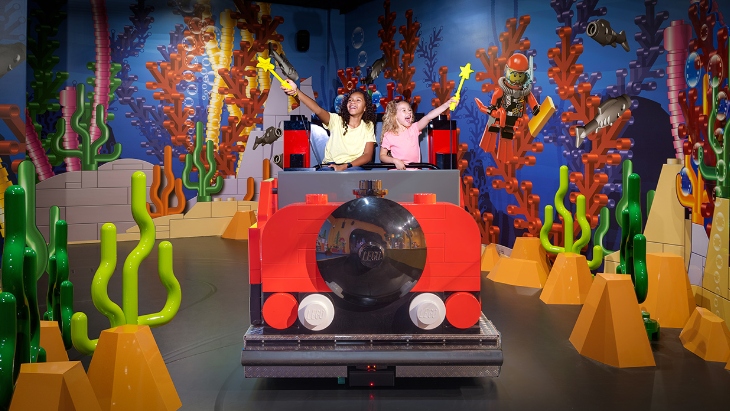 If you constantly find yourself thinking, I need more things to do in Melbourne with kids! you're definitely not the only one!
Keeping babies, toddlers and kids active is a job in itself, but luckily, our gorgeous city has plenty to do to keep little feet and little minds active.
Young kids have huge imaginations and more energy than they know what to do with. So, the next time you visit Melbourne with the family, or perhaps planning for a weekend in the near future, check out this list of the best things to do in Melbourne with babies, toddlers and kids. We'll start with the baby and toddler activities, followed by cool stuff for kids and tweens further down - enjoy!
40 Things to do in Melbourne With Babies, Toddlers & Kids
Things to do in Melbourne With Babies & Toddlers
1. Visit MoPA: Museum of Play and Art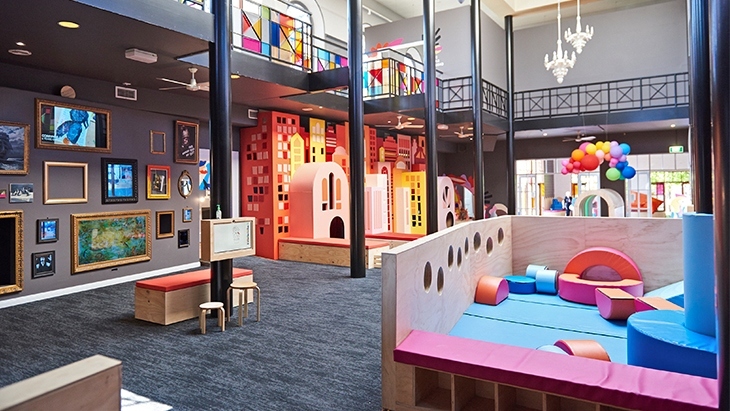 MoPA is a carefully designed play-based learning environment for young children to engage in creative exhibits and interactive art experiences and is top of our list of things to do in Melbourne with babies and toddlers.
MoPA operates three 'Free Play' sessions a day including unrestricted access to the Museum so babies and toddlers can go wild exploring the vibrant space. Designed for ages one to seven years old, it's equipped with a range of family-friendly facilities including a healthy cafe, feeding and change rooms, pram parking and low-sensory spaces.
Location: 51 McKillop Street, Geelong
2. Check Out the Pauline Gandel Children's Gallery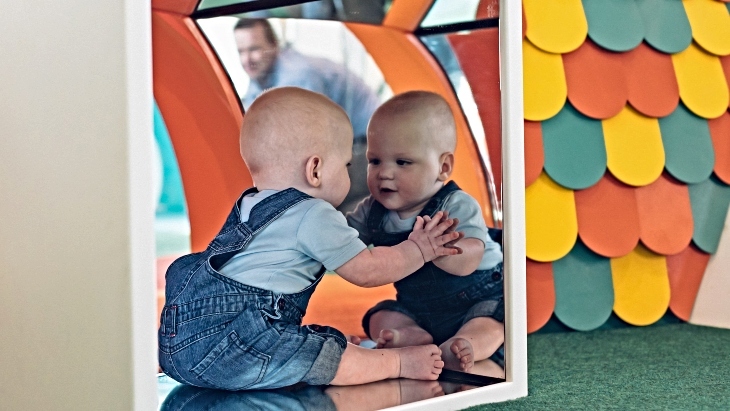 At the Melbourne Museum, the Pauline Gandel Children's Gallery is well worth a visit if you are in and around the city centre with little ones under the age of five. With specially crafted features that facilitate active and tactile play, this is a place for kids to lose themselves in imagination and learning.
Babies and toddlers can dance, crawl, run, explore, and, best of all, they can socialise with other kids of a similar age. For colour, creativity and education this is a one-stop-shop and a great option during the winter months.
Location: The Melbourne Museum, 11 Nicholson St, Carlton
3. Go for a Cuddle at Collingwood Children's Farm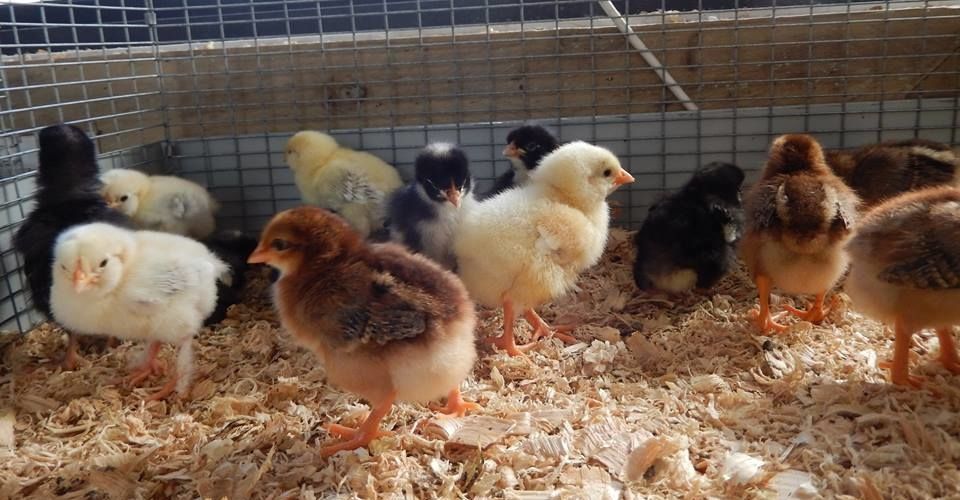 Another top priority when it comes to things to do in Melbourne with babies and toddlers, the Collingwood Children's Farm is super popular and lets babies and toddlers get up close to a host of fluffy, feathery and furry friends.
For over 30 years, the Collingwood Children's Farm has been opening its gates to people as a way for the community to experience a taste of country life – even milk a cow! Nestled next to the Yarra River, the farm is home to horses, donkeys, goats, sheep, cats, geese – even earthworms and bees.

Location: 18 St Heliers St, Abbotsford
4. Visit the Teeny Tiny Cafe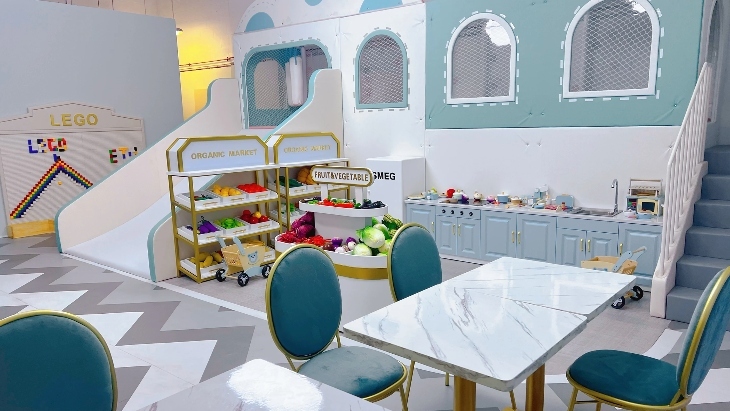 You couldn't ask for a cuter activity for babies and toddlers in Melbourne than a visit to the Teeny Tiny Cafe.
As their name suggests, the Teeny Tiny Cafe is an adorably teeny indoor play space in Docklands that's ideal for active imaginations to explore and play. Babies and toddlers will love creating their own shopping experience in the organic market, plus, there's a slide, soft play space, dress-ups, make-up stations and plenty more.
Location: Shop 3/860 Collins St, Docklands
5. Explore Melbourne Zoo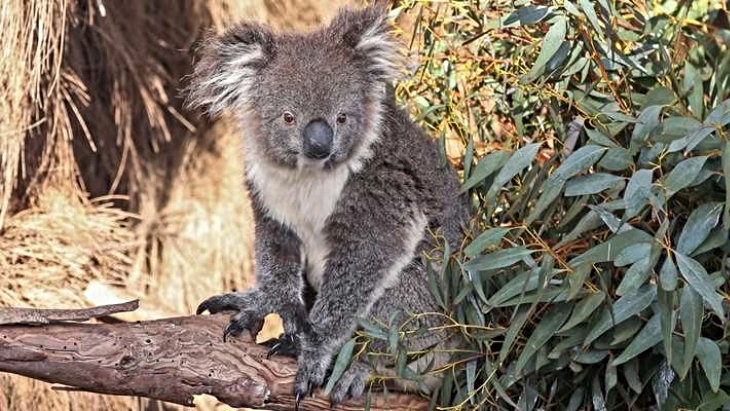 Things to do in Melbourne with toddlers don't come much easier than at Melbourne Zoo! What tot doesn't go bananas for monkeys, giraffes and elephants? Exactly! So, pack your bag for the day and get on over to Victoria's world-renowned Melbourne Zoo.
With over 300 species for little ones to get up close to, there is a full day of excitement to be had here. Highlights include an orangutan sanctuary, a spectacular butterfly house and an elephant trail. There are plenty of interactive displays and tonnes of stimulating sights and sounds to thrill even the youngest of kids.

Location: Elliott Ave, Parkville
6. See a Kids' Movie at VJunior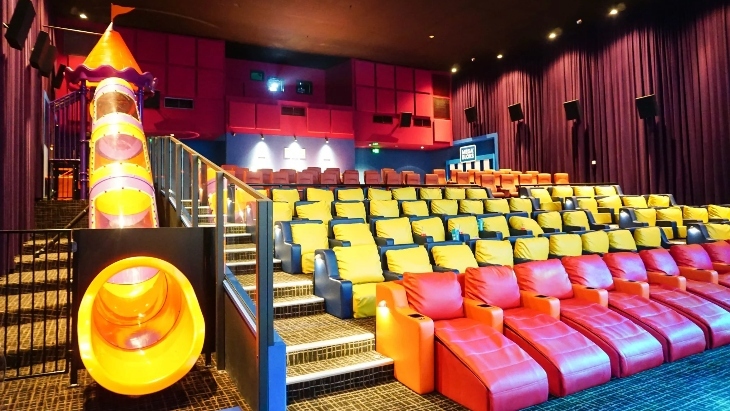 A cinema designed by kids for kids - now we're talking!
If you've got little ones who are constantly on the move and the thought of them sitting through an entire movie is just laughable, book your seats at VJunior, stat! VJunior cinemas are designed for ages three to 10 and combine movies and play with an interactive cinema experience that includes a play space!
Location: multiple locations across Melbourne - visit the website to find a VJunior cinema near you.
7. Twist Your Mind at TwistED Science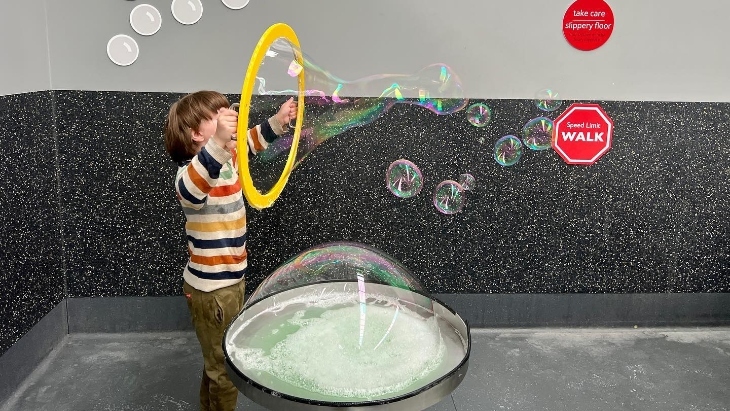 Calling all science boffs and fans of the fantastical, TwistED Science is an award-winning hands-on science centre in Moorabbin that'll ignite your family's curiosity and stimulate learning through STEM-powered fun.
Open from Tuesday to Sunday, TwistED Science's interactive exhibitions are just the ticket to distract curious kids of all ages.
Location: 36 Bulli St, Moorabbin
8. Hit up the Playground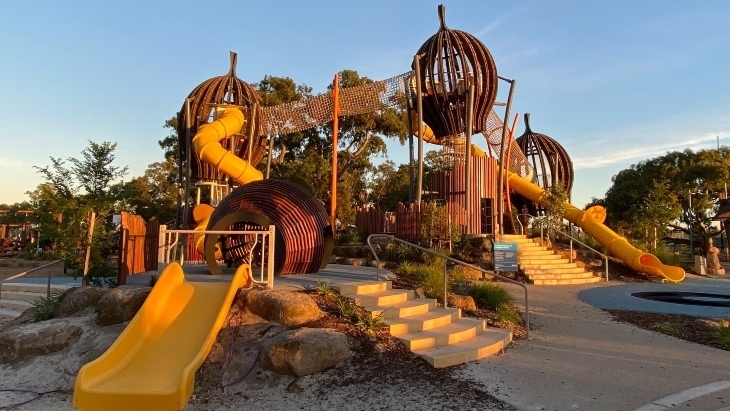 What's better than free family fun on an otherwise dull day?!
We've got 60 awesome playgrounds in Melbourne that we know you and the kids will have a ball ticking off. Ready, set, go!
9. Discover SEA LIFE Melbourne Aquarium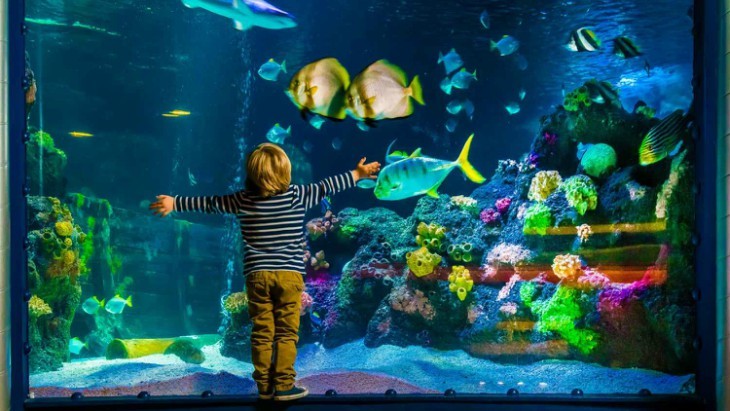 Overflowing with amazing colours, sights and sounds, SEA LIFE Melbourne Aquarium is definitely one to add to your list of things to do in Melbourne with babies and toddlers.
Right on Southbank, it's easy to get to and makes for many hours of enjoyable entertainment for kids. Not only are there abundant fish and sea creatures to gaze at, but also there are entertaining (not to mention educational) presentations throughout the day and 13 Interactive Zones including the Touch & Feel Discovery Rockpools and Rainforest Adventure. There is also the Penguin Playground, the Ocean Invaders exhibition, an Interactive Wonder Wall and a Mermaid Garden.

Location: King St & Flinders St, Melbourne
10. Experience Life on the Farm at Bundoora Park Farm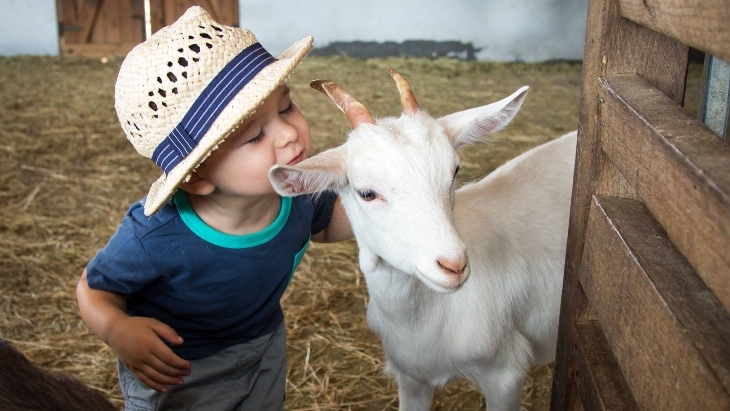 Another fantastic animal park to explore, especially for the little ones, Bundoora Park Farm provides an authentic farm experience for kids of all ages looking to cuddle some of their favourite furry farm animals.
Kids can touch, pat, and feed some of the farm animals, or go for a ride on the farm tractor, plus, there are educational activities and an on-site cafe.
Location: 1069 Plenty Rd, Bundoora
11. Create Hands-on Fun at Scienceworks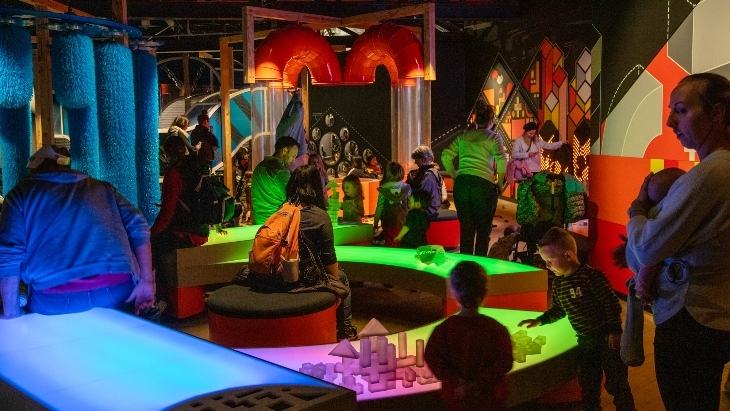 Museums Victoria's epic science and technology museum, Scienceworks is a ball for kids of all ages to explore any day of the week.
Babies, toddlers, and kids can stretch their minds at the interactive exhibitions as they investigate questions such as How does it work? Why does it do that? How is our world changing?
Location: 2 Booker St, Spotswood
12. Pick Some Fruit

Looking for a sweet adventure for the senses? Fruit-picking farms in Melbourne are here to offer hands-on activities for families with a very juicy reward!
Check out our list of the best fruit-picking farms dotted throughout Melbourne and beyond where the vibrant colours and tantalising aromas of ripe produce beckon you into nature's bounty.
13. Jump in the Pool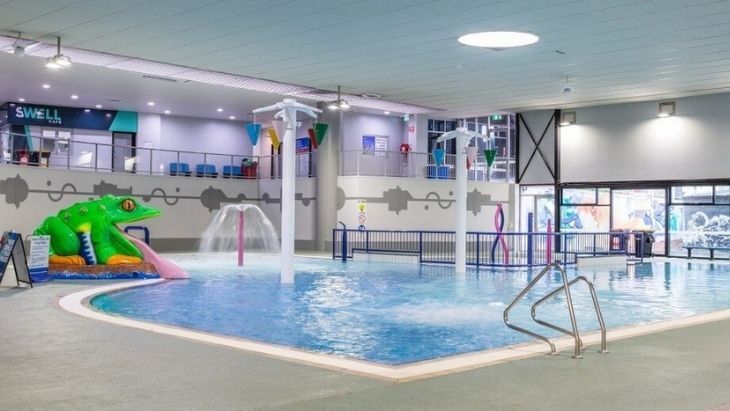 Splash-tastic fun is on the agenda at the best pools in Melbourne.
Choose from 11 of our favourite pools across the city for when the kids have too much energy to waste sitting around the house!
14. Stretch it Out at Playnastics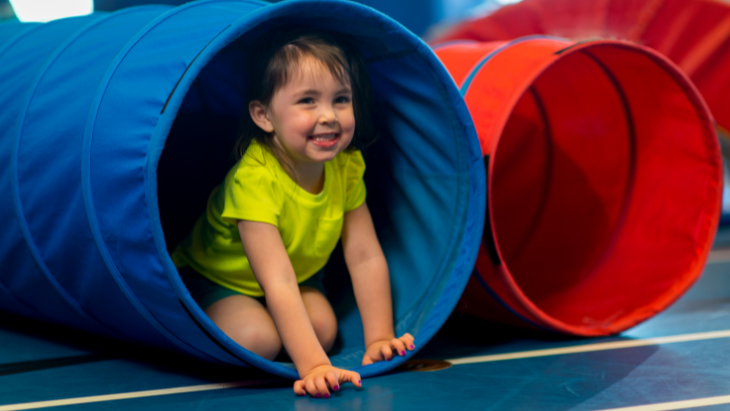 Babies and toddlers are invited to a fun day of stretching, playing, exploring, and jumping at the adorable Playnastics classes.
Run by the incredible team at Essendon Keilor Gymnastics Academy (EKGA), Playnastics is a casual open play session for babies and toddlers up to four years using a selection of the academy's preschool-aged equipment, including trampolines, low beams and benches, bars, ropes, rings, wedges and shapes to tumble over and roll down, ladders, balls, hoops, ribbons, puzzles, and plenty more.
Location: 194-196 Roberts Rd, Airport West
15. Hit a Hole in One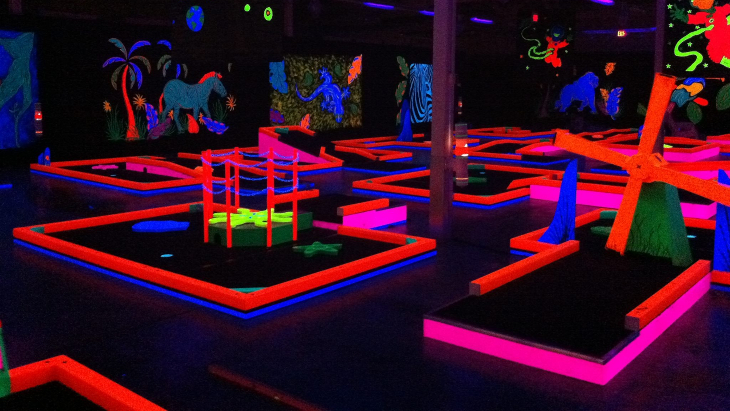 Kids of all ages love playing putt-putt, and, luckily, Melbourne is full of awesome mini golf courses.
From beautifully landscaped gardens to epic glow-in-the-dark golf, and crazy pop-culture-inspired venues, there are loads of spots around Melbourne to hit a hole-in-one with the kids.
16. Hunt for Fairies at Fairy Park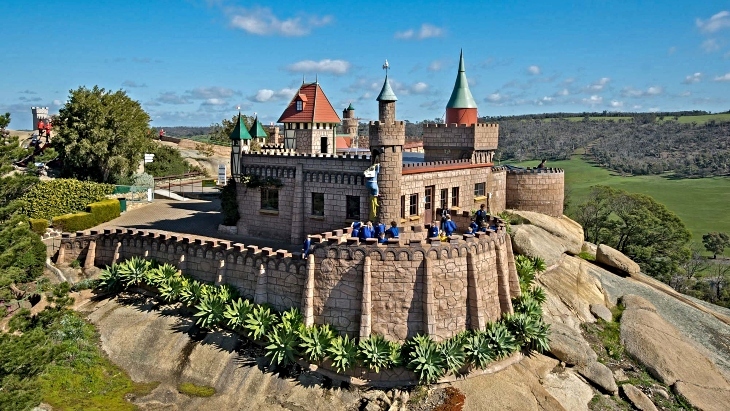 Fairy Park is guaranteed to put your babies and toddlers right inside their favourite fairy tale. This park is an absolute gem and a magical place that kids seem to never forget.
With over 33 spectacular features, kids can visit all of their favourite characters at Fairy Park: The Big Bag Wolf, Cinderella, Red Riding Hood and so many more. There is also a train museum and a seriously cool adventure playground known as Camelot.
This is perfectly suited to toddlers who are neck-deep in fantasy and fairy tales, but it's also a great one to bring bub with plenty of colourful sights and sounds to enjoy. There is no time limit on your stay so you have all day to explore. There are some hilly areas within the grounds, so a baby carrier might be a little easier than a pram for this one.

Location: 2388 Ballan Rd, Anakie
17. Go for a Free Splash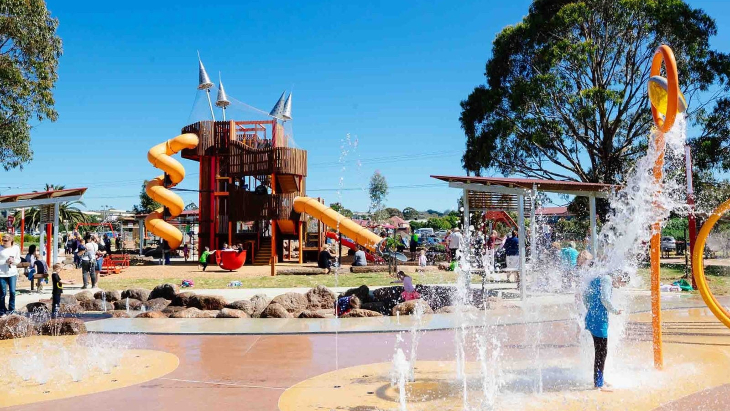 One of the best things to do in Melbourne with babies, toddlers and kids when the temperatures start to soar, we just love hitting up one of the many free water parks dotted around the city.
Make sure you check the park's website before visiting as many of the water parks only open during the summer months.
18. Get out in Nature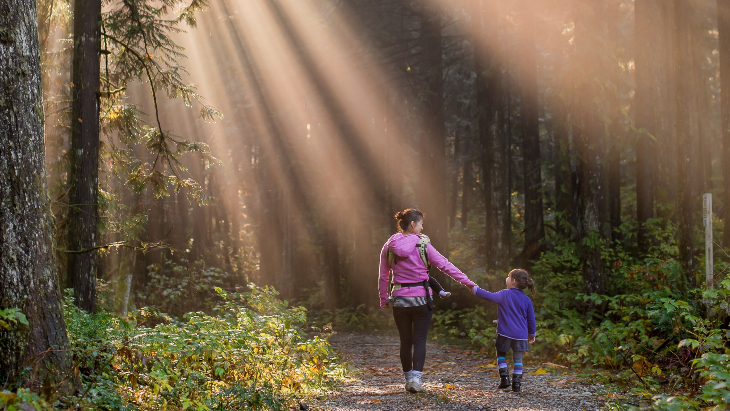 For nature-based things to do in Melbourne with babies and toddlers, we highly recommend strapping on some boots and going for a bushwalk.
Bushwalking with kids is an enchanting journey through the great outdoors, where each step is an adventure waiting to be uncovered. As you wander along winding trails, you'll witness their eyes light up with excitement at the sight of a curious critter or a hidden treasure.
Check out our list of the best bushwalking spots around Melbourne to venture to with the kids.
19. Go Crazy at The Playshed Cafe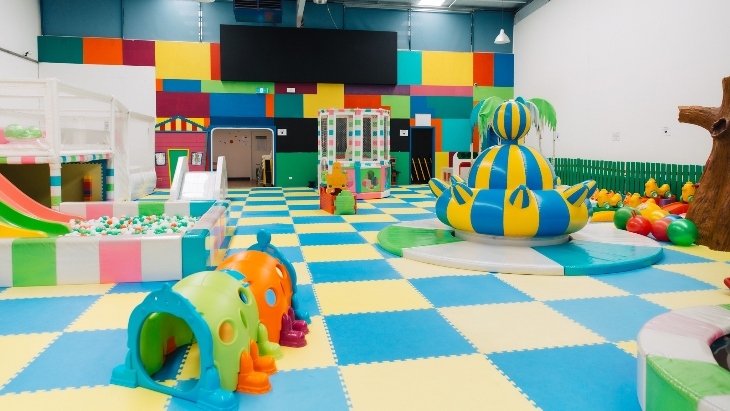 We just love The Playshed Cafe in Thomastown because it specifically caters to babies and toddlers from ages 0 to five who want a safe space to play, interact, and discover.
Everything in the indoor playspace is soft and padded, giving parents extra peace of mind if they want to turn their back for a couple of minutes to grab a coffee at the on-site cafe - winning!
Location: 6 Abruzzo Cres, Thomastown
Discover more indoor activities for Melbourne toddlers.
20. Visit The Ian Potter Foundation Children's Garden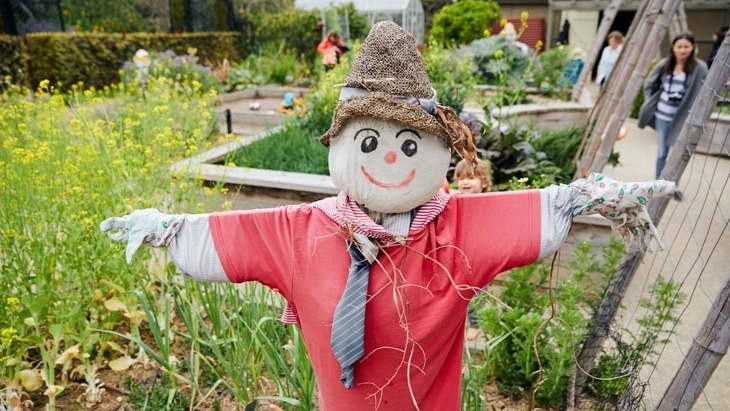 Few activities are more nourishing than nature-based play for kids, and that's exactly what's on offer at the Ian Potter Foundation Children's Garden.
Nestled within Royal Botanic Gardens Victoria, the Ian Potter Foundation Children's Garden offers kids of all ages the opportunity to learn all about flora and fauna, to discover the intricate lives of the garden's many creepies and crawlies, and learn about growing edibles from planting through to harvesting.
Location: Birdwood Avenue, Melbourne. Enter via the Observatory Gate.
Things to do in Melbourne With Kids
21. Pretend You're Charlie in the Chocolate Factory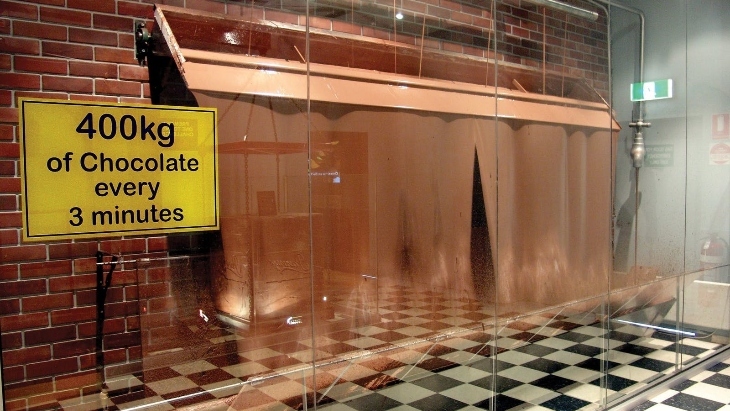 Okay, okay, this outing is a bit of a drive from Melbourne (90 minutes, to be exact), but trust us, it's definitely one of the best things to do in Melbourne with kids!
If you don't mind the kids getting a bit of a sugar rush, a visit to the Phillip Island Chocolate Factory is more than just looking at chocolate. With interactive machines, attractions, fascinating facts, and the chance to make your own chocolate, the kids will feel like they've stepped right into Willy Wonka's Chocolate Factory!
Location: 930 Phillip Island Rd, Newhaven
22. Scale to New Heights Indoor Rock Climbing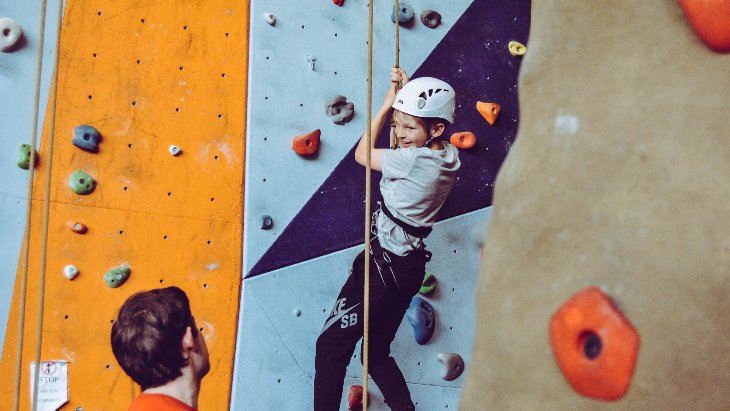 A fun activity even for kids who are total newbies, and a great option for when cabin fever hits! Expend that energy across climbing walls of every level and height - unleash your inner Spiderman!
Depending on where you go, there are also racing options, inflatables, high ropes courses, indoor games, and even tightropes on offer to keep even the most bored kid happy out of their comfort zone.
Location: various locations across Melbourne. Try Clip N Climb, Hardrock Climbing, and Bayside Rock Climbing, or check out our list of the best indoor rock climbing venues.
23. Get Creative at LEGOLAND® Discovery Centre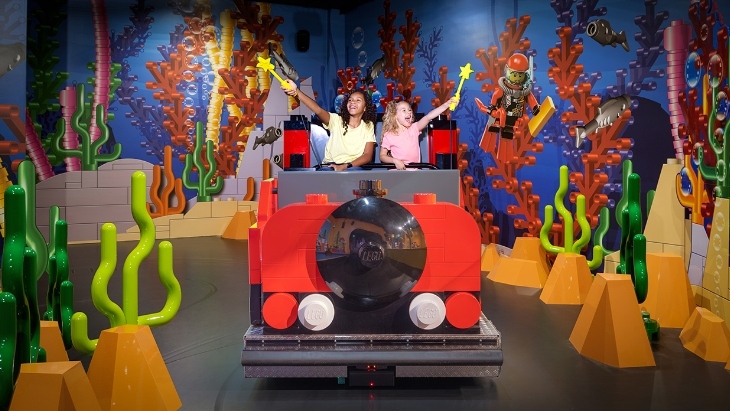 LEGOLAND® Discovery Centre in Chadstone is one of the best things to do in Melbourne with kids where imagination takes the driver's seat and creativity knows no bounds.
From the moment you step inside, it's like being transported to a LEGO® lover's dream come true. The vibrant, brick-filled wonderland is a treasure trove of themed attractions, where you can explore towering LEGO® skyscrapers, embark on thrilling rides, and dive into a sea of colourful LEGO® bricks. It's a place where both kids and adults can let their inner builders roam free, whether you're constructing a masterpiece in one of the creative workshops or seeing your favourite creations come to life in the 4D Cinema.
Location: Level 2/1341 Dandenong Rd, Chadstone
24. Visit Werribee Open Range Zoo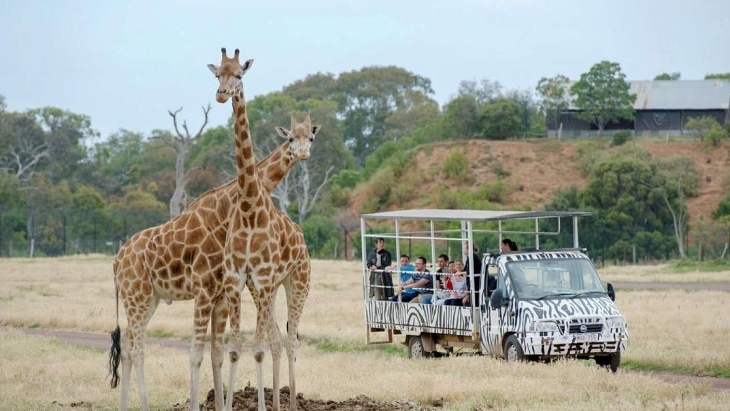 If you feel like getting out of the city for the day, you can embark on an African safari just 40 minutes away at Werribee Open Range Zoo.
Go on guided safaris through Werribee Open Range Zoo's unique savannah where you can get up close to rhinos, lions, giraffes, and zebras. Plus, there are gorillas, monkeys, hippos, and a whole host of your favourite Aussie critters along the Australian Trail.
Location: K Rd, Werribee South
25. Be a Tourist for a Day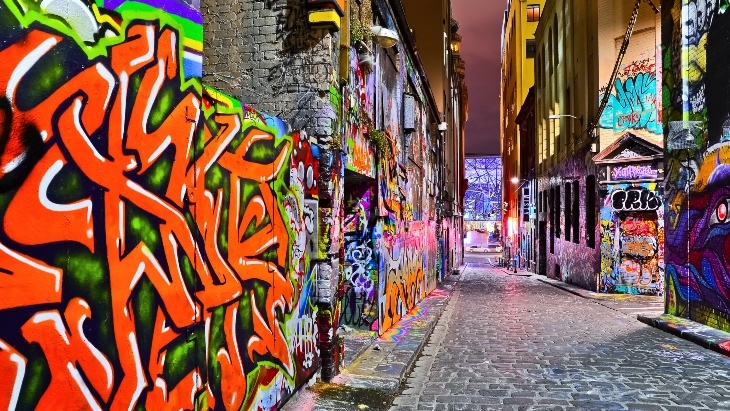 Did you know that you live in one of the most exciting cities in the world? It's high time you make the most of living in Melbourne by playing tourist for the day!
Pretend you're on holiday and take a day trip around your own fabulous city - trust us, there's loads to see! Try a self-guided walking tour of the city's famous street art hotspots, or Walks101 and I'm Free Tours offer walking tours for nix (they survive on tips!) with passionate local guides. Cover more ground with a sightseeing bus tour on the Big Bus and hop on and off all day scouting the city. If you prefer to two-wheel it, you can join Freddy's Bike Tours for an adventure.
RELATED:
Discover More Free Activities Around Melbourne
26. Spoil Yourselves at a Kids' High Tea Service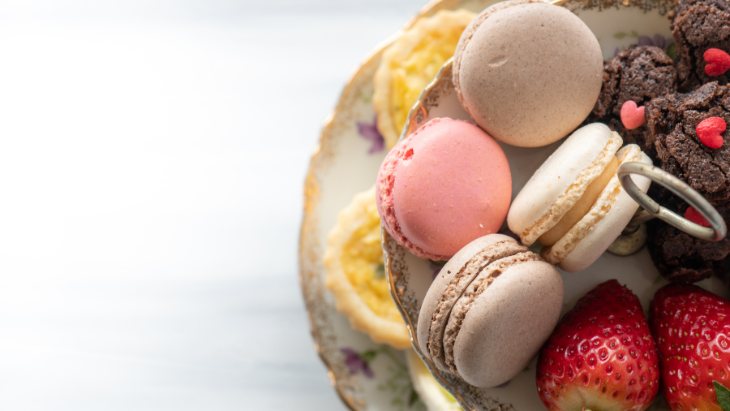 The next time you find yourself looking for things to do in Melbourne with kids, why not spoil yourselves at a yummy high tea service?!
Melbourne is home to loads of fun, festive, and sometimes even themed, kids' high tea venues that will spoil you rotten with cakes, sandwiches, tea, treats, and more - yum!
27. Embrace Your Inner Clown at Circus School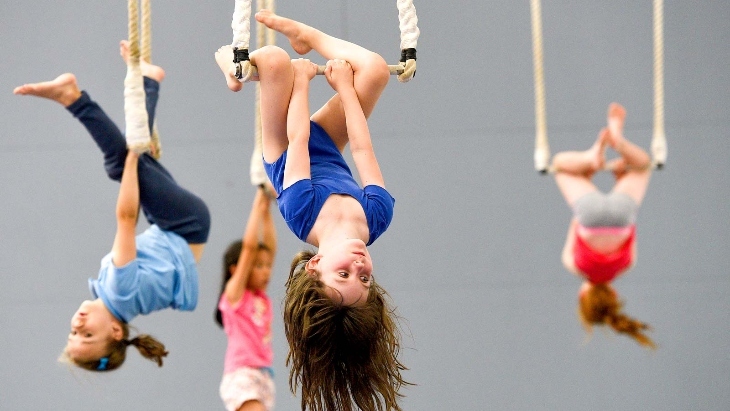 Combining sport, dance, gymnastics and performance, recreational circus classes are a great way for older kids to spend some time having fun, and improving their fitness, coordination, strength and flexibility.
I mean really, who wouldn't want to learn aerial and ground-based skills: acrobalance, handstands, hula hoops, juggling, rope, trampolining and tumbling?!
Our favourite circus schools in Melbourne include The National Institute of Circus Arts, The Circus Spot, Little Devils Circus, Ruccis, Flipside Circus, and Spin Circus.
28. Stop off at the Beach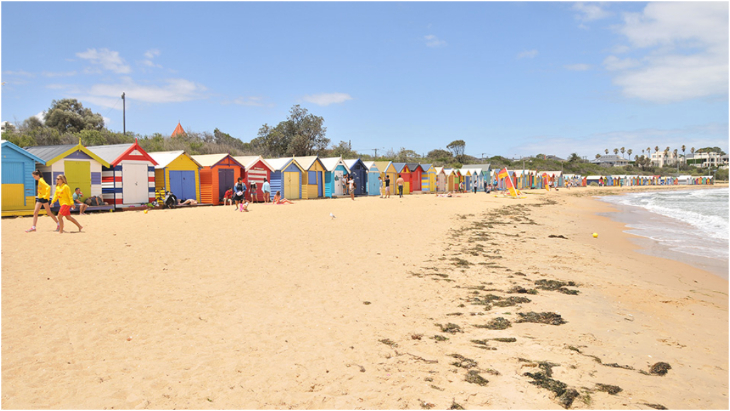 From the famous colourful bathing boxes at Brighton Beach to the stunning promenade along Albert Park Beach, we're pretty spoiled for choice when it comes to beaches in Melbourne.
If you're looking to soak up the sun, the water, and those glorious beach rays, we've got a long list of kid-friendly beaches that always hit the spot.
29. Hit the Ice

Another one of our favourite things to do in Melbourne with kids when it's stinking hot, hit the ice, ice, baby at one of Melbourne's top ice skating rinks.
We love the O'Brien Icehouse as they have kids' skating lessons as well as free skating. Or, there's iceHQ if you're keen for funky disco ice-skating!
30. Cool off at Funfields Theme Park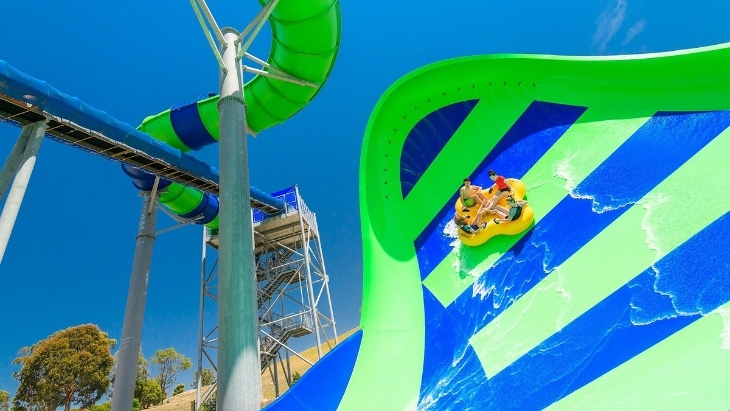 When the summer months roll around, you simply must plan a visit to Funfields Theme Park!
With a mix of exhilarating water rides and dry rides stretched across 40 acres, Funfields Theme Park is heaven on earth for kids. Funfields has over 24 rides and attractions, including thrill-seeking rides and world record-setting waterslides, plus, they recently opened Volcano Beach, Victoria's first outdoor heated wave pool.
Please note that Funfields is only open for the summer season from October to April.
Location: 2365 Plenty Road, Whittlesea
31. Go Bike Riding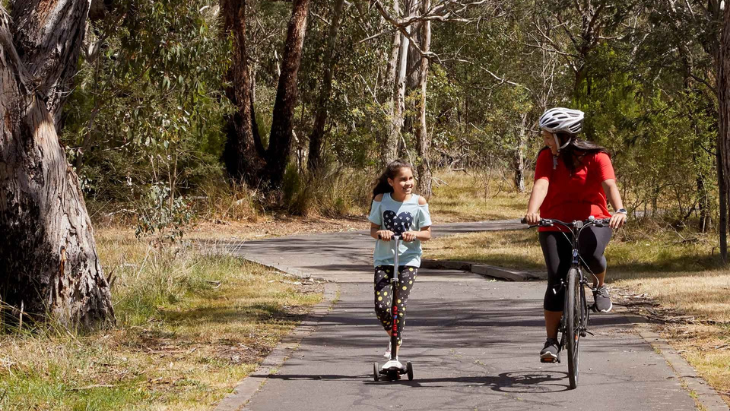 Breathe in a large dose of fresh air on two wheels on a bike-riding adventure!
Melbourne is full of adventurous bike trails, so grab your helmets and get ready to see the sites at a much faster pace than walking.
32. Play Laser Tag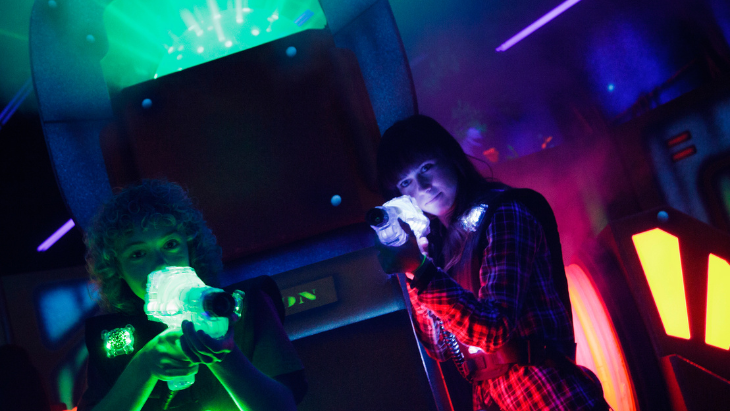 For fun things to do in Melbourne with kids rain, hail, or shine, why not battle it out with an exhilarating and physical game of laser tag?
Laser tag is like stepping into an action-packed sci-fi movie, where friends become foes in a futuristic battleground of glowing lights and adrenaline - need we say more?
Our favourite spots for laser tag around Melbourne include Strike Laser Tag, Le Mans Laser Tag, and Kingpin Bowling.
33. Satisfy Your Sweet Tooth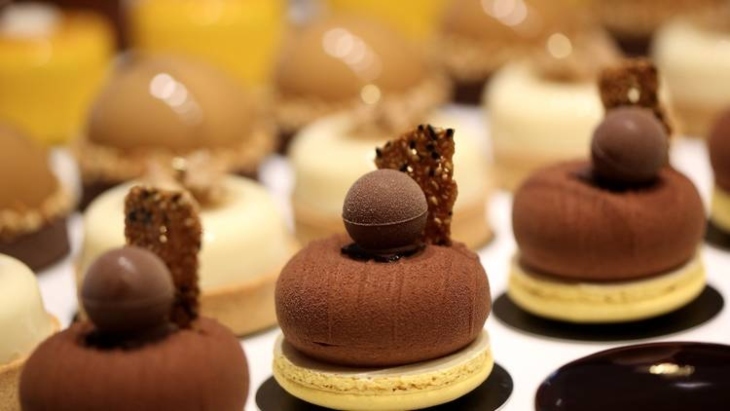 Is your sweet tooth calling? Satisfy those cravings for something sweet and decadent and treat the kids to a yummy dessert - it's a win-win!
Check out our favourite spots for desserts in Melbourne.
RELATED:
The Best Hot Chocolates in Melbourne
34. Solve Puzzles at a Melbourne Escape Room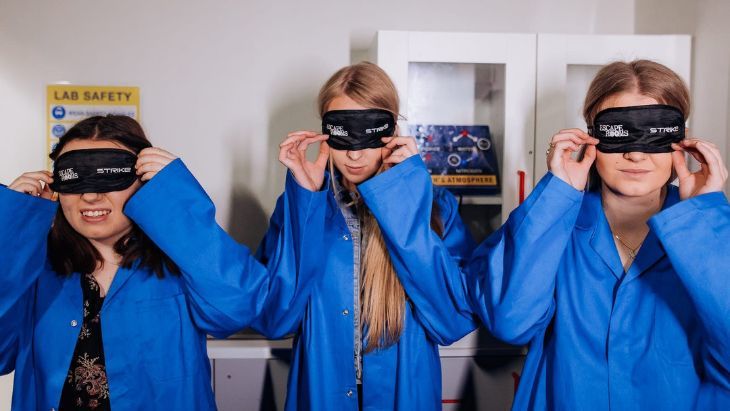 Calling all adventurous families for one crazy adventure unravelling enigmatic mysteries and unlocking secrets in a mind-twisting escape room.
Melbourne escape rooms are like real-life puzzles with a twist of adventure, where you and your team step into a world of intrigue and excitement. As the clock starts ticking, you're transported to a themed realm filled with hidden clues, mysterious locks, and mind-bending riddles.
There are a number of excellent escape rooms in Melbourne that offer the perfect outing for older kids.
35. Have a Lark at Luna Park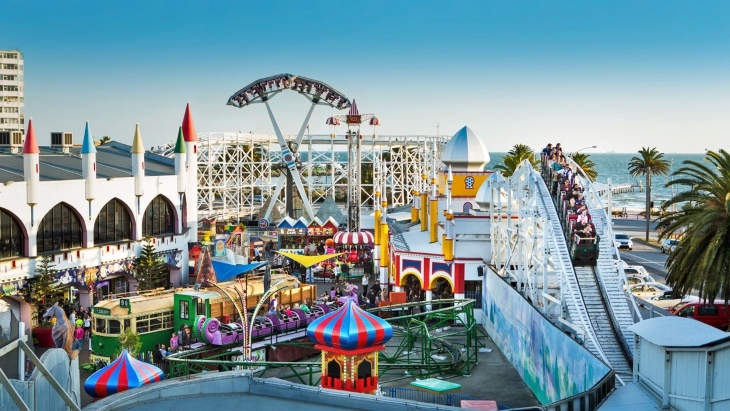 Luna Park is always a surefire favourite with thrill-seeking kids.
The historic amusement park on the Port Phillip Bay foreshore has loads of hair-raising rides like The Power Surge, Cooney Drop and Pharoah's Curse. An Unlimited Rides Pass will ensure they have a full day of action, but the park does look especially cool at night in all its illuminated splendour!
Location: 18 Lower Esplanade, St Kilda
36. Hit the Arcade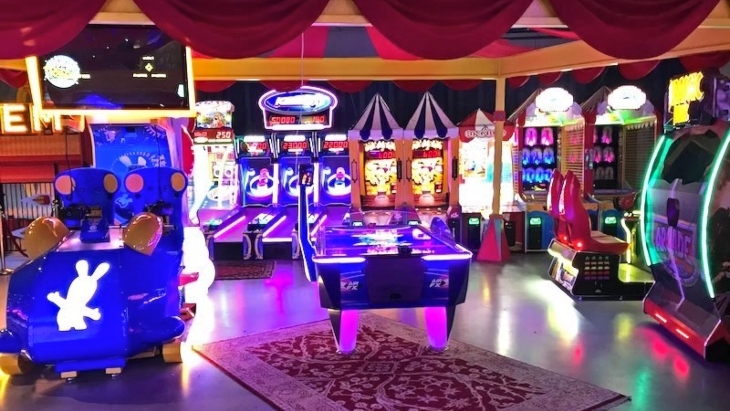 The revival of old-school amusement centres has seen some exciting arcades pop up around town and thus the arrival of even more fun things to do in Melbourne with kids!
Archie Brothers Cirque Electriq have bumper cars, bowling, arcade games and prizes in a funky retro setting, plus, you can treat your kids to a crazy shake at Dazzler's Diner! TimeZone is a classic family-friendly funhouse with all the latest attractions and locations all over Melbourne.
37. Ramp It Up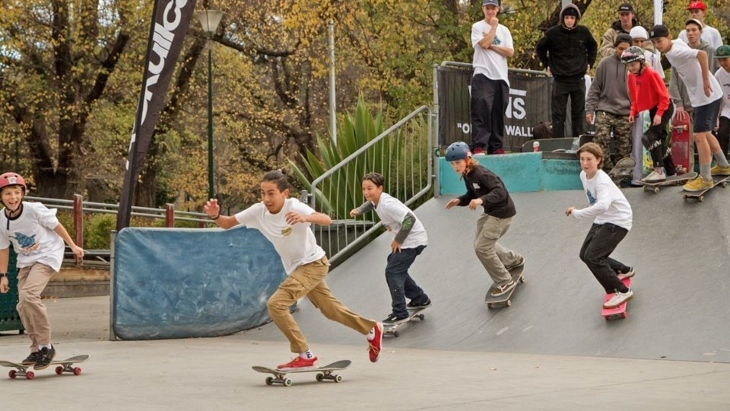 You'll get loads of street cred when you grab your kids and scope out one of Melbourne's epic ramps.
Avid skaters will love showing off their skills at one of the YMCA skate parks in Frankston, Junction, Riverslide, and Knox. If they're not ready to plunge into the pipe, inspiring skaters are always there to put on a show. You can also try Rampfest, a top-quality, indoor skate park dedicated to action sports, where you can ride, skate or scoot alongside resident pro riders. They also run coaching clinics.
38. Go Larger Than Life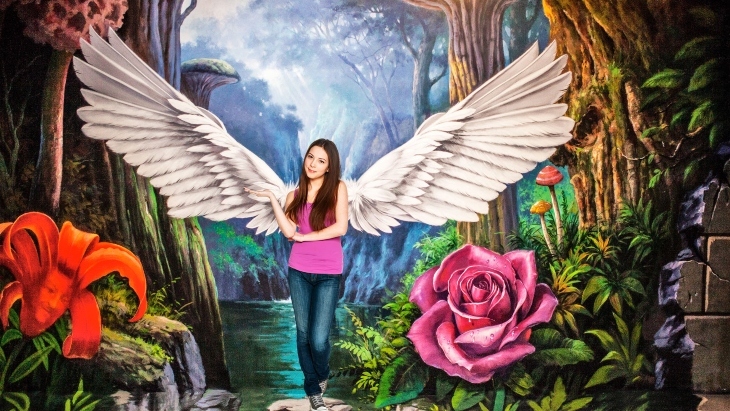 ArtVo is an amazing, interactive art experience where kids will be equally mesmerised and bamboozled - we highly recommend adding it to your list of things to do in Melbourne with kids.
Step into huge murals of fantasy scenes, creating logic-defying optical illusions that are made for the camera. Take as many photos and selfies as you like to impress your friends.
For another multi-dimensional experience, the screen at IMAX Melbourne is the largest in the world and there's an always-changing schedule of 3D documentaries and cinematic blockbusters to get you right into the action.
39. Rev it up Go Karting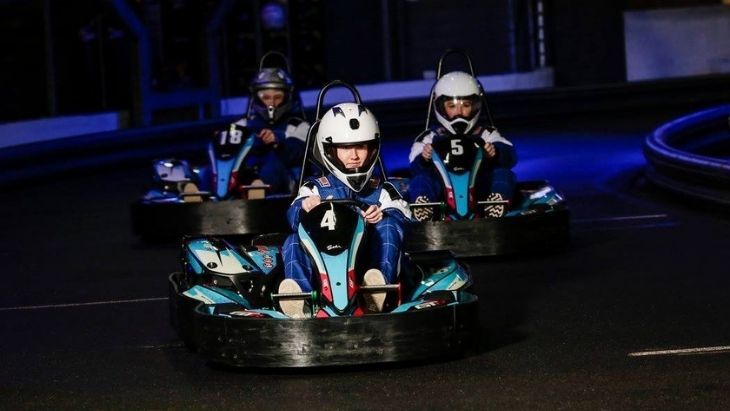 An adrenalin-pumping activity for older kids, get ready to hit the tracks and have a ball go-karting.
There are several all-action go-karting tracks in Melbourne catering to older kids and tweens with state-of-the-art tracks and karts. Start your engines!
40. Have Fun Playing Barefoot Bowls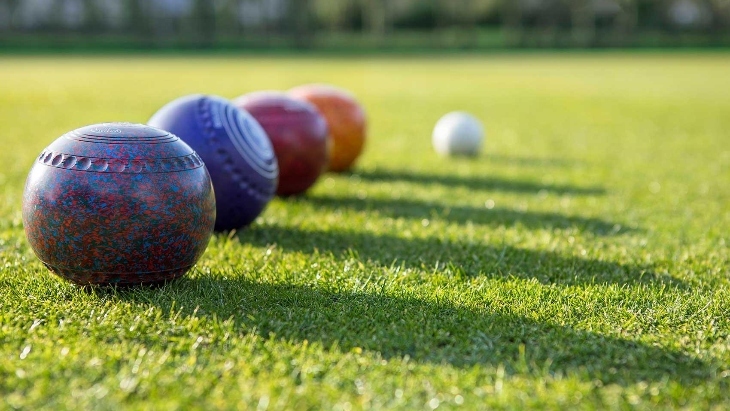 Definitely not just an outdoor activity for retirees, barefoot bowls is one of our top things to do in Melbourne with kids looking for some competitive fun.
Kid-friendly barefoot bowls sessions are available at most bowls clubs throughout Melbourne, including Werribee Bowls Club, Malvern Bowling Club, Flemington & Kensington Bowling Club, and Brunswick Bowling Club.
Check out more spots for kids' barefoot bowls in Melbourne.
More Fun Around Melbourne
Melbourne's Best All-you-can-eat Buffets
School Holiday Activities in Melbourne
Cool Hot Springs you can Visit Near Melbourne

Have you signed up for our newsletter? Join ellaslist to get the best family and kid-friendly events, venues, classes and things to do NEAR YOU.