Best Indoor Rock-climbing For Kids In Melbourne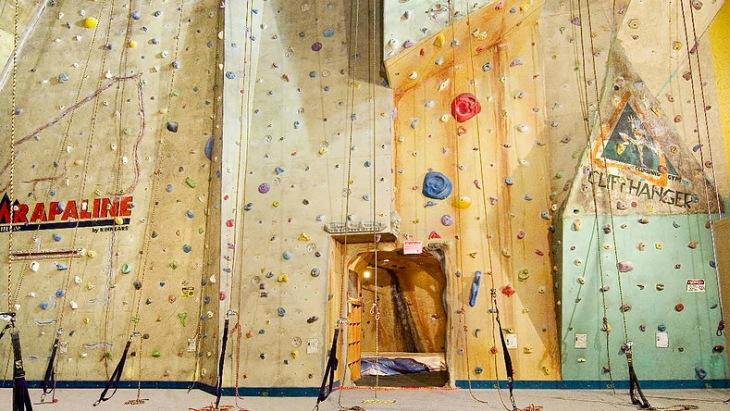 Despite their relatively small size and the dizzying heights of climbing walls, kids still seem keen to give clambering up them a red hot go. Did you know the sport will make its Olympic debut at Tokyo 2020? Get training, kids!
In the past, indoor rock-climbing centres were like training gyms – filled with tough-looking people with impressive equipment and not much a sense of humour for giving little kids a turn. But the indoor rock-climbing landscape has changed and, while older kids can still have those more intense experiences at the types of places where people wear the right gear and all seem to be in training for scaling Mt Everest with just an ice-pick and a harness, a range of kid-friendly centres are also on offer to give younger children a taste of what climbing rocks is really like – just for fun.
As the sport of rock-climbing continues to get more traction, other centres have classes aimed at children and teenagers, with a focus on developing skills to create future champions.
We've mixed it up here so there's something for everyone – a solid list of Melbourne's best indoor rock-climbing for kids:
Hardrock Climbing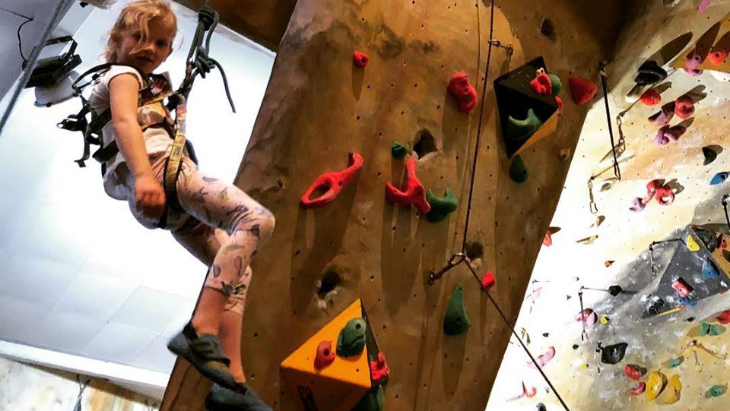 Kids are welcome and so are first-timers but be aware that hardcore climbers use this space too – and they're serious.
It's recommended that only kids over the age of eight years old try climbing at this venue. All children under the age of 11 must be accompanied by an adult to help them. One adult is allowed to help 2-3 children, which gives the kids a chance to relax in between climbs.
What You Need To Know
If it's your first time visiting the centre, you need to allow extra time because filling in the detailed Agreement Form, plus undergoing the safety induction, can take up to 30 minutes. Once it's completed, though, you are able to climb in the centre. There is also a centre at Nunawading – with the same rules and pricing. Except for the two early morning starts (these are only offered in the CBD location), the opening hours are the same too.
The Nunawading venue is more child-friendly, with easier kid-friendly walls and a minimum climbing age of four years old.
Phone: 9631 5300
Address: 4/8 Franklin St, Melbourne
More information: visit the website
UpUnlimited Moorabbin
(Formerlly Clip 'N Climb Melbourne). When serious rock-climbing seems too, well, serious, along comes this space that makes indoor rock-climbing accessible for littlies – and their inexperienced parents.
Thanks to the hydraulic auto-belay system, your kids won't need a climbing companion but they will still need you to help them clip on and off to ensure their safety. It's great as a birthday party venue and a nice way to pass some after-school or weekend time, to get your kids moving and challenging themselves to scale new heights of activity. School holidays get busy fast and because it's one of those places that you book in specific sessions online, we recommend plotting your visit early – and locking it in.
What You Need To Know
Even if you've never climbed before, the safety briefing at the start of every session fills you in – but do make sure you listen and get the kids to focus too.
Phone: 9421 6600
Address:
More information: visit the website
Bayside Rock Climbing

Rock-climbing is one of the country's fastest growing sports and this space has more than 200 climbs to choose from – ranging from easy to the sweat-inducing challenges.
Top Rope Climbing is ideal for fitness – something for older kids only.
The 'Climb Time' automatic belay system is ideal to help under-13 year olds deal with getting themselves up and down each climb safely – no climbing companion needed. Bookings are required for Climb Time sessions and can be done easily online. Using this space as the home for your next Happy Birthday celebration is perfect for active kids and for children who want to extend their skills and focus on the sport of it all, a variety of classes – including under-12s, Junior Climbing Club (aged 11-18) and Development Class (aged 10-18), are also on offer.
What You Need To Know
Phone: 9775 1557
Email: [email protected]
Address: 9 Network Drive, Carrum Downs
More information: visit the website
TunzaFun Xtreme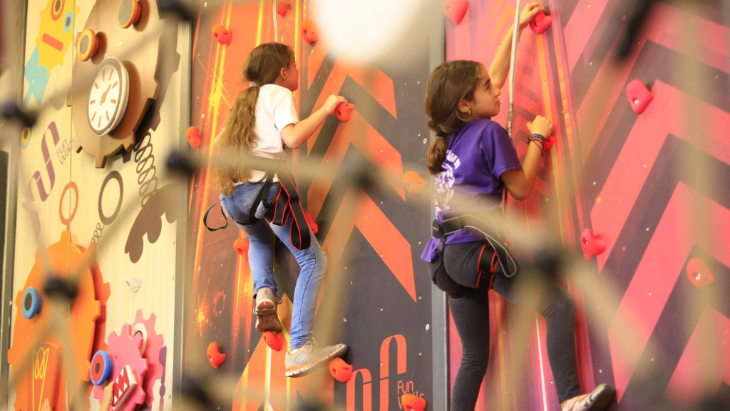 As the name suggests, this venue has much more than just indoor rock-climbing and is a great place for school holidays, birthday parties and weekends when getting the kids off the couch and into some seriously active play is best for everyone's sanity.
When it comes to rock-climbing here, there are 34 indoor walls to choose from and the hydraulic auto-belay system means that a climbing companion to help you negotiate the climb and descent is not necessary. Young children still do need an adult on the floor with them – knowing how to clip on and off safely is something they can't leave to chance.
Shock-absorbing mats on the ground minimise injury risk in case of falls.
What You Need To Know
Arrive 15 minutes before your session to allow time for a safety briefing.
Phone: 9801 3492
Address: 2205b/425 Burwood Hwy, Wantirna South
More information – visit the website
Cliffhanger Climbing Gym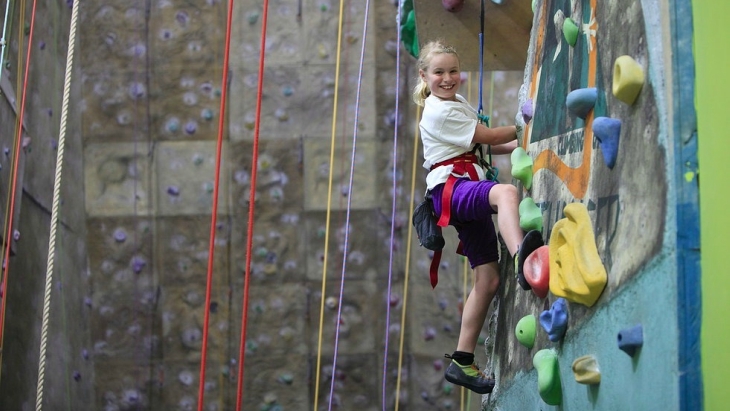 This climbing gym in the west has been around for years – offering a space for keen rock-climbers to strengthen their muscles and their skills.
They boast the tallest indoor climbing walls in the Southern Hemisphere (20 metres!). Dedicated bouldering areas are another challenge. An active development program provides young climbers the opportunity to boost their performance and learn from the best in regular classes, with school holiday programs also available. For one-off thrills, book your next kids' birthday party here – but only if everyone's game.
What You Need To Know
All first-time climbers must go through a full safety induction before being allowed to climb. All participants under the age of 18 need a waiver signed by their own parent – something to remember if you're taking your kids' friends along for an outing.
Phone: 9369 6400
Address: 499 Grieve Parade, Altona North
More information: visit the website
KemizO Entertainment Centre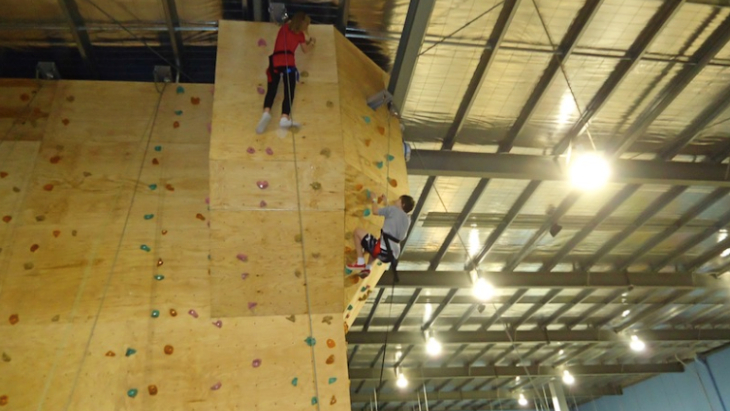 There are currently three Kemizo locations in Melbourne's outer-suburbs. Rock-climbing walls are just a small part of what is on offer – the rest of the centres are a mixed bag of kid-friendly entertainment, with some centres home to roller-skating rinks and indoor play centres and all housing massive multi-level laser tag arenas and arcade game fun.
What You Need To Know
Opening times vary slightly from centre to centre and are affected by school holidays, public holidays and weekends. It's best to check the website for detail as well as checking what activities are available at your nearest KemizO.
Somerton
Phone: 9305 1772
Address: 844 Cooper St, Somerton
Pakenham
Phone: 5941 9866
Address: 1/100 Bald Hill Road, Pakenham
Caroline Springs
Phone: 8361 8200
Address: 10 Eucumbene Drive, Ravenhall
More information: visit the website
More Adventures In Melbourne
The Best Train-Themed Playgrounds
Where To Get A Freakshake In Melbourne
Have you signed up to our newsletter? Join ellaslist to get the best family and kid-friendly events, venues, classes and things to do NEAR YOU!