Best Places to Play Mini Golf in Melbourne
Kids
Teens
Family
All Ages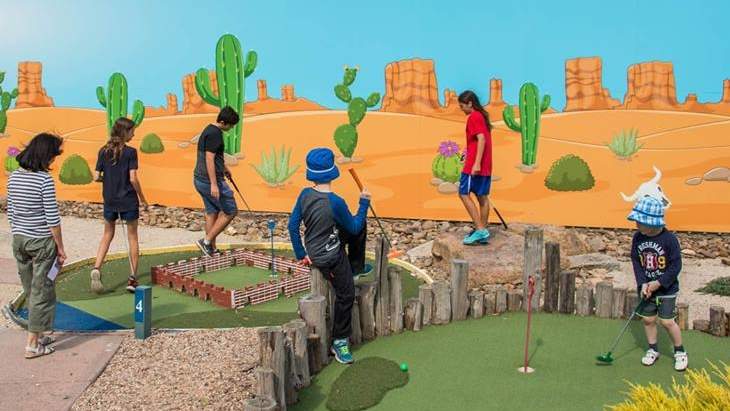 Got little golfers in your midst? If they're keen to practise their swing, get on down to one of Melbourne's many (and we mean many) mini-golf centres – and just watch those competitive streaks shine through!
Mini golf in Melbourne is a fun day out for the whole family and weather-friendly too as some of these spots are indoors. Get your putts into gear!
Eight of the Best Spots for Mini Golf in Melbourne
1. GlowGolf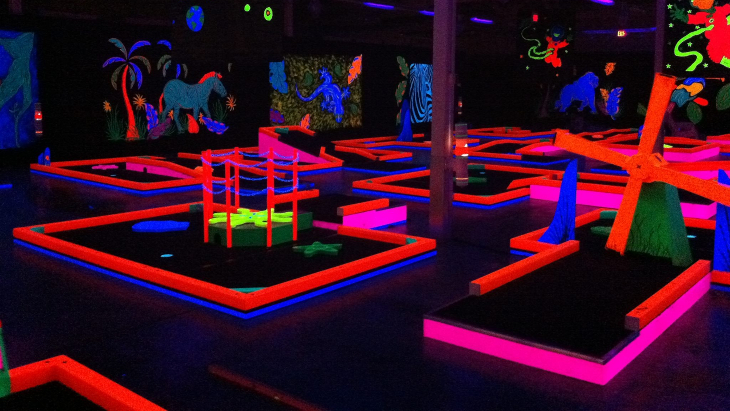 GlowGolf is, in a word, crazy. It's psychedelic disco meets golfing, but kids love it and it is one of the most popular mini golfing centres in Melbourne. With 18 glow-in-the-dark holes, including 10 holes underneath UV lighting, GlowGolf mini golf is excellent fun for all ages, and it's located in Harbour Town, home to loads of shops and activities for families.
The wackiness doesn't stop with the glow-factor, though. GlowGolf also offers mini golf in a Kingswood Ute, a pretty gnarly croc, and a very strange outdoor dunny. You have to see it to believe it.

Where: Harbour Town Shopping Centre, Docklands
Cost: Adults $15, children $10
2. Dingley Village Adventure Golf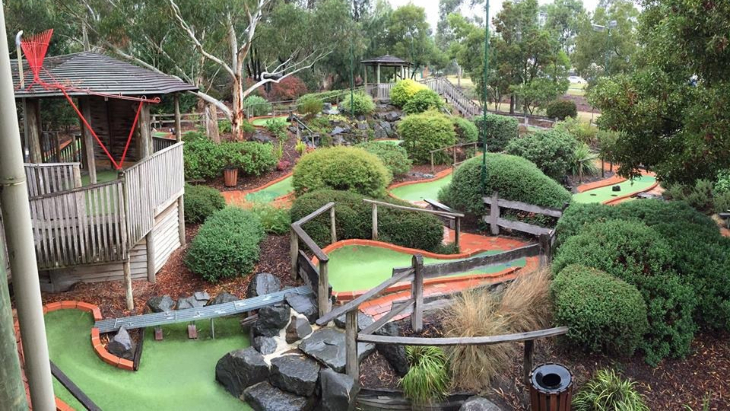 Dingley Village Adventure Golf sure does live up to its name. With creeks, waterfalls, bridges and not one, but two unique 18-hole courses, this is an adventure park where you'll easily stay the better part of the day.
The Chasm course is an undercover, all-weather mini golf arena, and a good place to warm up that swing before moving on to The Creek course, which winds and twists its way around the fantastic lake and waterfall. Kids will love the features and details of these well-built adventure circuits.

Where: Corner Lower & Centre Dandenong Roads, Dingley
Cost: Adults $16.50, children $12.50 and toddlers $8 for 18 holes
3. Bellarine Adventure Golf Course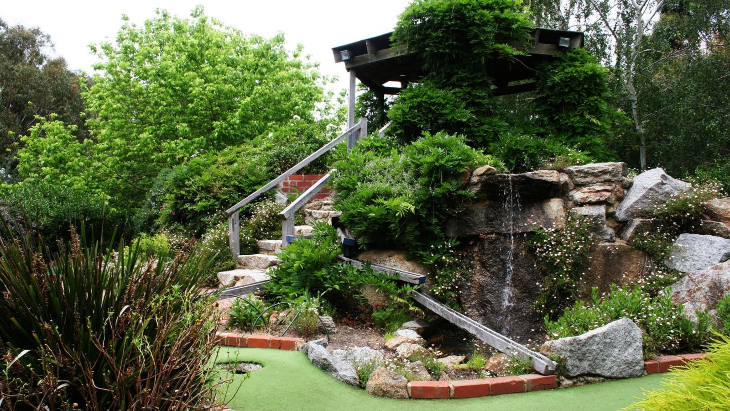 Set within the spectacular surrounds of the peninsula, Bellarine Adventure Golf Course is an easy 90-minute drive our of central Melbourne and is a fabulous mini golf park for kids of all ages, irrespective of their skill level.
The Mountain is the most challenging of the two mini golf courses at Bellarine Adventure Golf Course. It features multi-level greens, water obstacles and sand traps. You'll also cruise past a bird aviary on this course. The Mill is the other option here, and a course that provides more shelter as players make their way up the pole building.

Where: 1540 Bellarine Highway, Wallington
Cost: Adults $15, children 5-16 $11, children 4 and under $5 for one course
4. Maroondah Golf Park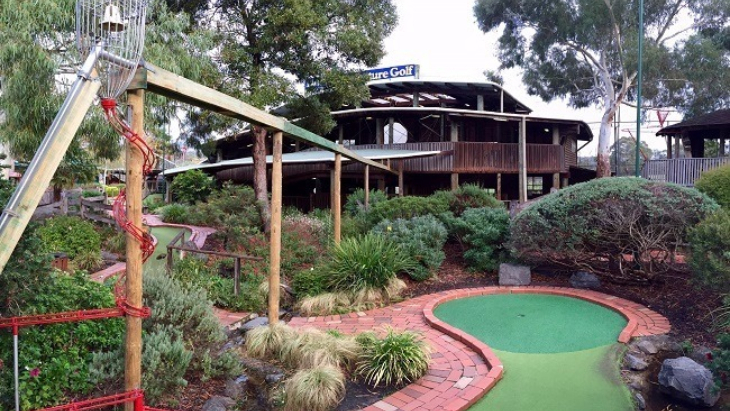 Located in Chirnside Park, Maroondah Golf Park is home to a super-fun adventure mini golf course, complete with ramps, water wheels, tunnels and bridges. Each mini golf hole at this two-course park is individually crafted, so just because you nail one, doesn't mean you will the next!
Maroondah Golf Park also houses a driving range and can accommodate children's mini golf parties and group bookings. It's a premier course in the east of Melbourne, so pop in with the kids and fine-tune that putt.

Where: 363 – 365 Maroondah Highway, Chirnside Park
Cost: Adults $16, children 5-12 $11, children 4 and under $5 for 18 holes
5. Yarra Bend Adventure Mini Golf in Melbourne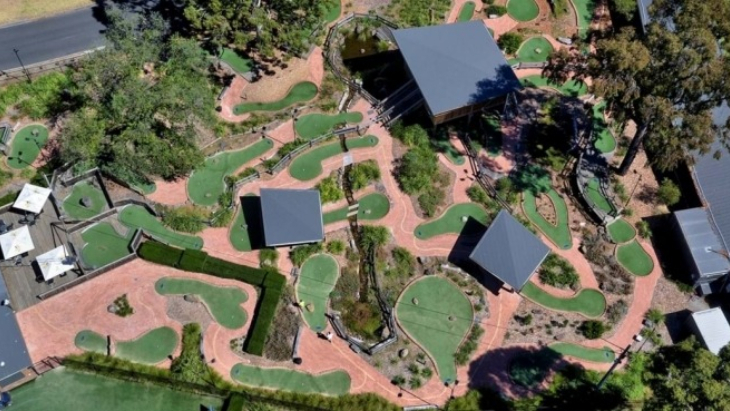 Yarra Bend Adventure Mini Golf is located right near the Yarra River, just a few kilometres outside of central Melbourne. So, if you are in the city with the kids for the day or weekend, this is a great place to pop out to for some friendly family mini golf competition.
Full of action, with plenty of features and varying degrees of difficulty, this is a brilliant mini golf course for all ages, with a total of 36 holes available.

Where: Yarra Bend Road, Fairfield
Cost: Adult $20, children 5-17 $14, children 4 and under $7 for 18 holes
6. Latrobe Golf Park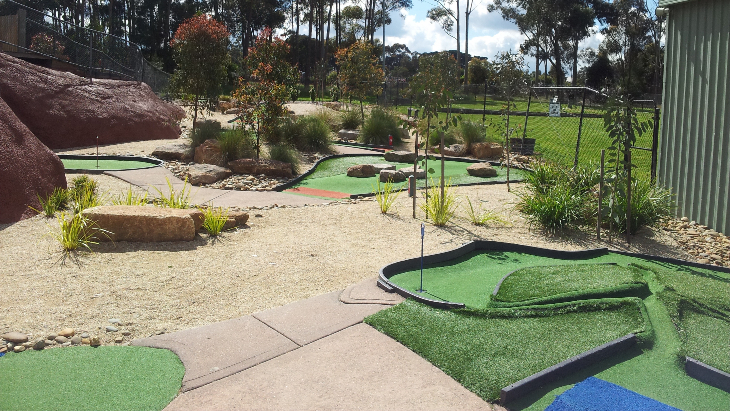 Latrobe Golf offers two courses of Adventure Mini Golf in Melbourne for putting enthusiasts: The Lakes course and The Desert course, each designed to test little golfers in different ways. The Lakes course is a mental challenge, with obstacles such as castles, logs, water and hills to contend with, so you'll need your thinking cap to figure out your path around, or through them.
The Desert mini golf course boasts a massive boulder and steep hills among other obstacles, to seriously test the stamina of players. There's heaps of fun to be had here, with special deals available for more holes, and the option to play mini-golf at night.

Where: 906 Plenty Rd, Bundoora
Cost: Adults $12 and kids $9 for 18 holes
7. Wetlands Mini Golf 'n' Games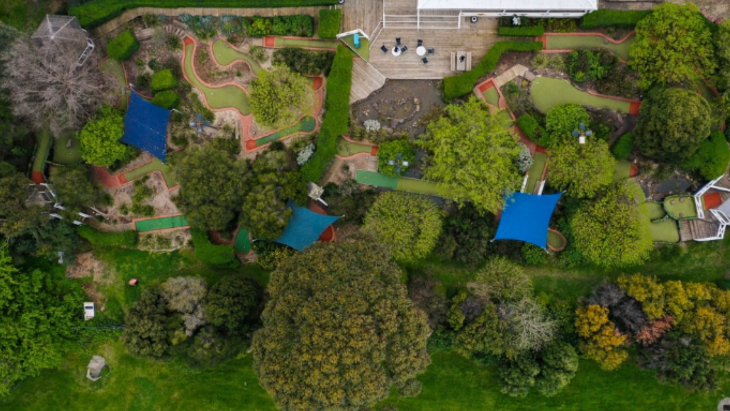 It's all about entertainment at Wetlands Mini Golf 'n' Games, not just mini golf, which could suit families that have one diehard golfer, and another not-so-keen putter. There is a games area fitted out with numerous – slightly addictive – arcade games, guaranteed to keep the non-golfers entertained.
The mini golf circuit certainly doesn't disappoint, with all-weather, adventure golfing available, complete with bridges, ramps and obstacles of varying difficulties. These guys also host kids' mini golf parties and accept group bookings.

Where: 703 Wellington Rd, Mulgrave
Cost: Adult $15, children $10 for 18 holes
8. Holey Moley Golf Club

Known as Melbourne's craziest mini golf club, Holey Moley Golf Club is where fun and adventure begins. Turning traditional mini golf in Melbourne into a multi-sensory jungle of crazy fun, Holey Moley Melbourne has replaced the usual windmills and castles with crazy pop-culture designs including a giant pretzel-shaped hole channelling 'These Pretzels Are Making Me Thirsty'. 27 pop-culture inspired holes, a Caddyshack Bar, and Karaoke completes the action at Holey Moley.
Holey Moley accepts group bookings.
Where: 590 Little Bourke Street, Melbourne
Cost: $16 per person for 9 holes
More Family Fun in Melbourne
Chow Down on the Best Pizzas in Melbourne
Hot Springs Near Melbourne
The Best Playgrounds in Melbourne


Have you signed up to our newsletter? Join ellaslist to get the best family and kid-friendly events, venues, classes and things to do NEAR YOU!