The Best Playgrounds in Melbourne
Toddlers
Preschoolers
Kids
Teens
Family
From mega slides to mega forts, multi-level towers, epic swings and even pirate themes, the best playgrounds in Melbourne have been named 'the best' for plenty of reasons!
If you're looking for a new playground in Melbourne or something different from your local, we've done the playing first to ensure no kids go home without jumping, swimming, climbing and running to their heart's content in a spot they love. From fenced playgrounds to adventure playgrounds, pirate pitstops and even train-themed playgrounds, there's something for every play taste on our list of the best playgrounds in Melbourne!
30 of the Best Playgrounds in Melbourne
Fenced Playgrounds in Melbourne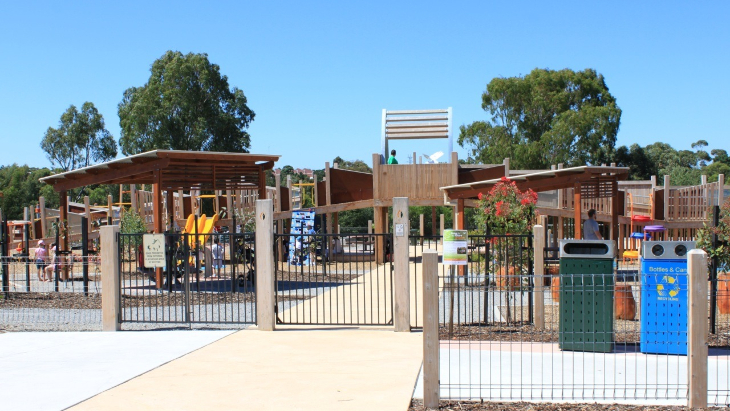 1. Bicentennial Park
Famed for its awesome yellow slides, Bicentennial Park is a fully fenced and beautifully designed Melbourne playground that the kids will want to return to time and time again. There is HEAPS to do at this playground, with numerous pieces of modern equipment and an enormous area to explore. Plenty of seating, barbecue areas, shaded areas, tables and toilets make Bicentennial Park a fabulous place to base the family for the afternoon.
2. Markham Reserve
For a fantastic, large playground that's fully enclosed and with loads of grassy goodness to enjoy, Markham Reserve in leafy Ashburton is a winner. The play equipment is many and varied, with climbing walls, monkey bars, swings, see-saws – and we have to mention the iconic carved kookaburras that overlook a small sandpit, one of several nature-inspired artistic elements to the park. Known as a five-star playground in Melbourne for the sheer amount of activities and facilities, Markham Reserve is a park well worth stopping by for a play. There is parking available as well as seating and toilets.
3. Victory Park
It's next to impossible trying to get the kids to leave Victory Park after a play, and, to be honest, we can't blame them! Victory Park is an almost-totally-fenced wonderland of wooden fortresses for neverending exploration and imaginative play. There's plenty of swings so there's rarely a lineup, turrets and towers from which to do battle with imaginary dragons, and even a sandpit for when you just need a good sit down. The lower monkey bars are particularly good for the younger kiddies.
There is a lovely walking/bike trail around the park, memorials to see, and picnic/bbq facilities to enjoy. The Ascot Vale Leisure Centre is right next door with handy toilets and a cafe.
Adventure Playgrounds in Melbourne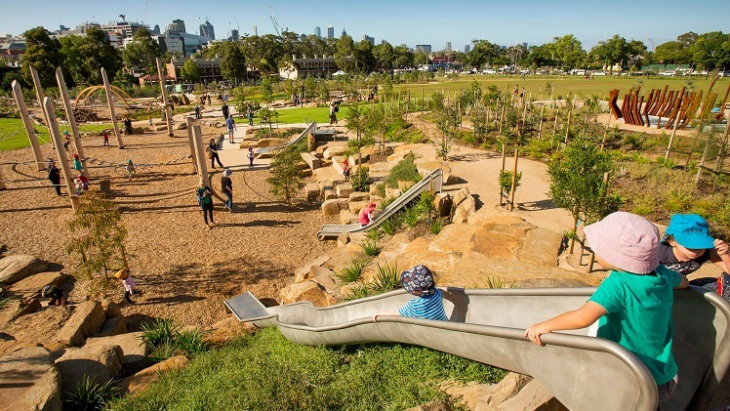 4. Dendy Park South
Right near the corner of Nepean and Dendy St, you'll find Dendy Playground, a cool, contemporary and funky coloured playground designed especially for the younger kids. With fabulous large shade sails and soft white sand underfoot, it's a great park to whip off the kids' shoes and let them play with abandon while you have a breather. The equipment is modern and safe for tots, and the surrounding areas facilitate barbecues and birthday parties.
5. ArtPlay Playground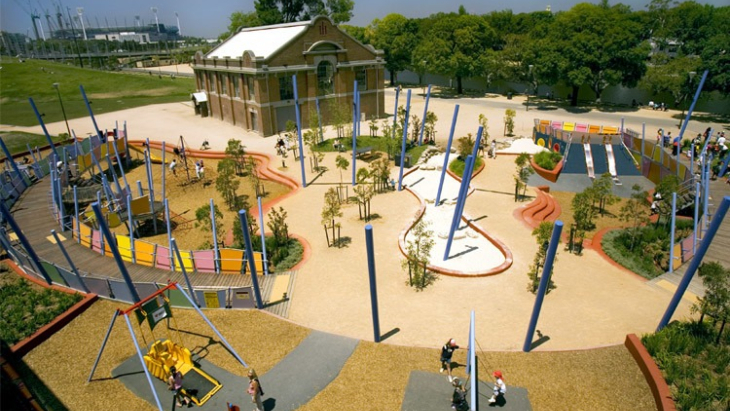 Playgrounds in the city centre are usually as rare as hen's teeth but this one is as central as it gets – just a hop, skip and jump into Fed Square for some active child-friendly fun in the fresh air. ArtPlay was designed to be a playground with something for children of all abilities and ages, with equipment that even older kids will love. ArtPlay Playground highlights include rock and rope climbing equipment, tube slides, swinging hammocks and a liberty swing that is ideal for less physically able children. Plus the nearby hill is great to roll down.
6. Buckingham Reserve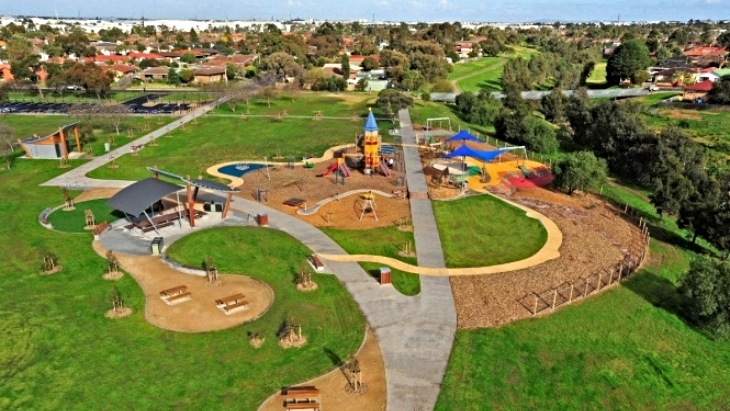 Looking for a lovely birthday party location in Melbourne? All the essentials are on offer at Buckingham Reserve with a decent amount of shade, picnic tables, barbecues, drinking fountain, public toilets and handy parking.
The jewel in the crown at Buckingham Reserve is the huge rocket ship structure with a giant spiral slide. Ropes, swings, spinners, slides, flying foxes, climbing frames – this park has all the latest and greatest equipment. Water play is a big trend in playgrounds at the moment and this park doesn't disappoint, with moving parts that include water gates kids can open and close.
7. Royal Park Nature Play Playground
This spectacular play space in the Royal Park precinct has something for all ages. Natural play elements? Yup – that means 'messy'. The equipment highlights on offer at Nature Play Playground include a splashy water play area as well as a climbing forest, rock wall with slides and, of course, swings. While the bigger kids are running amok, the sand play areas are perfect for very little ones to find a safe spot for digging and getting messy.
8. Thomas Street Reserve
As far as wooden adventure playgrounds in Melbourne go, Thomas Street Reserve is a cracker. The large wooden fort inspires plenty of games of hide-and-seek and with multi-level walkways and lots of little nooks and crannies, there are plenty of places to tuck away. (Note to parents: don't get stuck!). The usual swings and slides keep the little ones happy and with the sprawling parkland just behind the playground, there's plenty of room to kick a ball around too. On weekends it can get pretty busy, so get in early.
9. Frontier Park Playground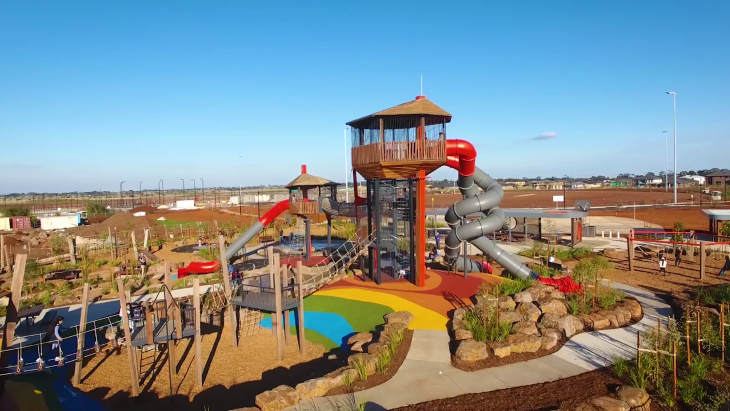 One of two massive adventure playgrounds in the Woodlea estate, the Frontier Park playground is such a great place for a whole lot of family fun.
The playground is situated right next to full-sized basketball courts, an extensive skate park and sporting fields, and boasts three huge towers, nature play area, sandpit, massive twisty slides, pentagon swing set, ropes, tunnels and rope tunnels, bridges, smaller slides, rock climbing features, carousel, birds nest swing, and meandering water play area with fountains and pumps - need we say more!
Picnic tables are dotted throughout Frontier Park and there isn't really any grassland to set up camp on, but the huge rocks that serve as playground barriers are a popular spot to sit. There is also a large shaded barbecue area and toilets.
10. Hays Paddock
Those in the east know this spot as a much-loved playground tucked in the back blocks of lovely East Kew. When it first opened in 1998, Hays Paddock was billed as an Australian first – a playground leader in catering for children of all abilities, including those challenged by hearing, vision, mobility and behaviour issues.
The spider's web trampoline provides lots of bouncy fun, while the double-width slide is perfect for friendly races. A swing with a harness is in its own fenced section and the huge sandpit - complete with diggers! - is the place to be for interactive, messy play. Bring some special duck food to visit the birdlife at Kew Billabong, just beyond the playground's fence-line.
11. Community Bank Adventure Playground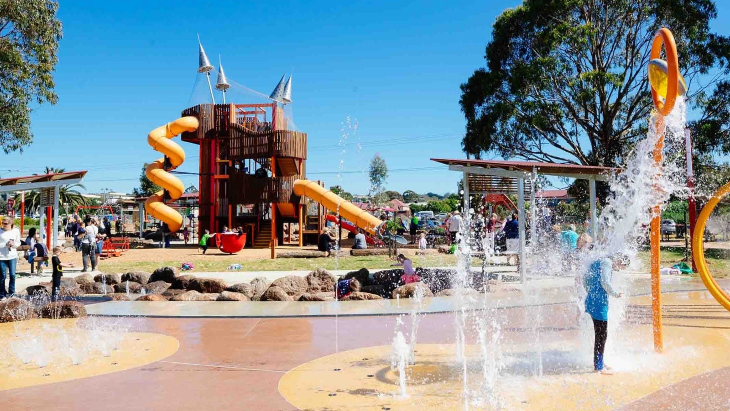 Suitable for children of all ages, at Community Bank Adventure Playground, you'll find a fun and challenging five-story tower complete with three slides, flying foxes, several birds nest swings, regular swings, roundabouts, springers, climbable tractor, scooter tracks, covered sandpit, toilets, huge seesaw, plenty of picnic space and tall shady trees, and a small water splash park that's open from December to March.
12. Halliday Park
Flying foxes? Tunnels? Slides? Sandpits? Water play area? Yup, Halliday Park has the lot! Sandpits are a timeless classic (the built-in toys here help) and the in-ground trampoline makes bouncing (mostly) safe. For picnic pleasure, the huge oak trees that dot Halliday Park provide some cool shade while the hammock is a nice place to chill out when the strain of the monkey bars gets all too much.
13. Brooklyn Reserve
Brooklyn Reserve is awesome for families who are bringing kids of different ages. There is an area for older (or adventurous) kids with a huge slide, climbing frame, basketball court, swings and fun things to play on, while on the other side of the shaded picnic/barbecue area there's an area suited to smaller folk with expression swing, sandpit, small slide, small roundabout, and a climbing frame lower to the ground. Bring a trike or scooter as they've really upped the ante with footpaths!
There's plenty of parking near Brooklyn Reserve in the surrounding streets and near to great cafes, too, otherwise there's a huge expanse of green to pop a picnic blanket down on.
14. Delbridge Drive Reserve
Surrounded by extensive walking/running tracks and athletic fields, there's plenty to do for the whole family at Delbridge Drive Reserve. Kids love the eagle's-nest rope climbing frame, slide, sandpit and cute expression swing. Delbridge offers plenty of picnic and barbecue spaces about, and there are water fountains and toilets, plus parking is a breeze.
15. Booran Reserve Playground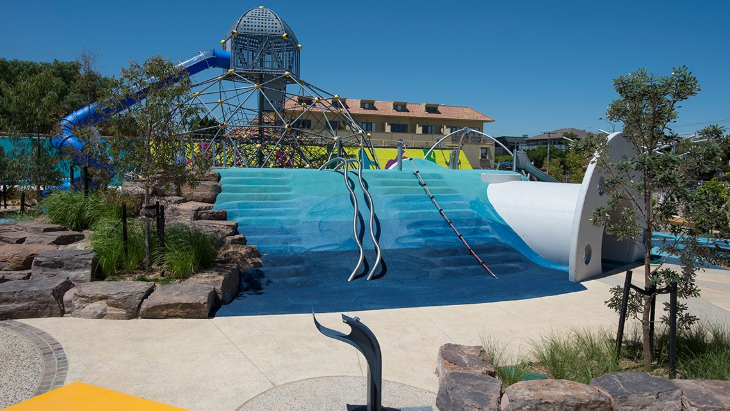 Hotly contested for the best playground in Melbourne, the $10m Booran Reserve Playground is a huge community hub with a lot going for it.
The equipment runs from a multi-level sandpit area to a gigantic climbing structure and twisty slide that is several storeys high. There are swings, a flying fox, an outdoor art gallery, mini trampolines, cricket pitch, basketball court, water play area, Dutch disc-spinner, fun tunnels to climb through and over, clean toilets and a huge expanse of space for picnickers and folks who want to barbecue.
The area around Booran Reserve Playground is beautifully landscaped with native shrubs and running water, and the undulating pathways were designed to allow intuitive movement and assist those with limited vision and mobility. A fantastic Melbourne playground for all ages.
16. The Ian Potter Foundation Children's Garden, Botanic Garden
More garden than playground but still absolutely amazing, we love the Ian Potter Foundation Children's Garden as it encourages children to get back to nature by getting their hands dirty and getting amongst the plants. Features include the Ruin Garden, the Meeting Place (with a water feature for some water play in summer), a Wetland area, a Bamboo Forest, The Gorge, a Plant Tunnel, a Kitchen Garden, and The Rill - a gentle stream of water that runs through the whole garden.
The garden is open from 10 am to sunset each Wednesday through to Sunday, and closed for school groups early in the week and for a period throughout winter.
17. Montrose Community Adventure Playground
Montrose Community Adventure Playground is designed like a mini village complete with library, fire station and of course, plenty of play equipment! There's a super cute springer in a ladybug design, an awesome rope pyramid structure, a bird's nest swing, rope bridges, heaps of walkways and so much more. It's set in a natural bushland with sports ovals, picnic and BBQ facilities, animal sculptures and plenty of shade. Your children won't want to leave!
18. Saltwater Coast Crocodile Park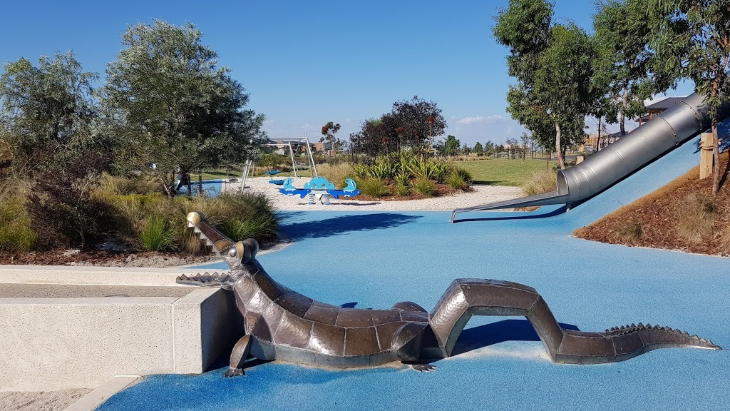 Saltwater Crocodile Park is a really fantastic playground offering traditional play equipment and a whole bunch of cool water elements like jets and a paddling pool filled by a water-spitting crocodile structure! Everything is bright blue and white, and the sand is so, so soft – it's like relaxing in a resort, especially if you're facing the pretty wetlands and boardwalk.
19. Rosebud Foreshore Playground
The kids take off at a gallop every time they get near Rosebud Foreshore Playground, and it's almost like they don't know where to start! The huge hill with climbing stones, ropes, and slide is a drawcard, and once they've scooted up and down seven hundred times, there's still an entire park's worth of entertainment on offer.
The usual swings, bird's nest swing and the flying fox is joined by a roundabout, stepping stones, and the magic of the foreshore just across the walkway. The water is low and perfect for paddling.
20. Megasaurus Park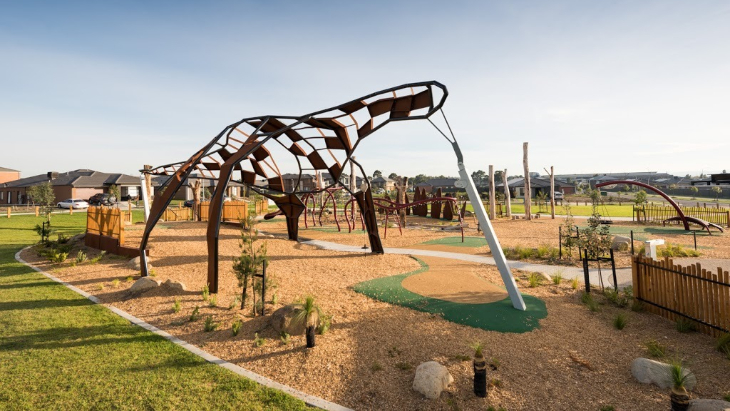 The giant Megasaurus climbing structure at Megasauraus Park lords over a bunch of cool equipment at this park in the Livingston estate. The flying fox is fast, and there's enough unusual features and broad green runnable grass nearby to make Megasaurus Park an excellent choice the next time your kids are tired of the same old same old at their local playground.
Train-Themed Playgrounds in Melbourne
21. Bayswater Park Playground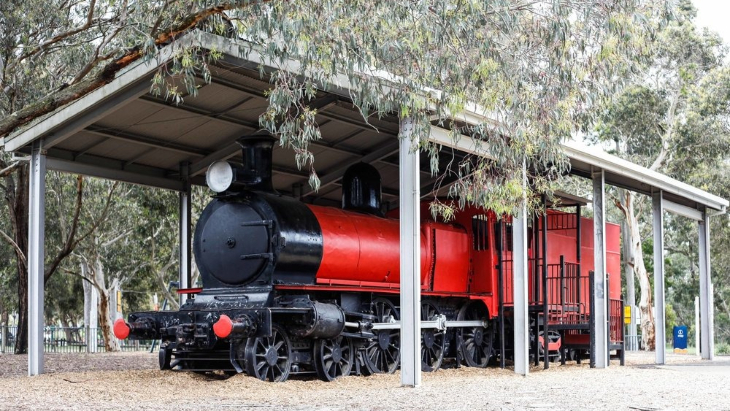 Bayswater Park Playground features a full-sized red steam engine for everybody's enjoyment - not something you see every day! Complete with railway platform, covered seats and even a Fat Controller to oversee proceedings (albeit a wooden one), and ticket window, kids (ok and adults) can replicate an entire imaginary trip without ever leaving the park.
Nearby is a smaller wooden train with two carriages, climbing structures with ramps, slides, firemans pole, sandpit, swings, musical equipment - basically a fully-equipped playground for young and old.
22. Train Street Park, Highett
Train Street Park is exactly what it sounds like - a train-themed playground right next to a train station on Train Street. A really cute train-themed set of play equipment is there, alongside other fun park stuff, including places to stop and have a picnic. Best of all, it's fully fenced in case your little train passengers have a real trip planned!
23. Windsor Siding
Windsor siding houses a wooden train with a carriage enclosed in its playground area. A fabulous mulit-level climbing structure to play on with pulleys and scoops to get busy with is nearby, as is another structure with slides, balance beams, ladders, money bars, flying fox and swings.
24. Eildon Street Park, Doncaster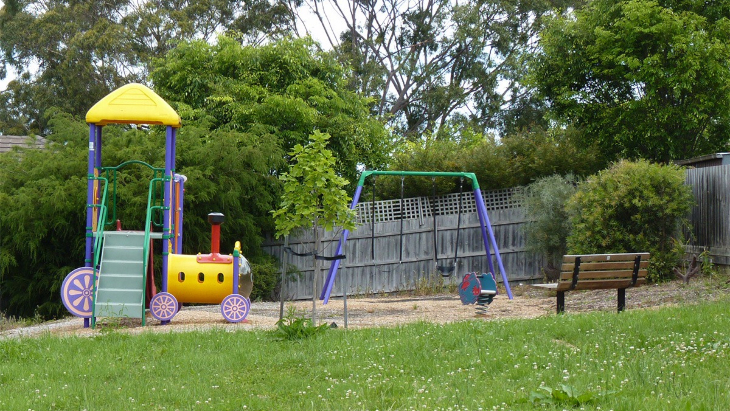 A very cool Willy Wonka-themed train with fun play area underneath lives at Eildon Street Park in Doncaster, with surrounding playground equipment. Best suited for babies and toddlers, it's quite a small area and everything is brightly coloured and easy for littlies to access.
25. Fairy Park, Anakie
While not a playground per se, visiting the trains at Fairy Park is a must for all train enthusiasts! Among the myths, tales and legends Fairy Park is known for (it's a fun and vibrant step back into medieval history!) is a huge model train set and train museum at the hilltop Castle. The museum houses a rare collection of Marklin model trains, perfect for little enthusiasts!
Pirate-Themed Playgrounds in Melbourne
26. Riverside Park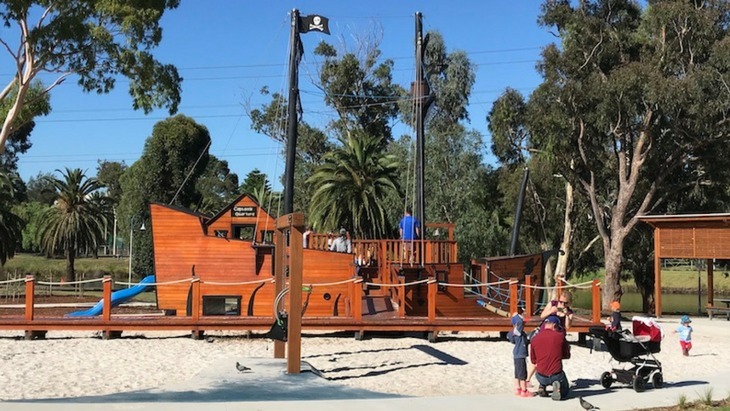 Riverside Park is known as 'Pirate Park' thanks to the extra-cool Black Sapphire ship just ready to be taken over. The climbable ship is appropriately moored on a huge sandpit and has plenty of fun items on board to keep little ones entertained. A giant steering wheel, walkable plank, rope bridges, telescope, and even a giant ship's bell.
There is also another more traditional playground, a large grassy picnic area, drink fountains and toilets so you can really make a day of it. BYO rum!
27. Roy Dore Reserve Playground

Roy Dore Reserve Playground features two longwave slides, rope ladder and high nets, cubbies, gangplank, tic-tac-toe, mirrors, balance beams and a 'Find the Pirate's Treasure' maze panel. On land, there are cannons to shoot into the shady seashore (aka sandpit).
There are toilets and water fountains available, alongside picnic and BBQ areas.
28. Geelong Play Space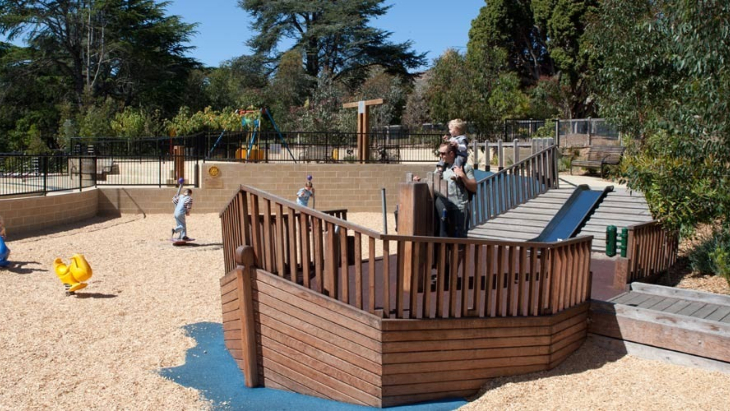 Right next to the Geelong Botanic Gardens with views of Corio Bay, Geelong Playspace is well worth a visit. Your little buccaneers will love the pirate ship at this one! There are also tunnels, climbing walls, a sandpit, colourful stepping stones, and so much more. This award-winner also includes a Liberty Swing for children in wheelchairs, the key for which can be collected at The National Wool Museum or the Carousel on the waterfront. There are seats and shaded areas around, as well as barbecue areas outside of the fenced zone – sausage sizzle anyone?
29. Casey Fields Regional Playspace
Need room to move? Yes, indeed! 30,000 square metres, in fact – and it's filled with all kinds of equipment and activity opportunities. Barbecues and picnic facilities make Casey Fields Regional Playground a wonderful spot for family birthday gatherings.
Start the kids off on the six-metre-high climbing net and rope bridge and then let them find their way to the pirate ship for some classic imaginative play. And who doesn't love a good hill to roll down? The lush lawns here make it a pleasure. Please note there is a lake and a jetty, so make sure you keep an eye on little ones.
30. Coogoorah Park Playground
For shipwreck fun, head to Coogoorah Park and the wreck of the Inverlochy, complete with wave slides, pointed bow, climbing walls, chain ladder, rope ladder, balance fireman's pole and a cute place to stash your treasure or hold your prisoners underneath. Even better, there's a crow's nest from which you can see the enemy advancing!
Plenty of shelters, picnic spots, barbecues and toilets are nearby, and the park is set next to a wetlands area perfect for stretching the legs with a nature walk.
Is your favourite park not on the list? Let us know!
More Fun Things to do in Melbourne
Melbourne's Kid-Friendly Rock Pools
Where To Go When It's Hot In Melbourne
Have you signed up to our newsletter? Join ellaslist to get the best family and kid-friendly events, venues, classes and things to do NEAR YOU!