Best Playgrounds For Kids In Melbourne
By: Claire Halliday, ellaslist
Television and devices can hold their attention for so long – but every child loves a playground. Whether it's warm or chilly, running around on equipment and pushing the physical boundaries of stretching, balancing, spinning and climbing never seem to go out of style.
We've picked some of our favourite Melbourne playgrounds to help you keep your children fit and healthy while they have some good old-fashioned fun.
1. ArtPlay Playground
Playgrounds in the city centre are usually as rare as hen's teeth but this one is as central as it gets – just a hop, skip and jump into Fed Square, for some active child-friendly fun in the fresh air.
It was designed to be a playground with something for children of all abilities and the age range it makes smile is pretty broad, with equipment that even older kids will love.
Equipment includes rock and rope climbing equipment, tube slides, swinging hammocks and a liberty swing that is ideal for less physically able children. Plus the nearby hill is great to roll down. One of those enduring childhood pleasures…
The playground takes its name from the nearby ArtPlay centre that features regular performances and a mix of free and paid arts-focused classes and events. But that's another story…
Phone: 9664 7900
Address: Birrarung Marr, behind Federation Square
More information: visit the website
2. Buckingham Reserve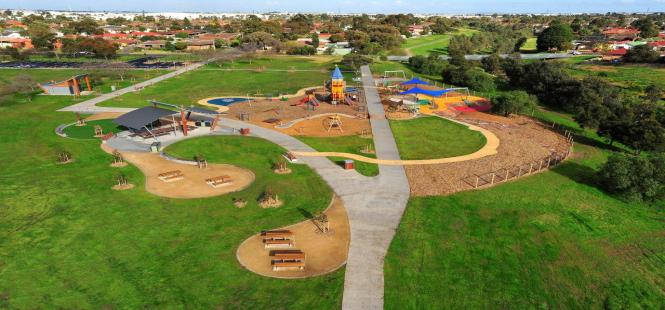 Looking for a lovely birthday party location? All the essentials are on offer here – a decent amount of shade, picnic tables, barbecues, drinking fountain, public toilets and handy parking.
The jewel in the crown here is the huge rocket ship structure with a giant spiral slide. Ropes, swings, spinners, slides, climbing frames – this park has all the latest and greatest equipment. Two long flying foxes are also park favourites.
Water play is a big trend in playgrounds at the moment and this park doesn't disappoint – with moving parts that include water gates kids can open and close.
Address: Buckingham Crescent, Sunshine West
More information: visit the website
3. Royal Park Nature Play Playground
This spectacular play space in the Royal Park precinct has something for all ages. Because of the proximity to the Royal Children's Hospital, it's a popular spot for visiting children and patients to have a stroll to feel the fresh air on their skin – but anyone, of course, is welcome.
Natural play elements? Yup – that means 'messy'.
The equipment highlights on offer here include a splashy water play area as well as a climbing forest, rocky wall with slides and, of course, swings. While the bigger kids are running amok, the sand play areas are perfect for very little ones to find a safe spot for digging and getting messy. Heading to Grandma's afterwards for afternoon tea? Pack a change of clothes for a seamlessly smart transition.
What You Need To Know
In 2016, local landscape architects named the park Melbourne's best playground.
Although there are enough things going on to keep pre-school kids happy, this is really best for older kids. Be prepared for a bit of daring play and adventure…
Address: Corner Gatehouse Street & Story Street, Parkville
More information: see website
4. Thomas Street Reserve
As far as wooden adventure playgrounds in Melbourne goes, this one's a cracker. The large wooden fort inspires plenty of games of hide-and-seek – and with multi-level walkways and lots of little nooks and crannies, there are plenty of places to tuck away. (Note to parents – don't get stuck!). The usual swings and slides keep the little ones happy and with the sprawling parkland just behind the playground, there's plenty of room to kick a ball around too. On weekends it can get pretty busy – with all that space, it seems to be a local favourite for children's parties and family reunions.
What You Need To Know
Phone: 9599 4444 (Bayside City Council)
Address: 164 Thomas St, Hampton
More information: visit the website
5. Hays Paddock
Those in the east know this spot as a much-loved playground, tucked in the back blocks of lovely East Kew. When it first opened in 1998, it was billed as an Australian first – a playground leader in catering for children of all abilities, including those challenged by hearing, vision, mobility and behaviour issues.
The spider's web trampoline provides lots of bouncy fun, while the double-width slide is perfect for friendly races. A swing with a harness is in its own fenced section and the huge sandpit, complete with diggers is the place to be for interactive, messy play.
What You Need To Know
Bring some special duck food to visit the birdlife at Kew Billabong, just beyond the playground's fence-line. Easy car parking, some quality shade, plus tables and chairs for picnics, makes this a family-friendly gathering spot for all ages.
Address: Leason St, Kew East
More information: visit the website
6. Casey Fields Regional Playground
Room to move? Yes, indeed! 30,000 square metres, in fact – and it's filled with all kinds of equipment and activity opportunities. Barbecues and picnic facilities make this a wonderful spot for family birthday gatherings and the shelters off a place to duck out of the wind and rain if the weather forecast does turn from good to bad.
But your kids just want to know about what they can play on, right?
Start them off on the 6-metre high climbing net and rope bridge and then let them find their way to the pirate ship for some classic imaginative play. And who doesn't love a good hill roll? The lush lawns here make it a pleasure.
And if you have no objections to messiness (get them to empty their shoes out before they reach the car!), the sandpit here is a great one – and even has its own diggers.
What You Need To Know
There is a lake – and a jetty – so make sure you keep an eye on little ones.
Address: 65 Berwick-Cranbourne Rd, Cranbourne East
More information: visit the website
7. Halliday Park
Every playground needs a facelift every now and then and this one is still looking fairly fresh after refurbishments in 2014.
The favourite flying fox? Don't worry – it's still there (but be aware it's for kids aged 12 years old and over).
As for the little ones – they can do what toddlers do best in and around the tunnel, slide and water play area. Sandpits are a timeless classic (and the built-in toys here help) and the in-ground trampoline makes bouncing (mostly) safe.
For picnic pleasure, the huge oak trees that dot the park provide some cool shade and the hammock is a nice place to chill out when the strain of the monkey bars gets all too much.
What You Need To Know
Address: Mitcham Rd, Mitcham
More information: visit the website