Frontier Park Adventure Playground, Rockbank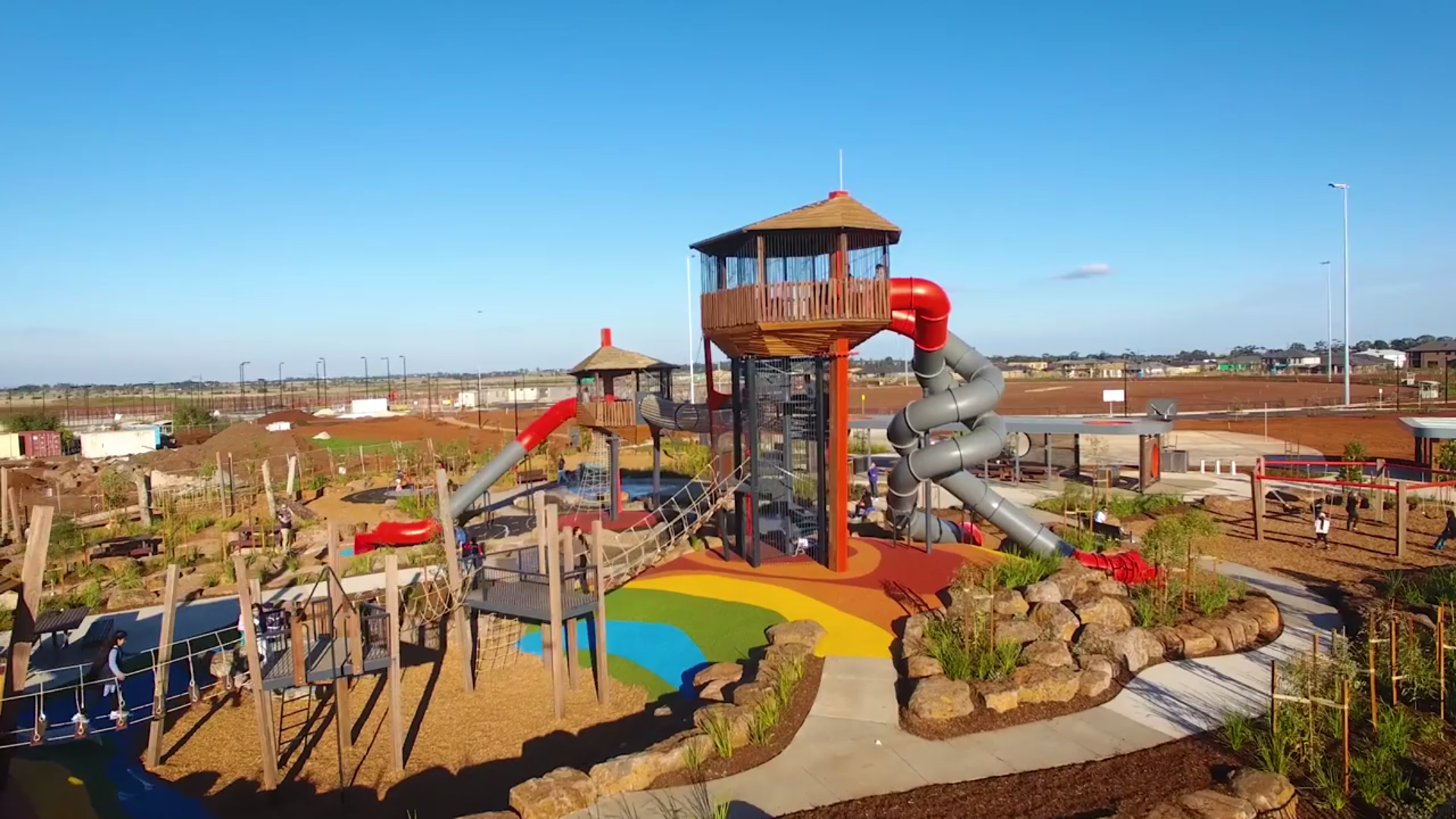 By: Ayesha Khan, ellaslist
Melbourne has no shortage of excellent playgrounds with new ones popping up every now and then. However, it seems the brand new Frontier Park at Rockbank has jumped ahead in the race with a super cool adventure playground.
UPDATE: The playground has reopened after a temporary closure for repairs.
Latest 'slide' on the block
You simply cannot drive past this playground without the kids' screaming to be let out. The spanking new equipment includes plenty of slides, tunnels, swings, trampolines, water play area, small skate area and a bunch of other fun and engaging areas.
The highlight of the park are two huge structures, set on colorful mounds, tower over the park with an enclosed (yet scary) rope bridge connecting them. The little daredevils will love running back and forth on the bridge as they zoom down one of the three gigantic tunnel super slides. Don't worry if the bridge run looks too daring. There are other ways to climb up to the slides including spiral stairs and vertical rope tunnel.
For the littlest ones, there's a smaller wave slide on one side of the mound. The pentagonal frame has five swings on it. However only one is suitable for younger kids.
Sand and water play
There's a decent sized sandpit with a water fountain on one side. There's a separate water play area comprising a shallow concrete channel lined by water sprays. Kids can enjoy raising and lowering the chutes and watching the water rush by.
The extas
Right next to the park is a basketball court and a small skate park with ramps, quarter, rail and fun box in the middle. Tha park also has some sheltered tables and a BBQ area, toilets and some unsheltered seating and tables as well.
Video Source: Woodlea Estate Facebook Page
What you need to know
Where: Cnr Woodlea Boulevard and Frontier Avenue, Rockbank 3335, Victoria