Best Rockpools For Kids In Melbourne
Best Rockpools For Kids In Melbourne
Family
Kids
Teens
Preschoolers
Toddlers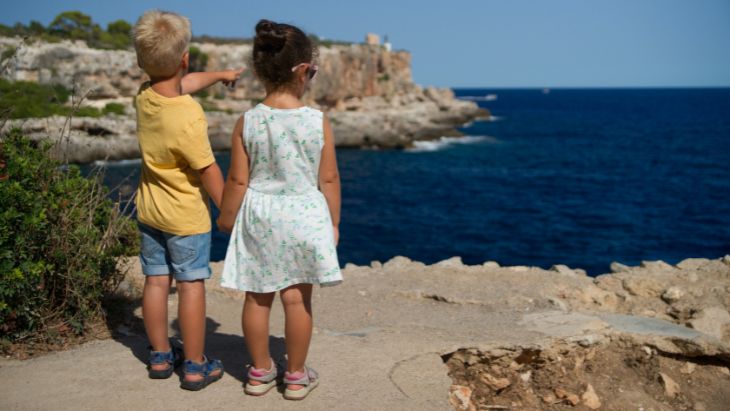 What always puts a smile on kids' faces? Finding hidden treasures is definitely at the top of the list! And when you add water and rocks, the wonder of this cool outdoors fun is hard to beat – especially on long, hot Melbourne days.
Rockpools tick an exciting range of boxes – with squishy sand for inquisitive fingers, rocks to climb on and the possibility of uncovering real-life sea creatures in their natural habitat.
The Best Rockpools in Melbourne
Why Rockpools?
Once you've slipped, slopped and slapped that all-important sun protection, rockpools can provide hours of fun – and for free! In summer, it can't get much more perfect than splashing around at your favourite seaside location—and the good news about rockpools is that they can be just as much fun when the sun is behind a cloud.
Crabs, jellyfish, starfish, shells, seaweed, small fish, sea sponges – and more. For a fun beach out with the family, work your way around these favourite Melbourne rockpools that are perfect for kids to explore. Don't forget to check low tide times online to make the most of your rockpool expedition.
1. Point Gellibrand, Williamstown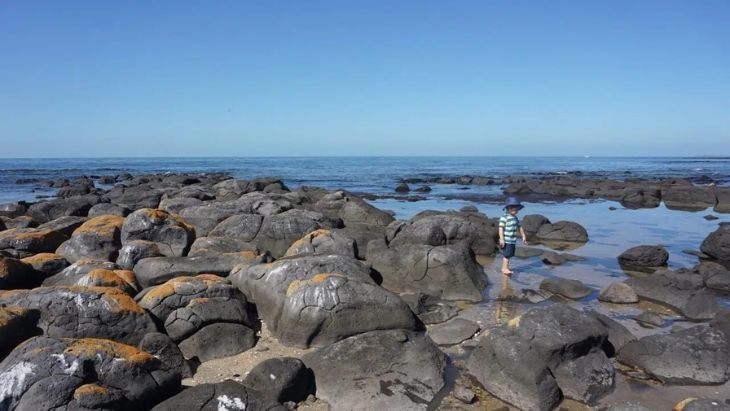 Water lovers in the West head to Williamstown's Point Gellibrand at low tide to look for underwater inhabitants in the clear rock pools at this lovely spot—definitely one of the best rockpools in Melbourne.
If you're the parent of a budding marine biologist, there is a lot they can learn. To keep your little rock-hoppers safe, a good grip is super important—so we'd recommend a water shoe at this location!
Location: Battery Rd, Williamstown
2. Rickett's Point, Beaumaris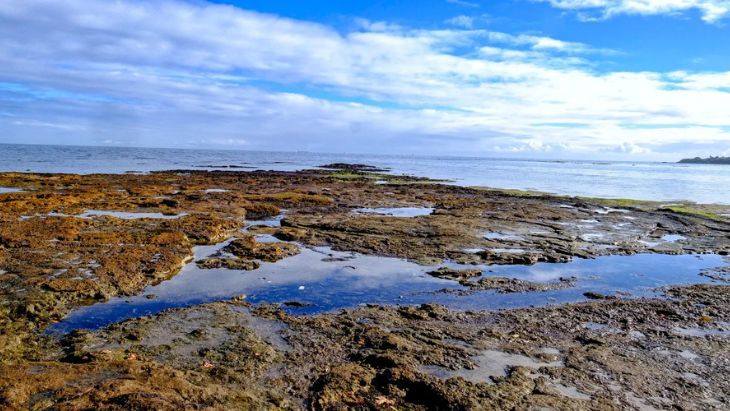 Being handy to a car park on Beach Road in Beaumaris helps – and the popular Rickett's Point Teahouse is a great spot to start (coffee, anyone?) and end (icy poles, anyone?) your journey. It's a shallow and safe bay beach and when the tide is low, there is an extensive network of rock pools to discover.
The fact that Ricketts Point is a protected Marine Park means it's rich with interesting sea life, but it's also a reminder to leave this beautiful spot looking just as wonderful. A great day out here with kids should always include a handy rubbish bag tucked into your pocket to make sure that any food wrappers or discarded drink bottles don't end up polluting the very thing you love.
Location: Port Phillip Bay, Beaumaris
3. Red Bluff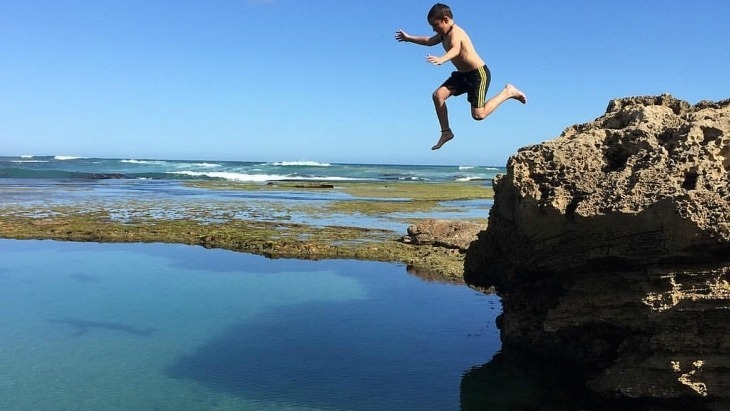 The lovely-to-look-at Red Bluff offers an impressive view of red sea cliffs – with a treasure trove of intriguing nooks and crannies your kids will love to investigate. With one of Melbourne's favourite fish and chip spots at Half Moon Bay just a short stroll away, a trip to Red Bluff fun for all the family.
Location: Half Moon Bay, Black Rock
4. Jawbone Marine Sanctuary, Williamstown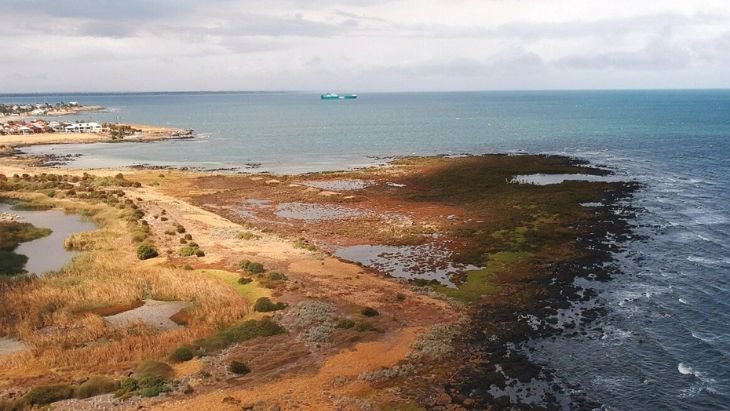 Located in Williamstown, Jawbone Marine Sanctuary protects 30ha of coastal water and is considered a haven for coastal and marine—not far from the heart of Melbourne. It consists of a mouth-shaped 74-acre marine conservation area complete with mangrove, seagrass, salt marsh and rocky habitats; all ripe for exploration.
Location: Williamstown Beach
5. Mushroom Reef Marine Sanctuary, Flinders Ocean Beach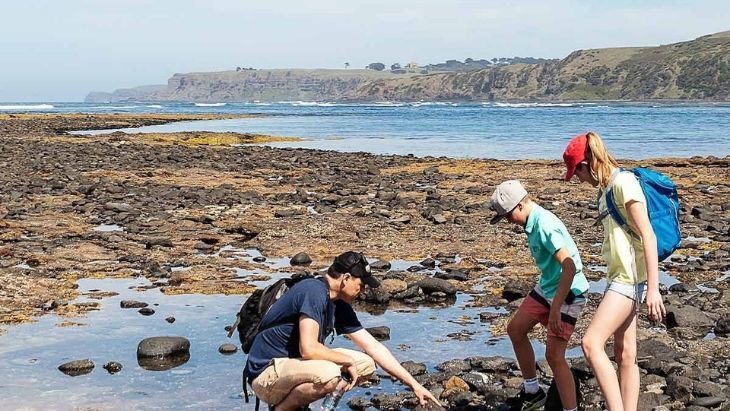 Deep dive into rockpool exploration at the beautiful Mushroom Reef at Flinders Beach. You can expect a good few hours of exploring when the tide is out with lots of discoveries waiting to be made—and make sure you have good footwear as the rocks are particularly sharp!
Location: Golfs Links Road, Flinders
Want To Make It A Day Trip?
For rock pooling adventures further afield, try St Paul's Beach at Sorrento, Smith's Beach at Phillip Island, Picnic Bay Beach at Wilson's Promontory, Airey's Inlet on the Great Ocean Road and the surprises of the shallows at Walkerville in Gippsland. Or, rain or shine, visit the indoor rock pool at Queenscliff's Marine Discovery Centre.
One thing you should never forget is that some Victorian beaches are home to the potentially deadly blue-ringed octopus – a reminder that supervision is always a must whenever children and water mix.
More Fun Things To Do In Melbourne
Fun Free Things To Do With Kids In Melbourne
Best Chocolate Cafes In Melbourne
Where to Take the Under-5s During a Cold Winter in Melbourne
Have you signed up to our newsletter? Join ellaslist to get the best family and kid-friendly events, venues, classes and things to do NEAR YOU!