Six of the Best Water Play Parks in Melbourne
ellaslist COVID-19 update: Please note that all the information on the website is correct at the time of publication. Please check the relevant website before visiting a venue or destination for the latest COVID-19 information. ellaslist is not responsible for any cancellations or closures.
By: Katie Oliveira da Silveira, ellaslist
When summer turns up the heat, one of the best things to do with restless kids is to head to a water park where they can splash themselves silly. To point you in the right direction, we've put together a list of six of our favourite water play areas in and around Melbourne, each with great features and cleverly designed to educate as well as thrill – so grab the kids, grab a towel and get ready to get wet!
1. The Ian Potter Foundation Children's Garden

For inner-Melbourne water fun, you absolutely can't go past the The Ian Potter Foundation Children's Garden at the Royal Botanic Gardens in Melbourne. Aside from the fact that it is situated amid stunningly preserved gardens, this garden's spiral water fountains are just one of many attractions for little ones. The entire garden is designed to facilitate exploration and education while sparking little imaginations. The water feature operates from 10am until 4pm on days above 25 degrees only.
Where: Royal Botanic Gardens, Birdwood Avenue, South Yarra
Cost: Free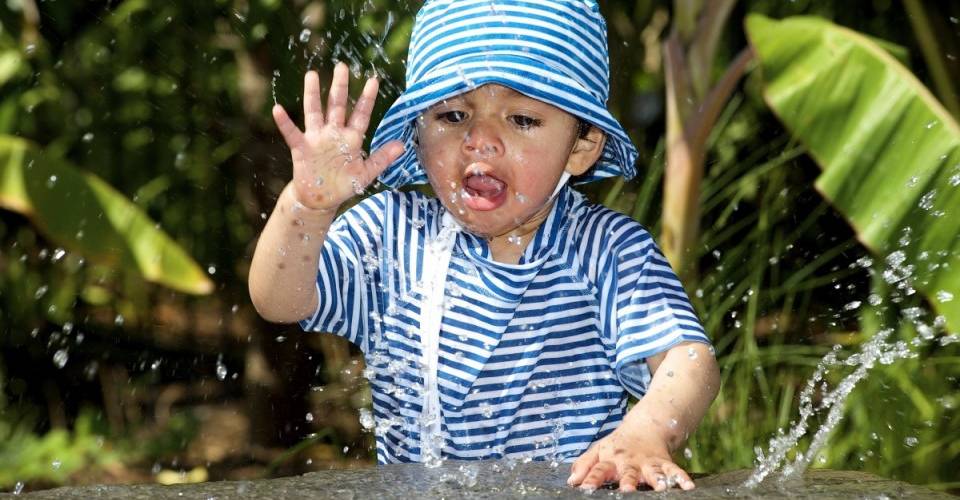 Source: Royal Botanic Gardens Melbourne
2. Adventure Park Geelong

Over the Westgate and about 50 minutes out of the city you'll find the perennial favourite, Adventure Park Geelong. As far as water play goes, this one is the whole shebang – in fact it is Victoria's biggest water theme park. The park features a Tiny Tots Splash Zone, perfect for the younger kids to safely splash and wade in the shallows; and for older kids, there are rides for all levels of thrill seeker! Adventure Park Geelong always has great events lined up for school holidays, particularly around Easter and Christmas, so this is a great one to follow on your socials.
Where: 1249 Bellarine Hwy, Geelong
Cost: Children under 90cm are free, juniors $32 and general admission is $42
More info: see the website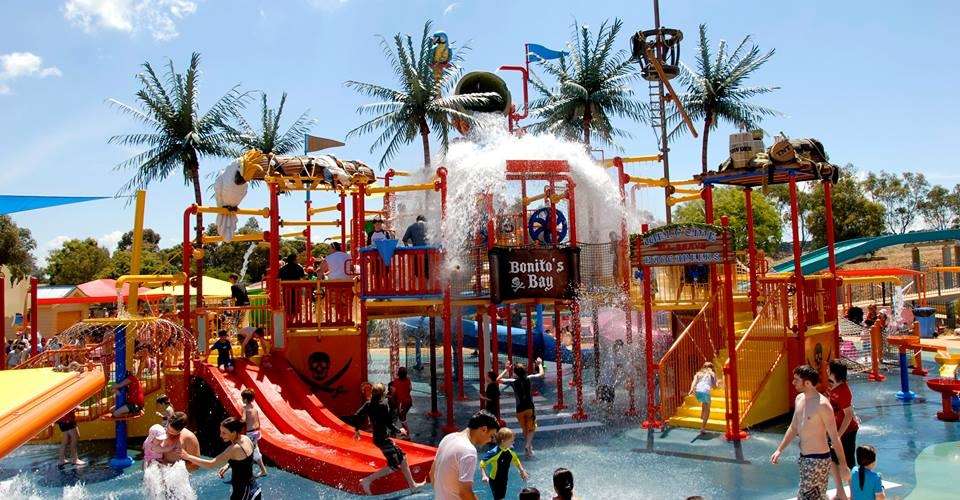 Source: Adventure Park Geelong Official Facebook Page
3. Ron Barassi Snr Park, Docklands

A relative newcomer to Melbourne's parks, Ron Barassi Snr Park is a must-see if you are in and around the CBD with kids in the warmer months. It always gathers plenty of visitors, making for fabulous family atmosphere. This park has been thoughtfully put together to provide fun for kids of all ages, with interactive water features that kids will adore. Modern and diverse, the Ron Barassi Snr Park is situated right near the Bolte Bridge – and with parking available, this one's a winner.
Where: Docklands Dr, Docklands
Cost: Free
https://youtu.be/AFKP3PHB65Q
4. Seville Water Park

A little further out, in Seville is the Seville Water Park for kids, which generally operates between September and April. It is situated adjacent to the large Seville Recreational Reserve, a lovely spot for a picnic. The water play include rockery and numerous water features that will delight kids of all ages. Here you'll also find a playground and tonnes of space for kids to run – and dry off after all that fun in the water jets. While there is shade elsewhere in the reserve, the water area is limited for shade, so don't forget hats and sunscreen!
Where: 20-28 Monbulk-Seville Rd, Seville
Cost: Free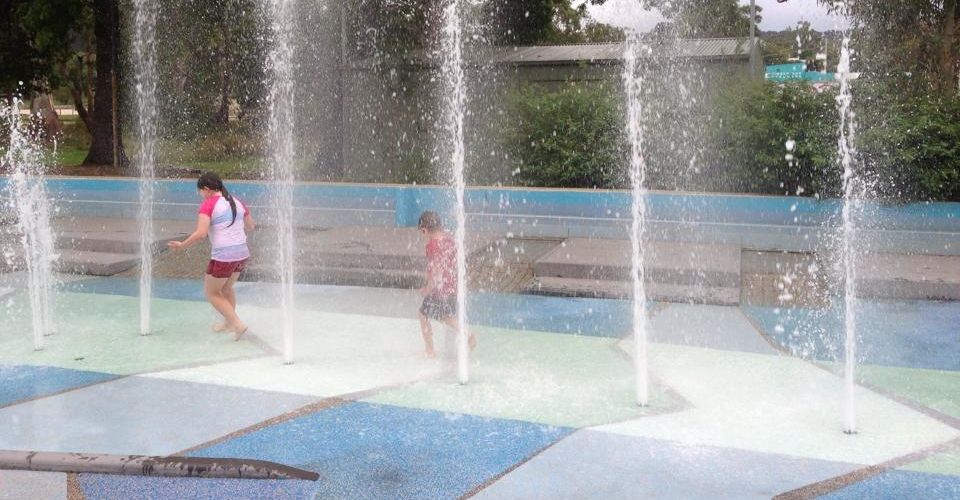 Source: Seville Water Park Official Facebook Page
5. Crocodile Park Playground Point Cook

So called because it features a giant bronze croc! Needless to say, this one can get quite busy, especially given it is a relative newcomer to Melbourne's park scene. It was completed in recent years as part of a massive upgrade to the wetland area. Crocodile Park Playground at the Saltwater Park Estate in Point Cook is around a 20 minute drive from the CBD (Westgate traffic permitting!). This aquatic park is an absolute hit for all ages, featuring a brilliant playground of slides, loads of water features and climbing areas. There are lovely wading areas for bubs and tots here. Again, there's not a lot of shade at this one, so don't forget to cover up the kids with plenty of protective gear in the warmer months.
Where: 260 Saltwater Promenade, Point Cook
Cost: Free
https://youtu.be/pCGAk4sXatg
6. Funfields Water Park

Many Melbourne parents might remember going to Funfields Water Park when they were a kid – it has been around for many years, with an unmistakable TV jingle! Just 40 kilometers north of the city, Funfields is a vibrant theme park packed with entertainment. The water fun kicks off with thrill rides like the Kracken Racer and Typhoon, but there are also toddler-friendly areas such as Birdy Cove providing plenty of paddling fun. Plan to stay for the day with this one, there are plenty of amenities on hand and enough entertainment to keep the kids active all day.
Where: 2365 Plenty Road, Whittlesea
Cost: Children under 100cm are free, juniors $35 and general admission is $45 per person
More Info: see the website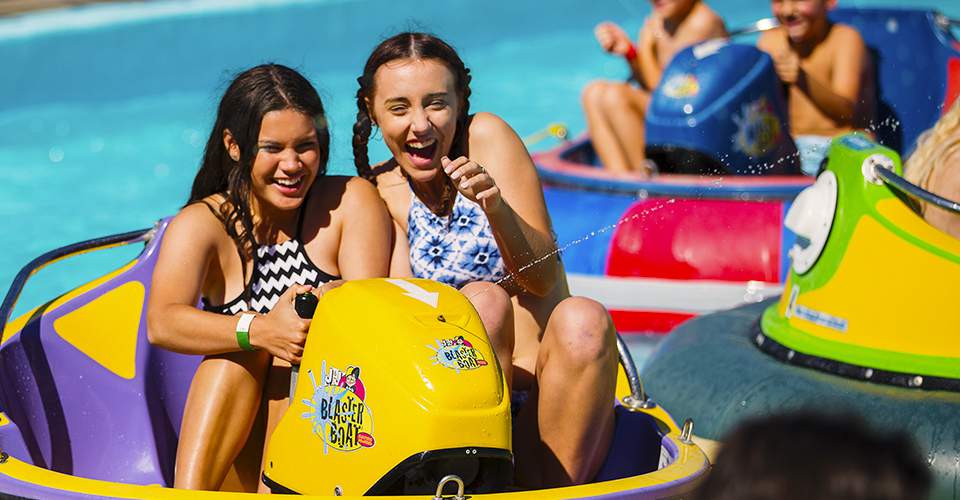 Source: Funfields Water Park