Best Kid-friendly Beaches in Melbourne
by Claire Halliday, ellaslist
How good has the weather been?
Whether you're young enough to find your fun in making sandcastles on the shore, or old enough to tackle a deep water swim, Melbourne's beaches have something for everyone.
To give you the peace of mind from knowing your day by the water will be a happy, relaxed one, try these kid-friendly beach suggestions destinations for a perfect family-friendly day in the Bay.
Many of Melbourne's best beaches for children can be easily accessed by public transport but if you're coming via car, remember that parking can be an issue alongside any of Melbourne's Bay beaches – make sure you have a pocket full of gold coin change or that credit-card-friendly app on your phone to keep the parking meters filled and the fines away.
To find out information about any Australian beach, including facilities, weather, conditions and lifesaving services, visit the Beachsafe website: https://beachsafe.org.au

Image via Flickr
Albert Park Beach
In real estate terms, the location is a prestigious one – very close to the CBD and in one of Melbourne's most sought-after suburbs.
But of course the kids don't care about that. What's the beach like?
For family fun, there is shelter for shade – and it's just as handy for keeping out of the sudden showers Melbourne's 'four seasons in one day' reputation is likely to deliver. If you feel like adding to the fitness aspect of your day at the seaside, bike paths make it easy to access and there is a good playground for some non-sandy fun.
If you need coffee to fuel your expedition, or the kids just want some cool refreshments, a variety of local cafes and restaurants all have beautiful views of the waterfront. Ending the day with some freshly-cooked fish and chips to eat while you watch the sunset is a lovely way to finish your beach trip.
What You Need To Know
Albert Park beach is a mere 5 kilometres from the city.
More information: – visit the City Of Port Phillip website to find information about any of the beaches within its 11-kilometre stretch of coast.
Brighton Beach

Image credit: http://churchstreetbrighton.com.au
For an iconic image of a perfect Australian day at the beach, it's hard to beat Brighton Beach – especially if you venture down to the section where the famous bathing boxes add some colourful charm.
These sought-after shelters can cost more than many houses on the outskirts of town but if you're not an owner of one, you can always pretend and sneak a selfie to pop on your social media and show off to your overseas relatives.
From a kid-friendly perspective, Brighton has the happy reputation of being one of Melbourne's cleaner beaches, with both sand and water safe for the children to play in. Of course, clean or not, all kids need supervision near water.
What You Need To Know
Brighton Beach is almost 15 kilometres from the CBD.
If driving or riding a bike isn't your style, hop on the Sandringham line and get off at Brighton Beach station. Dog-loving families can also enjoy the Brighton dog beach nearby (but train the kids to watch their step).
More information: visit the website
St Kilda Beach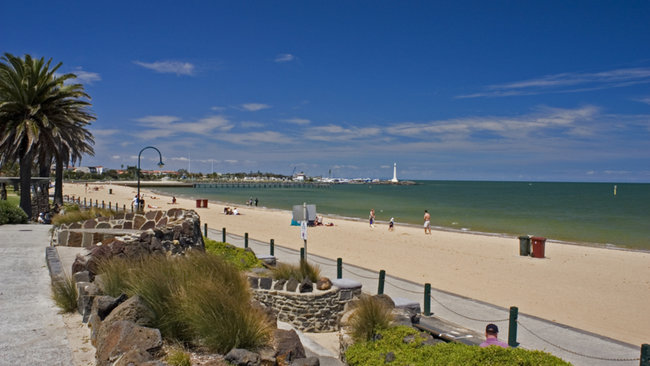 Sydney may have Bondi but Melbourne has St Kilda.
Melbourne's most famous beach is on the list because of its proximity to playgrounds, family-friendly restaurants, cafes, ice-cream shops and
Nearby Acland Street's much-loved cake shops, which are just a short walk from the shore. But it is important to note that, if this ranking was based on the beach alone, it might not get a mention.
The myth about St Kilda beach being a syringe-filled drug den might be overblown but what is a fact is that the beach's proximity to stormwater drains sees it rank, regularly, on the list of Melbourne's dirtiest beaches.
Family-friendly swimming? Hmmm…Maybe not.
But you want it to be on this list because, well, because it's St Kilda.
To create a classic Melbourne memory of a trip to sunny St Kilda, take the kids along for the experience of strolling along the shore, with the vista of palm trees. On a Sunday, there are markets stalls on the Esplanade to browse and there are even pony rides in the park close by.
Luna Park is just around the corner, so you can squeeze in a couple of quick rides, as well.
Getting to the beach is easy – as well as different parking options, trams drop you just a few steps from the sand, and with the bike path that winds its way along the coastline, pedal power can add to your family outing.
What You Need To Know
St Kilda is just over 7 kilometres from Melbourne's CBD.
More information: visit the City Of Port Phillip website to find information about any of the beaches within its 11-kilometre stretch of coast.
Elwood Beach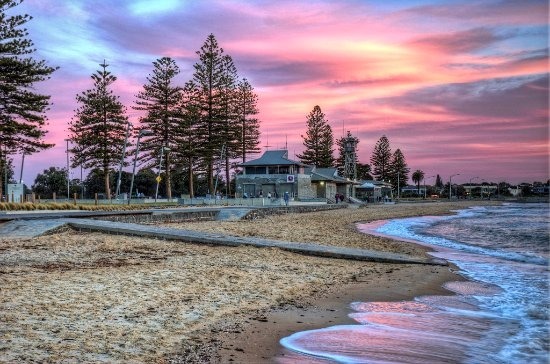 On a good traffic day, it's only a 20-minute drive from Melbourne's CBD and Elwood Beach is always a popular family attraction. The range of facilities on offer can fill your day easily, with public BBQs, picnic tables and lawn areas to spread the picnic blanket (just watch out for the kite flyers). The playgrounds are good too. Because Elwood has a no-boating zone, the waters are a safe haven for swimmers of all ages. If the kids are keen to keep fit, the walking and cycling paths are an easy way to make your way there.
What You Need To Know
Elwood doesn't share St Kilda's problems of dirty water and ranks generally well when it comes to cleanliness. It's an easy 11 kilometres from the CBD.
More information: visit the City Of Port Phillip website to find information about any of the beaches within its 11-kilometre stretch of coast.
Frankston Beach


The Frankston city region is home to 10 kilometres of beautifully pristine beach and coastal habitat. If you come from the other side if town, it's definitely a trek but it's worth keeping an eye on the local what's on guide and time a visit here to coincide with the regular public events at the foreshore, including an annual sand sculpture exhibition (usually on from December 26- April 25 each year.
Even as the weather gest chillier it's still a fantastic beach to take the kids for a stroll along the pier and boardwalk – and you can finish off with a visit to the nearby adventure playground.
What You Need To Know
Frankston is 53 kilometres from the Melbourne CBD.
More information: visit the website.
Hampton Beach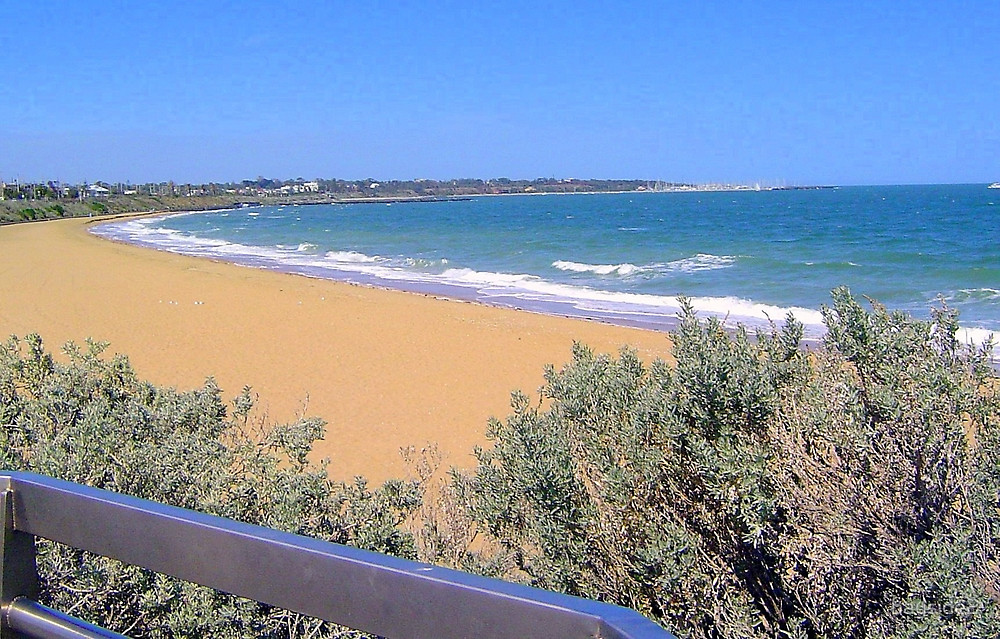 When it comes to family-friendly beaches, it doesn't get much better than Hampton. The suburb itself is a sought-after location for family lifestyle and the beach is a lovely one that regularly ranks as one of the cleanest bay beaches in Melbourne.
The beach itself is a broad stretch of clean, soft sand – but be prepared to mark your territory early in summer, when it's a very popular place to be.
Don't forget to slip, slop, slap – once you arrive here, you'll want to stay all day. Luckily, the local shopping strip is not far to walk or drive – perfect for a fish and chips interlude between some serious swimming and sandcastle-making and the ideal food accompaniment to watching the spectacular sunset.
What You Need To Know
Hampton is 16 kilometres from the Melbourne CBD.
More information: visit the website.
Altona Beach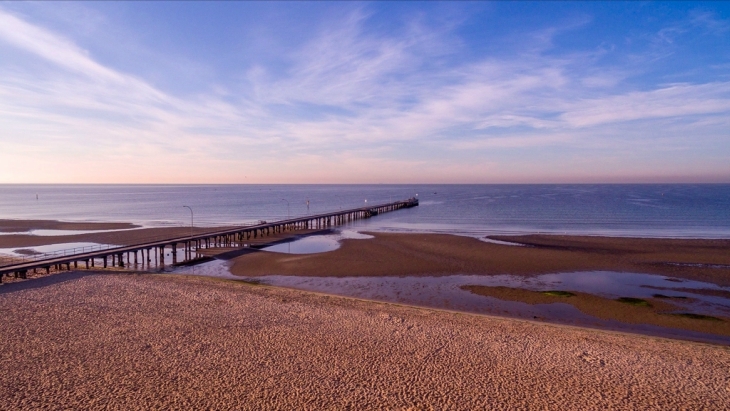 Families in the west of Melbourne love this strip of beautiful beach – one of only two swimming beaches on this side of town (Williamstown is also good). What makes Altona Beach so kid-friendly? The long, heritage-listed pier is a fantastic place to walk and watch local fishing enthusiasts haul in their catch – plus, the generally calm conditions make it a safe swimming beach, even for little ones.
As anyone with little children will know, proximity to both toilets and food is critical for a successful day out. Here, a lawned area sits in between the beach and the shops –with all the favourite ice-cream flavours close at hand, plus some great fish and chips that your kids and the seagulls are sure to love. A playground seals the deal.
What You Need To Know
Altona is 13 kilometres from the Melbourne CBD.
More information: visit the website.