6 of the Best Free Water Play Parks in Melbourne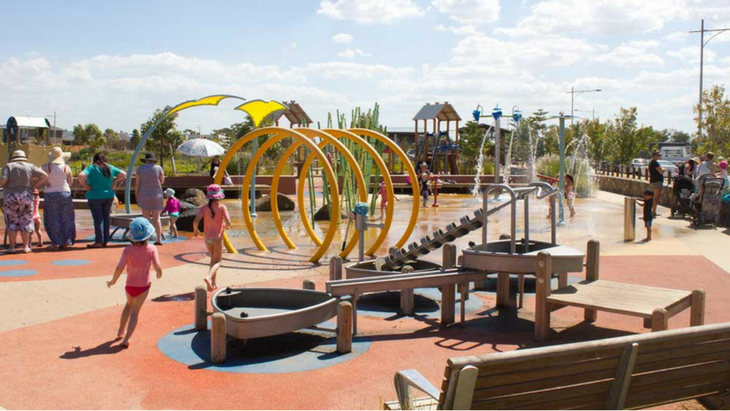 We love a playground where the kids can run around over the warmer months, but then cool down with free water play areas - it's a little bit more exciting than the old sprinkler in the back yard!
It's incredible how many adventure playgrounds have sprung up over the Melbourne area these last couple of years, and they bring with them serious play potential. These are not the water play areas of our youth (was there even a water play area in 80s playgrounds?), these bring the fun and excitement of larger water theme parks to your local neighbourhood - without the price tag attached!
River Walk Village Park Playground, Werribee
One of the new kids on the block as far as playgrounds go is also a hot spot for free water play - the Village Park Playground in the Riverwalk Estate in Werribee absolutely delivers with two splash parks of differing activities.
The main area is a multicoloured wonderland of misty tunnels, water cannons, jets, spouts, taps, pumps, dumping buckets and rivulet play areas.
The smaller area has stone fountains and paved wet area, excellent for babies and smaller kids who would get lost in the chaos of the bigger area.
The water in the main area does shut off after 30 minutes and a 300 jet water cycle, but there are two areas to push a button and activate the sequence again.
What you need to know

Gumbuya World
Okay this one isn't free but we reckon it's worth a mention for being the biggest and best water park in the state! After a massive mutil-million dollar reno, Gumbuya World in Tynong North became an awesome wildlife zoo, thrill-seekers theme park and a water wonderland all in one. In terms of water fun, the kids will love the epic water slides, drifting along the 300 metre Lazy River, or getting deliriously drenched on Typhoon Island. There's also heated rock pools, a wave pool and what all water parks should have - waterside cabanas!
What you need to know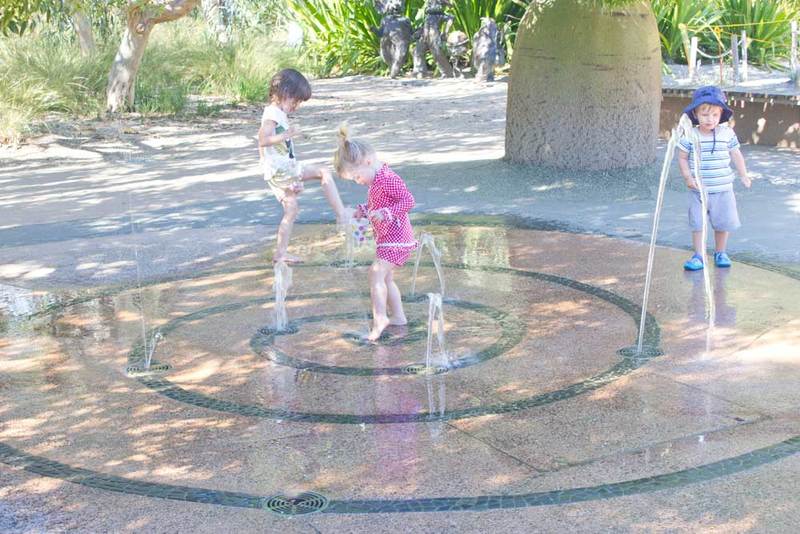 Ian Potter Foundation Children's Garden, Royal Botanic Gardens
It's a rare Melbournian who hasn't taken their little ones here for a splash over our hot summers! It's a great, shady spot under leafy trees, with cute fountains and streams to splash around in. Plenty of spots to set up a picnic blanket (it does get busy though, so keep that in mind), and you can grab a coffee or bite to eat at the nearby Jardin Tan restaurant and kiosk.
Wander over when you're finished and watch the water wildlife on the lake and soak up the cool of the forest before the heat of the rest of the day sets in.
What you need to know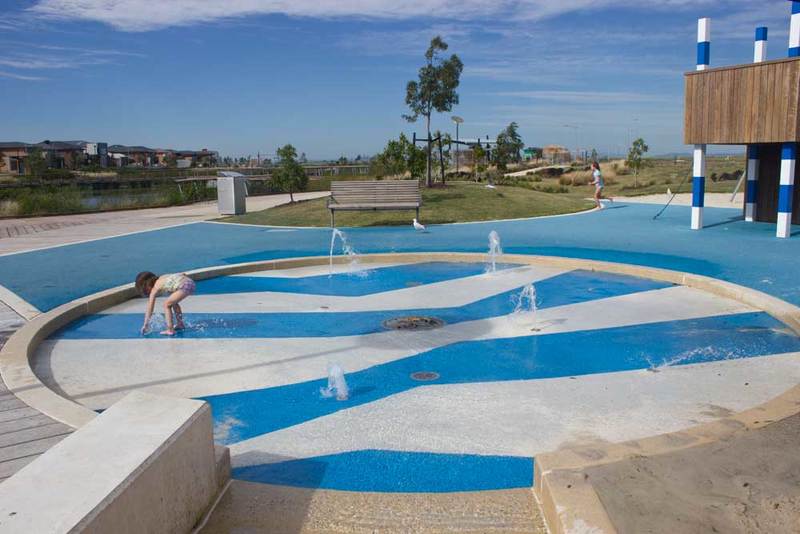 Saltwater Coast Crocodile Park, Point Cook
Crocodile Park inside the new Saltwater Coast estate in Point Cook is has a gorgeous play area based on the Roald Dahl book "The Enormous Crocodile". The book sees a crocodile masquerading as a see saw before gobbling children up, but all you'll find at Saltwater Coast is a bronze and stainless steel version cascading water into a fun (and deep!) play trough below.
It's the end of a 50m long watercourse that weaves through the playground as a stream with stepping stones, raised areas, and plenty of placed to wade before winding up at a large circular area with fun fountains.
The waterplay area is part of a larger playground decked out with a nautical theme, so think rope bridges, fresh blue and white colours, and soft white sand for the kids to play in, and nearby is a real wetland undulating throughout the parkland itself.
What you need to know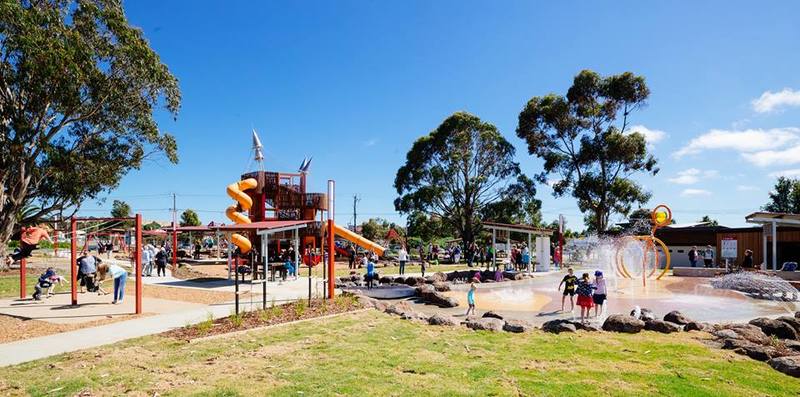 Community Bank Adventure Playground, Wallan
The Community Bank Adventure Playground is a whole lot of fun to begin with, but when the water play kicks in, everything turns up a notch! So many slides, swings, flying foxes, seesaws and fun things to climb, in addtion to the giant fort and sandpit, places to hide, and even a cute red train to pretend to drive.
The water splash area has jets, pumps, troughs along the water channel, aqua drop bucket and misty tunnel, as well as a creek bed for the littles or not-quite-as-adventurous kids. There is plenty of grassland around to properly make a day of it, or just to rest in between getting hit by the contents of that drop bucket! A real family-friendly area, with water play that isn't too full-on.
What you need to know
Woodlea Estate Playground
This free water play area lies in the larger (and amazing) Woodlea Estate Adventure Playground, a massive drawcard for folks across Melbourne since the minute it opened.
In addition to an incredible amount of activities for kids (towers, multicoloured slides, cubbies, swings, skate park, birdsnest swings, native play areas, mini slides, rope bridges... you get the picture!) there is a beautifully-designed splash stream area where children can paddle and cool off among the jets and fountains dotted along the waterway.
There are plenty of barbecues and picnic tables around so take your lunch (and sun protection) and let the kids go nuts.
What you need to know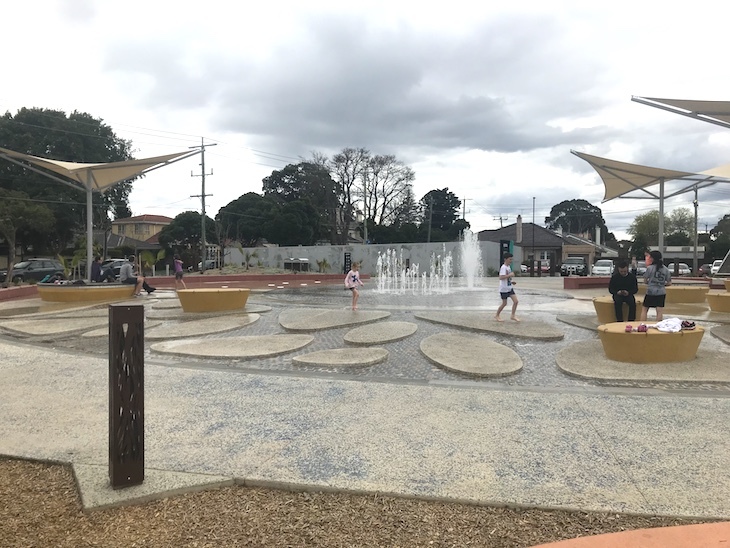 Booran Reserve
Booran Reserve is a wonderful community meeting area, with mini sports fields, massive adventure playground, picnic and barbecue areas, and a sizable water splash area to cool off on hot days.
One of the bigger water play spots, the kids can jump through water fountains and paddle along the cement streams, water spiral and mini sluice gate.
There are toilets, plenty of grassland, and often even ice cream vans and food trucks rock up to service the playground goers, so be prepared to stay for a while! It's almost impossible to get kids to leave once they step foot here!
What you need to know
Have you signed up to our newsletter? Join ellaslist to get the best family and kid-friendly events, venues, classes and things to do NEAR YOU!