Warm up With 6 of the Best Hot Chocolates in Melbourne
If the cold has got you down, cosy up with a cup of something smooth, creamy, chocolatey and hot this winter - we've chosen six of the best hot chocolates from your regular cafe selection all the way to melted coverture goodness.
1. Koko Black
It seems a bit of an obvious choice, but no post about hot chocolates should be without it! Koko Black Hot Chocolates are blended and brewed over two hours to achieve a smooth and velvety texture. Made of a well-balanced combination of cream, 54% dark couverture Belgian chocolate and milk, they are utterly divine.
If you're looking for a delicious spin on an old favourite, try the mocha, chilli, orange, cinnamon, or perhaps hazelnut flavours - each has a different philosophy depending on which qualities the brews evoke: Belgian, on making a new discovery; Mocha, on attaining balance; Chilli, on intense clarity; Cinnamon, on kindness; Orange, on courage; and Hazelnut, on good company.
Get it: at the salons in the CBD, Carlton, Chadstone, Doncaster, Highpoint, Queen Vic Markets, or Royal Aracade.
Image Credit: Koko Black Facebook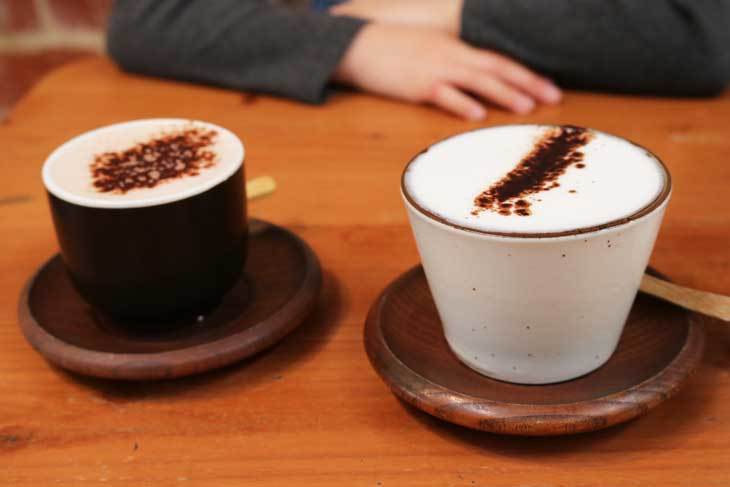 2. Monsieur Truffe
Hidden away in East Elevation on Lygon St in East Brunswick lies Monsieur Truffe, home of some of the most sumptuous hot chocolate Melbourne has ever seen.
The Monsieur Truffe Couveture 70% House Blend is only $5, with a peanut hot choc for $5.50, or a kids' option for $3.50.
If you're looking for pure indulgence, however, check out the special menu with white hot chocolate (shown above), four different types of dark hot chocolate, a chilli hot chocolate, and an utterly delectable salted caramel hot chocolate.
Get it: 351 Lygon St, East Brunswick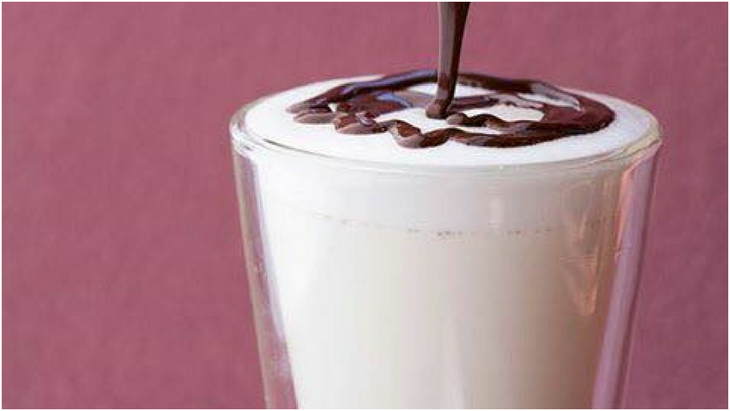 3. Yarra Valley Chocolaterie & Ice Creamery
If you're heading a little ways out of town, add extra time in your schedule to pop into the Yarra Valley Chocolaterie & Ice Creamery, where you will find their Real Hot Chocolate, with your choice of dark, milk, or white couverture pastilles, fresh milk and an extra decadent shot of melted chocolate.
They also come in baby sizes for $1.50!
While you're there, grab a bag of pastilles to make your own decadent hot chocolate at home.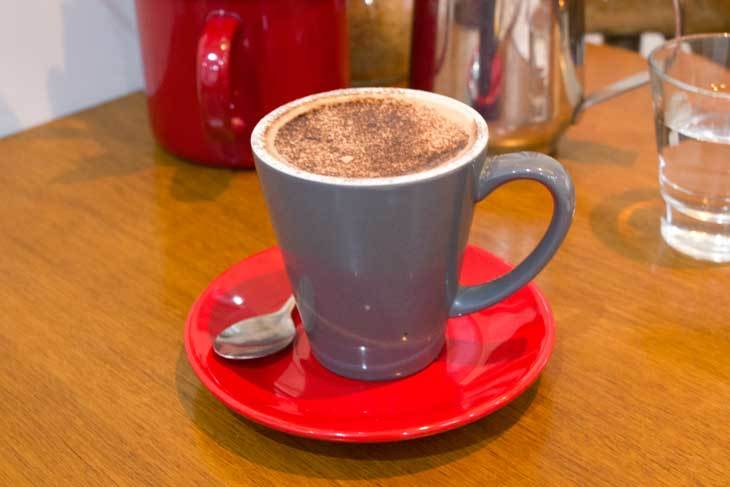 4. Miss Marmalade
If it's a standard straight-off-the-regular-menu hot chocolate on the cards for you, why not check out Miss Marmalade in Brunswick - there's a family room at the back of the cafe with toys and books for the kids to chill and play in, and a very decent frothy hot chocolate to help fortify you for the chilly Melbourne winds outside.
Their Belgian callets are melted with warm creamy milk for their hot choc offering, and a smaller size for tiny tots is $3.50.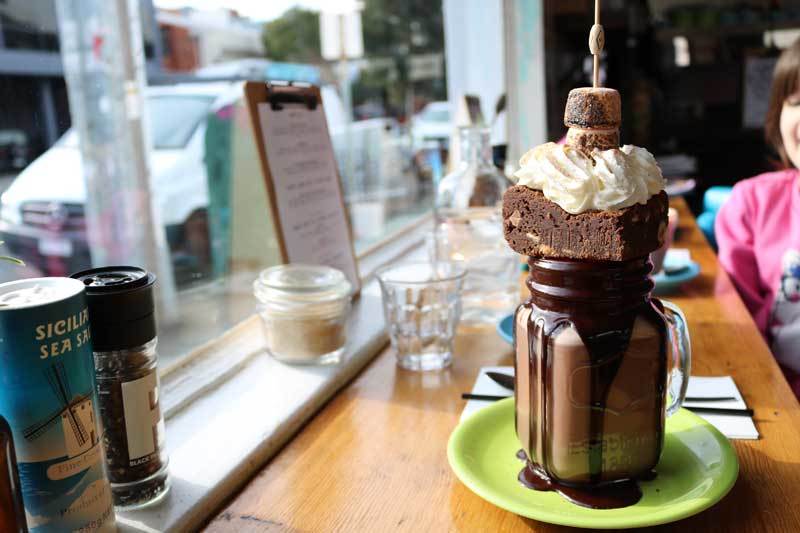 5. Uncle Drew Cafe
Not happy to settle for the ordinary? Why not go full out at with the best hot chocolate we've found so far in Melbourne?
Uncle Drew's Mega Hot Chocolate not only has a rich, creamy hot chocolate, but it is topped with fudge sauce, whipped cream, dense hazelnut and choc brownie and toasted marshmallow, and it is pretty hard to beat!
There's also regular hot chocolates on the menu that are every bit as delicious but not quite as outrageous.
Get it: 23 Groom St, Clifton Hill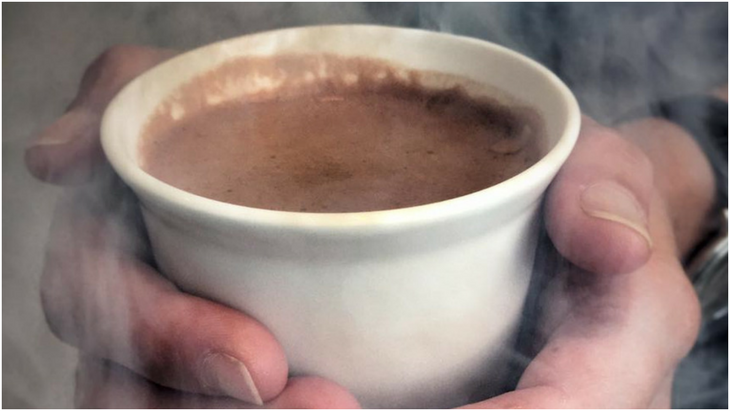 6. Mork Chocolate Brew House
When tons of Melbourne institutions are using Mork for their in-house hot chocolates, why not go to the source?!
Mork's pure hand-crafted chocolate blends is enough to drive any chocolate-lover to their knees, and their super-unusal range of hot chocolates will simply tip you over the edge. Talk about going above and beyond (check out their campfire hot chocolate, for a start), the folk at Mork absolutely take chocolate to another level.
Their house hot chocolates are anywhere from 50% to 85% cocoa, the mini chocolate for kids is $4, and their specialty options include chocolate infused with honey and chilli, breakfast hot chocolate with oats, the aforementioned campfire hot chocolate resplendent with beechwood smoke and marshmallow, malted hot chocolate, and a layered situation that merges chocolate with aerated warm custard with kaffir lime and vanilla pod.
Dairy-free? Mork has got you covered with four different water-based chocolate drink options, which all sound just as indulgent as their milky counterparts.
Get it: 150 Errol St North Melbourne
Other Sweet Treats In Melbourne
Best Chocolate Cafes In Melbourne
Is This the Best Hot Chocolate In Melbourne?
Where To Get the Best Cupcakes In Melbourne
Have you signed up to our newsletter? Join ellaslist to get the best family and kid-friendly events, venues, classes and things to do NEAR YOU!