Sydney's Best Free Water Play Parks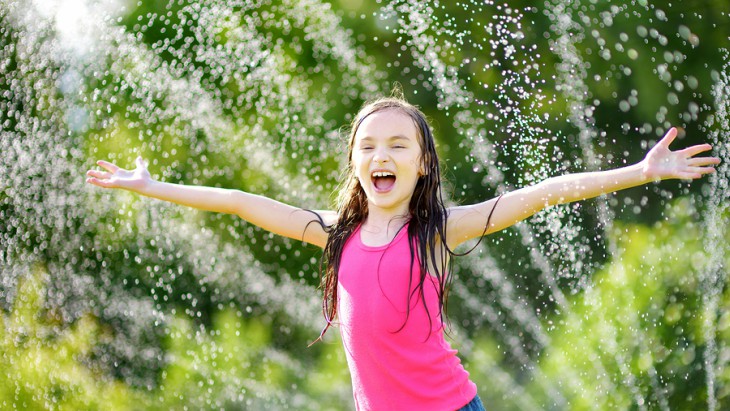 When the mercury's rising, sometimes, a regular adventure playground just won't cut it for a family day out. Not enough shade and Ouch! Metal slides! just can't compete with the splash-tastic fun that a water play park offers.
Tipping buckets, fantastic fountains and powerful jets are sure to cool down your little ones this Summer, so head to one of our top picks in Sydney. The best part? They're all FREE!
Top Tip: Pack as if you were going to the beach. Make sure you bring a hat and sunscreen, a spare change of clothes, maybe some waterproof sandals and a towel. Water guns will make for some extra wet fun.
Please note: Due to level 2 water restrictions some of the City of Sydney water play parks will be turned off. Please check with the council before you arrive.
Darling Quarter Playground
SO much dry and wet fun to be had. As well as a flying fox, balance ropes, swings, an extra wide slide for side-by-side racing, a giant swing ring, sand diggers and an octanet, there is a pump station and 26 water jets that create an exciting array of water patterns to cool down with. Read our review here.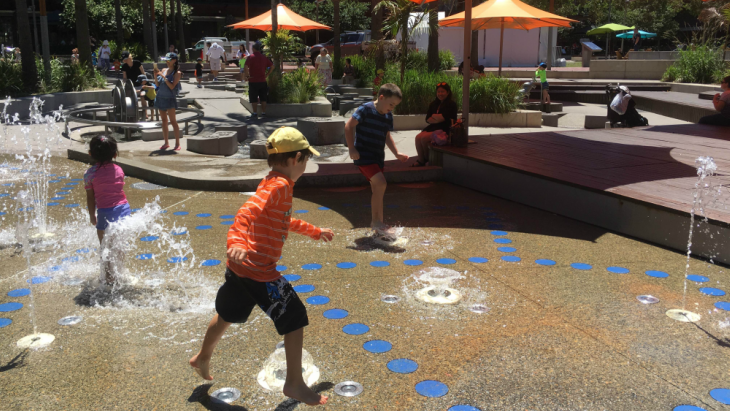 Blaxland Riverside Park, Sydney Olympic Park
This playground really is a sight for sore eyes- it will feel like you've entered a Teletubbies world! Boasting green and purple hills made of astroturf with tunnels and slides cut into them, a massive spinning dish, a Viking swing and a double flying fox, children have MORE than enough equipment to entertain them. The highlight of this park during the Summer is no doubt the massive flat area surrounded by raised slopes of astroturf, where from 10am-4pm during the warm months the various jets randomly spurt water sky-high, creating an exciting water play experience. Read the review here.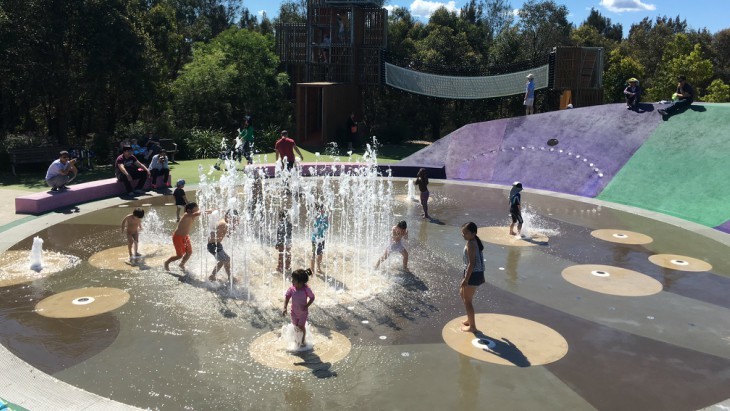 James Ruse Reserve Water Playground, Parramatta
A local family favourite on Summer days and evenings- you'll often find groups here letting their kids cool down and burn off that pre-bedtime energy! There are mini water fountains for little ones, as well as tipping buckets and large cascading water features for bigger kids. Toddlers will also enjoy wading in the shallow water that accumulates before it is drained away. The water turns on from 9am-8pm from September-May. Read the review here.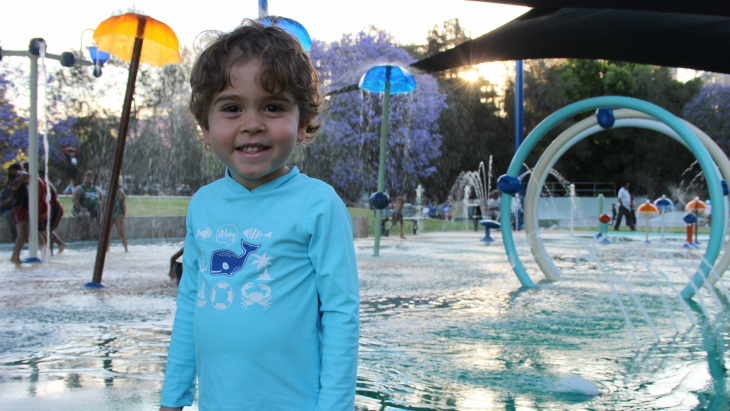 Philip Ruddock Water Playground
Set in the hillside at Dundas Park, this is the perfect family spot to spend a warm day. Here you'll find fountains, water jets and the most popular- tipping buckets! There are rings spraying water to run through, water projecting from tall flower-shaped sculptures, shade sails, and a dry playground nearby. Read the review here.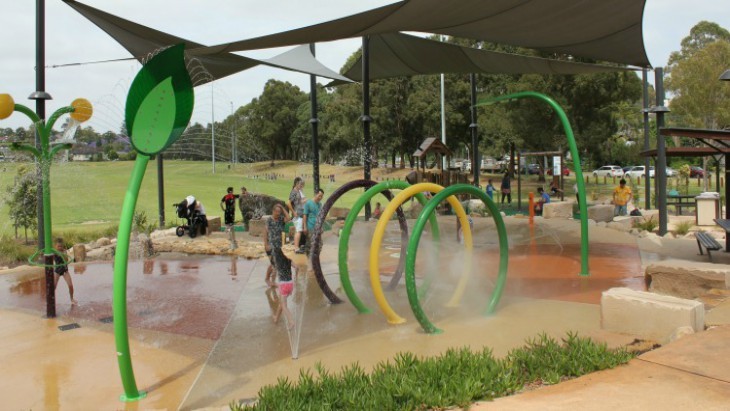 Granville Water Park
Here there are three distinct areas in the water playground- one with water cannons for safe water fights, one for bigger kids with large tipping buckets that get you totally soaked, and a junior area with mini fountains set at toddler height. There are also rings that spray water that kids can run through, and a nearby small dry playground and skate park. Read the review here.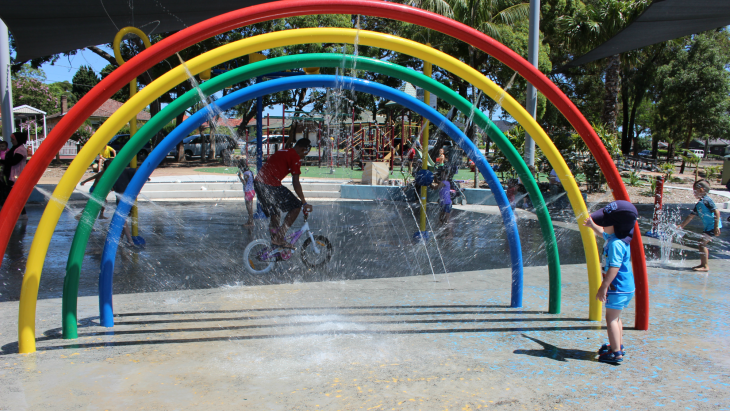 Steel Park, Marrickville
Perfect for toddlers who want a gentle splash around on a hot day! The simple push of a button (that needs to be reactivated every 10 minutes to conserve water) will send fountains, jets and sprinklers bubbling to life. There are mini creeks that fill with water to walk through and a great dry playground nearby. Read the review here.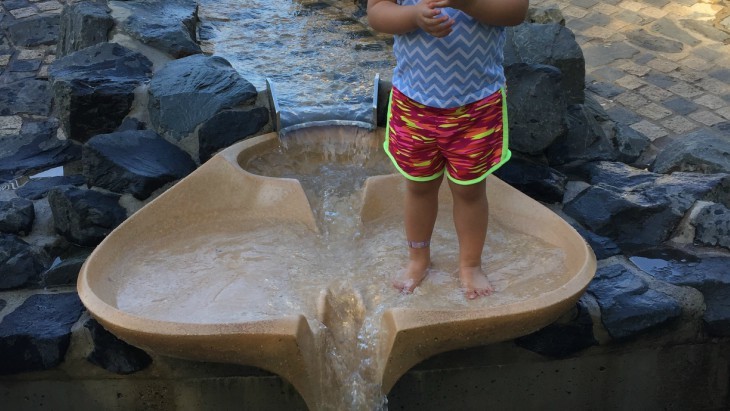 Putney Park, Ryde
The free water-play area at this awesome playground is great for splashing around and cooling off. Plus, it has the biggest super slide we have ever seen at a playground! Read our review here.