Western Sydney's Best Playgrounds: 30 to Try in 2023
Western Sydney❜s Best Playgrounds: 30 to Try in 2023
Mums & Bubs
Toddlers
Preschoolers
Kids
Teens
Family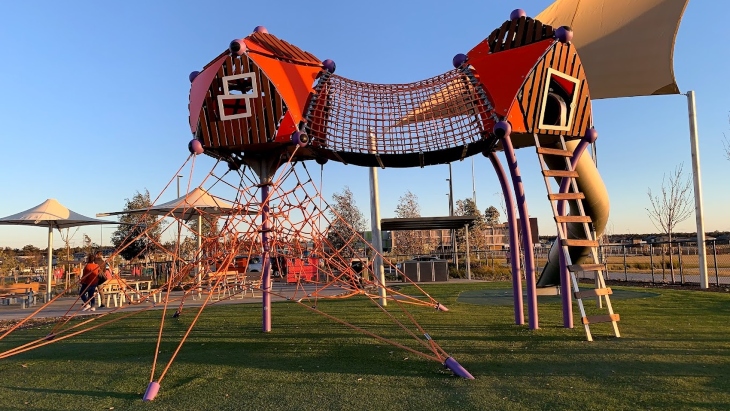 With so much sun on offer in the Western suburbs, it's no wonder kids just love getting outside and exploring their world. And one of the best ways for kids to explore the world around them is through play. Luckily for them, Western Sydney's best playgrounds offer exhilarating outdoor play spaces.
Whether you're swinging on a mega-swing, scaling towering play structures, or exploring nature-themed wonderlands, our list of 30 of Western Sydney's best playgrounds offers unforgettable adventures for families. Happy exploring!
The Best Playgrounds in Western Sydney: 30 to Try in 2023
1. Bungarribee Park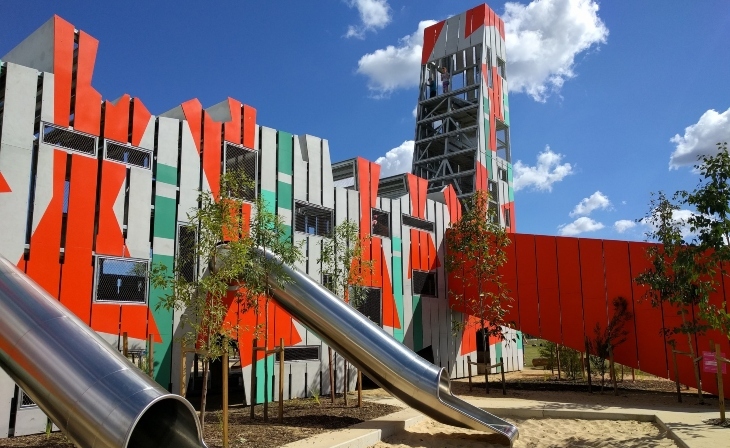 Our first stop takes us to the expansive Bungarribee Park.
This nature-themed wonderland is nestled in the iconic Western Sydney Parklands and boasts towering slides, climbing frames, and a flying fox. Don't forget to explore the water play area, cycling paths, and picnic spots amidst the lush greenery.
Location: 12 Wirraga Street, Bungarribee
2. Casula Parklands

Casula Parklands is one of Western Sydney's best playgrounds for good reason.
The fabulous offerings at Casula Parklands cater to big and little kids, with slides, a mini rock climbing wall, tunnels and a ropes course for the little ones, and the eight-metre-long Sky Walk, climbing tower, huge tunnel slide, swings and merry-go-round for the older ones. Plus, the ninja warrior theme is always a big hit with little ninja warriors in training!
Location: Powerhouse Rd, Casula
3. Livvi's Place Elara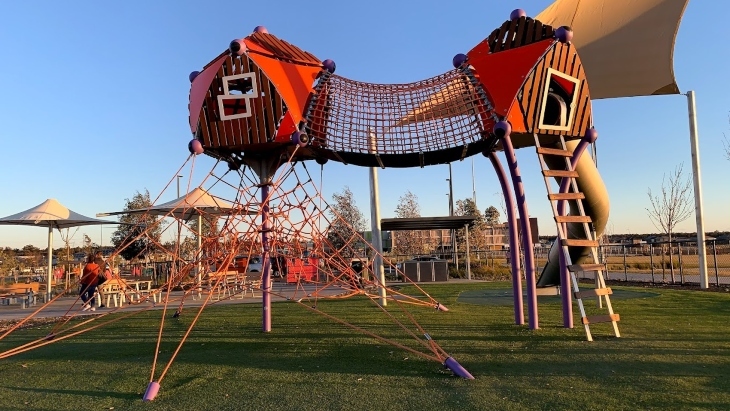 The playground at Livvi's Place Elara is a true haven for children of all abilities. Designed with inclusivity in mind, this playspace goes above and beyond to ensure that every child can play and have fun without limitations. From accessible swings and slides to sensory play elements and interactive features, Livvi's Place Elara caters to children with diverse needs.
The playground's vibrant colours, soft surfaces, and imaginative structures create a whimsical atmosphere that sparks creativity and encourages exploration. The kids won't be able to get enough of the water play zone, flying fox, slides, swings, climbing nets, carousel, fun glider, and trampoline loop.
Location: Marsden Park at the Stockland Elara Estate
4. Fairfield Adventure Park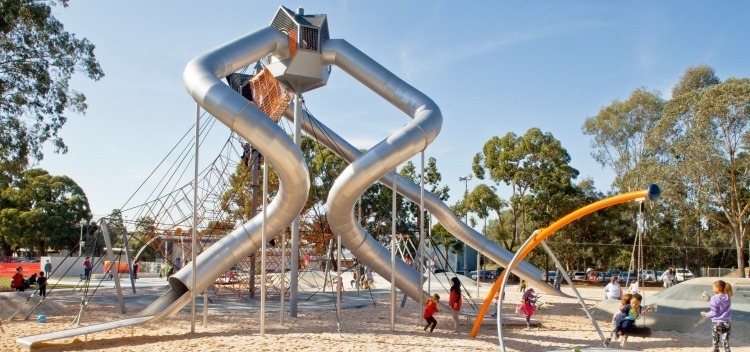 Next up on our list of Western Sydney's best playgrounds is the exhilarating Fairfield Adventure Park.
Even if you've never visited Fairfield Adventure Park, chances are you've heard of the mega and iconic 11-metre climbing frame! If you can drag the kids away from the mega climbing frame, there are plenty more attractions for them to check out, including three enormous slides, four flying foxes, sandpits and diggers, a foosball table, an obstacle course and more. Plus, there are BBQs, picnic shelters, a kiosk (seasonal), and even a visiting ice cream van (seasonal) to keep the whole family happy.
Location: Vine Street, Fairfield
5. Tench Reserve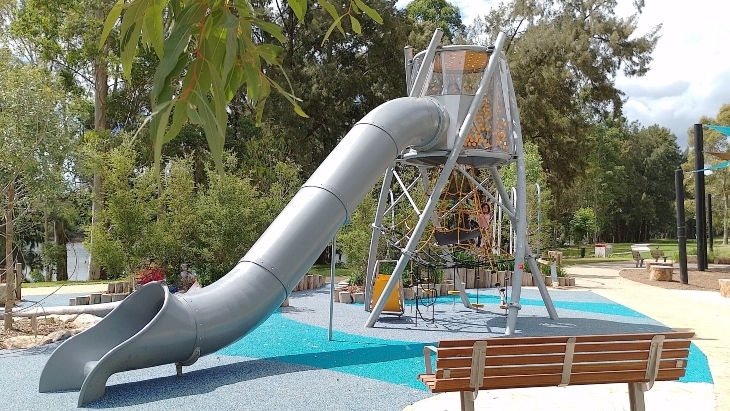 Tench Reserve in Jamistown has undergone a major refurbishment and is better than ever!
The new playground is part of the revitalisation of Tench Reserve and offers plenty of opportunities for outdoor play, including a mega tubular slide, additional slides, a rock climbing wall, four different swings, trampolines, and a fun water play zone with tipping buckets. Shade, barbecue facilities and the views of the picturesque Neapean River make for a relaxing day out with the family.
Location: Tench Road, Jamisontown

6. Variety Livvi's Place, Glenfield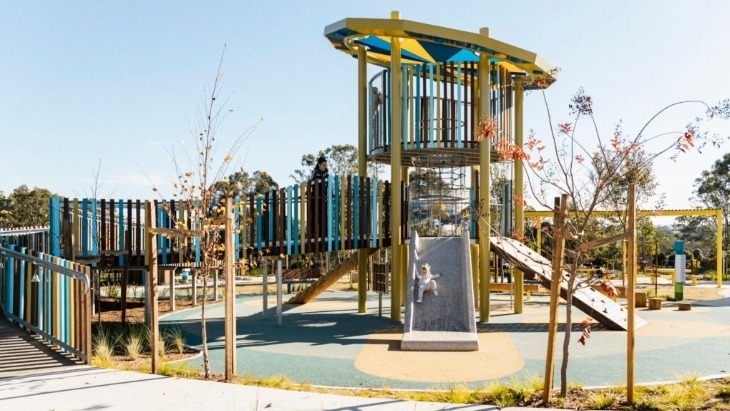 Livvi's Place Glenfield is a haven for kids to let their imaginations soar!
The fully accessible playground features sensory play areas, inclusive swings, musical instruments, an inclusive merry-go-round and more. Variety Livvi's Place Glenfield won the 2021 Playground Design and Development Award at the Australian Sport, Recreation and Play Innovation Awards for "Designs and developments that allow and encourage more children to play, have fun and be active."
Location: 22 Bougainville Rd, Glenfield
7. Lizard Log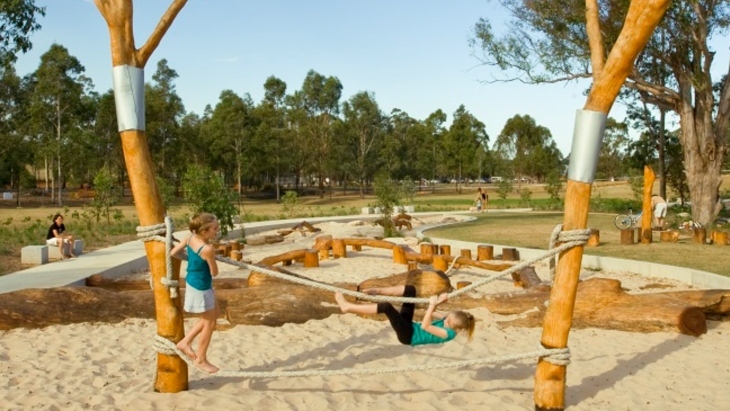 The outdoor playspace at Lizard Log is a true adventure-filled paradise for children and families.
Nestled amidst the natural beauty of the parklands, Lizard Log is a huge hit with nature lovers. The playground's unique design incorporates nature-inspired elements, encouraging children to connect with the environment and indulge in imaginative play. Plus, there are towering climbing frames, thrilling slides, expansive sandpits with diggers, interactive water play areas, flying foxes, a nest swing, and not to mention plenty of open space to run and explore!
For more, read our Lizard Log Review.
Location: The Horsley Dr and Cowpasture Rd, Abbotsbury
8. Blaxland Riverside Park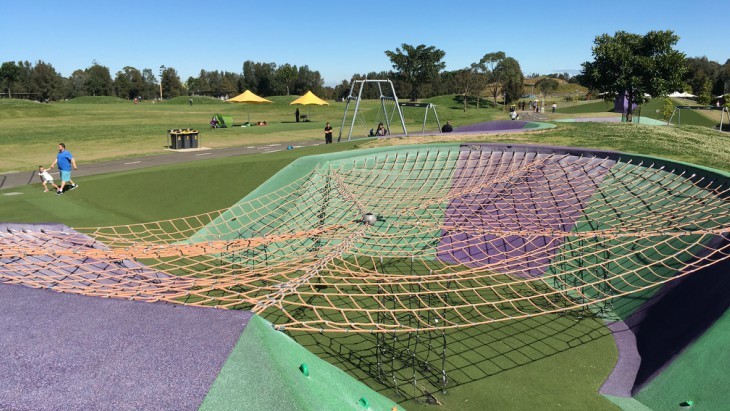 Prepare to be amazed by Blaxland Riverside Park's expansive play zones. From the mega-swing to the climbing net tower, there's something for every thrill-seeker.
Make sure you explore the riverside walking tracks to soak up the stunning views of the Parramatta River.
Location: Location: Jamieson St, Sydney Olympic Park
9. Nurragingy Reserve Playspace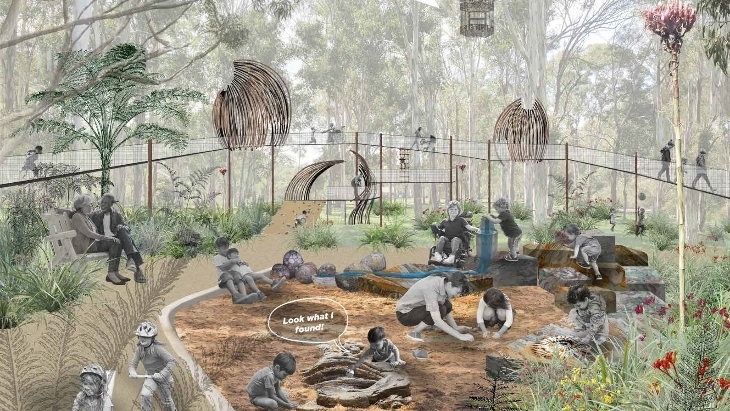 There's a brand-new playspace at Nurragingy Reserve is a must-visit of Western Sydney's best playgrounds.
Blacktown City Council partnered with Variety Children's Charity to bring the first citywide inclusive playspace to Western Sydney, aka the Nurragingy Reserve Playspace. Designed with inclusivity in mind and highlighting the stunning natural bushland of Nurragingy Reserve, the new playspace has bike tracks, climbing structures, swings, trampolines, seesaws and more, all of which can be viewed from the new customised elevated walkway - impressive!
Location: Knox Road, Doonside
10. Koonoona Park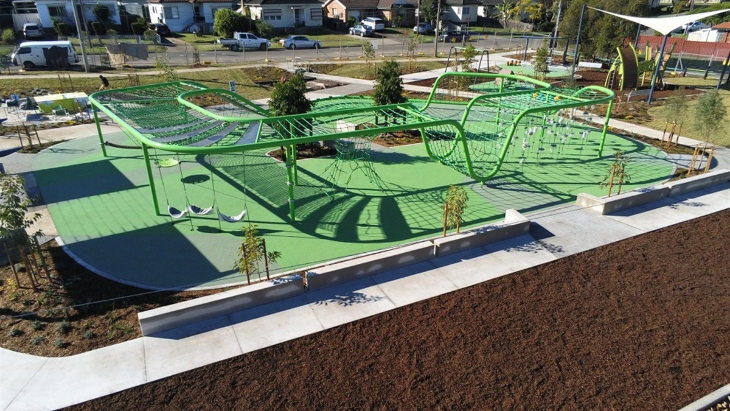 If you're visiting Koonoona Park with kids, they're in for a treat!
Another super-cool ninja warrior-style playspace to try, Koonoona Park playground will have the kids climbing, jumping, and stretching their muscles for hours. With swings and slides, climbing frames, sandpits and more, kids of all ages will have a blast at Koonoona.
For fitness enthusiasts, Koonoona Park also boasts fitness stations equipped with various exercise equipment, providing a chance to work up a sweat while enjoying the natural surroundings.
Location: 1 Karella Ave, Villawood
11. Parramatta River Foreshore Playground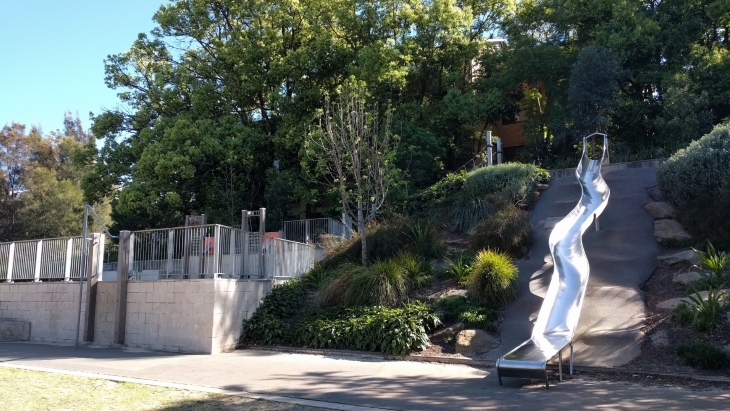 Overlooking the picturesque Parramatta River, the River Foreshore Playground is a favourite for Sydney families.
Let your little ones explore the sprawling play equipment, slides, and swings. The riverside location provides a stunning backdrop for picnics and leisurely strolls.
Location: 1 Elizabeth St, Parramatta
12. Piddington Street Playground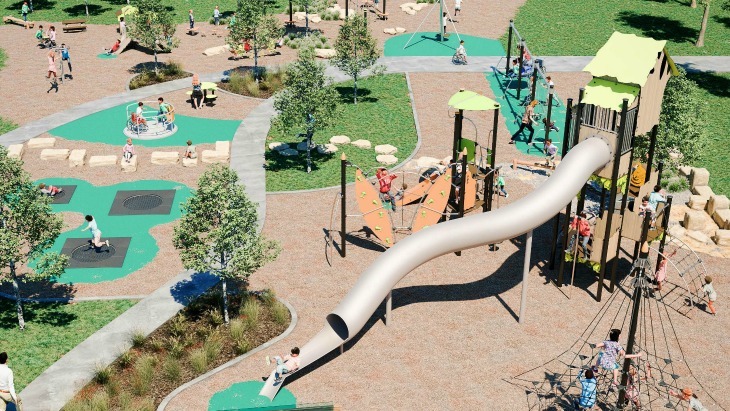 Piddington Street Playground in The Ponds is a delightful haven for children and families seeking outdoor fun and adventure.
Although not as big as some of the other Western Sydney playgrounds, Piddington Street is still a charming playspace with a range of engaging features and play equipment, including colourful climbing structures, slides, swings and spinning equipment. We also love the playground's spacious design allowing for plenty of free exploration and imaginative play. With soft rubber surfaces and shaded areas, safety and comfort are top priorities.
Location: Piddington St, The Ponds
13. Willowdale Adventure Park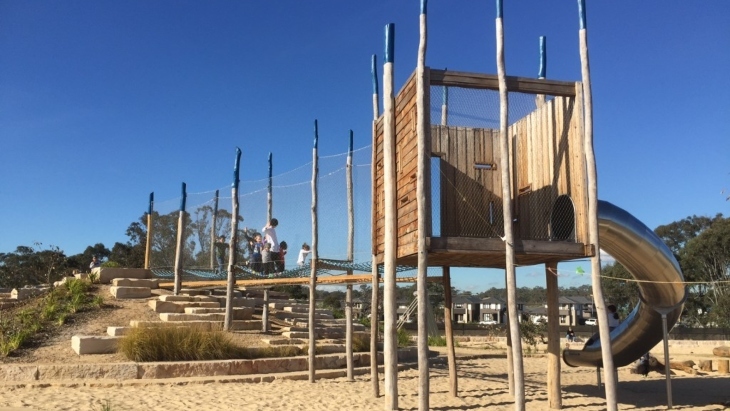 With two 40-metre flying foxes on offer, Willowdale Adventure Park certainly is adventurous!
Natural play elements are highlighted at Willowdale Adventure Park with timber logs, a bespoke timber cubby house, a rope bridge, swings, slides, water play, an impressive bicycle and scooter challenge, plus loads of open space for sports and other outdoor adventures.
Location: Jamboree & Baden Powell Ave, Denham Court
14. James Ruse Reserve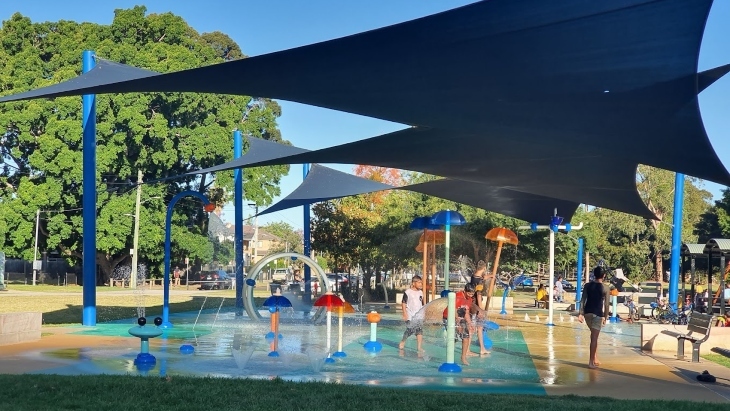 James Ruse Reserve is a gem in the west for all water lovers!
Nestled within the picturesque James Ruse Reserve, the water playground is an oasis for families during the summer months when the water features really come alive. Open from September to May, the water park is simply splashtastic with water fountains, jets, sprinklers, tipping buckets, shade cloths and non-slip surfaces for extra safety.
During the winter months, the dry playspace is also a fantastic spot to visit with rope climbing structures, slides, swings, rockers and more. Skater boys and girls can also make use of the nearby skate park.
Location: Hassall St, Parramatta
15. Bigge Park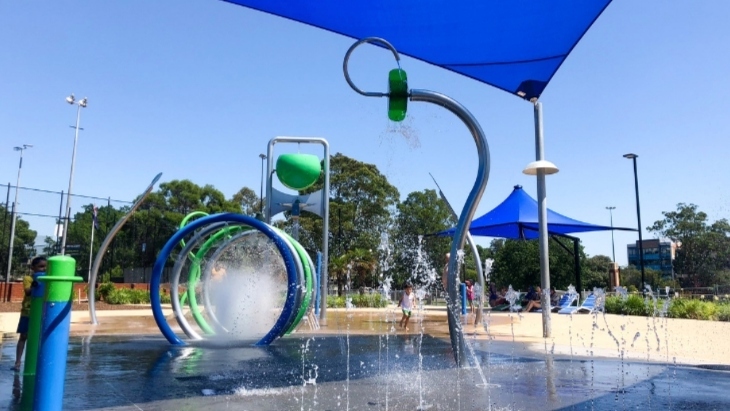 And speaking of awesome water playgrounds in Western Sydney, have you checked out Bigge Park in Liverpool?
The free water play park underwent a multi-million-dollar renovation a few years ago and is now one of the most popular spots to take the kids on a hot summer's day. The water play zones are all under cover and offer tipping buckets, overhead showers, water guns, and spritzers, all pumping fresh recycled water.
There are two smaller playspaces nearby if the kids have any more energy after all that splashing!
Location: 124 Bigge St, Liverpool
16. Governor Phillip Park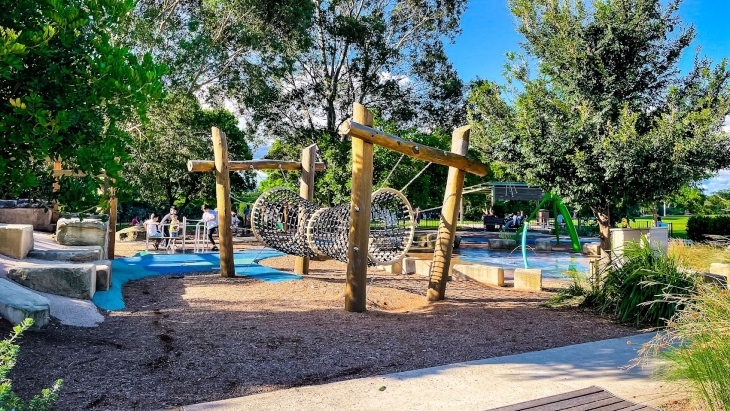 If you're looking for fenced playgrounds in the West, look no further than Governor Phillip Park.
From slides, merry-go-rounds, a bird's nest swing, a one-of-a-kind fishnet tunnel and in-built trampolines, giant chimes, a blackboard, water play features, soft play area and more, what's not to love about Governor Phillip Park?!
Location: George St, Windsor
17. Lakes Edge Park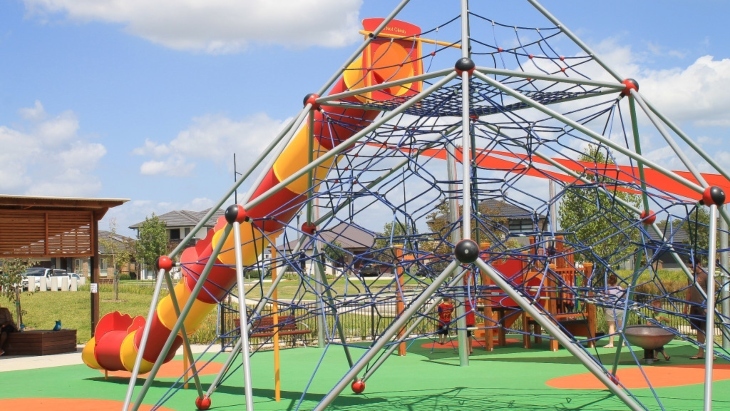 As the name suggests, Lakes Edge Park is nestled by the picturesque Ironbark Lake in The Ponds.
The brightly-coloured playspace isn't hard to miss and will certainly attract the kiddos with its BIG features, including a big climbing net, big slide, and big bird's nest swing!
Location: Camomile Street, The Ponds
18. Domain Creek
For playtime adventures in Parramatta Park, you can't go past Domain Creek .
Located on the Westmead side of Parramatta Park opposite the Queens Road Gatehouse, the large, nature-based playspace is a popular destination for families with children of all ages and abilities. Kids can get busy on the flying fox, slides, swings, trampolines, water pump, sand diggers and more. There is also plenty of open space for running around and exploring, enjoying a family picnic or a bit of exercise.
Location: Park Ave & Park Pde, Westmead
19. Linear Park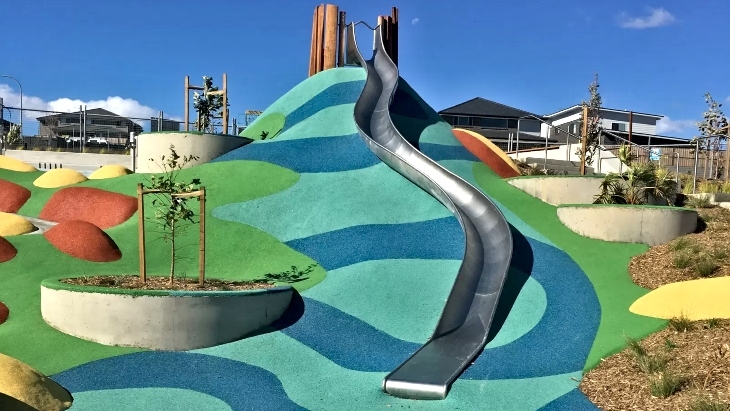 Linear Park is a superbly colourful playspace in the heart of Mulgoa Sanctuary. With slides, swings, climbing structures, and even a water play area, the kids will be occupied for hours.
The beautiful bushland setting is also the perfect spot to explore the native wildlife after the kids have tired themselves at the playground. There are also plenty of picnic tables, so you can pack a lunch and enjoy a relaxing afternoon in the park.
Location: 169 Bradley St, Glenmore Park
20. Livvi's Place, Yamble Reserve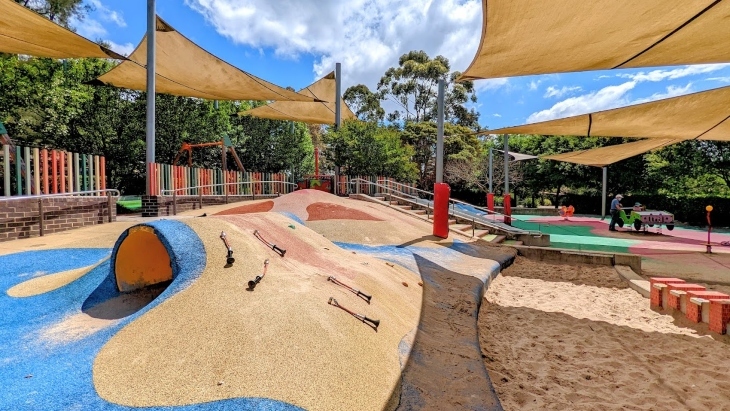 Another Livvi's Place gem awaits in Ryde at Livvi's Place, Yamble Reserve.
Let your kids' creativity thrive in this engaging environment designed for children of all abilities. There's something for everyone, from the big flying fox to the sandpit to the musical play area. And with plenty of shade sails and picnic tables, you can relax and enjoy the day while your kids play.
Location: 194 Quarry Rd, Ryde
21. Howard Park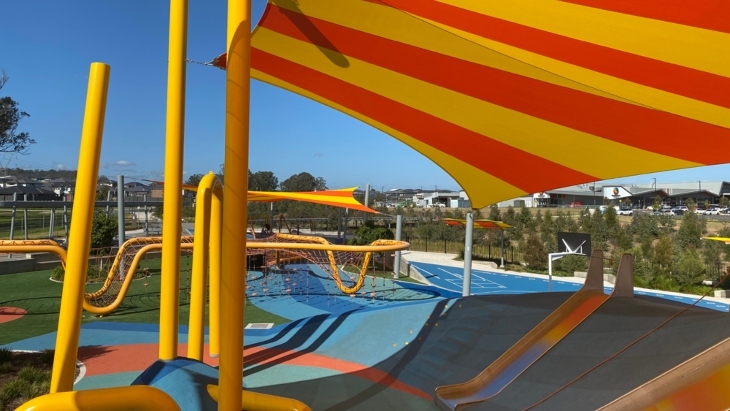 Another super colourful and super popular playground, Howard Park in Gregory Hills delights active kids keen to unleash their inner ninja warrior.
The sprawling park is one of the biggest in the West and offers up some serious ninja-warrior vibes with loads of climbing opportunities. Howard Park caters to big and little kids with slides, climbing walls, climbing nets, sandpits, a basketball half-court, outdoor ping pong tables, and more.
Location: Gregory Hills Drive and Village Circuit, Gregory Hills
22. Altrove Hilltop Park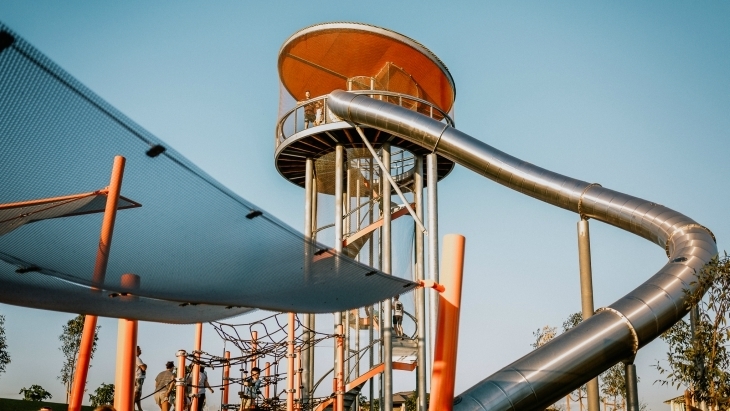 Big and little kids are catered for at the bright and colourful Altrove Hilltop Park in Schofields.
The kids will immediately be drawn to the focal point of the playground - the super-cool 30-metre tower and slide. If they can pry themselves away, there is loads more to explore at Altrove Hilltop, including table tennis, swings, basketball, climbing nets, a flying fox, and a toddler play area, plus there are toilets and barbecue facilities to keep everyone happy.
Location: Hoy St, Schofields
23. Holroyd Gardens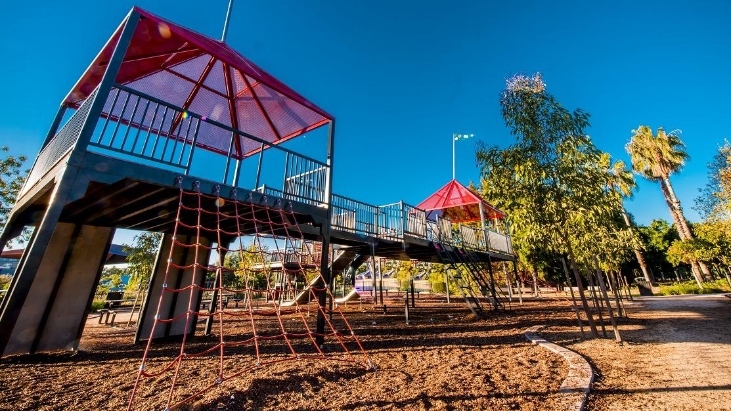 If you're looking for a beautiful day out in nature with the added benefit of a playground pitstop, we highly recommend checking out Holroyd Gardens in Merrylands.
Holroyd Gardens Nature Reserve is a beautiful parkland in the heart of Merrylands, offering rolling lawns, bike tracks, walking trails, a duck pond, and adventure playgrounds. There are three playgrounds in total at Holroyd Gardens, with the main adventure one catering to older kids with huge forts, epic slides, rope bridges, a flying fox, a bird's nest swing, and a giant cubby house. The two smaller playgrounds nearby are more suited to the under 6s.
Location: Walpole St, Merrylands
24. Deerbush Park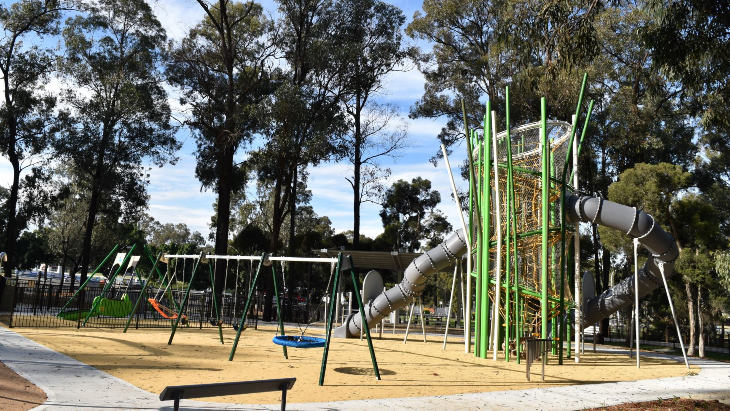 Deerbush Park opened in 2021 and is Fairfield's first all-abilities playground.
Kids of all ages and abilities can come along and relish in the beautiful outdoor setting of Deerbush Park, complete with a Liberty Swing, wheelchair-accessible carousel, ground-level trampoline, climbing ropes and net course, a flying fox, learn-to-ride paths, sand diggers, and voice tubes, plus, there's a refreshing water play section of the playground with 13 unique above-ground squirters and numerous ground-level bubblers!
Location: Deerbush Park, Prairiewood
25. Bernie Mullane Reserve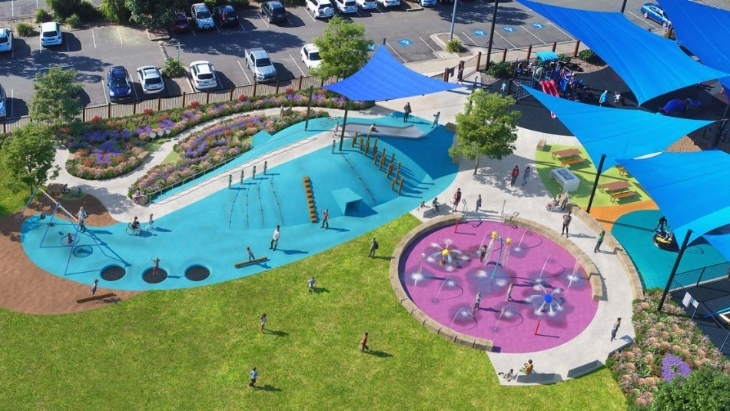 If, like us, you can't get enough of all the awesome Livvi's Place playgrounds in Western Sydney, then you're going to love Bernie Mullane Reserve.
The all-abilities playground at Bernie Mullane Reserve superbly caters to all kids with loads on offer, including trampolines, swings, slides, merry-go-rounds, climbing gyms, musical instruments, tunnels, sandpits, grassed areas, and a refreshing water play zone.
Location: 10 Marella Ave, Kellyville
26. Strathfield Park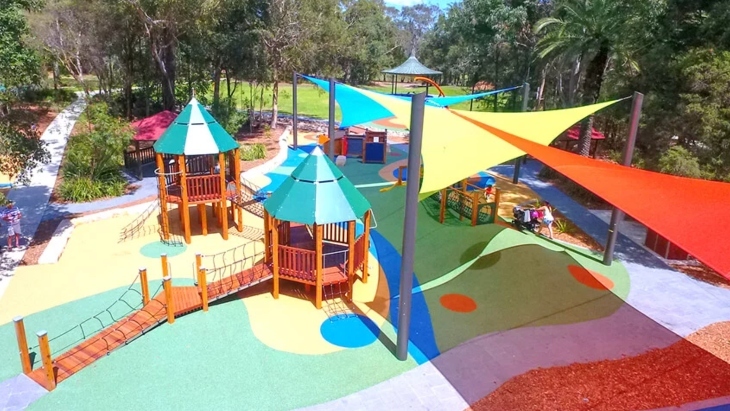 There are so many things to love about Strathfield Park, not least of which is how bright and colourful it is!
Strathfield Park is one of the oldest parks in Strathfield and keeps visitors (especially the kids!) entertained year-round with barbecue facilities, bike tracks, playing fields, a rotunda, and, of course, epic playgrounds! The kids will be entertained for hours in the mega play tower towards the back of the playground with its impressive stripey, loopy slides. There are also rope challenges, flying foxes, more climbing towers, swings, toddlers' attractions, musical instruments, a merry-go-round, a bird's nest swing and plenty more to add to the appeal of Strathfield Park.
Location: Chalmers and Homebush Rd, Strathfield
27. Riverside Park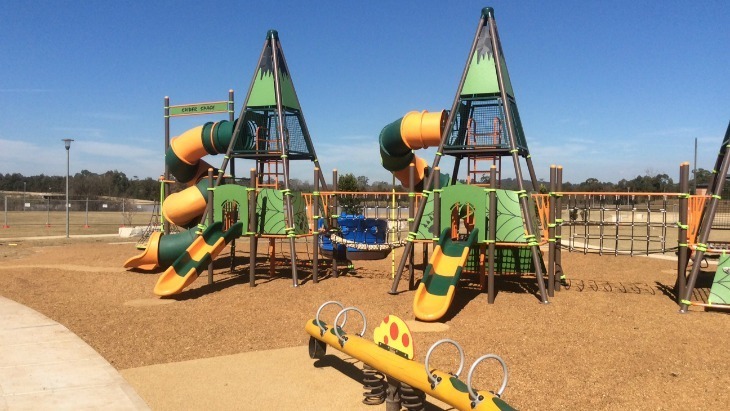 Riverside Park in Spring Farm is loads of fun for kids, especially those who love to climb.
As one of the biggest playgrounds in Camden, Riverside Park doesn't skimp when it comes to play features. Let the kids lose themselves in hours of imaginative play on the park's epic features, including huge climbing structures, swirly slides, swings, merry-go-rounds, a flying fox, scooter tracks and more.
Location: Burrell Rd, Spring Farm
28. Ollie Webb Reserve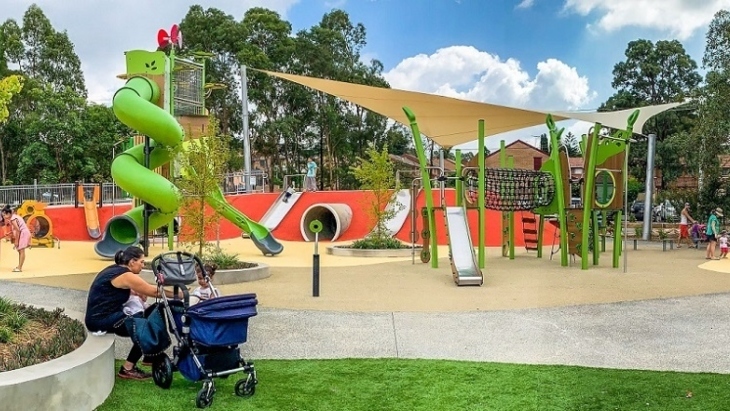 We love Ollie Webb Reserve in Parramatta on a sunny day in Sydney, and we know you will too!
The cute and colourful playground on Glebe Street attracts kids with its cool spiral slides and keeps them occupied for hours with its other features, including trampolines, musical instruments, a water play zone, a sandpit, swings, and more.
Location: 37a Glebe St, Parramatta
29. Francis Park
Located in the Blacktown Showground Precinct, Francis Park is the destination for active kids if you're out and about in Blacktown.
With three play areas to choose from, including epic water play zones (open during summer), Francis Park is playground heaven.
Location: 49 Richmond Rd, Blacktown
30. John Wearn Reserve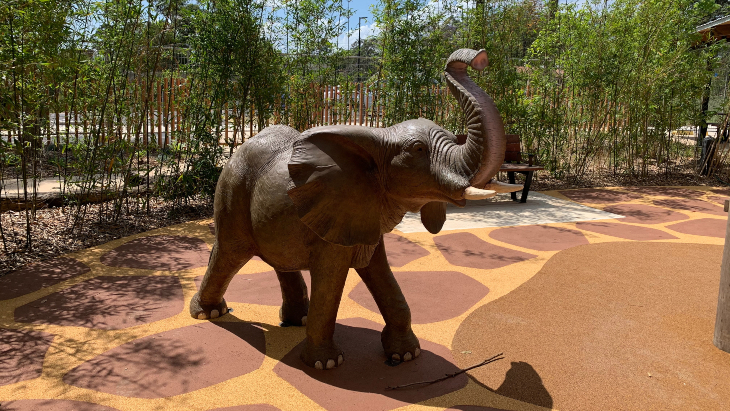 Let the kids feel like they're touring the bushveld at Sydney's favourite safari playground.
John Wearn Reserve, aka the Safari Playground, was transformed back in 2021 and now features loads of cool safari-style embellishments, including animal figurines (they roar!), a sturdy timber tower with a slide, swings, an intriguing bamboo tunnel, stepping logs, a teepee, and climbing ropes. There's also a new skate park in the middle of the reserve, plus barbecue facilities, a dog park, picnic shelters, and loads of green spaces.
Location: 21z Farnell Ave, Carlingford
More Things to do in Western Sydney
Parramatta River: 10 Must-see Attractions
A Brand-new Parramatta Aquatic Centre is on its Way
10 Awesome Things to do in Penrith