Parramatta River: 10 Must-Visit Attractions
Parramatta River: 10 Must-Visit Attractions
Mums & Bubs
Toddlers
Preschoolers
Kids
Teens
Family
All Ages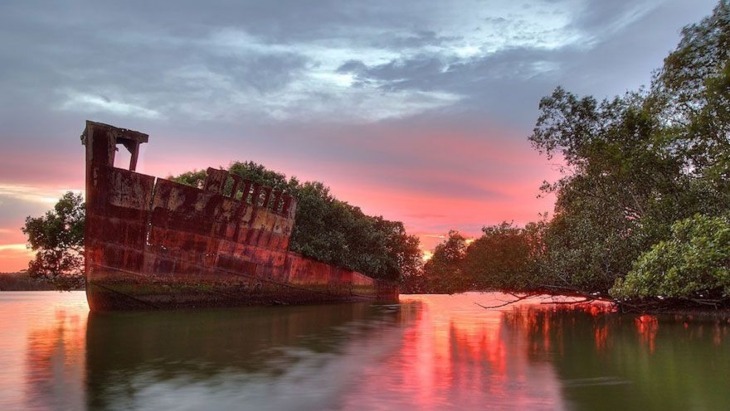 Parramatta River is the beating heart of the vibrant city that surrounds it, offering a plethora of attractions and activities for locals and tourists alike.

Whether you're a nature lover, history buff, or an avid foodie, there's something for everyone to enjoy along Parramatta River's picturesque foreshore.

Looking for the best things to see and do in this beautiful part of Western Sydney? Let's explore 10 must-visit attractions along Parramatta River, showcasing the best that this charming waterway has to offer.
Parramatta River: 10 Must-Visit Attractions
1. Discover the Rich History at Parramatta Park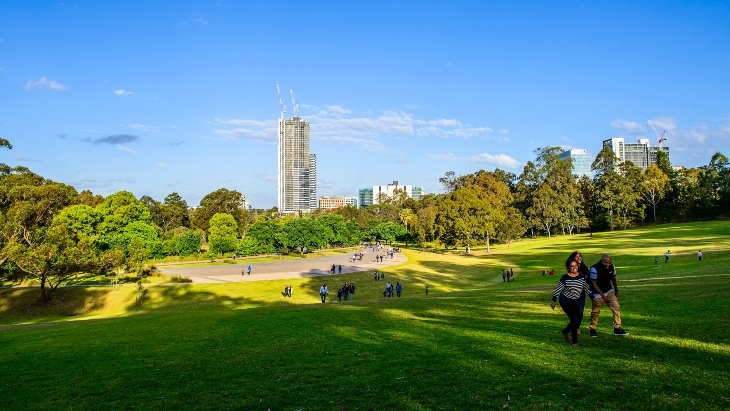 Parramatta Park is a sprawling 85-hectare green space that is steeped in history and serves as a perfect starting point for your Parramatta River adventure. Here are some key attractions to explore within the park:
Old Government House
As Australia's oldest surviving public building, Old Government House is a must-visit for history enthusiasts. This UNESCO World Heritage site dates back to 1799 and offers guided tours showcasing its rich history and colonial architecture.
The Dairy Precinct
Another historical gem within Parramatta Park, the Dairy Precinct comprises two colonial-era buildings: the Dairy Cottage and the Rangers Cottage. Explore the area to learn about the early Australian dairy industry and the lives of the people who lived and worked here.
Picnic and Play
Parramatta Park is the perfect destination for families to picnic and play! With loads of green open spaces, walkways, picnic facilities, and playgrounds, the whole family will be occupied for hours within these stunning grounds. For kids who are desperate to play, there are two mega playspaces to visit at Paperbark Playground and Domain Creek Playground.
The Flower Gardens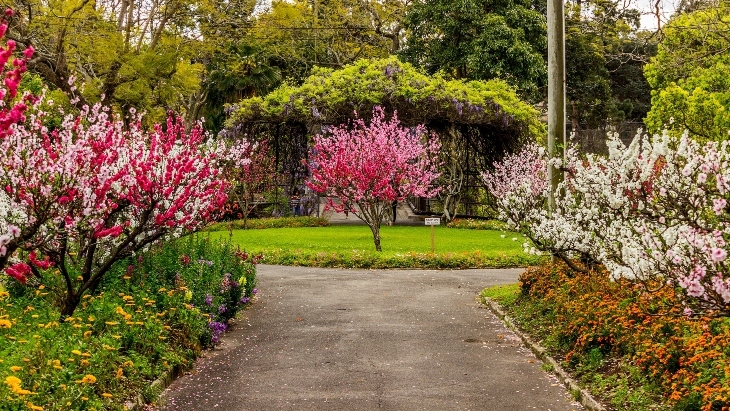 For a more serene experience, take a stroll through the park's beautiful Rumsey Rose Garden, which features one of the largest collections of heritage roses in Australia and a tranquil sunken garden. There's also the vivid Wistaria Gardens that bloom into colour with wisterias, cherry blossoms and more.
Parramatta Park location: Pitt St and Macquarie St, Parramatta
RELATED:
50 of the Best Things to do in Western Sydney
2. Take a Scenic Walk or Cycle Along the River Foreshore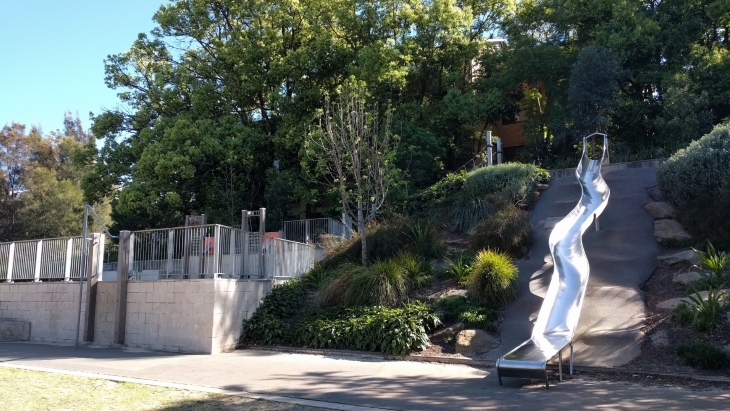 Stretching along the riverbanks, the Parramatta River Foreshore Reserve offers a picturesque setting for a leisurely walk, cycle or play. The reserve features several well-maintained paths, picnic areas and playgrounds, making it an ideal spot for families to spend a day outdoors.
Riverside Walk
The Riverside Walk is a scenic three-kilometre trail that follows the river's edge, offering stunning views of the waterway and its lush surroundings.
Subiaco Creek Boardwalk
For a more immersive nature experience, take a stroll along the Subiaco Creek Boardwalk. This elevated walkway meanders through mangroves and wetlands, providing a unique opportunity to observe local wildlife up close.
Fun at the Foreshore Playground
For kids, the icing on the cake of the Parramatta River Foreshore Reserve would have to be the playground. With a giant, wavy slide, sandpit, climbing wall, rope bridge, and water play features on offer, the kids are in for a ball!
Parramatta River Foreshore location: 1 Elizabeth St, Parramatta
3. Explore the Thriving Arts Scene at Riverside Theatres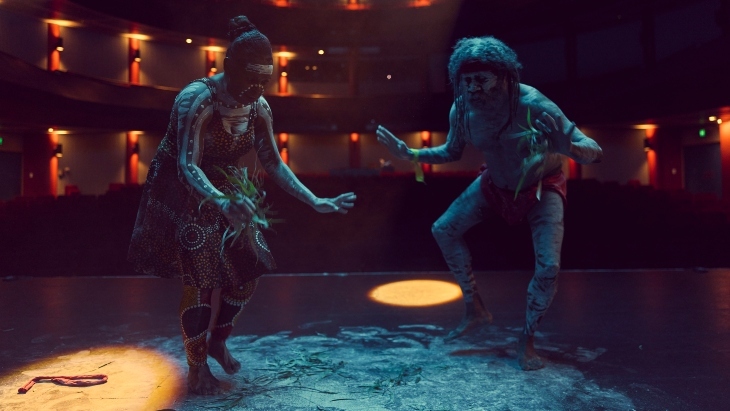 Also located on the Parramatta River Foreshore, Riverside Theatres is a cultural hub that hosts a diverse range of performances, including theatre, dance, music, and film. The venue offers three versatile performance spaces, ensuring a varied lineup of shows to suit all tastes.
Catch a live show at the Riverside Theatres, featuring both local and international artists. From classical music concerts to contemporary dance performances, there's something for everyone to enjoy. In addition to live performances, the Riverside Theatres also host film screenings, including international film festivals and special events.
Location: Corner Market and Church St, Parramatta
4. Unwind at the Bustling Eat Street Precinct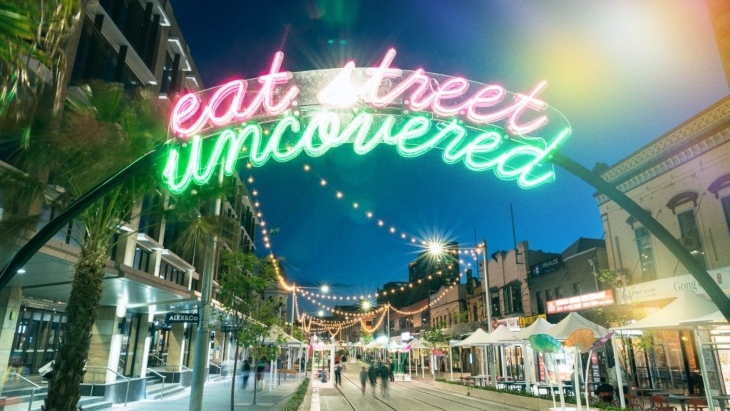 Parramatta's Eat Street precinct is a food lover's paradise, boasting a diverse range of culinary delights. Situated just a stone's throw away from Parramatta river, this vibrant dining hub offers a wide variety of eateries to suit every taste and budget.
From Italian trattorias to Japanese sushi bars, Eat Street features an impressive selection of international cuisine, ensuring there's something to satisfy every palate.
Many of the restaurants along Eat Street offer alfresco dining, allowing you to enjoy your meal while taking in the lively atmosphere of this bustling precinct.
Location: 34-36 Albert St, North Parramatta

5. Hop on a Parramatta RiverCat for a Scenic River Cruise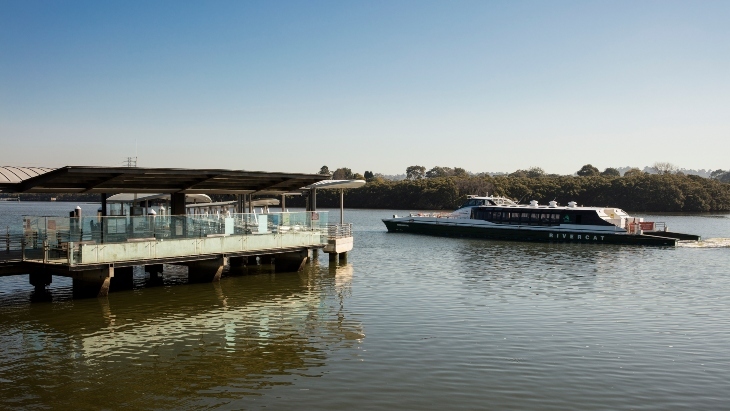 One of the best ways to experience the beauty of Parramatta River is by hopping on a RiverCat. These iconic catamaran ferries offer a unique perspective of the river and its surroundings, making for a memorable journey.
The RiverCat services operate between Circular Quay and Parramatta, stopping at several wharves along the way. This makes it an excellent mode of transport for exploring the various attractions along the river, not to mention the kids love travelling by water!
As you cruise along the Parramatta River, keep an eye out for landmarks such as the Sydney Harbour Bridge, Cockatoo Island, and the Sydney Olympic Park. Don't forget your camera to capture the stunning views!
Location: The RiverCat departs from Parramatta Wharf.
6. Immserse Yourself in Culture at PHIVE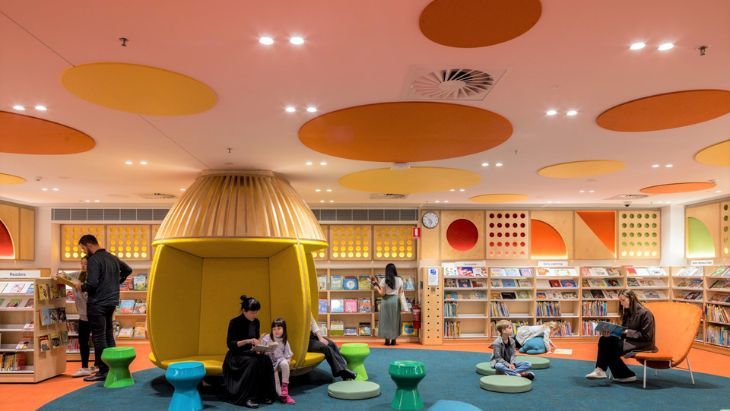 PHIVE is Western Sydney's newest attraction along the Parramatta River, bringing together history, culture and education. Split across six levels, PHIVE is a sprawling community hub with exhibitions, community rooms, a brand-new Parramatta Library, a cafe, and more.
Exhibitions
Explore the centre's rotating exhibitions, which delve into various aspects of Parramatta's history, from its Indigenous heritage to its role in the development of colonial Australia.
Family Library
The centrepice of PHIVE for families is the brand-new Parramatta Library. Along with exquisite new interiors, the PHIVE library offers 65,000 books, a dedicated children's space, modern parenting facilities and more.
Location: 5 Parramatta Sq, Parramatta
7. Soak up the Nature at Lake Parramatta Reserve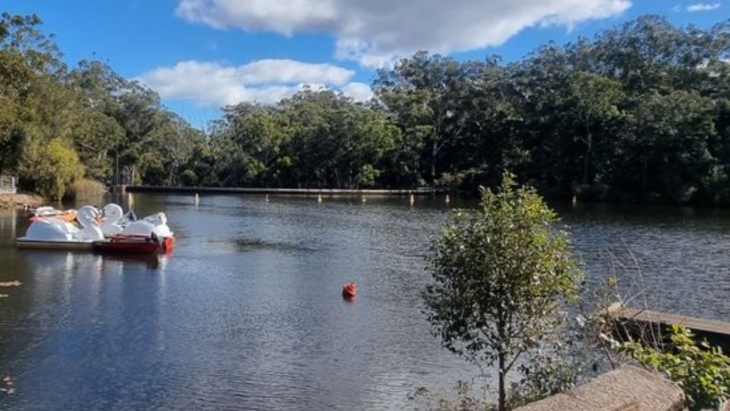 Lake Parramatta Reserve is a hidden oasis nestled just a short distance from Parramatta River. This 73-hectare nature reserve offers a peaceful escape from the bustling city, with a beautiful lake, bushwalking trails, and abundant wildlife.
Bushwalking
Explore the reserve's network of walking trails, which range from easy strolls to more challenging hikes. Keep an eye out for native flora and fauna along the way, including kangaroos, wallabies, and a variety of bird species.
Water Activities
For those looking to cool off, Lake Parramatta is a popular spot for swimming, kayaking, and paddleboarding. The lake is patrolled by lifeguards during the summer months, ensuring a safe environment for water enthusiasts of all ages.
Location: 28 Bourke Street, North Parramatta
8. Embrace the Great Outdoors at Sydney Olympic Park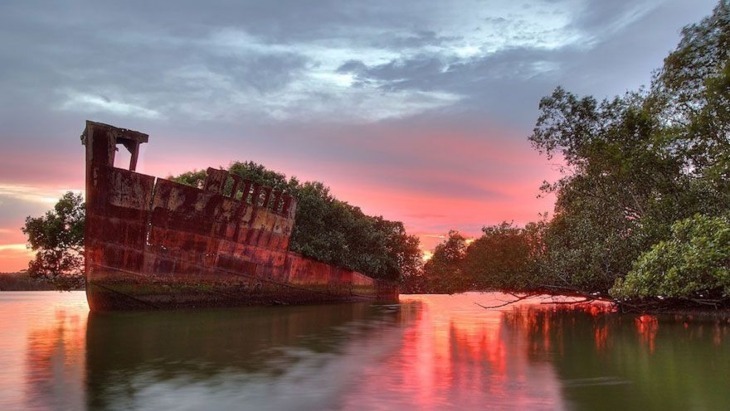 Just a short journey down the Parramatta River, you'll find Sydney Olympic Park, an expansive precinct that offers a wealth of outdoor activities and attractions.
Bicentennial Park
This sprawling Bicentennial Park features lush gardens, walking and cycling paths, playgrounds, and picnic areas, making it an ideal spot for a relaxing day out with family or friends.
Sydney Olympic Park is also home to stunning nature reserves, including the centuries-old Badu Mangroves, which offer a unique opportunity to observe local wildlife and learn about the area's natural ecosystems.
Don't miss an opportunity to view the famous Floating Forest Shipwreck at Homebush Bay. Formally called the SS Ayrfield, the shipwreck is located smack-bang in the middle of Parramatta River and has been overtaken by nature over the years and is now the stunning Floating Forest.
Olympic Venues
Active kids will feel right at home at the many family-friendly venues through Sydney Olypmic Park. Water babies should make a beeline for Splasher's Playground at the Aquatic Centre, stretch it out at a gymnastics party, play laser tag during the school holidays, perfect their aim with archery, explore the famous BrickPit and more.
Playgrounds Galore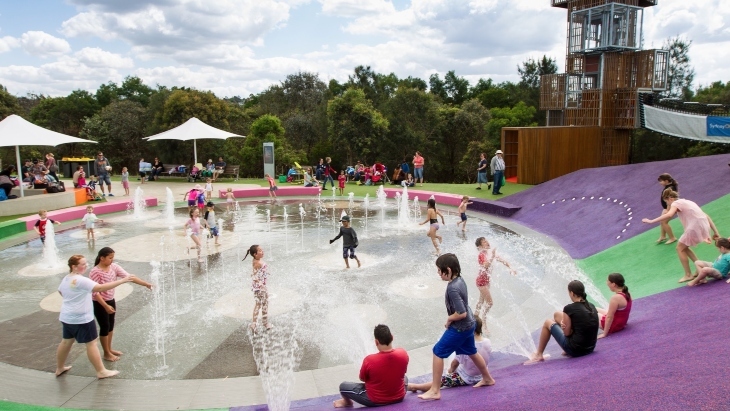 There are three awesome playgrounds dotted along Parramatta River at Olympic Park. Tick off hours of fun with the kids at Blaxland Riverside Park, Bicentennial Park West, and Linear Park.
Location: Olympic Boulevard Sydney Olympic Park
9. Catch a Game at CommBank Stadium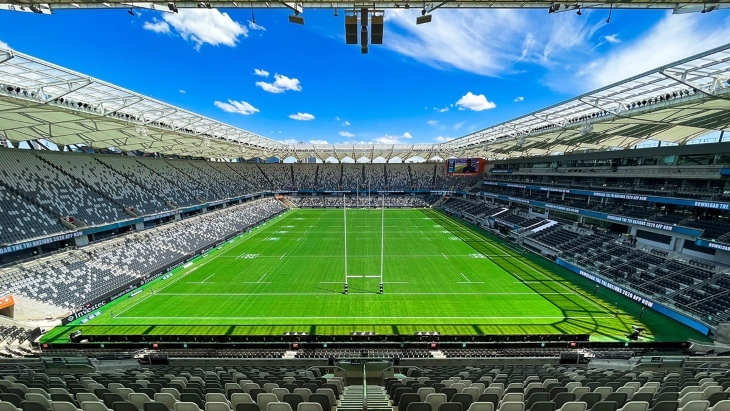 Home to several sports teams, CommBank Stadium is a state-of-the-art Parramatta River attraction.
With a seating capacity of 30,000, CommBank Stadium offers an electrifying atmosphere for fans of rugby league, soccer, and rugby union. Check the stadium's event calendar to catch a game during your visit. From NRL matches to A-League soccer games, there's always something exciting happening at CommBank Stadium.
Get a behind-the-scenes look at this impressive venue by joining a guided stadium tour. You'll have the opportunity to explore the players' change rooms, the press room, and even step onto the field itself.
Location: 11-13 O'Connell St, Parramatta
10. Marvel at the Architectural Beauty of St John's Cathedral

A visit to Parramatta is incomplete without stopping by St John's Cathedral, one of Australia's oldest churches. This stunning sandstone building features intricate Gothic Revival architecture, making it a must-see for fans of historic architecture.
Join a guided tour of the cathedral to learn about its fascinating history, which dates back to 1803. The knowledgeable guides will share stories of the church's past, as well as its role in the local community.
Adjacent to the cathedral, you'll find St John's Cemetery, the oldest surviving European burial ground in Australia. Take a stroll through the cemetery to discover the final resting place of many notable figures from Parramatta's past.
Location: 195 Church St, Parramatta
More Things to do in Western Sydney
10 Awesome Things to do in Penrith
The Best Cafes in Parramatta
Go for a Ride at the Largest BMX Hub in Australia