Badu Mangroves: A Centuries-old Mangrove Forest Right in the Middle of Sydney
When you think of the heart of Western Sydney, one of the city's largest and oldest natural ecosystems doesn't generally come to mind. And when you think of the sporting powerhouse that is Sydney Olympic Park, a waterbird refuge and Sydney's oldest shipwreck are probably also the furthest things from your mind.
All these hidden treasures and more are on display for all to see and explore at one of Sydney's favourite natural wonders, the Badu Mangroves.
Welcome to the Badu Mangroves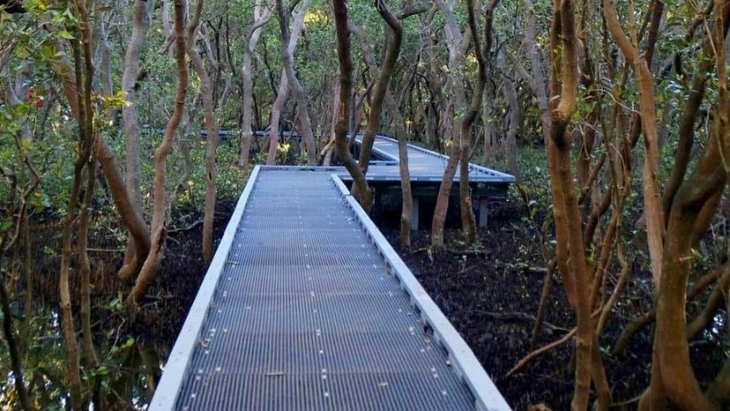 Although the name says otherwise, Sydney Olympic Park is home to more than just the Olympics. Art exhibitions, concerts, school holiday activities, indoor swimming and, of course, the Sydney Royal Easter Show are regular features of one of Sydney's biggest parks, but did you know that one of Sydney's best-kept hidden treasures also resides within the extensive parklands?
The Badu Mangroves refer to 56 hectares of a natural ecosystem between the southern shore of Homebush Bay and Bicentennial Park at Sydney Olympic Park. For many years, the Badu Mangroves were largely overlooked and thought of as irrelevant and succumbed to large levels of pollution and chemical waste from neighbouring industrial factories causing lasting damage. It wasn't until the 1990s that their impact on local marine ecosystems was discovered and they were restored.
What exists now is part of the largest remaining intertidal wetland on the Parramatta River, and one of the most unique and exquisite outings in nature you can have in Sydney.
The Badu Mangroves Boardwalk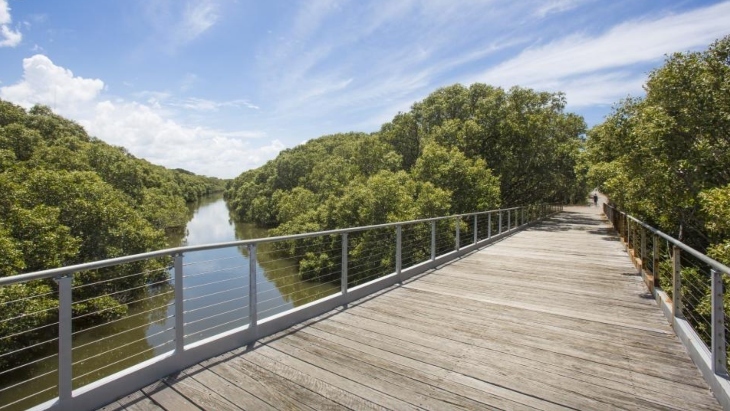 In order to protect the Badu Mangroves from any further damage, Sydney Olympic Park constructed the award-winning Badu Mangroves Boardwalk, an elevated boardwalk that traverses the stunning mangrove forest and wildlife sanctuary and is open for the public to immerse themselves in nature.
Visitors to the Badu Mangroves Boardwalk will get the chance to get up close to protected estuarine vegetation and an endangered ecological community - in layman's terms, you'll get the chance to see some spectacular plants and animals, and more than 200 species of native birds as you wander amongst centuries-old mangrove trees without disturbing them.
According to Tom Covell, an ecologist and education officer at Sydney Olympic Park, "As a nature experience for Sydneysiders, I don't think you can get anything better. You've got this really functional ecosystem surrounded by the hustle and bustle of Sydney. A place like this is valuable because it's a point of nature connection for a lot of people and it gives them encouragement... Homebush Bay used to be one of the most degraded ecosystems on the planet. So it gives me hope."
"The soundscape is phenomenal", he adds. "Really use your ears... you can hear the bubbling of things or the splashing of fish. You've got little katydids, which are like crickets, living up in the canopy, and cicadas on the mangroves."
The Shipwrecks of Homebush Bay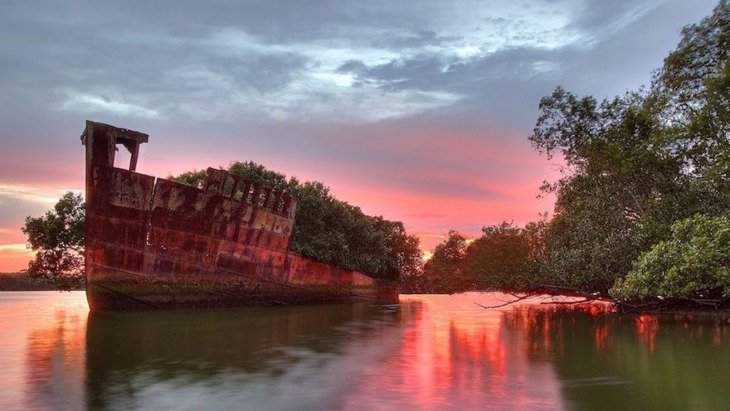 In addition to the unique wildlife on offer along the Badu Mangroves Boardwalk, there are the famous shipwrecks of Homebush Bay to look out for. There are several shipwrecks you'll be able to spot along the Badu Mangroves Boardwalk but one to look out for is the famous Floating Forest. Formally called the SS Ayrfield, the shipwreck is located smack-bang in the middle of Parramatta River and has been overtaken by nature over the years and is now the stunning Floating Forest.
Visiting the Badu Mangroves
The Badu Mangroves Boardwalk is located within Bicentennial Park at Sydney Olympic Park and is open daily.
The boardwalk is wheelchair- and pram-friendly, and there are areas south of the mangroves where you can set up a picnic. Public toilets are available nearby. There are also loads of other attractions at Sydney Olympic Park to add to your itinerary!
More Natural Attractions in Sydney
Run Through Fields of Lavender at These Farms
Where to see Sunflowers Near Sydney
15 Secret Beaches in Sydney

Have you signed up to our newsletter? Join ellaslist to get the best family and kid-friendly events, venues, classes and things to do NEAR YOU!