Best Bushwalks in Sydney
Preschoolers
Family
Mums & Bubs
Toddlers
Sydneysiders are incredibly blessed to have an abundance of bush walks to choose from to add a little adventure to our exercise—'cause there's not much better than breathing in a whole lot of fresh air and getting the blood (and endorphins!) pumping, in our book.
We've compiled a list of our favourite bush walks in Sydney for adventurous families—with each one offering an authentic nature experience that's sure to engage kids of all ages.
Choosing the Perfect Sydney Bushwalk for Your Family
It goes without saying that your capacity to head out on family bushwalks will be greatly impacted by a variety of factors. If your kids are tiny—great! Put them in a carrier or a backpack and hit the trails—the fresh air will be great for them and they might even nod off while you explore some of Sydney's beautiful bushwalks. If your kids are older, you'll need to assess factors such as difficulty level, trail length, safety and facilities to determine whether it's the right fit for your family.
Top Sydney Bushwalks Your Family Will Love
1. Fairyland Pleasure Gardens, Lane Cove National Park

Did you know that within a mere 20 mins of the CBD there lies a beautiful secret garden, whimsically named Fairyland? Also known as the Fairyland Tea Gardens, it was once a bustling picnic area that local residents would visit by charter boats. There were swings, slides, picnic shelters and even a dance hall.
Today, it's an unassuming overgrown bush area with mangroves along the river banks and a quiet walking track that is part of the Great North Walk in Lane Cove National Park.
The walk involves a combination of timber boardwalks, cleared pathways, and timber and concrete steps throughout the walk. This family-friendly walk is a good one for kids as it's not overly long, and you might be able to do the walk with a 3-wheeled jogging buggy—otherwise, you could take toddlers in a backpack or carrier if they'll let you!
Duration: 1 km track, approx. 30 mins
Location: The walk starts opposite 101 Quebec Road, Chatswood West and leads down towards the Lane Cove River
2. Great West Walk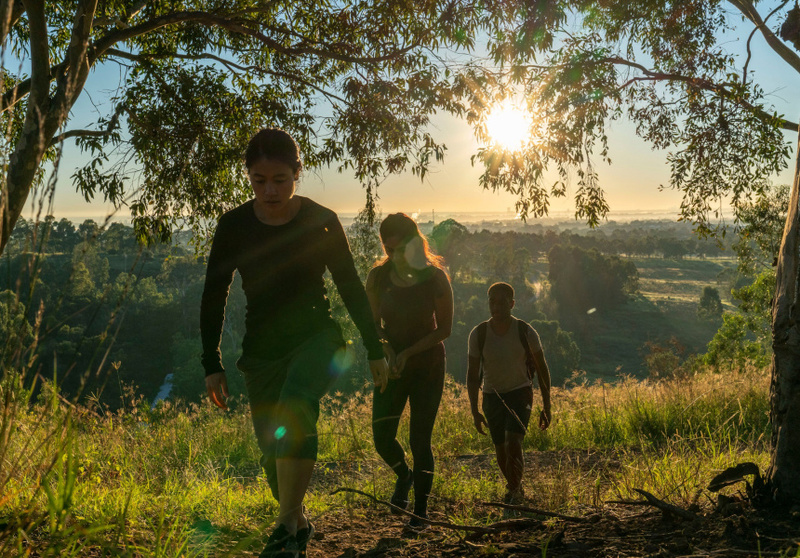 Ok, this one is not for the faint-hearted! The Great West Walk is western Sydney's longest walk and the 65km track from Parramatta to the Blue Mountains will take you around 5 days if you do it in its entirety. Of course, we recommend starting with one of the shorter trails, like the 1.2km walking track that runs along Toongabbie Creek between Old Windsor Road and Tucks Road, Toongabbie; a great pick for a Sydney bushwalk with kids.
If you're getting the train to Parramatta, the Great West Walk starts at the northern railway exit onto Darcy Street. This 65-kilometre stretching from Parramatta to the foot of the Blue Mountains crosses a kaleidoscope of varying landscapes, including protected Cumberland Plain woodland, local river systems, public parklands, some of Australia's oldest architecture and Western Sydney's iconic urban landscapes.
Duration: 65km all up, lots of shorter trails available—find a route suitable for your family on the Great West Walk website
Location: The Great West Walk starts at the northern railway exit onto Darcy Street
3. Banks-Solander Trail, Kamay Botany Bay National Park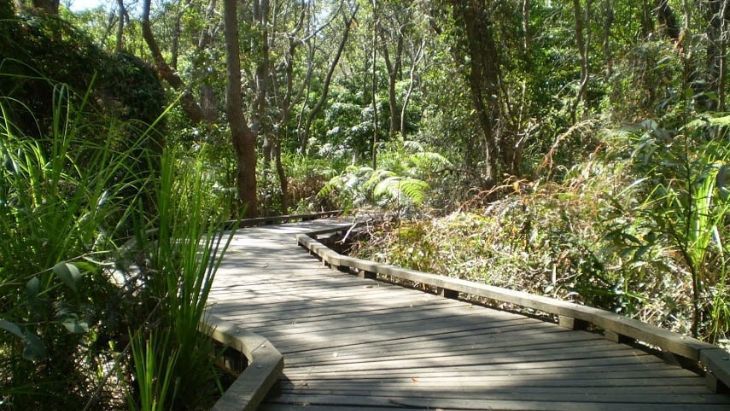 The Banks-Solander trail in Kamay Botany Bay National Park is an easy, peaceful and shady walk amid wild ferns and a eucalyptus forest, which was once explored by the botanists from Captain Cook's crew, Joseph Banks and Daniel Solander over 240 years ago. Bushwalking with your children here could transport you back to these early explorer days.
While there are numerous walks here, follow the "Banks-Solander Track" sign for this easy trail that will give the whole family a much-needed break in nature. The walk is a combination of part-track, part-boardwalk, gravel and sandy tracks, so it would be suitable for an all-terrain or 3-wheeled jogger pram.
Duration: 0.9 km track, approx. 20 mins
Location: a turn-off into Solander Drive will lead to the Kamay Botany Bay Visitor Centre car park in Kamay Botany Bay National Park
4. Bulgandry Aboriginal Engravings Walk, Brisbane Waters National Park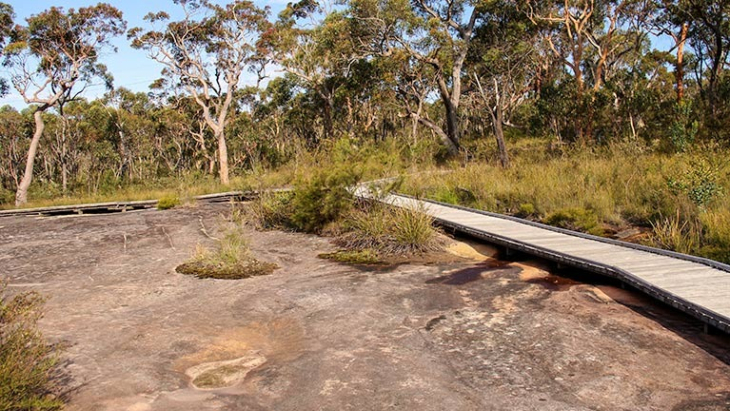 For a bushwalk in Sydney with a bit of ancient history, the walk to the Bulgandry Aboriginal art site is a rich experience of past traditions and appreciation of the environment. While your little one may not fully understand the concept of ancient Aboriginal rock art, you can take advantage of making it an educational bush walk. In spring, the native plants and wildflowers along the walking trail are a sight to behold.
At the Bulgandry site itself, you'll see the 200-year-old carvings of wallabies, fish, a dolphin, a canoe and a bird. As this is an Aboriginal cultural heritage site, please remember to tread carefully and with respect. Adhere to the site care signage and keep to the boardwalk. The walk is wheelchair accessible with a combination of dirt track, gravel and boardwalks—so would be suitable for an all-terrain, or 3-wheeled jogger pram.
Duration: 0.8 km track, approx. 20 mins
Location: Head to Bulgandry, the walk begins through a timber chicane on the northeast end of the car park.
5. Lady Carrington Drive Walk to Gibraltar Rock, Royal National Park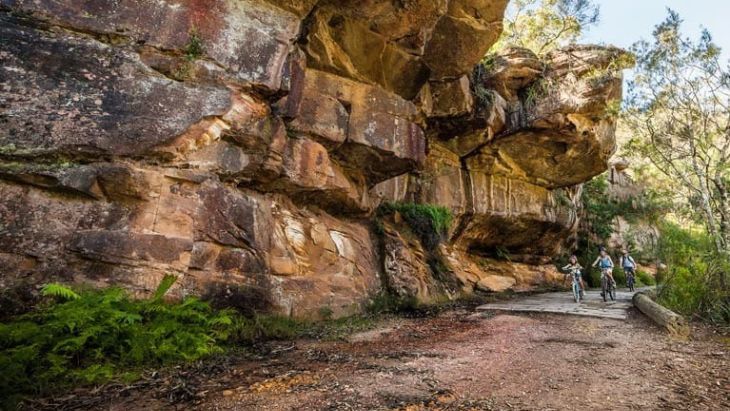 What's the best bushwalk list without a trail at the Royal National Park? We love this area of the 'Nasho because of the Audley Boatshed and its surroundings for family-friendly activities. If you want a bushwalk combined with a picnic, this easy walk is suitable for little adventurers with a short cobblestone path and beautiful sandstone hanging rock to explore.
Once you're in the Royal National Park, the walk begins at the Willow Tree Picnic area on the east bank of the Hacking River.
This walk is a common family biking trail for visitors at the Royal National Park. While it goes on for about 10 kilometres, we would only recommend the less than 1 km walk to Gibraltar Rock and back to the Willow Tree Picnic area for those with little ones!
Duration: 0.9 km track, approx. 20 mins
Location: Lady Carrington Drive in the Royal National Park
6. America Bay Track, Ku-Ring-Gai Chase National Park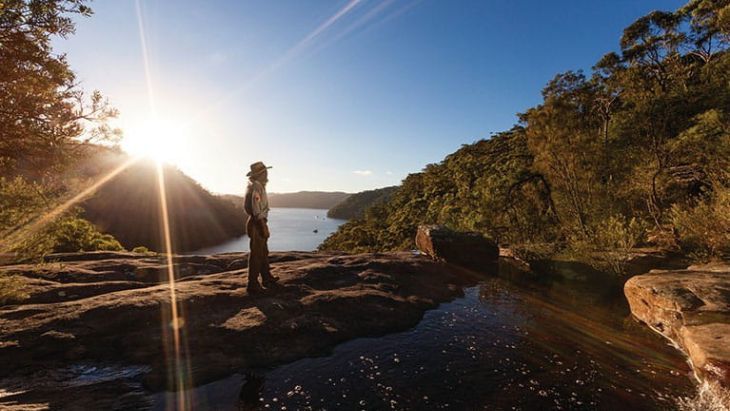 This short but punchy bushwalk in the heart of Ku-ring-gai Chase National Park is an absolute gem! It may be just 1 km one way, but you'll feel worlds away from the daily grind.
The adventure begins with beautifully preserved Aboriginal engravings on a spacious, flat, and rocky area. It's a glimpse into the rich cultural history of the land you're exploring, and the absolute highlight of this scenic stroll is the breathtaking lookout that treats you to jaw-dropping views of America Bay at the very end of the track.
Duration: 2km return, approx 1 hour
Location: Ku-Ring-Gai Chase National Park
7. Tambourine Bay Park to Warraroon Reserve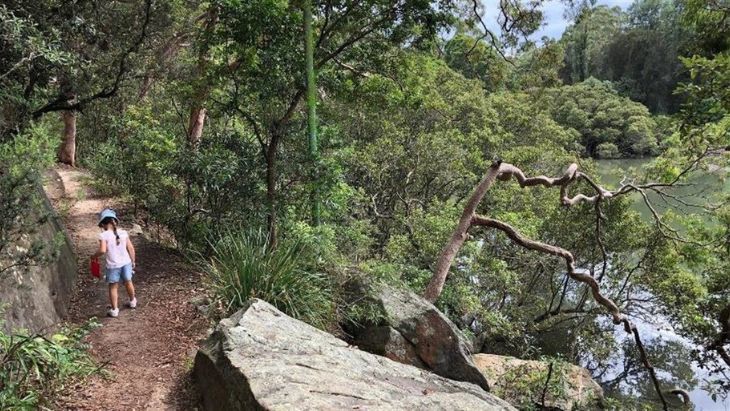 Looking for an awesome bushwalking adventure right in the heart of suburban streets? Look no further than the trail from Tambourine Bay to Warraroon Reserve. This easy 3 km return walking trail winds through a picturesque pocket of scenic bushland, effortlessly connecting the suburbs of Longueville, Riverview, and Lane Cove.
Following the gentle flow of Tambourine Creek, you'll be guided towards the enchanting Tambourine Bay, a delightful northern tributary of the Lane Cove River. The absolute highlight of this trail is the section that leads you through Warraroon Reserve. You'll be completely immersed in nature's wonderland, surrounded by tall trees, mangroves, intriguing rock formations, and an incredible variety of wildlife.
Duration: 3 km return, approx 1.5 hours
Location: start the walk at Tambourine Bay Road, Riverview
Safety First: Preparing for a Sydney Bush Walk
Depending on the walk you choose, you'll need to do your due diligence, especially if you're taking young kids with you! Consider the time of day you're going at in order to avoid the harsh midday sun, and be prepared with plenty of snacks and water, sunhats, sunscreen, insect repellant and appropriate footwear—making sure they're wearing runners even if your toddler insists that their Frozen slippers are the perfect bushwalking attire (been there, done that.)
Making Your Sydney Bushwalk a Family Adventure
Bushwalks are a great way to engage your little people in nature and get them out of the house and away from screens. Our biggest tip for making your Sydney bushwalk a family adventure is to not overcommit. A surefire way to turn your kids off the activity of bushwalking is to sign you all up for a bushwalk that is way too ambitious, then have to endure a whole lot of complaining and an aversion to future bushwalks. Start small, make it playful, and your little adventurers will thank you!
Useful Resources for Planning Your Bushwalk in Sydney
When planning your bushwalk, make sure you check the relevant website before you go—track closures happen a lot, whether it's due to a natural event that makes the route unsafe or bad weather causing damage and rendering it dangerous. Happy hiking, folks!
More Outdoor Fun
Best Bike Tracks For Kids
Secret Beaches In Sydney
Ocean Pools That Are Safe For Kids
Have you signed up for our newsletter? Join ellaslist to get the best family and kid-friendly events, venues, classes and things to do NEAR YOU!
Reviews
This is great as we want to start bushwalking but was t sure where to take the kids as the ages are5,9,10 . Gives me a great start thanks
Very useful list - look forward to trying these.