The Best Playgrounds Around Melbourne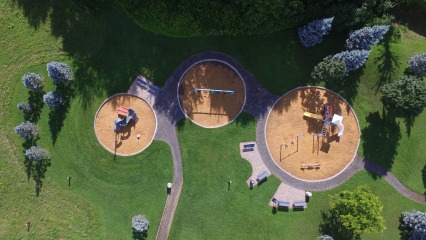 By: Phoebe Ackland, ellaslist
A good-old fashioned day at the playground- nothing helps a kid burn off energy quite like climbing cool structures, zipping down super slides and getting silly on swings. Luckily, Melbourne has a plethora of playgrounds- from wild play gardens to old-school wooden adventure playgrounds, that are now more accessible to all kinds of ages and abilities than ever. Here are our top six for playgrounds for your next playtime.
1. Nature Play at Royal Park, Parkville
Adjacent to Melbourne's new Royal Children's Hospital is, according to the Australian Institute of Landscape Architects, the BEST playground in Australia! This playground caters to children of all ages and physical abilities and is based on the seven seasons of the Wurundjeri. Being so close to the children's hospital, the playground offers a space where staff and patients can interact, in a playground that makes use of the natural topography of the site. There is plenty of space here to explore, get wet, get dirty, scramble over rocks and be challenged- it's nature play at it's best.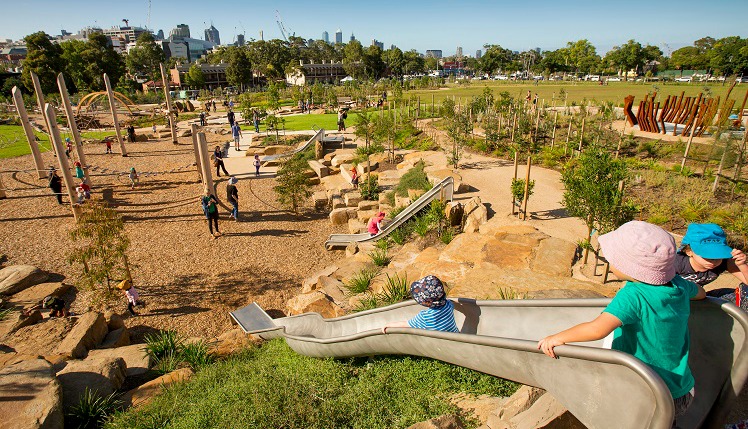 Source: AILA
2. Hays Paddock, Kew East
This is an all-abilities adventure playground. It is fenced and features swings (with harnesses), slides, hammocks, sandpits with diggers, an oversized see-saw, climbing frames, and lots more. It is bright and colourful, with shade sails decorated to look like gorgeous butterfly wings, and toadstools dotted around. It's situated in parklands with a duck pond, BBQ and picnic facilities, a bike track, and plenty of green space to make for a full day of family fun.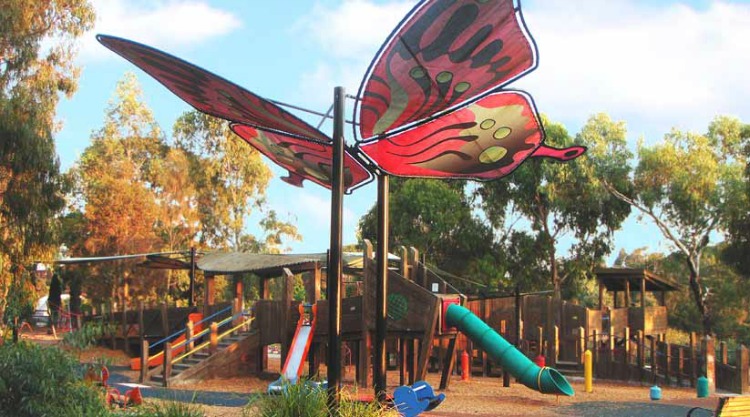 Source: FORMium
3. Artplay Playground, Birrarung Marr,
CBD
This playground is attached to the Artplay centre where 0-12 year olds can play, create and learn with a heap of exciting artistic workshops, events and performances. The playground is the only one in the Melbourne CBD, and features a sandpit, tube slides, hammocks, balancing beams, rock climbing, a liberty swing, and rope climbing. There's a big hill nearby to roll down, and the whole playground is colourful and unique in design.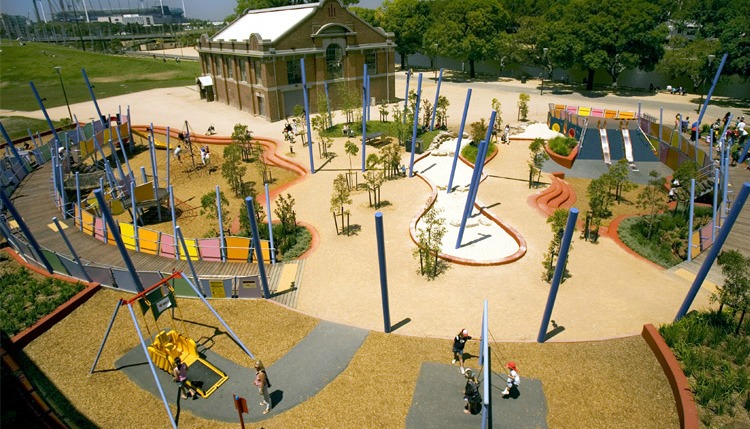 Source: ASPECT Studios
4. Thomas Street South Reserve, Hampton
An old-school wooden playground where children can play across a heap of levels, tunnels, walkways, fortresses, towers and cubby holes. Just be wary of splinters! There's a bike path, BBQs, monkey bars within a toddler's reach, a sandpit, a flying fox…and children will love the surprise element when some of the wooden panels beneath their feet move, making a real adventure of things!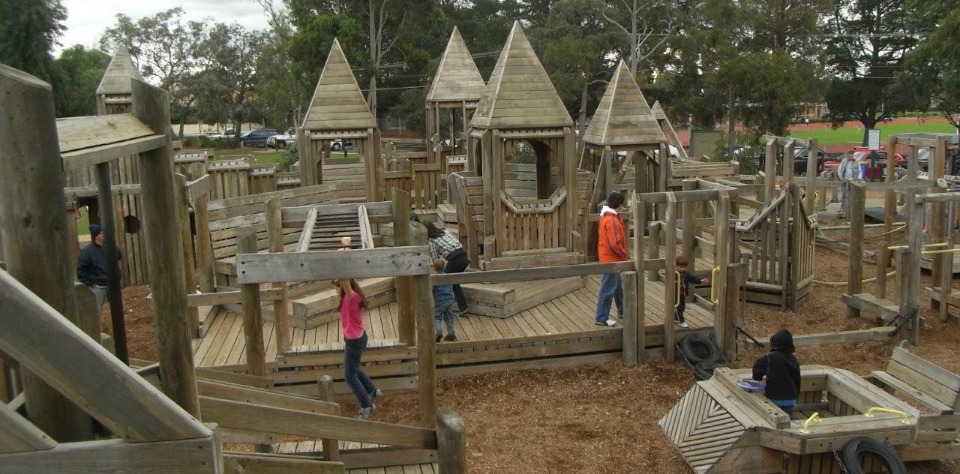 Source: Playground Finder
5. The Ian Potter Foundation Children's Garden, Botanic Garden
More garden than playground, but still absolutely amazing. This playground encourages children to get back to nature by getting their hands dirty and getting amongst the plants. Features include the Ruin Garden, the Meeting Place (with a water feature for some water play in Summer), a Wetland area, a Bamboo Forest, The Gorge, a Plant Tunnel, a Kitchen Garden, and The Rill- a gentle stream of water that runs through the whole garden. It's designed to intrigue, teach and excite kids about the environment, read more about it here. It's open 10am-sunset each Wednesday-Sunday, closed for school groups early in the week and for a period throughout Winter.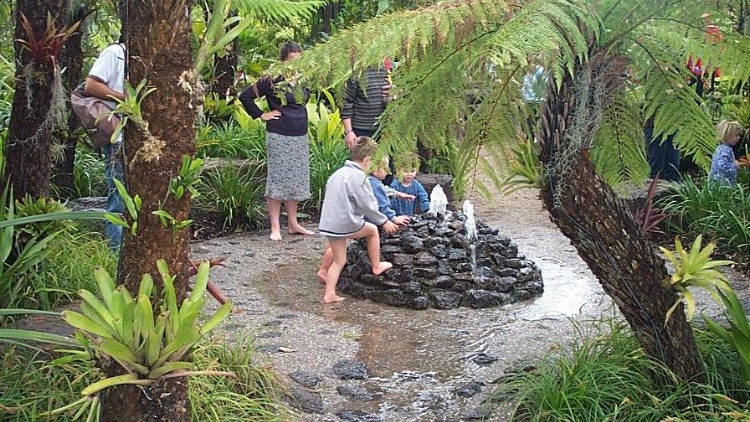 Source: Nadine/Like A Local
6. Montrose Community Adventure Playground, Montrose

This playground is designed like a mini village complete with library, fire station and of course, plenty of play equipment! There's a super cute springer in a ladybug design, an awesome rope pyramid structure, a bird's nest swing, rope bridges, heaps of walkways and so much more. It's set in a natural bushland with sports ovals, picnic and BBQ facilities, animal sculptures and plenty of shade. Your children won't want to leave!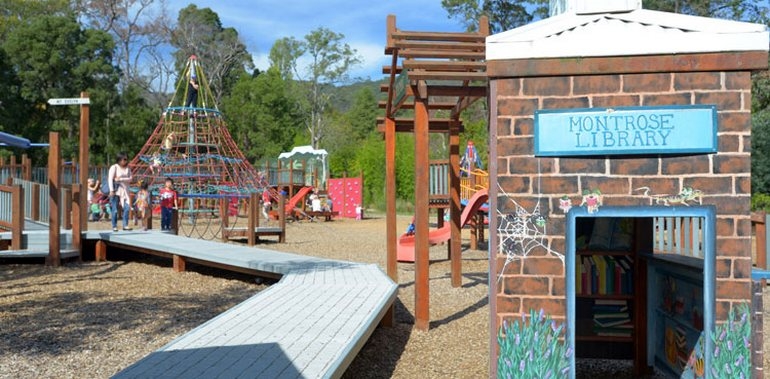 Source: Visit Yarra Valley
Is your favourite not on our list? We want to kow about it! Comment below.