Autumn School Holiday Programs And Activities For Kids In Sydney 2022
Autumn school holidays are almost upon us, so to ensure that the kids don't end up glued to the TV or iPad in the leadup to Term 2, make sure to book them in for some of these awesome school holiday programs and activities running at museums, gardens, parks and farms.
There's something for every child at locations all over Sydney in our guide to the best Autumn school holiday programs and activities for kids.
Autumn School Holiday Programs And Activities
1. Centennial Parklands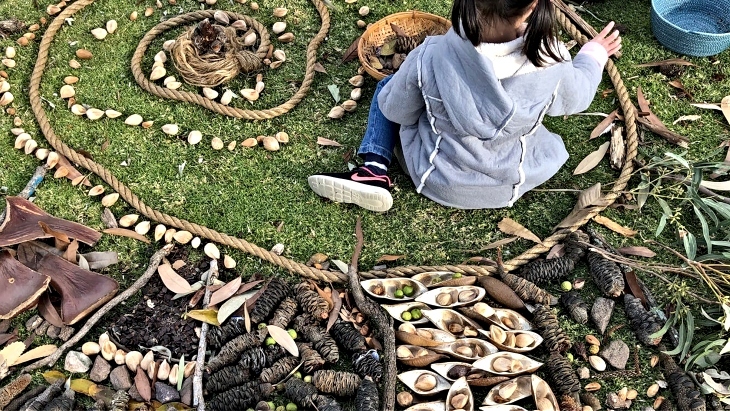 The changing leaves and cooler temperatures of autumn bring fun and engaging programs to Centennial Parklands during the April school holidays. Whatever your child is into, there's a range of activities to get them playing, creating and learning in nature including Eco-Art For Kids, Building Super Shelters, The Obstacle Challenge, Alice in WonderPark Holiday Theatre and loads more outdoor escapades! Don't miss your chance to witness the flyout of Sydney's largest bat colony during sunset at The Big BAT Night.
You can also get into the Easter spirit with the Easter Bunny's Workshop and on the Egg-cellent Easter Adventure.
Where: Various locations throughout Centennial Park
When: Monday 11th - Friday 22nd April 2022
Cost: Various costs depending on the activity. Check out What's On At Centennial Parklands for details.
2. Royal Botanic Garden Sydney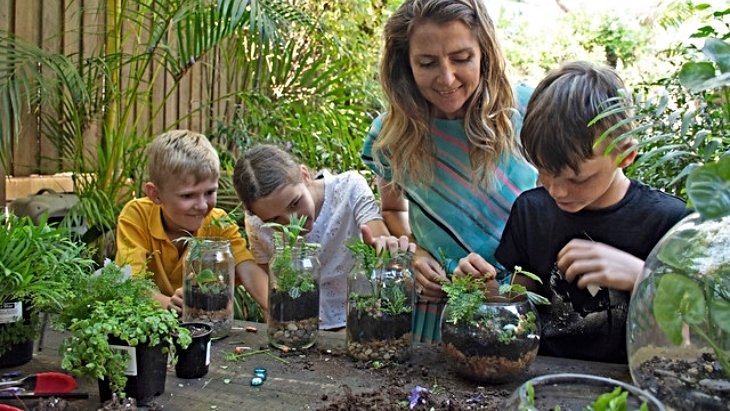 Royal Botanic Garden Sydney offers a treasure trove of colourful, nature-based activities for little hands these school holidays. Garden Grubs offers full-day vacation care program where kids from 6 to12 years old can explore and create in a fun, safe and nurturing environment.
Kids can also participate in a whimsical workshop and make their own unique Magical Rainforest in a Jar or visit the park after hours for a spine-tingling Ghostly Garden Tour! There is also a free Aboriginal Planting Workshop where mini green thumbs can learn about the medicinal, nutritional and traditional properties of native flora with First Nations guides.
Throughout April, Tinkerbell & The Dream Fairies will also be bringing their enchanting world of song and dance to The Gardens.
Where: Royal Botanic Garden Sydney, Mrs Macquaries Road, Sydney
When: Monday 11th - Friday 22nd April 2022
Cost: FREE - $90 per child.
3. NIDA Open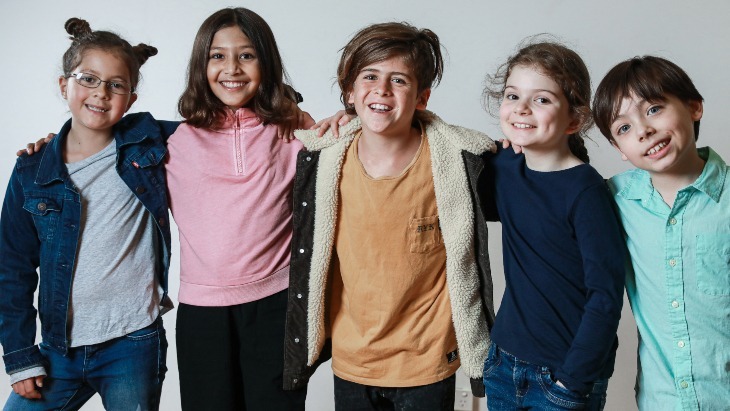 NIDA Open will be running its popular short courses at NIDA Kensington, as well as other venues around Sydney including Glen St Theatre, Belrose, The Concourse, The Concourse, Chatswood and Mosman Art Gallery.
Throughout the holidays, budding thespians will have fun, share ideas and build confidence as they engage in a range of exciting, hands-on programs led by industry professionals in drama, acting, TV presenting, filmmaking, directing, writing, costume design, musical theatre, singing and more! NIDA's 'learning by doing' philosophy ensures students get specialist tuition with a practical focus.
The comprehensive courses aim to develop skills in all areas of performing arts while encouraging creativity and sparking young imaginations.
Where: Various locations available
When: Monday 11th - Sunday 24th April 2022
Cost: Check out NIDA Open for individual program costs
4. Featherdale Sydney Wildlife Park Zookeeper For A Day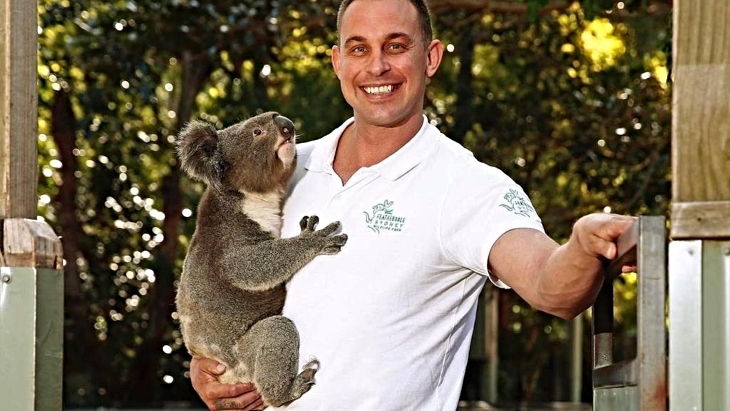 Featherdale Wildlife Park will take little animal lovers behind the scenes with their immersive school holiday Zookeeper For A Day programs. Kids will have the experience of a lifetime at one of NSW's best and most beautiful animal sanctuaries. They will roadtest their dream job, accompanied by passionate zookeepers, and gain hands-on access to a range of activities around the park. Plus they will make friends with a variety of exotic creatures!
Book ow for Junior Zookeeper for a Day (Ages 8-13), TEEN Zookeeper for a Day (Ages 12 -16) or Inclusive Zookeeper for a Day (Ages 8-13). All budding zookeepers receive a Zookeeper for a day shirt or jumper, a gift bag, free entry for their next and a Certificate of Completion at the conclusion of the day.
The Zookeeper For A Day program is also running at MOGO Wildlife Park and Hunter Valley Wildlife Park.
Where: Featherdale Sydney Wildlife Park, Doonside
When: Monday 11 - Friday 22 April 2022
Cost: $195 per child
5. Vaucluse Amateur 12 Foot Sailing Club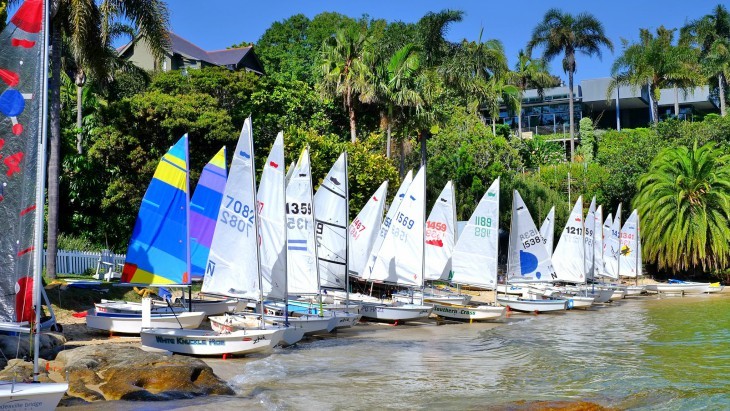 Vaucluse Amateur 12 Foot Sailing Club runs its popular learn-to-sail camps for kids throughout the school holidays. Designed for budding mariners aged 7-16 years at all skill levels, the 'drop and go' camps start at beautiful Kutti Beach in Sydney's east - you drop off your children at the clubhouse at 8.30 am and collect them at 4 pm.
Camps vary in length from three or four days and the syllabus is personalised based on the experience of the kids participating in each camp. Each child must be able to swim and tread water.
These camps usually sell out, so get in early to avoid disappointment. Book now!
Where: Vaucluse Amateur 12 Foot Sailing Club, Wharf Road, Vaucluse
When: 11th - 14th April and 19th - 22nd April 2022 | Choose a 3- or 4-day camp
Cost: From $300 per child. Active Kids vouchers are accepted, so make sure you use your Active Kids Voucher if you haven't already!
6. Angsana Education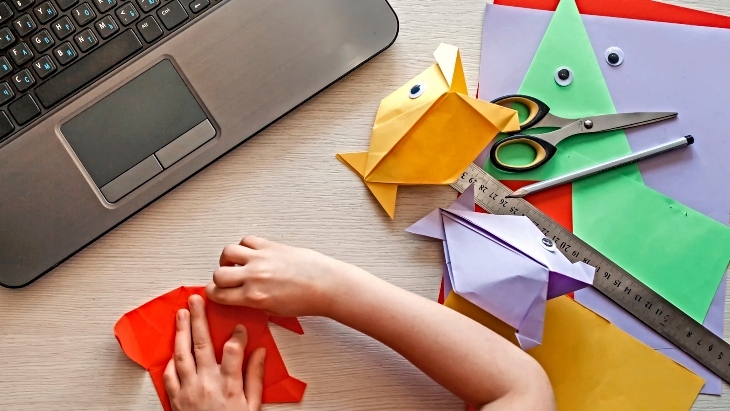 Your little adventurers can learn Mandarin through traditional Chinese games, plus stories, music and craft at Angsana Education school holiday classes. The language enrichment and cultural study centre facilitate multilingual early learning programs for children with innovative and immersive programmes that give their student's language skills a boost.
Their classes allow children to fully engage in a fun and stimulating learning experience that teaches language skills through creative activities that include drama and creative writing.
7. Sydney Olympic Park Archery Centre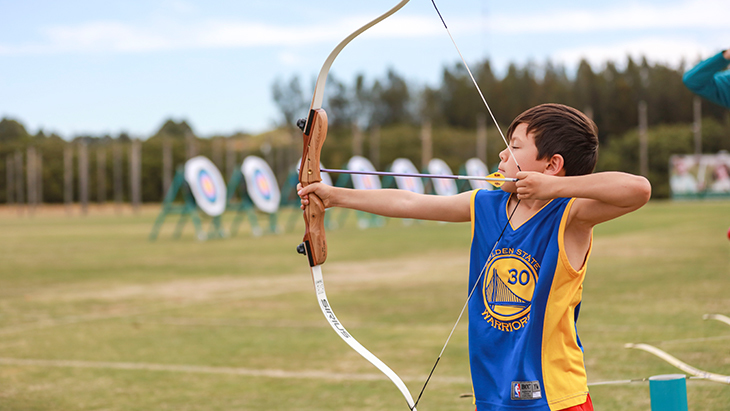 Sydney Olympic Park is a hive of activity every school holiday with a schedule of action-packed programs for budding athletes! Young Archers and Sharp Shooters can aim for fun and learn to shoot arrows at Sydney Olympic Park Archery Centre. Professional staff will teach young marksmen the safety and skills they need to hit the bullseye!
There is also a Laser Tag program where can immerse themselves in outdoor battle experience with weapons, props and sound effects, hiding behind blockade bunkers and walls and plotting with their teammates to defeat their rivals! Kids will hide behind blockade bunkers and walls, plotting with their teammates in a bid to defeat the opposing team in thrilling battles.
Where: Archery Centre, Bennelong Parkway, Sydney Olympic Park
When: Monday 11 - Thursday 14 April 2022
Tuesday 19 - Friday 22 April 2022
Cost: $19.25 pp or $31 combo sessions (two sessions on the same day)
8. School Holidays At The Australian Museum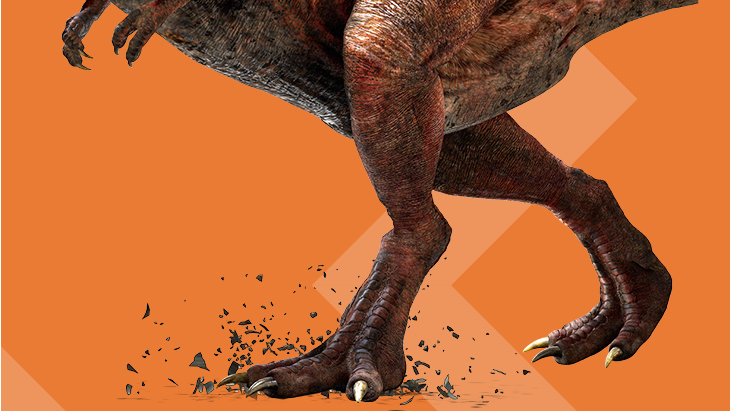 The Australian Museum has an epic series of events happening during the April school holidays, starting with the super special annual Dinosaur Festival. Back by popular demand, the six-day palaeontology party will descend on the museum with a FREE program of live experiments, performances, roaming dinosaurs, pop-up interactive activities and a closing night Dino Rave.
There is also a schedule of fascinating workshops including Jurassic Filmmaking and Palaeontology Play, plus Early Birds Autism and Sensory Friendly Mornings and plenty of opportunities to visit the Prehistoric Playground!
Jurassic World by Brickman® - the biggest LEGO® brick adventure ever made by the Brickman team - will also be on show every day throughout the holidays with over fifteen super-sized dinosaurs
Where: Australian Museum, 1 William Street, Sydney
When: Saturday 9th - Sunday 24th April 2022
Cost: General admission is FREE. Workshops and ticketed events from $25 to $135.
9. Code Camp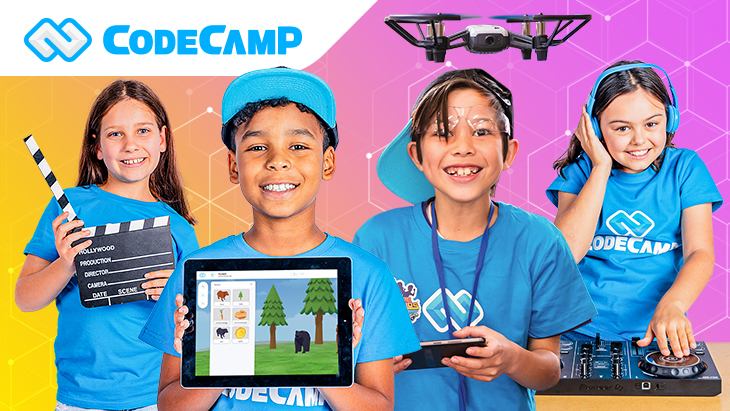 Code Camp is the ultimate school holiday boredom buster for kids who love STEAM. Code Camp has taught over 100,000 kids in Australia everything from how to cut a YouTube video to coding your own DC Superhero. Code Camp introduces kids to the fascinating possibilities of technology and empowers them to design, code and create their own unique projects.
Camps are designed for different age groups and ability levels and, with over 90 locations around Australia plus online camps, there is something for every budding coder or creator. Plus, they accept Creative Kids Vouchers.
Where: All areas of Sydney
When: 11 - 22 April 2022 | 9am-3.30pm
Cost: From $129
10. Sydney Olympic Park Quaycentre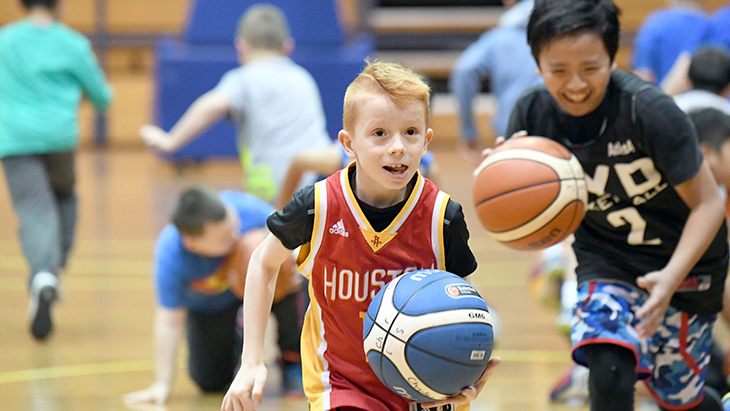 The Quaycentre at Sydney Olympic Park will be abuzz with a range of action-packed sports programs for budding athletes to keep their minds and bodies active these holidays. Fun is the aim of the game with netball, volleyball, soccer, basketball and tennis all on the schedule with some of Sydney's best coaches and professional athletes. that will help children learn new skills or take their game to new heights!
There's a Day Multi-Sports Camp for kids of all ages who want to give something new a try. Sports include table tennis, soccer, basketball, netball and gymnastics, all under one roof.
Where: Quaycentre, Olympic Boulevard Sydney Olympic Park
When: Monday 11 April - Friday 22nd April 2022
Cost: Programs start at $60
11. Open Academy at the Sydney Conservatorium of Music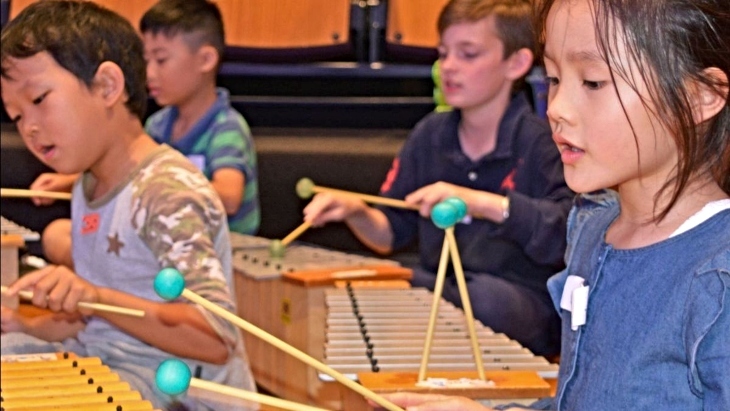 The Sydney Conservatorium of Music will be running a series of Open Academy workshops in their historic Macquarie Street buildings these school holidays. Based on the Orff-Schulwerk approach, and the Dalcroze and Kodaly methods, children will be immersed in a broad range of musical activities including singing, imitation, movement, playing percussion instruments, improvisation, story-telling and guided listening.
The workshops are designed for little music lovers from 3 to 10 years old to explore creative music-making in small group activities. They also offer a great opportunity to experience what the weekly term-time programs are like! The Kids at the Con program is designed to help children engage with the exciting world of music and encourage the development of artistic expression.
Where: Sydney Conservatorium of Music, University of Sydney, Macquarie Street.
When: 19 and 21 April 2022
Cost: $40 - $95 per child
12. Drama Workshops at ATYP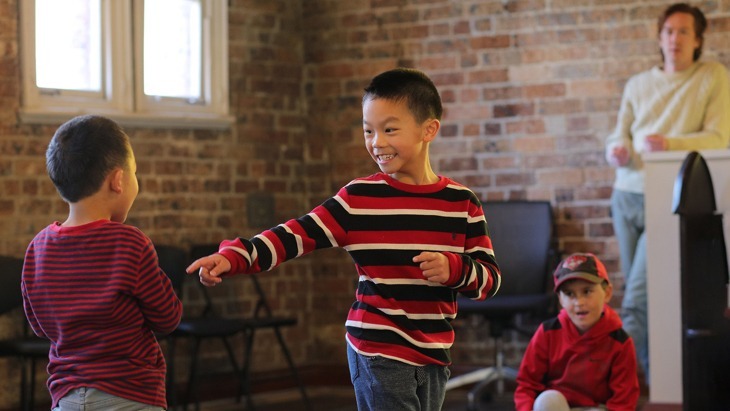 Australian Theatre for Young People (ATYP) is here to help fill the Autumn school holidays with a stellar line-up of drama workshops created to engage performers of all ages.
It's no secret that ATYP loves drama. And acting. And comedy. The workshops are aimed to encourage and engage young people from kindergarten to Year 12 to embrace the stage and develop their performance skills. Kids will make new friends, build confidence and have a ton of fun in a safe and inspiring environment.
Acting classes at ATYP include character development, comedy, drama, movement, audition intensives, voice and accents and much more, plus there are workshops in short film making, online presentation for digital platforms, storytelling techniques, stagecraft and amazing imagination stretching (ideal for the littlest participants!).
Where: Chippendale, Darlinghurst and Dawes Point
When: Monday 11th - Friday 22nd April 2022.
Cost: Check out ATYP Workshops for individual program costs
13. City Of Sydney: Learn to Swim Programs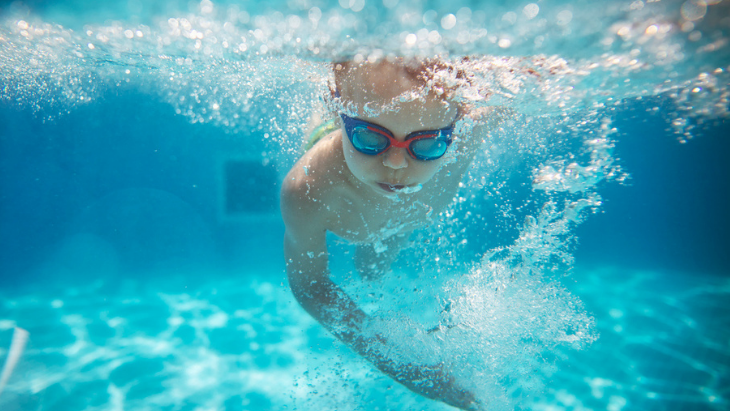 The City of Sydney School Holiday Intensives takes place at world-class swimming pools across Sydney including Ian Thorpe Aquatic Centre in Ultimo, Cook + Phillip Park Pool in Sydney City and Gunyama Park in Zetland. The Fast Track program is an excellent way to accelerate the development of your child's skills. Fun, challenging and educational lessons increase their confidence in and around water with swimming fundamentals like starts and diving; body position, kicking, arms, breathing and timing for specific strokes; and turns and finishes.
Also available for first-time swimmers, are beginners' fast-track classes that focus on fundamental skills and proficiency before integrating into group swimming lessons. Learning to Swim is available for all levels and ages.
Where: Locations across the city
When: Throughout school holidays and beyond
Cost: Various
14. Tutu Studios Frozen April Holiday Camp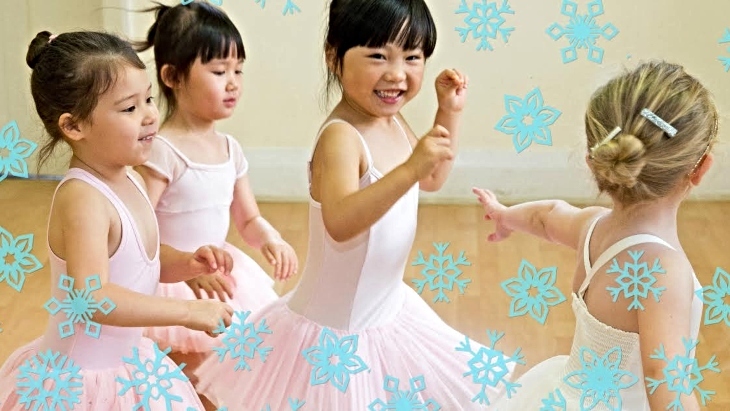 Tiny twinkle toes can let it all go these holidays as they immerse themselves in the magical, musical world of Elsa and Ana at Tutu Studio's Frozen holiday camps. The Frozen Tiny Camp is designed for little ballerinas and danseurs between 2 and 3 years old (with a parent) to have Frozen fun with wonderful winter props, beautiful ballet, gorgeous music and themed stickers. The Frozen Mini Camp for dancers from 3 to 6 years will include a Frozen inspired class plan, dance to fabulous Frozen music, use fantastic themed props to ignite their imaginations, make a Frozen craft, stickers and more!

Where: Lugar Brae Church Hall, cnr Leichhardt St & Lugar Brae Ave, Bronte
When: April 2022
Cost: From $23
15. Art Est.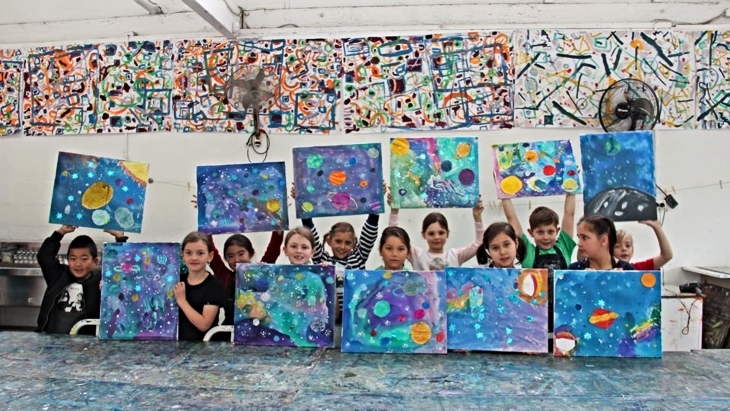 Perfect for children aged 5 and over, the school holiday workshops at Art Est Art School & Gallery is a fun way to learn and experiment with all things arty. There's the chance to try painting, drawing, cartooning, ceramics, clay sculpture, pottery wheel, printmaking and more in a creative space.
With 50 workshops on offer for creative kids and teens, class activities are age-appropriate and incorporate a range of techniques. The 3-hour workshops are available mornings and afternoons and you can build your own program by choosing one workshop, several across the holidays or a full day.
Where: 4/67-69 Lords Road, Leichhardt
When: Monday 11th - Friday 22nd April 2022.
Cost: Various pricing - see website for details.
16. Sydney Olympic Park Aquatic Centre

Future Olympians can dive in at the deep end at Sydney Olympic Park Aquatic Centre these school holidays! It's the perfect all-weather venue to burn off some energy with two clinics for kids to join.
The Diving Clinic will introduce aqua enthusiasts to basic safety skills, plus acrobatics and stretching, with lots of practice in the pool before progressing to the world-class diving tower. Can you dive from 3 metres? The Water Polo Clinic will introduce the fundamentals of the game including treading water, water polo freestyle and backstroke, ball handling, throwing and catching and defending and jumping. It will end with a short, friendly game to practice the rules and new skills!
Where: Aquatic Centre, Olympic Boulevard Sydney Olympic Park
When: 12 -19 April 2022
Cost: $30 per session
17. TinkerTank Workshops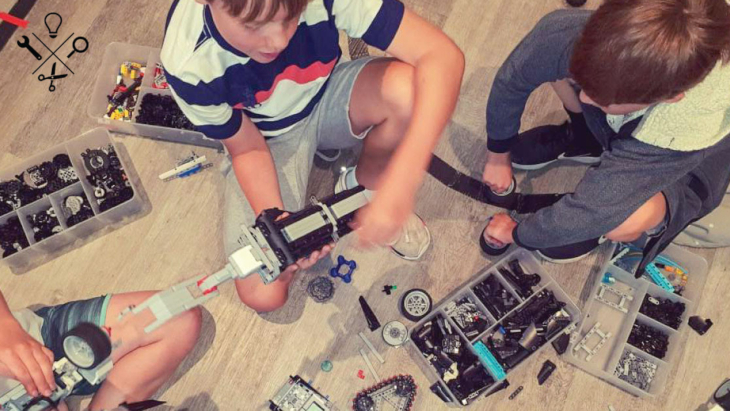 Are your kids interested in coding, robotics, design or any kind of technology that as parents we probably don't even understand? TinkerTank offer fun and exciting STEAM camps with activities in Design + Media, Robotics Challenges, 3D Printing and Design, and Coding. They focus on project-based and student-led learning, that complements the curriculum, and help build students who will be skilled for the future workforce!
Where: Manly and St Leonards
When: Monday 11th - Friday 22nd April 2022.
Cost: $64.99 half-day, $128.99 full day
18. The Maritime Museum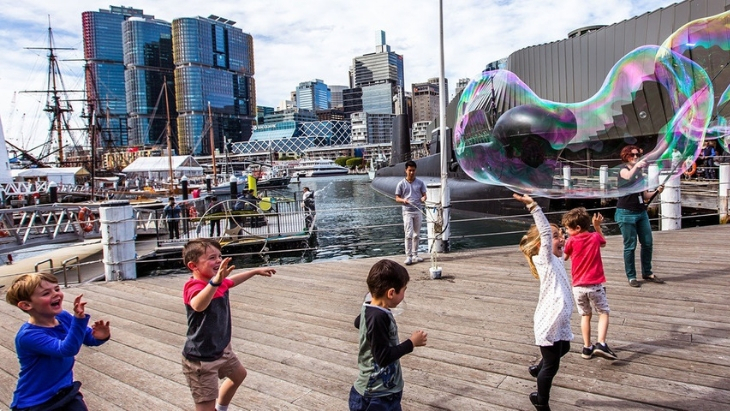 There are boatloads of fun to be had every day these school holidays at the Australian National Maritime Museum with exhibitions and vessels, plus creative workshops, activity trails, Mini Mariners Tours and more! Get creative with artmaking, try some science experiments and explore sensory spaces.
Discover the harbour's smallest inhabitants, adventure around the museum, drop into the Ocean Lab discovery space and relax in the cinema. Creative and curious kids will love the Aquatic Imaginarium and Underwater Drone Workshops.
Where: ANMM, 2 Murray Street, Darling Harbour
When: Monday 11th - Friday 22nd April 2022.
Cost: Adult $25; Child: $15; Family: $60; Under 4s & members FREE
19. Speaking Schools Australasia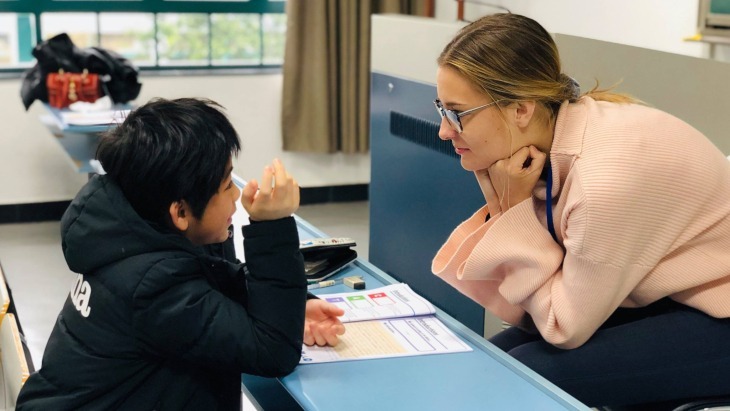 Speaking Schools Australasia offers a range of fun holiday workshops in debating and public speaking for school students aged 6 – 15. They have helped thousands of students improve their speaking skills and develop their confidence, in a welcoming environment with plenty of personal feedback from expert coaches. With an emphasis on small classes, SSS aims to help every student bring their words to life! Book now.
Where: Burwood, St Leonards and Pennant Hills locations and Online.
When: Monday 11th - Friday 22nd April 2022.
Cost: $195 per child
20. Museum Of Contemporary Art - Mini-Makers Studio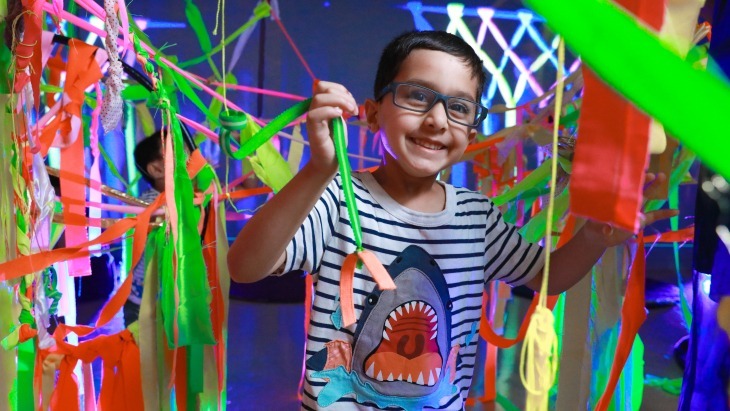 In these Mini Makers: Friends of the river workshops, MCA's artist educators will take you on a welcoming family adventure through the 23rd Biennale of Sydney: rīvus. Tour through the gallery, pausing at artworks along the way to dive into artists' ideas of rivers, wetlands, and their ecosystems, then dive into a 2-hour creative making session in the makers' studio. Everyone will be invited to experiment and play with watercolour paints to visually describe a body of water special to you.
The program is recommended for school-aged children 5-12+ and limited spaces are available.
Where: Museum of Contemporary Art Australia, 140 George St, The Rocks
Creative studios, NCCL: Level 3
When: Thursday 21st - Saturday 23rd April 2022 |10:30am–12:30pm & 2–4pm
Cost: General admission: $25 Child | $15 Adult | Under 4 FREE | Members and Concession entry available.
More Autumn Activities
Best Easter Activities For Kids
Autumn In Sydney: Things To Do With Kids
Best Autumn Shows For Kids In Sydney
Have you signed up for our newsletter? Join ellaslist to get the best family and kid-friendly events, venues, classes and things to do NEAR YOU!