Winter in Sydney: 16 Must-see Festivals in and Around Sydney
Mums & Bubs
Toddlers
Preschoolers
Kids
Teens
Family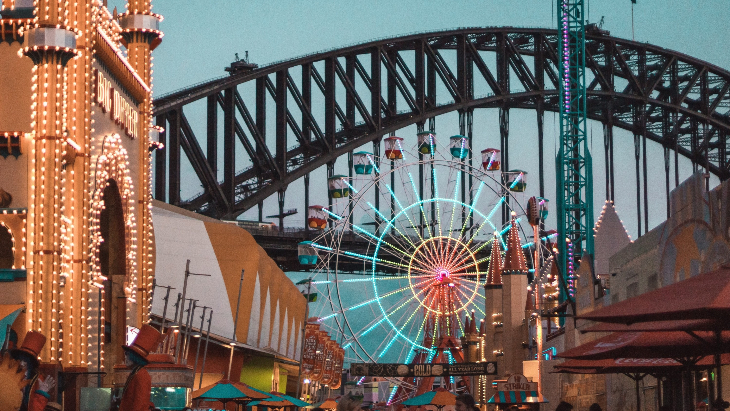 It might seem slightly counterintuitive, but there's something about winter in Sydney that makes you want to get outside and explore! The good news is, you can because Sydney has an enchanting lineup of winter festivals to make winter in the city and beyond that much more thrilling.
Here are 16 incredible winter festivals happening this winter in Sydney.
1. Bondi Festival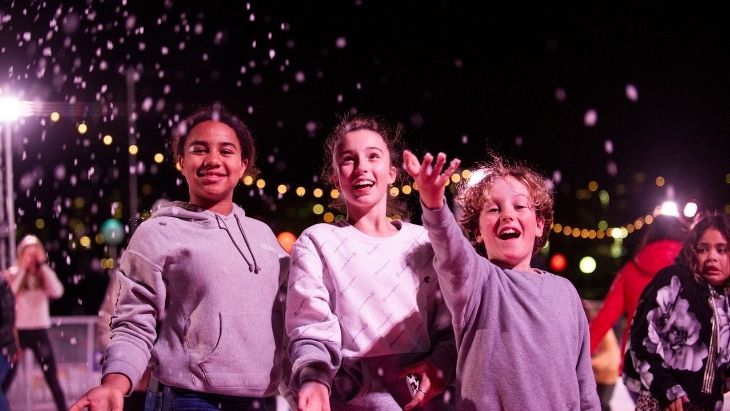 When the temperature drops, there's nothing like heading to the seaside to catch a whiff of that icy ocean air. And what better place to do it than on the shores of Sydney's most iconic beach - Bondi. Returning to the shores from 25 June, the two-week Bondi Festival will run day and night, showcasing all the delights of Sydney's rich arts scene. The full festival programme drops in May, but if past years are anything to go by we can expect an arts festival for all ages—where families can discover live shows including comedy, theatre and music, take a spin on the Ferris wheel and ice-rink, plus enjoy circus shows for the whole family!
Due to the current COVID situation Bondi Festival has been cancelled.
When: From 1st July 2021
Where: Bondi Beach
Cost: Head to the official website for more information on Bondi Festival tickets.
2. Bathurst Winter Festival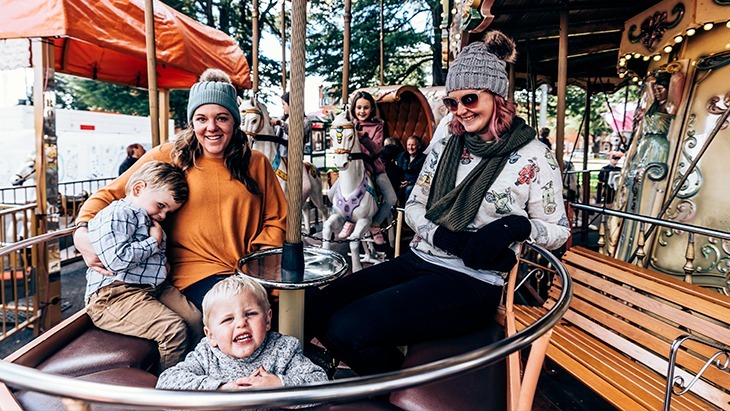 Promising tonnes of fun for all ages during the winter school holidays, Bathurst Winter Festival truly has something for everyone—both day and night! Entertainment will range from light shows, rides, ice skating, signature food events, market stalls, live music and more. There's also the highly exciting Kids' Day, with its daytime disco and cool activities, and Pets' Day, where you can bring your furry friends along for pet-friendly activities!
When: 26 June to 11 July 2021
Where: Bathurst town centre - Kings Parade, Russell Street
Cost: Head to the official website for more information on the Bathurst Winter Festival.
3. Sydney Solstice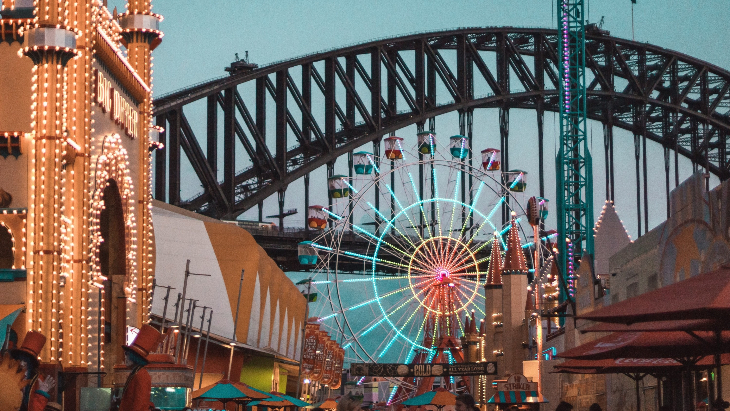 For some, the shortest day of the year can be a pretty gloomy indicator that the cold has settled in and our hermit tendencies have been activated. But the organisers of the Sydney Solstice event have taken a slightly more optimistic approach: shorter days mean longer nights! Kicking off on 8 June, this two-week evening extravaganza will see chefs, musicians and artists taking over four Sydney precincts - the CBD, Darling Harbour, Oxford Street and Newtown - celebrating the best culinary and cultural offerings Sydney in winter has in its many nooks and crannies. Get excited because our vibrant city is coming alive again!
When: 8 to 20 June 2021
Where: the CBD, Darling Harbour, Oxford Street, Newtown
Cost: For more info on the event programme, head to the official Sydney Solstice website.
4. Sydney Film Festival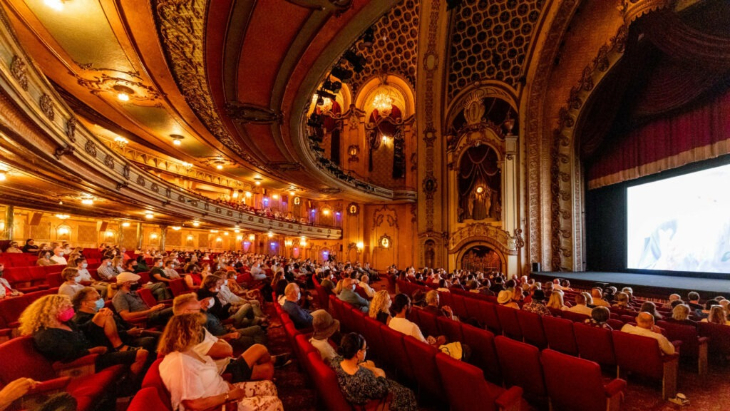 One of the cosiest pastimes you can treat yourself to once winter in Sydney rolls around is grabbing a big ol' box of popcorn, settling back in a recliner chair and watching a film in the theatre. The 68th Sydney Film Festival is back with gusto which will be welcome news for cinephiles who have been eagerly anticipating the opportunity to watch award-winning thrillers, dramas, comedies, documentaries, and short films from across the world. From 18 to 29 August, you'll be able to hit the red carpet, catch a sighting of your favourite actors and filmmakers, and marvel at the big big screen from inside the State Theatre.
When: 18 to 29 August 2021
Where: various theatres across the city
Cost: Sydney Film festival lineup and ticket information will be available over the coming months.
5. Winter Magic Festival

Less than two hours drive outside of Sydney, you'll find yourself smack bang in the middle of the Blue Mountains' epicentre - Katoomba. Katoomba is often regarded as the preferred winter getaway hotspot for Sydneysiders, and now there's even greater reason to bundle up the kids in the car and really get yourself in the spirit of the season. The Winter Magic Festival is just as whimsical as it sounds, with punters encouraged to let the charm of winter takeover and dress up! On Saturday 19 June, all the enchanting characteristics of the Blue Mountains will be on offer, including street food, music, artisanal markets and performances setting the laneways alight.
Please Note: Katoomba Winter Magic Festival has been cancelled for 2021 due to COVID-19 restrictions.
6. Glenworth Grazing Food & Wine Festival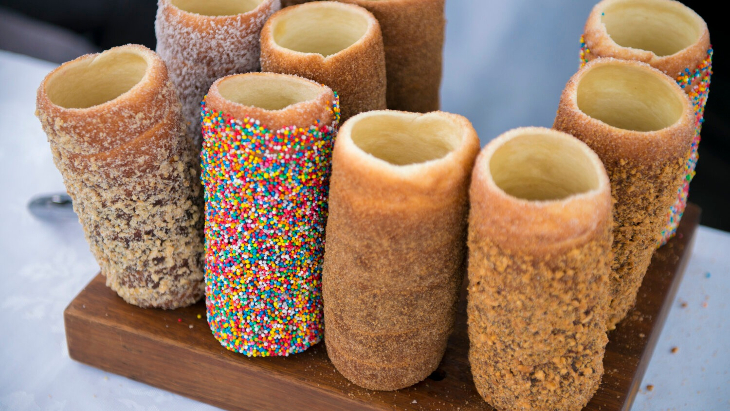 It's no secret that winter in Sydney goes hand-in-hand with noshing on rich, hearty food and wine. You don't have to forage for such moreish delights further than the Central Coast at the Glenworth Grazing Food & Wine Festival, where you can enjoy an array of award-winning wine, beer and spirits. To accompany the tipples, you'll be surrounded by food stalls, boutique stalls and plenty of live music, all while taking in the beauty of the Glenworth Valley. And if all of the above sounds a little too lah-di-dah for the younger members of the family, event organisers have made sure there are entertainment options for kids with petting farms, pony rides and laser skirmish to keep them occupied while mum and dad tuck into another slice of Double Brie.
When: 12-13 June 2021
Where: Glenworth Valley
Cost: Early Bird Tickets $5, General Release $15 (until sold out), Children under 7 go FREE. For more information visit Glenworth Grazing Food & Wine Festival.
7. Sydney Cherry Blossom Festival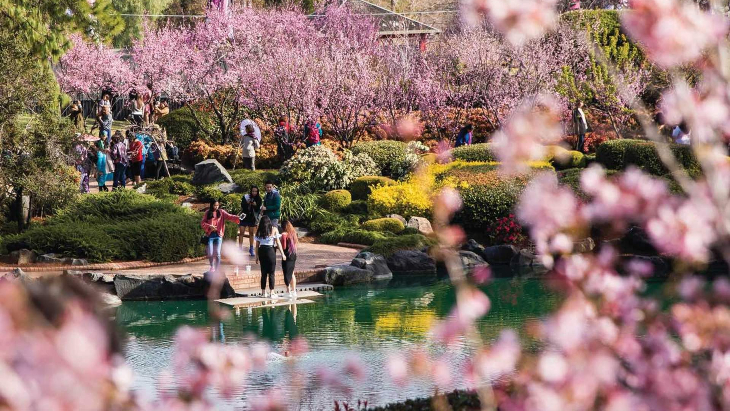 While we can't jet off to Kyoto to take in the arrival of the breathtaking Cherry Blossom season, fear not because we can still enjoy the stunning display of nature's palette right here during winter in Sydney. The Sydney Cherry Blossom Festival is one of the most beautiful ways to experience winter in Sydney in the Auburn Botanic Garden, and the good news is it's returning this year! Japanese delicacies, attractions, and kid-friendly activities are on the agenda for 9 cherry-blossom-filled days from 21 to 29 August.
When: 21 to 29 August 2021
Where: Auburn Botanic Gardens
Cost: FREE for kids 15 and under and Cumberland residents; $10/adult
8. Yulefest at the Fairmont Resort & Spa Blue Mountains

If you're a winter purist, you'll certainly be looking for ways to celebrate Christmas in July this year. The Fairmont Resort & Spa in the Blue Mountains are the premier purveyors of creating the warm and fuzzy feels of Christmastime with their annual Yulefest. Every Saturday in July, the Fairmont Resort will be hosting an evening of yuletide celebration, including traditional menus with all the trimmings, a visit from Santa Claus, a roaring fireplace and maybe even a canopy or two dripping in Mistletoe. Dinner and drinks packages are available to accommodate the whole family and if you'd really like to immerse yourself in the winter wonderland, book a night's stay in one of the hotel's lush rooms.
When: Every Saturday in July, 6-9pm
Where: The Fairmont Resort & Spa Blue Mountains
Cost: Adults $118, teens $68, children 5-11 $29, children under 5 FREE. For more information and bookings, head to Fairmont Resort & Spa.
9. Tinseltown: Christmas in July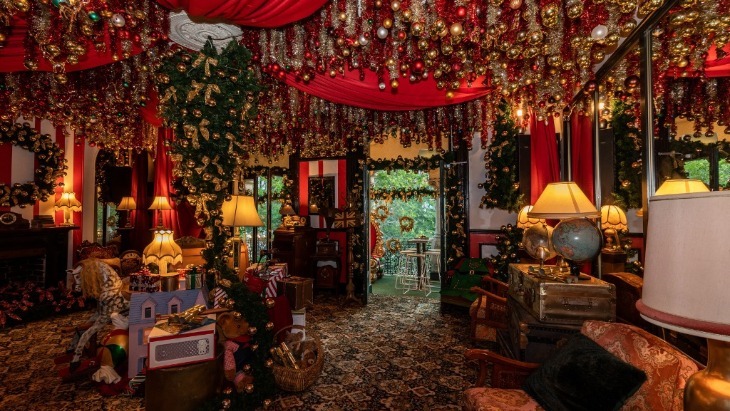 Calling all you Christmas fiends, Christmas in July has arrived in Sydney! While not technically a winter festival per se, a pop-up event that celebrates Christmas in July is exactly where we feel like going this winter in Sydney! The Tinseltown: Christmas in July event is offering up elves, Christmas games, Christmas songs on repeat (All I Want For Christmas, anyone?) and a merry cocktail menu - need we say more?
Where: Wonderland Bar, Potts Point
When: From 1 to 31 July 2021
Cost: Prices start from $15 for a 90-minute session.
10. Vivid Sydney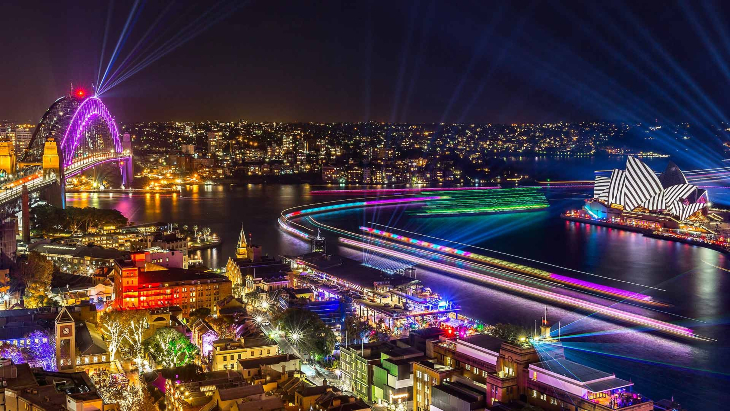 Excuse our excitement for a moment while we throw out an enthusiastic hip-hip-hooray because Vivid Sydney is returning in 2021! Last year may have claimed Vivid in its lineup of cancellations, but things are looking up with the spectacular festival of lights, music, ideas and more kicking off on 6 August to once again awe and inspire. The opportunities for sensory overload are endless at Vivid Sydney - watch the epic light projections, listen to the Vivid LIVE sessions at the Sydney Opera House and get the noggin ticking at one of the many public talks, seminars and workshops.
When: 6 - 28 August 2021
Where: Vivid Sydney 2021 will be on display at various locations across Sydney
Cost: For more information on event programming and tickets, head to Vivid Sydney 2021.
11. Bastille Festival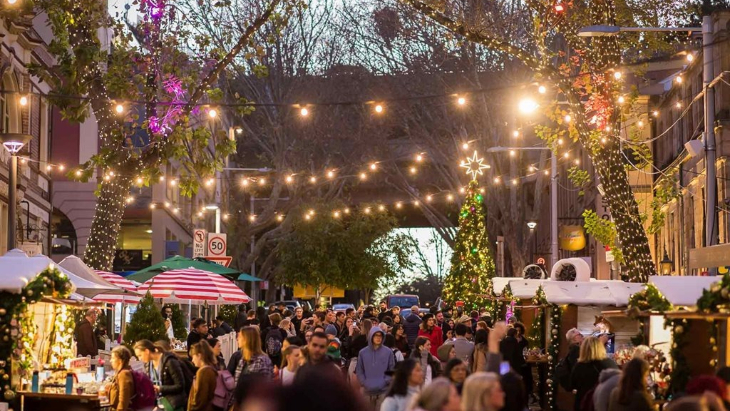 Francophiles rejoice because the Bastille Festival is bringing a little taste of France to The Rocks this July! The five-day Bastille Festival kicks off on 14 July and will showcase the very best in French food, wine and entertainment with street stalls and live performances. An official festival programme has yet to be released so until then, start practising your "oui"s and pull out your favourite beret!
When: 14-18 July 2021
Where Various locations across Circular Quay
Cost: Head to the official Bastille Festival website for Bastille Festival tickets.
12. Snow Time in the Garden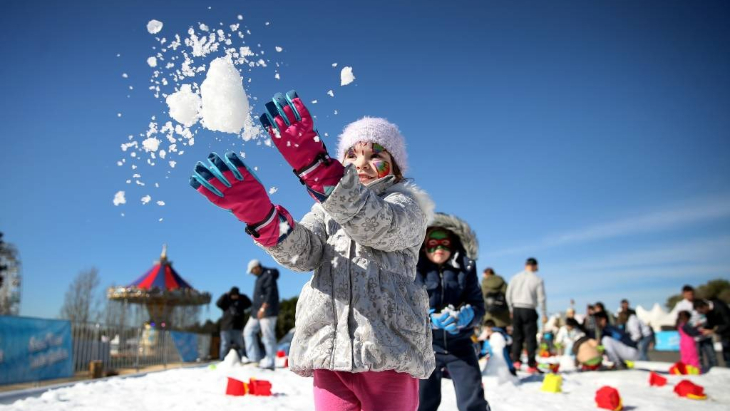 For Aussies, the novelty of experiencing an authentic white winter is a fairly rare occurrence. Ski holidays can be costly and not always accessible for families. But we've found a very affordable alternative just a short drive away to the Hunter Valley Gardens. The 2021 Snow Time in the Garden festival will be held from 19 June to 18 July and is the perfect opportunity for the family to get their snowflake fix! Kids (and big kids) will be able to partake in ice skating, tobogganing, snowman building and a whole host of other frosty outdoor activities. Just remember to pack your gloves!
When: 19 June to 18 July 2021
Where: Hunter Valley Gardens
Cost: Visit Snow Time in the Garden for ticketing information.
13. Nature Illuminated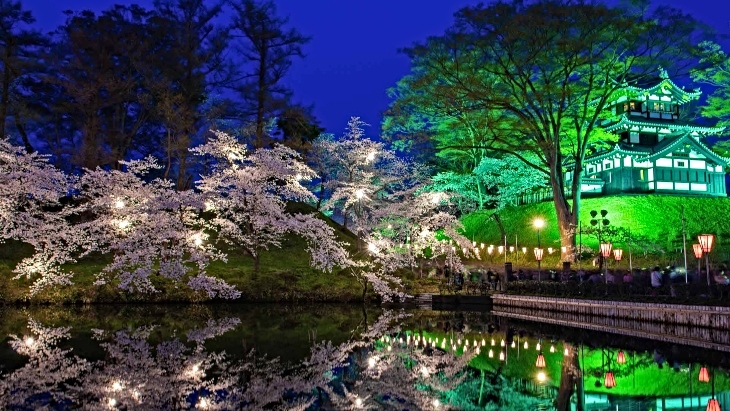 A luminous botanical festival of colour, light and music will take over Sydney's Chinese Garden of Friendship this winter. Nature Illuminated will transform the landscape into an enchanting outdoor dreamland with an immersive show that reflects the changing seasons. Cutting-edge technology and theatrical lighting will allow you to fully engage with the surroundings, as you embark on a treasure hunt and spot friendly forest sprites with the sweet sounds of a string quartet filling the air.
Where: Chinese Garden of Friendship, Corner of Pier & Harbour Sts, Darling Harbour
When: Sunday 25th July - Sunday 3rd October 2021
Cost: Adults $55 |Children $35 | Under 4s FREE | Family Passes available. Find out more and book your tickets at Nature Illuminated.
14. Chill Fest Campbelltown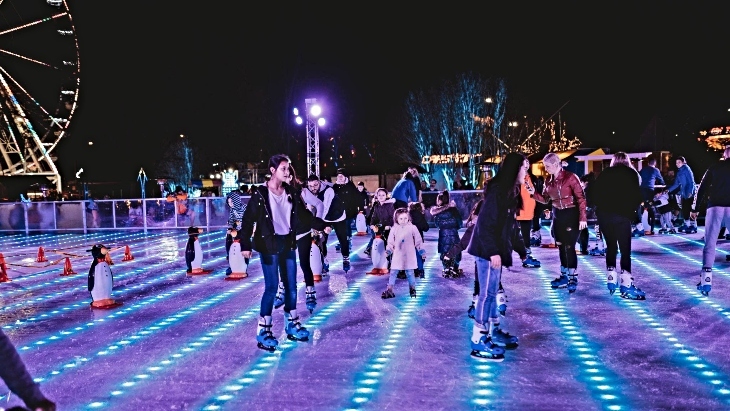 Koshigaya Park in Campbelltown will be bursting with family fun at one of the coolest events of the year - Chill Fest. The magic of winter will be in full swing with activities and entertainment including amusement rides, an open-air ice-skating rink, light shows, marshmallow toasting and food trucks.
Due to the current COVID situation Chill Fest has been postponed. More details to follow soon.
Where: Koshigaya Park, Campbelltown
When: 25th June 2021 - 11th July 2021
Cost: FREE entry, tickets for skating, food and rides will all incur a cost. Get all the details at Chill Fest.
15. Winter in the Domain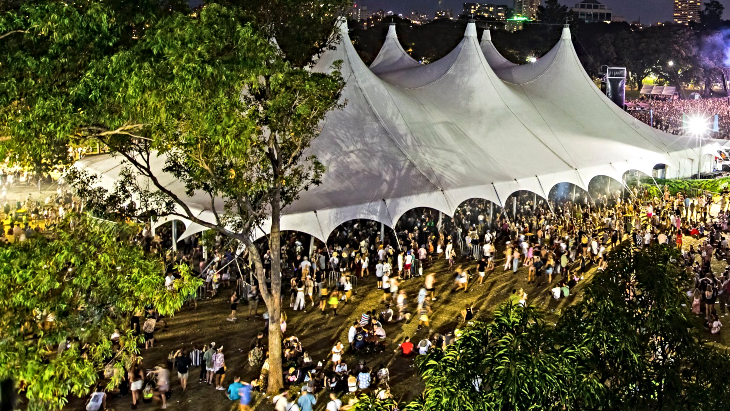 A family-friendly festival of music and culture will be heating things up these winter school holidays! With two unique spaces bursting with entertainment, Winter in the Domain has a Big Top concert series with a diverse range of live performances plus a Winterpark fairground with an ice rink, rides and delicious food and drinks.
Due to the current COVID situation Winter in the Domain has been postponed. More details to follow soon.
Where: Domain, The Royal Botanic Garden Sydney
When: Friday 25 June to Sunday 18 July 2021
Cost: Big Top concert tickets from $59.90 for kids and $79 for adults. Winterpark entry is free outside of concert times.
16. Darling Harbour Winter Festival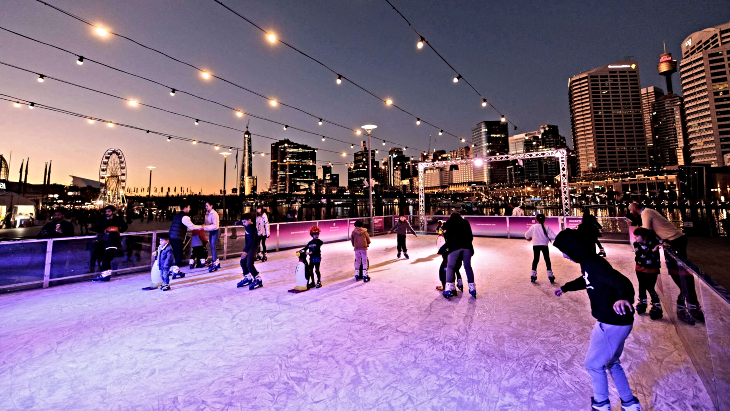 Promising to be the biggest Darling Harbour Winter Festival ever, this Sydney Solstice celebration will be buzzing with free activities, a live performance stage featuring DJs and bands and a special winter foodie market. The family entertainment precinct will be totally transformed with themed decorations, a giant arctic ice slide and the famous harbourside ice-skating rink to create a magical, fun-filled atmosphere. Darling Harbour's beloved fireworks displays will light up the night sky from Thursday to Sunday both weeks of the festival.
Where: Darling Harbour, Sydney
When: Tuesday 8 to Sunday 20 June 2021
Cost: General entry is FREE. Tickets will be on sale soon for some ice activities. Find out more and see the full schedule at Darling Harbour Winter Festival.
Other Ways to Enjoy Winter in Sydney
Winter Getaways for Families
Winter Fruit Picking
Whale Watching in Sydney
Have you signed up to our newsletter? Join ellaslist to get the best family and kid-friendly events, venues, classes and things to do NEAR YOU!