Six of the Best New Playgrounds in Melbourne
Mums & Bubs
Toddlers
Preschoolers
Kids
Family
All Ages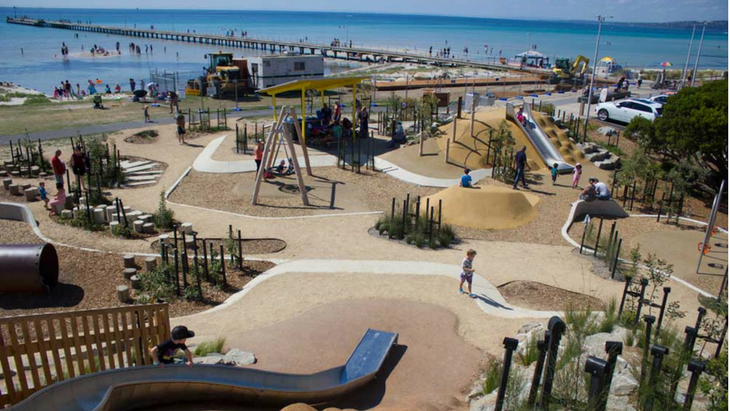 Playgrounds are such a staple in parenting life, but as tempted as we are to head to our old, familiar favourites, why not change it up a bit and explore the extraordinary parks that have sprung up across Melbourne in the last few months?
Some of them might be quite a ways away but they are so worth the trip. Take a blanket and a picnic basket and make a day of it!
1. Rosebud Foreshore Playground
Rosebud Foreshore on the Mornington Peninsula is already a great day out, but they've stepped it up a notch with this impressive adventure playground right on the water's edge.
Climb the mountian via the stairs, rock steps, rock-climbing features, or just up the spongy covering until you get the best beach view in town. From here you can check out the fun equipment on offer - a birds nest swing, carousel, tunnels, flying fox, regular swings, and stepping stones before hurtling down the long metal slide to find some fun.
There are picnic tables available and a long walk on the pier is recommended. As is splashing about in the shallows on a warm summer's day, as the shallows extend so far and is home to cute marine life that's easily spotted.
Find it: 1 Jetty Road, Rosebud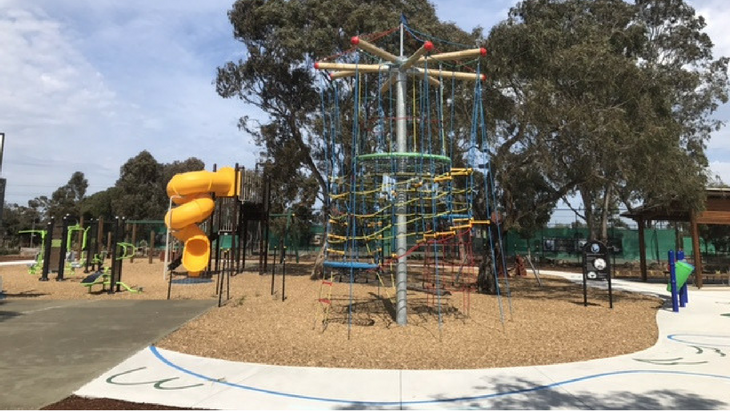 2. Brooklyn Reserve
Brooklyn Reserve has had a wonderful makeover recently and the area has been upgraded with brand-new playground and exercise equipment, which opened this past Father's Day.
The park is awesome for families who are bringing kids of different ages - there is an area for older (or adventurous) kids with a huge slide, climbing frame, basketball court, swings and fun things to play on, and on the other side of the shaded picnic/barbecue area is an area suited to smaller folk with expression swing, sand pit, small slide, small roundabout, and a climbing frame lower to the ground. Bring a trike or scooter as they've really upped the ante with footpaths!
Plenty of parking in the surrounding streets and near to great cafes, too - otherwise there's a huge expanse of green to pop a picnic blanket down on.
Find it: Cypress Ave, Brooklyn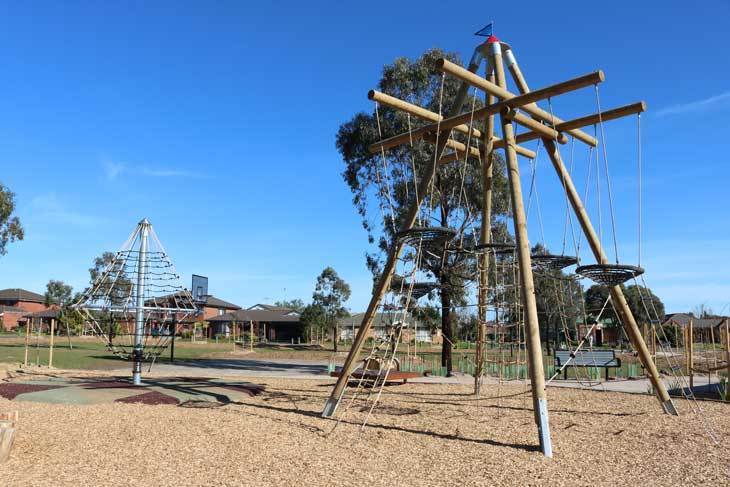 3. Delbridge Drive Reserve
Delbridge Drive Reserve also has had a makeover, with the focus on natural materials in the playground, making it a fantastic space to bring kids of all ages.
Surrounded by extensive walking/running tracks and athletic fields, there's plenty to do for the whole family. My kids loved the eagle's-nest rope climbing frame (though it's super tall and my heart was in my mouth a lot of the time!), slide, sandpit and cute expression swing.
Plenty of picnic and barbecue space about, and there are water fountains and toilets. Another spot where parking is a breeze.
Find it: Delbridge Drive, Sydenham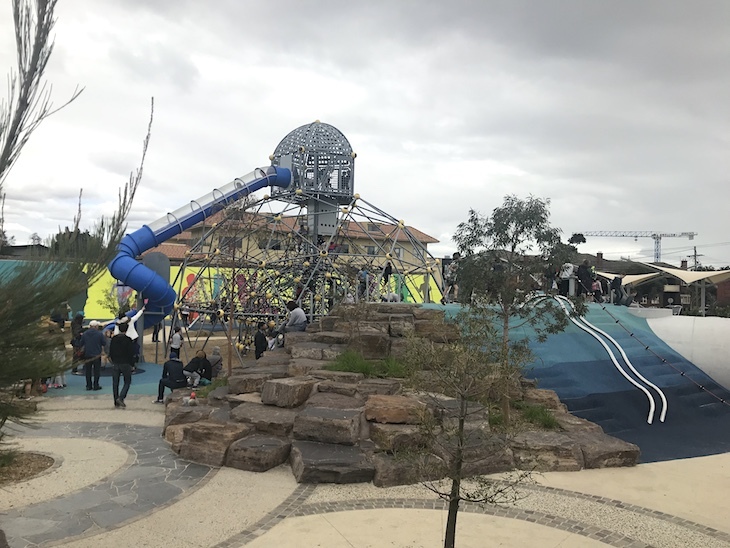 4. Booran Reserve Playground
Hotly contested for the best playground in Melbourne (even though Royal Park Nature Play still holds that title), this new $10m playground is a huge community hub with a lot going for it.
The equipment runs from a multi-level sandpit area to a gigantic climbing structure and twisty slide that is several storeys high. There are swings, a flying fox, an outdoor art/picture gallery, mini trampolines, cricket pitch, basketball court, water play area, Dutch disc-spinner, fun tunnels to climb through and over, clean toilets and a huge expanse of space for picnickers and folks who want to barbecue.
The area is beautifully landscaped with native shrubs and running water, and the undulating pathways were designed to allow intuitive movement and assist those with limited vision and mobility. A fantastic play hub for all ages.
Find it: Corner Booran and Glenhuntly Road, Glen Huntly (exceedingly close to Sundae School Ice Creamery!)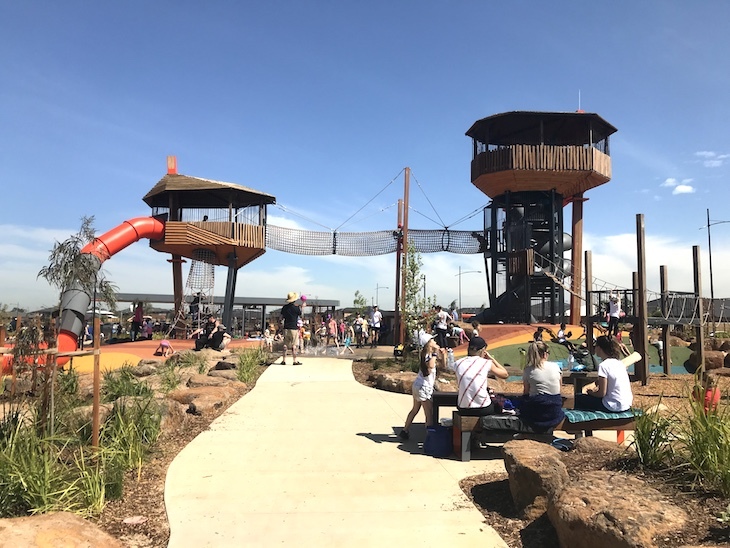 5. Frontier Park Playground
One of two massive adventure playgrounds in the Woodlea estate, the Frontier Park playground is such a great place for a whole lot of family fun.
The playground is situated right next to full-sized basketball courts, an extensive skate park, and sporting fields, and boasts three huge towers, nature play area, sandpit, massive twisty slides, pentagon swing set, ropes, tunnels and rope tunnels, bridges, smaller slides, rock climbing features, carousel, birds nest swing, and meandering water play area with fountains and pumps.
Phew!
Picnic tables are dotted throughout the playground and there isn't really any grassland to set up camp on, but the huge rocks that serve as playground barriers are a popular spot to sit. There is also a large shaded barbecue area, and toilets.
Find it: Frontier Avenue (off Leakes Rd, take the turnoff to Plumpton way to find it). This is the playground at the end of Woodlea Rd, there is another playground you'll go past on the way to this one.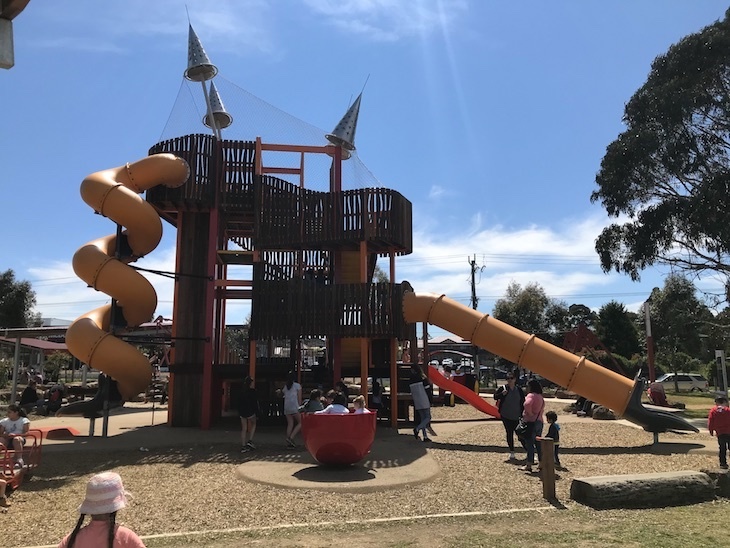 6. Community Bank Adventure Playground
"All ages, all abilities, all seasons" is the catchphrase for this brand new establishment, a community effort between the Victorian State Government, the Wallan & Kilmore Community Bank® Branches of Bendigo Bank and Mitchell Shire Council.
Suitable for children of all ages, you'll find a fun and challenging five-story tower complete with three slides, flying foxes, several birds nest swings, regular swings, roundabouts, springers, climbable tractor, scooter tracks, covered sandpit, toilets, huge seesaw, plenty of picnic space and tall shady trees, and a small water splash park that's open from December - March.
Find it: Queen St, Wallan.
Still looking for more? What about five other new playgrounds to check out, parks we love for spending a day at, favourite places to picnic now that the weather is warming up, and six of the best fenced playgrounds in Melbourne for smaller kids.