Six of the Best Attractions To Explore With Kids In Parramatta
By: Stephanie Boyle and Vanessa Mah Chut, ellaslist explorers
Parramatta is one of the most historically rich places in Sydney. It is increasingly one of the most culturally rich too. It is now home to some terrific annual events including the Parramatta Winterlight festival (held in the June/July school holidays), the Spot On Children's Festival in September, the Let's Go Greek Festival in September celebrating all things Greek & delicious and Parramasala in October, a celebration of Parramatta's strong links to the sub-continent through its large number of residents who hail from that region.
If you've never visited the suburb before, thrown off by its formerly poor reputation, put your assumptions to one side and give the suburb a chance. Some big names in culinary circles such as Gelato Messina, Jamie's Italian and Bourke Street Bakery have all ventured out to Parramatta in recognition of the suburb's changing image and there is a real sense that this is just the beginning of its gentrification. Here are the top six events and places that Parramatta has to offer and that will have you returning again and again.
1. See A Show
If you're not exploring Parramatta when one of their fabulous festivals is on, then head to the National Theatre of Parramatta on the corner of Market & Church Street. They have an awesome program of family-friendly shows, including The Red Tree coming this October 2017. Based on Shaun Tan's award-winning book, The Red Tree will take audiences on an extraordinary journey to a world of imagination, where origami boats embark on ocean voyages, giant fish host musical interludes, and parades pass by. More information here.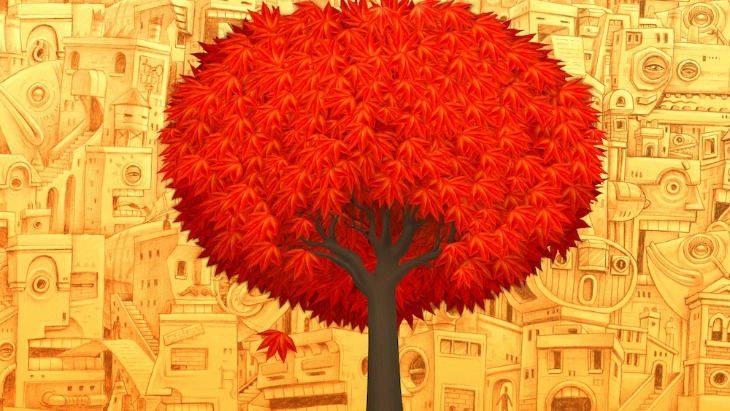 2. Parramatta Park and
CBD

River Foreshore Park

It is not uncommon for my family to visit Parramatta Park several times a week. It's one of those green spaces that makes you extremely grateful to call Sydney home. No matter how old or young your children are there is something in this park for them. Visitors can walk or ride the circuit of the park, enjoy the exquisite Rumsey Rose or Wisteria gardens, take time out for a drink or snack in the lovely cafe overlooking the river, explore old Government House or play in one of the three wonderful playgrounds.

An extremely modern and unconventional playground has opened to great fanfare at the Westmead end of the park and it's absolutely fabulous. In the Domain Creek playground, you can bounce on cleverly disguised trampolines, climb an enormous rope ladder to access the very exciting slide, use a digger to dig in the sandpit, play with a lovely water feature or enjoy the wooden xylophone. From the road you can barely see this playground, so beautifully does it blend with its bushy surroundings, rejecting the traditional primary colours and plastic of older playgrounds. If you have toddlers, this part of the park is best avoided on weekends and during school holidays as it tends to get very crowded with older children. Generally speaking, Parramatta Park does not ever have an overcrowded feel to it. Its broad expanses of grass and gum trees can accommodate a huge number of visitors!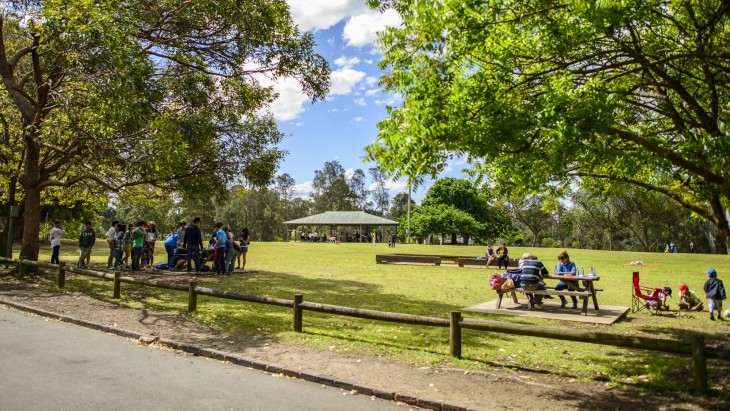 via Parramatta Park
Or head to the CBD River Foreshore Park! This park sits at the end of Elizabeth St (free parking here on the weekend) and adjacent to the Elizabeth St footbridge on the Parramatta River. The park is built into the bank and the play equipment is surrounded by lush greens. There's plenty of entertainment provided by the long slide, the tricky rope climb and the climbing wall, as well as the sandpit with containers and pulleys built in for your kids to use to their hearts content.
And Don't forget, the Parramatta Winterlights at Prince Alfred Square!
3. High Tea at The Gatehouse
My three year old son is a high-tea connoisseur. It's one of his favourite things to do and he'll often ask to spend special occasions partaking of scones with jam and cream. I'm happy to oblige him since it's a really relaxing and lovely activity to share together. While he's quite happy to indulge in an 'adult' high tea, it's even more special when a children's high tea is on offer.
We visit the Gatehouse regularly for tea and my son is an extremely welcome customer. The Gatehouse offers a children's high tea for 'tin lids' consisting of fairybread, a mini cupcake, juice and other sweet treats. The amazing scones are arguably Sydney's best and are worth a visit on their own! Of course this isn't an everyday experience but you should definitely save up for a very memorable afternoon. You and your children will adore the setting too- the Gatehouse and its beautiful little garden are straight out of the pages of Enid Blyton or Beatrix Potter.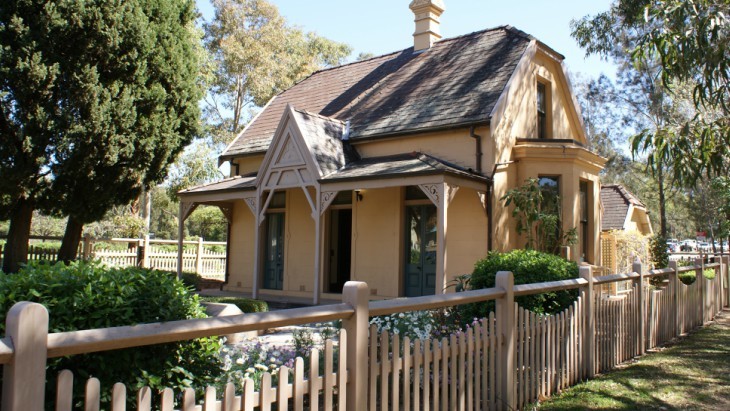 4. James Ruse Reserve Water Playground
The weather is getting warmer and the water park has just opened! The kids will love firing the water cannons and running through the water tunnels. If it's still too cold, there's a skate park, the large climbing frame to keep kids busy and a few picnic tables for lunch. If you're coming by car, you're in luck because there's a car park off the street. Read the review here.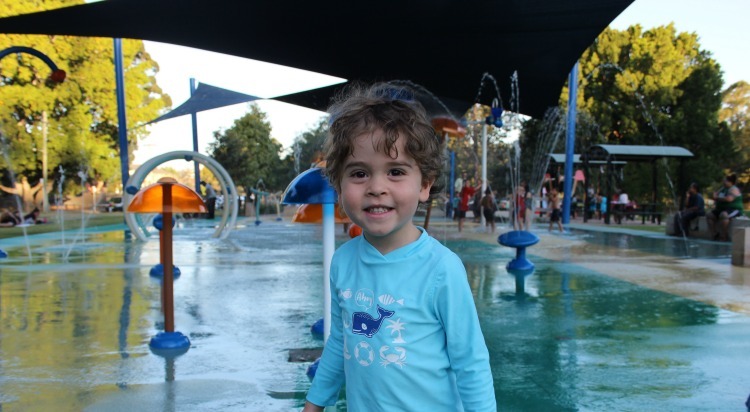 5. Parramatta River And Ferry
The walk along Parramatta River from Church Street to the ferry wharf and beyond is lovely, particularly at dusk. In summer you'll find local families (including ours!) picnicking here. You can stop at Riverside Park, which is home to a fantastic adventure playground, or enjoy the light and water show after sunset under the Barry Wilde Bridge.
Beyond the ferry wharf, towards Harris Park, there are a number of historical places of interest which is wonderful for budding little historians studying Australian history at school. If you come during the day you could consider taking the ferry along Parramatta towards the city. This is not a quick trip (so make sure you're not in a hurry!) but what it lacks in speed it more than makes up for with beautiful views and gorgeous scenery.
In July, the River foreshore also hosts the Beat the Bottle family friendly music event.
6. Lake Parramatta
Lake Parramatta, unlike Parramatta River, is not accessible from the train station. It's located in a gorgeous expanse of bushland in North Parramatta. Because it's tucked out of the way, a visit here allows you to feel as though you've ventured further afield. You can go for a bushwalk, have a BBQ, feed the ducks, bring your own canoe or kayak for a paddle and, since last summer, even swim in the lake. The walk around the lake is easy going and my two and a half year old completed the entire thing (with the occasional piggy back!) in about 2 hours. There is also a lovely little cafe within the park if you don't fancy a picnic. The playground is small but fun and there is a special purpose built swing for wheelchair bound children which allows them to share in the fun. Explore picturesque Lake Parramatta from a different point of view by hiring small water craft. Hire anything from 4-person paddleboats and rowboats to stand up paddleboards, canoes, kayaks and pedal boats. To learn more about Rowing your boat, click here.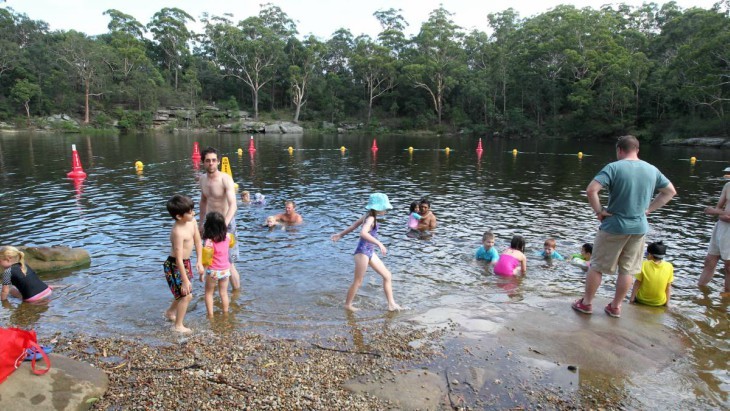 via Helen Nezdropa/Parramatta Sun
Bonus One: Best Places to Eat
And after all that, you and the kids will be hungry! There are so many great food experiences on offer in Parramatta. In fact, the lower half of Church Street has been renamed 'Eat Street' and with good reason! Not everywhere is great for children but there are still a number of restaurants that are both kid friendly and offer a great dining experience for the whole family.


Have some tasty and chilly gelato at Messina


Sink your teeth into a steak or burger at Volcano's


Enjoy some crispy churros and Mexican hot chocolate from San Churro


Pick a 1, 2 or 3 metre pizza from Criniti's


Or have some roti and curry at PappaRich
Parramatta has something for everyone and a number of things that will be a real novelty for your little adventurers. Walking down Church Street from Victoria Road to Westfield, located adjacent to Parramatta train station, it's impossible not to find something that appeals to the entire family. Discover & explore more fun family activities in Parramatta.
Have you signed up to our newsletter? Join ellaslist to get the best family and kid-friendly events, venues, classes and things to do NEAR YOU!