Natural Wonders To Discover Near Sydney
Toddlers
Preschoolers
Kids
Teens
Family
All Ages
ellaslist COVID-19 update: Please note that all the information on the website is correct at the time of publication. Please check the relevant website before visiting a venue or destination for the latest COVID-19 information. ellaslist is not responsible for any cancellations or closures.
Put away that passport and pack up the car because beautiful NSW is calling your name! The NSW Government has confirmed regional travel in the state will be allowed for any reason, and yes that includes holidays, from June 1. Woohoo!
And if you're keen to see Mother Nature at her finest, then you're living in the right state! Aside from our glorious coastline, NSW delivers natural wonders in droves. From curiously shaped rocks to bellowing blowholes and grand canyons, there are plenty of natural landmarks to visit in NSW, and some are just a short drive outside of Sydney. Get your cameras ready...
Camel Rock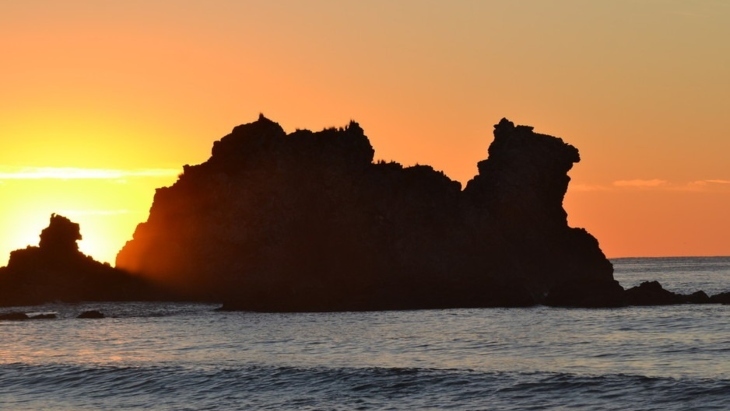 Another curious rock formation, Camel Rock in Bermagui on the NSW South Coast looks eerily similar to a sitting camel! It's rumoured to be close to 500 million years old and was named during the first mapping of the NSW coastline. The giant camel sleeps right next to Camel Rock Surf Beach and is worth the 5-hour drive to see it.
Location: Camel Rock Surf Beach, Bermagui
For more information, visit the website.
Glow Worm Caves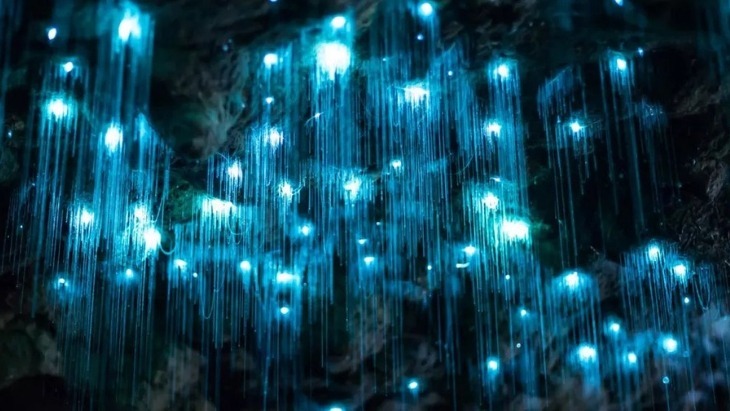 Who would've thought that a fungus could be so marvellous to look at! Yep, you read that correctly - fungus. The larvae that ooze from fungus gnats in all its spectacular bioluminescence is what creates magical glow worm caves, and they only exist in Australia and New Zealand. There are 3 notable glow worm caves in NSW worth visiting – Lithgow, Bilpin, and Bundanoon. All 3 are a sight of amazing wonder, and run both day and night tours for the whole family.
Read more from our glow worm guide.
Belmore Falls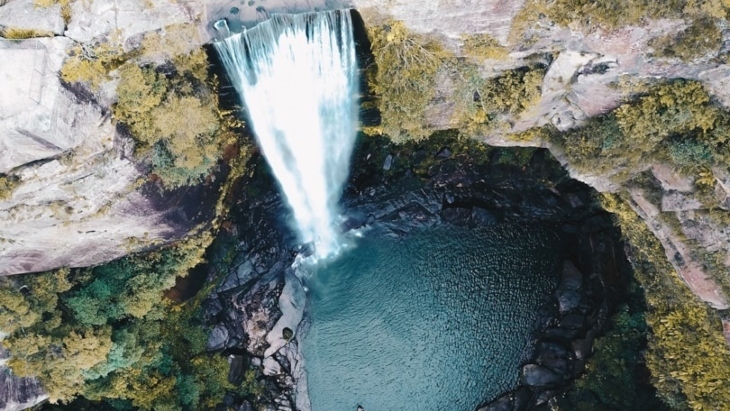 Few sights are more spectacular than a beautifully flowing waterfall. Lucky for us, NSW has plenty of waterfalls to gaze at, but one waterfall, in particular, is truly something special. Located in the Morton National Park in the Southern Highlands, Belmore Falls cascade for an impressive 100 metres and land in a glorious pool of fresh water at the bottom. While we wish we could go for a dip in the freshwater pool, getting there is a 45-minute trek down an abandoned path that isn't very safe for little ones. Several worthy lookouts give you spectacular views of the falls in all their glory and can be accessed via the Hindmarsh Lookout Track.
Location: Hindmarsh Lookout Track, Barrengarry
For more information, visit the website.
The Three Sisters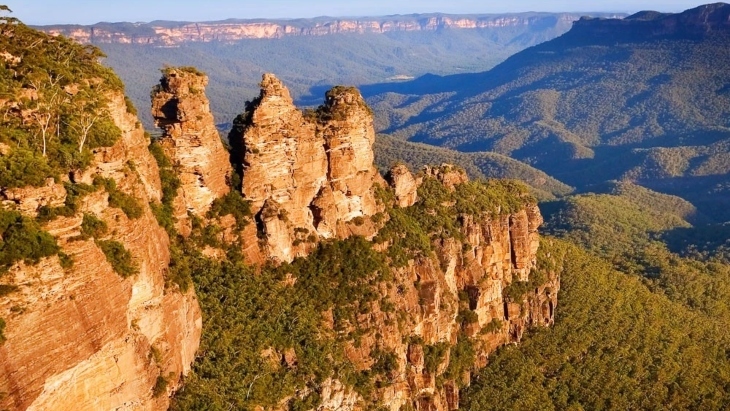 First up on the list is, of course, the Three Sisters. The three stunning sandstone formations are embedded in Aboriginal legend and represent three sisters ('Meehni', 'Wimlah' and 'Gunnedoo') who were turned to stone millions of years ago. The iconic Blue Mountains attraction is a great day out for the whole family, particularly if you choose to view them via the Scenic World Scenic Skyway.
Location: 23-31 Echo Point Rd, Katoomba
For more information, visit the website.
Jervis Bay Bioluminescence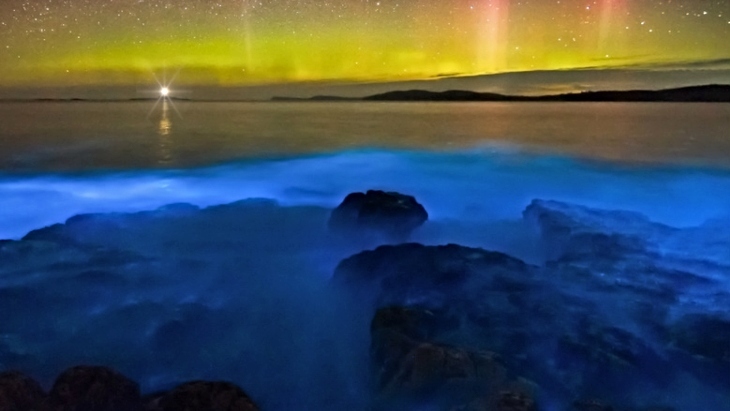 The seaside village of Jervis Bay on the NSW south coast boasts the whitest sand in the world and a stunning natural phenomenon in the ocean! Incredible bioluminescence light shows are known to illuminate the water with 'sea sparkle' due to the thriving population of microscopic bioluminescent algae called Noctiluca. Most visible at night, chemical reactions beneath the surface cause plankton to become luminescent. The displays are unpredictable because of the underlying environmental conditions but you are most likely to see this glowing spectacle in the warmer months.
For more information, visit Jervis Bay Wild.
Depot Beach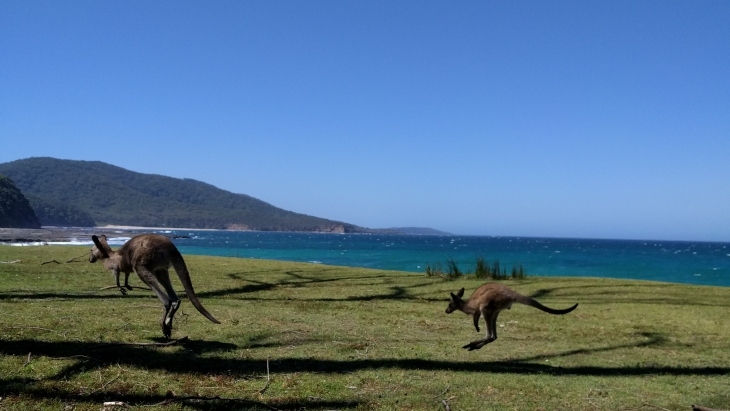 If you're planning on road tripping down the NSW South Coast, make sure you add Depot Beach to your itinerary. Nestled in the Murramarang National Park, Depot Beach is where you can see loads of kangaroos outside of a zoo or wildlife park setting. Hundreds upon hundreds of kangaroos live in the National Park and come out to visit the shores of Depot Beach and neighbouring Durras, Pebbly, and Pretty Beach every day. There are a few great camping spots in the area if you want to stay overnight.
Location: Depot Beach, NSW South Coast
For more information, visit the website.
Kiama Blowholes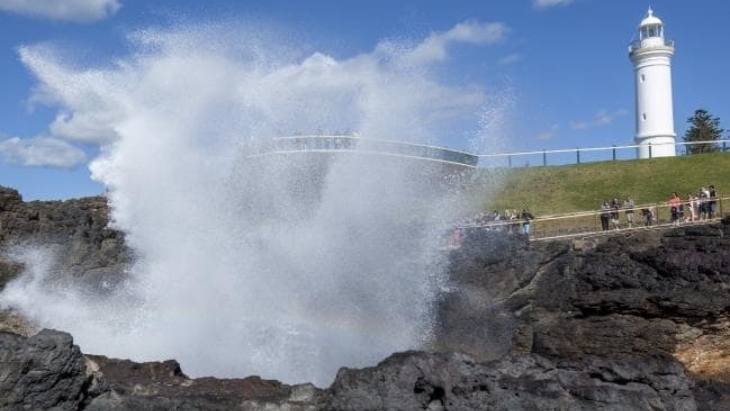 Kiama's famous blowhole is actually the biggest in the world. The roaring natural attraction in Kiama Harbour attracts close to 100,000 visitors each year, who come to ogle at the magical synergy when great plumes of water gather inside the harbour rocks with a bellowing whoosh! Kiama is also home to a second 'Little Blowhole' on Tingira Crescent just 3 kilometres south of the town centre.
Location: Kiama Harbour, Terralong Street, Kiama
For more information, visit the website.
The Walls Of China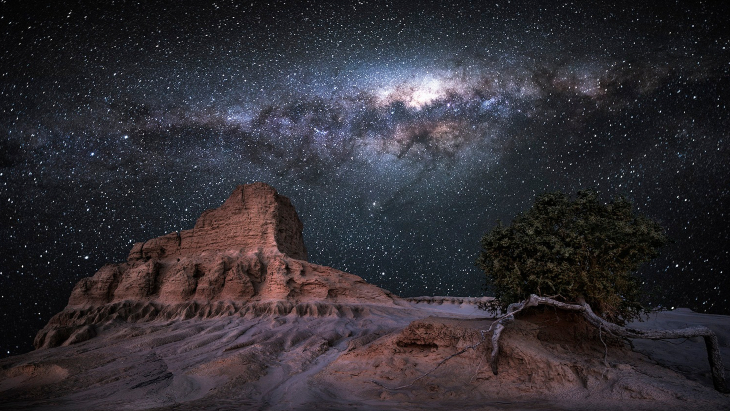 An icon of the Mungo National Park in Outback NSW, the Walls Of China is a collection of dramatic rock formations sculpted by wind and erosion in the most fascinatingly articulate designs. Dating back to the 1800s, the 40-metre high dunes stretch for over 33 kilometres along the Mungo lakebed and are a sight to behold. The best way to view the Walls of China is via the 10-kilometre cycling track that takes you across the stunning ancient Mungo lakebed. Guided tours are also available and run throughout the year.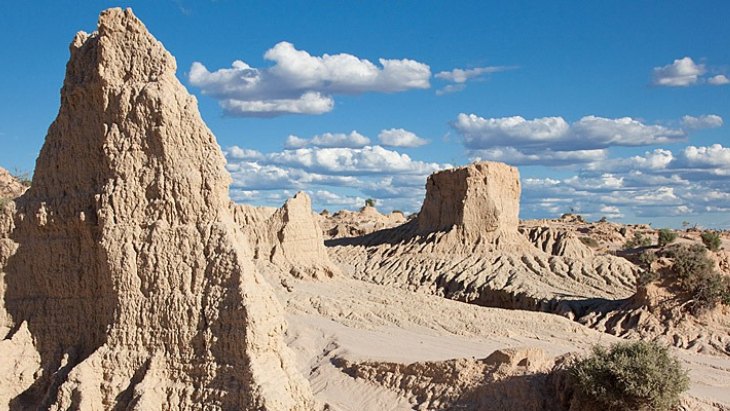 Location: Mungo Foreshore Walk, Mungo
For more information, visit the website.
Sawn Rocks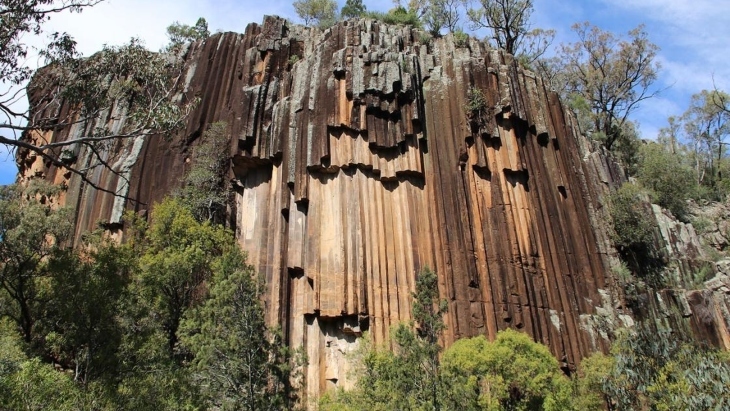 Another naturally stunning rock formation, Sawn Rocks in Mt Kapatur National Park is the largest natural musical instrument we've ever seen. While Sawn Rocks don't actually make music, the dramatic formation of the 40-metre high pentagonal basalt pipes looks exactly like a giant musical organ. The jaw-dropping rocks are the remains of lava flow from the Nandewar Volcano 21 million years ago. Access to Sawn Rocks is an easy 15-minute walk through Mt Kapatur National Park.
Location: Killarney Gap Road, Narrabri
For more information, visit the website.
Capertee Valley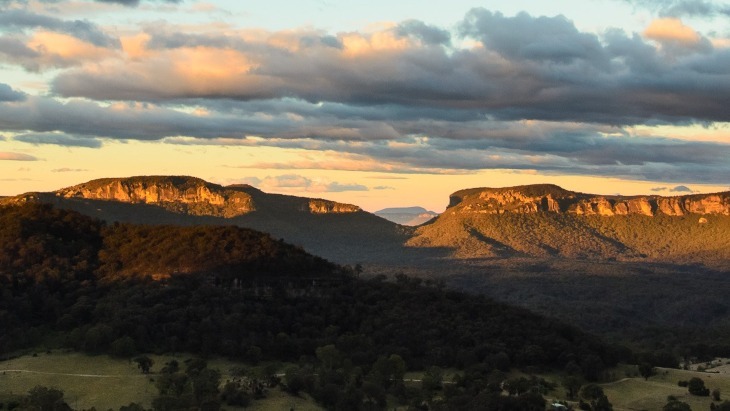 Why go all the way to Arizona when we have our own Grand Canyon right here in NSW? Capertee Valley is the second largest canyon in the world next to the Grand Canyon and is only 2.5 hours drive from Sydney near Lithgow. Capertee Valley is an impressive 30 kilometres wide and boasts hundreds of impressive rock formations, stunning scenery, and an abundance of plant and birdlife. Pearsons Lookout gives you one of the best viewpoints of the impressive canyon and is easily accessible by car.
Location: Capertee National Park
For more information, read our guide.
Dark Sky Park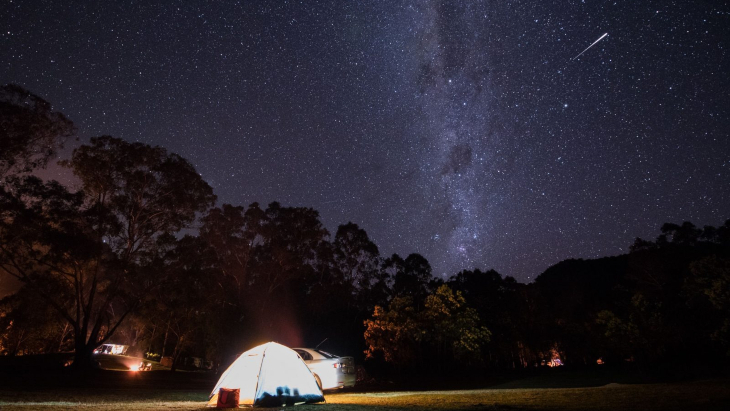 If you're a fan of stargazing, you're going to want to visit Dark Sky Park in the Warrumbungle National Park. Not only is Dark Sky Park the first Dark Sky Park in Australia, but also in the Southern Hemisphere! Thanks to the park's crystal-clear skies, low humidity, and high altitude, the cosmos comes alive with thousands of spectacular stationary and shooting stars every single night. Warrumbungle is also home to the largest optical telescopes in Australia at the Siding Spring Observatory, which regularly runs tours during the school holidays. The best time to view the Milky Way and all the stars is of course at night, so if you're keen to camp under the stars, there's a range of campsites available.
Location: Warrumbungle National Park
For more information, visit the website.
Stockton Sand Dunes
We couldn't run off a list of amazing natural attractions in NSW and not mention our glorious coastline, in particular, the Stockton Sand Dunes. Located in the Worimi Conservation Lands at Anna Bay in Port Stephens, the Stockton Sand Dunes are sand on a very (very!) large scale. Stretching for 32 kilometres and towering 400 metres above sea level, Stockton Sand Dunes are the largest continually moving sand dunes in the Southern Hemisphere. Aside from ogling at the impressive natural formation, sandboarding down the dunes is a favourite activity, or you can get really adventurous and book in on one of the many 4WD tours on offer. Whatever you do, make sure you bring plenty of water and sunblock as there's not an inch of shade in sight.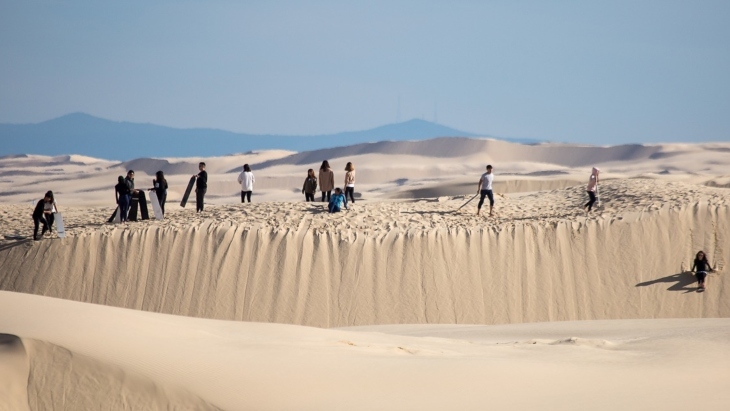 Image Source: Port Stephens
Location: Salt Ash
For more information, visit the website.
More Natural Attractions Near Sydney
The Best Kids' Rock Pools In Sydney
Sydney Mazes You Have To Visit
Family Fruit Picking Near Sydney
Have you signed up to our newsletter? Join ellaslist to get the best family and kid-friendly events, venues, classes and things to do NEAR YOU!