Cool Caves Near Sydney: 7 Wonders of Nature
Cool Caves Near Sydney: 7 Wonders of Nature
Toddlers
Preschoolers
Kids
Teens
Family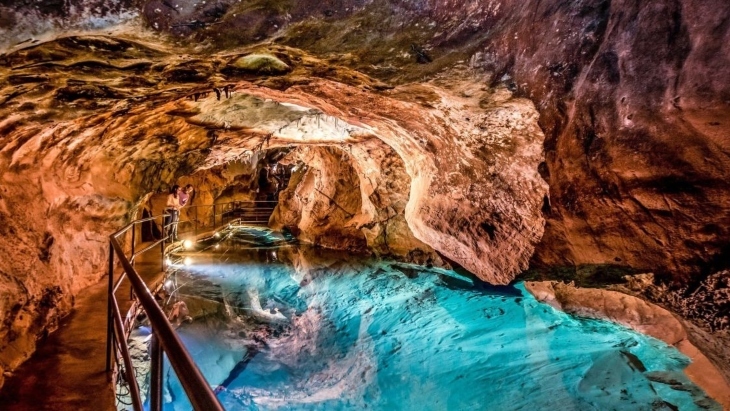 Australia is celebrated for its bountiful natural wonders, and few are more magical and adventurous than the caves you can visit near Sydney.
Within hours of Sydney, you can be transported to another world, full of exotic hideouts and hidden gems at some pretty awesome natural caves. From the Jenolan Caves to glow worm caves and Wombeyan Caves, these spectacular caves systems are a sight to behold, and children will be awestruck by the geological masterpieces.
Take a mind-boggling adventure with the kids to our favourite caves near Sydney.
Cool Caves Near Sydney: 7 Wonders of Nature
1. Glow Worm Tunnel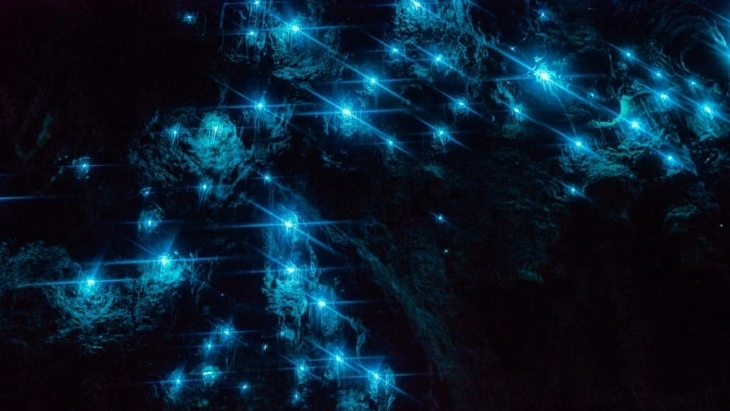 An old abandoned railway line has become home to a multitude of sparkling creatures, creating the Glow Worm Tunnel - one of the best places near Sydney to witness this breathtaking spectacle.
They are, however, sensitive to disturbances like noise, lights and touch, so tread carefully. The dark, moist conditions at the glow worm caves near Sydney make it an ideal glow worm habitat, and thousands of glittering glow worms have attached themselves to the walls and roof of the 400-metre glow worm cave to emit their blue glow (an ingenious skill to lure prey!) They are even visible during the day - a rare feature attributed to this pitch-black tunnel.
Located in the World Heritage-listed Wollemi National Park, about three hours from Sydney, there is plenty more to seek out in the picturesque area. The Glow Worm Tunnel walking track is a fun experience for families. It offers impressive views of pagoda rock formations, native flora, and local wildlife en route to the illuminated tunnel.
Look out for the Jurassic Wollemi Pine - a 100 million-year-old living fossil from the dinosaur days.
Location: Glowworm Tunnel Rd, Newnes Plateau

RELATED:
Glow Worm Caves Near Sydney
2. Palona Cave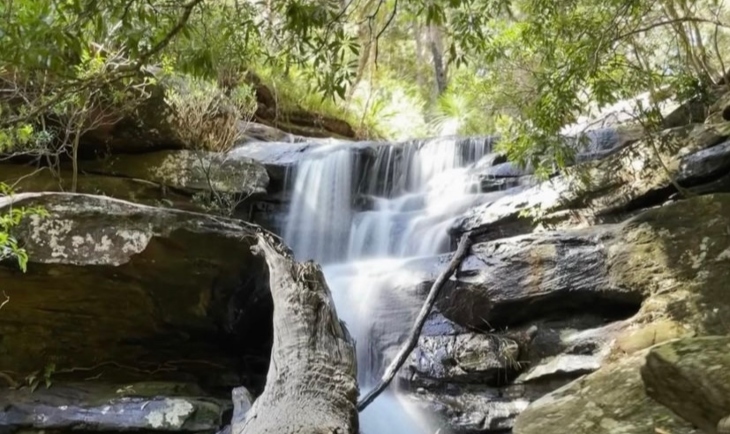 If you're searching for the closest caves to Sydney, you can't go past Palona Cave.
Nestled within the sprawling expanse of Sydney's Royal National Park, Palona Cave stands as a testament to the raw power and beauty of nature. This hidden gem of an underground wonder is a sanctuary of ancient rock formations and hidden passages that await intrepid explorers. The dimly lit cavern walls reveal intricate patterns etched by water and time, while stalactites and stalagmites cast eerie shadows that dance in harmony with the flickering beams of light.
Getting to Palona Cave isn't a quick undertaking. It's located along the Lady Carrington Drive Trail, which is an easy walk but can take around one to two hours. Make sure you stop off to check out the beautiful waterfall just beyond the cave.
Location: Sydney's Royal National Park
3. Jenolan Caves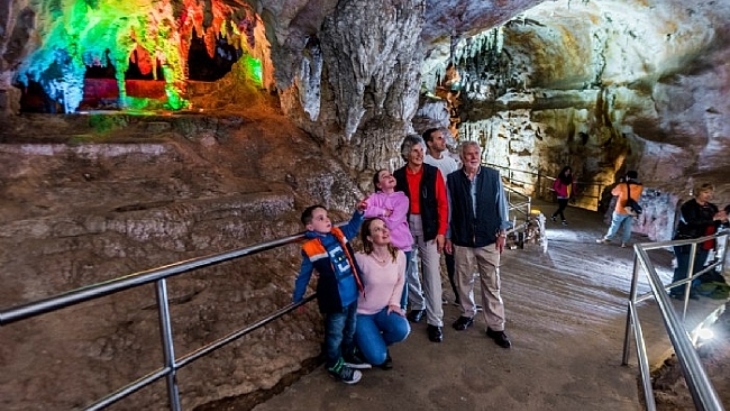 The Blue Mountains is well-known for the unparalleled beauty of its World-Heritage wilderness, and the Jenolan Caves are probably it's most famous natural phenomenon - and the most magical.
Located about three hours from Sydney and dating back more than 340 million years, the Jenolan Caves is a limestone cave system and one of the largest, oldest and most spectacular in the world. There are nine caves to explore at the Jenolan Caves, surrounded by fascinating limestone formations and flowing underground rivers.
As well as taking in the beauty and scale of the Jenolan Caves, there is so much more to see and learn, with roaming wildlife, bush walks, underground activities, a range of tours and aboriginal culture all around the Jenolan caves.
The Blue Lake Loop walk is a short, easy walk, so the best for families with young kids, and you can access some special spots like Devils Coach House lookout and Nettle cave.
The dedicated Jenolan Caves children's discovery tour, Bones & Stones, will have them hunting for fossils and bones inside the secret parts of the caves.
Location: 4655 Jenolan Caves Road, Jenolan Caves, Blue Mountains
4. Yarrangobilly Caves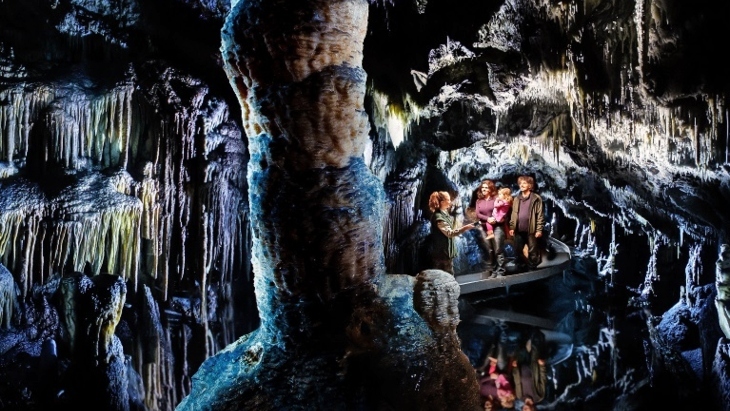 Located in Kosciuszko National Park, Yarrangobilly Caves are a bit further afield - about five and a half hours from Sydney - but well worth the road trip to discover this awesome underground world of caves near Sydney.
Yarrangobilly is a wonderful spot for a family weekend, and you can even stay at Yarrangobilly Caves House!
There are six caves in the region, and three are lit and open for exploration. Take a guided underground tour of the spectacular Jersey Cave or Jillabenan Cave and witness their impressive delicate structures. The largest cave, South Glory Cave, has automated feature lights that assist you through a self-guided tour, perfect for taking the time to investigate the incredible formations.
Once you've emerged from the caves, take a short walk to the Yarrangobilly Caves Thermal Pool - a geothermal highlight that's fed by natural springs. The pool is constantly warm at 27 degrees - even in winter, surrounded by snow! Don't forget your swimmers so you can soak in this magical, steamy pool. It gently overflows like a waterfall into a smaller wading pool for kids to splash around in. There is a picnic area by the pool and several walking tracks around the caves to take in the natural surroundings.
Location: 50 Yarrangobilly Caves Rd, Yarrangobilly
5. Caves Beach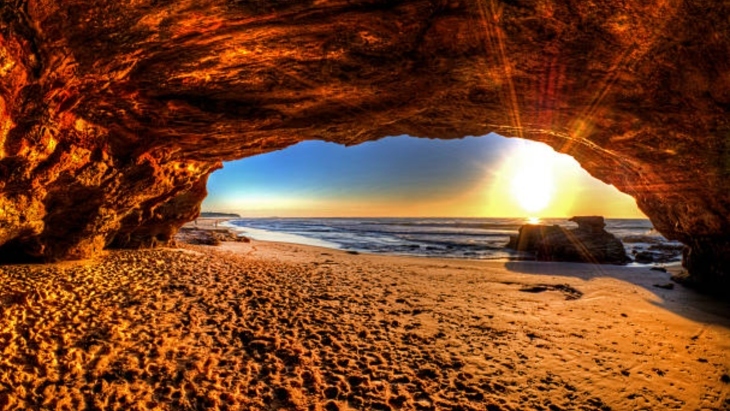 Another one of the best caves near Sydney, Caves Beach is only just under two hours out of town in picturesque Lake Macquarie.
Caves Beach, located along the scenic shores of Lake Macquarie, is a coastal paradise that blends breathtaking natural beauty with a touch of mystique. The main attraction of this idyllic destination is the network of sea caves that dot the shoreline. These caves near Sydney, carved out by the relentless power of the ocean over countless years, provide a captivating backdrop for exploration and discovery.
Location: Lake Macquarie
6. Wombeyan Caves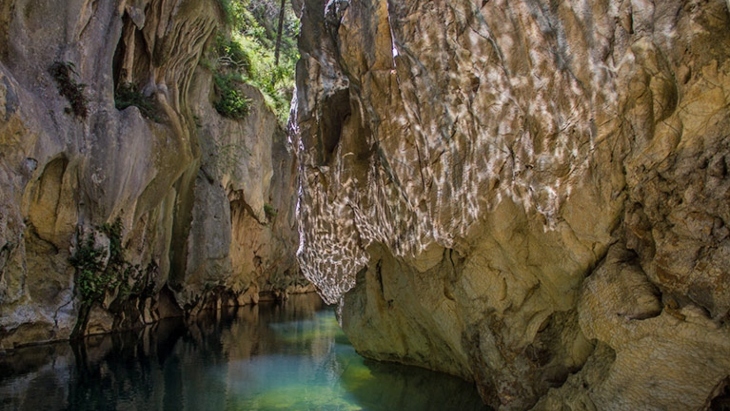 Wombeyan Caves is an easy two-and-a-half-hour drive south of Sydney and a local hotspot. With an expansive cave network, there is so much to explore at Wombeyan Caves, you might want to camp out for a night or two at the site's well-serviced camping grounds.
There are guided tours to the Wollondilly, Junction and Kooringa caves, and Figtree Cave is a fantastic self-guided experience.
Kooringa Cave is the smallest of the Wombeyan Caves but is one the most decorated and impressive, packing in a spectacular array of stalactites and stalagmites. Wollondilly Cave is the longest and most varied cave of the Wombeyan Caves and stretches across an incredible five major chambers linked by passages created by free-flowing streams.
Junction Cave boasts unique formations of stalactites and stalagmites that have been created over millions of years, and it's renowned for its rich colours and spectacular embellishment.
The self-guided Figtree Cave experience is leisurely and hands-free, with the interpretation and lighting electronically controlled. The trip through the cave, culminating in Victoria Arch, is easily accessed by all ages.
As well as a maze of underground passages, streams, and caverns to discover in the Wombeyan Caves, there are bushwalks, creeks, waterfalls and water holes to explore, and endangered species, such as several species of wallaby, bird, possum, and wombat to meet in their natural habitat, so it's a fantastic place for kids to spend some quality time in nature.
Location: Wombeyan Caves Road
7. Archway Cave, Abercrombie Karst Conservation Reserve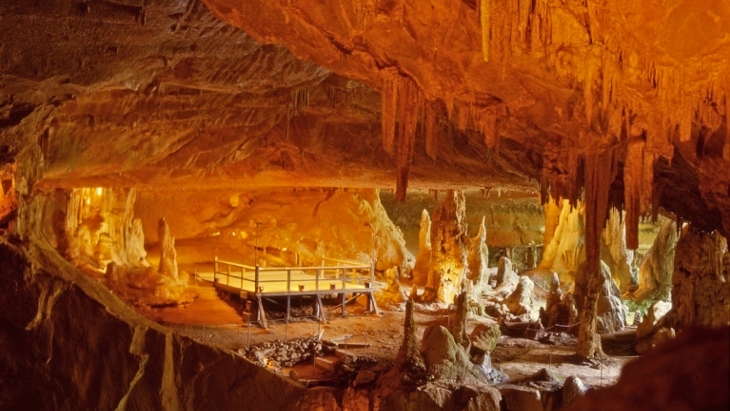 *Abercrombie Karst Conservation Reserve is closed to the public until March 2024 due to flood repairs.
Just over three hour's drive from Sydney, you'll be transported to another enchanting underworld with the largest natural limestone bridge in the southern hemisphere!
Archway Cave is the most famous of the Abercrombie Caves and the most extraordinary feature of the Abercrombie Karst Conservation Reserve. Take a self-guided tour through the huge rock formations, see an original gold miners' platform and be captivated by striking views of the karst landscape. Everyone will love this unforgettable cave experience, especially the kids.
A trip to Archway Cave and the surrounding reserve promises an incredible adventure. There are great camping facilities at the Abercrombie Caves Campground, and you can relax by the tranquil creek that runs through it.
There are tours to other caves in the Abercrombie Caves system to explore magnificent waterfalls and bushwalking tracks. Look out for local wildlife such as wallabies, lizards, scrub wrens and lyrebirds.
More Fun Family Adventures
Run Through Fields of Lavender at These NSW Lavender Farms
Where to Sleep Under the Stars in NSW
Incredible Blue Mountains Waterfalls

Have you signed up to our newsletter? Join ellaslist to get the best family and kid-friendly events, venues, classes and things to do NEAR YOU!