6 of the Best Pirate-Themed Playgrounds in Melbourne
Mums & Bubs
Toddlers
Preschoolers
Kids
Family
All Ages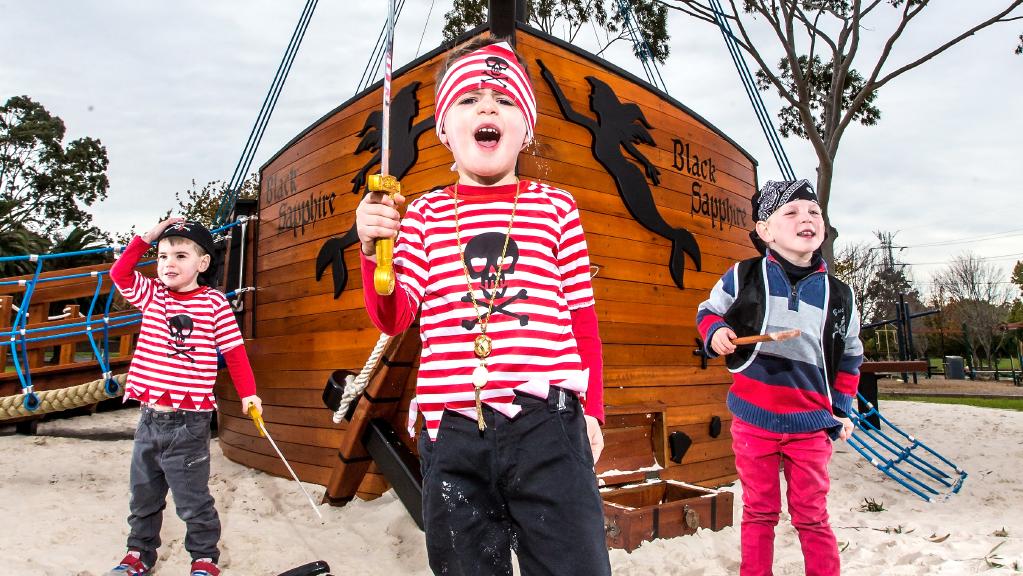 Ahoy! There's no time to walk the plank for landlubbers when pirate fun-filled playgrounds are in sight! Melbourne has quite a few, from small ships for tiny tots to imposing wooden structures just right for sailing the ocean blue.
Avast, and check these beauties out!
1. Black Sapphire, Riverside Park
Probably everyone's first thought when deciding where to go for some maritime fun - Riverside Park is often known as "pirate park" thanks to the extra-cool Black Sapphire ship just ready to be taken over.
The climbable ship is appropriately moored on a huge sandpit, and has plenty of fun items on board to keep little ones entertained. A giant steering wheel, walkable plank, rope bridges, telescope, and even a giant ship's bell.
There is also another more traditional playground, a large grassy picnic area, drink fountains and toilets so you can really make a day of it. BYO rum!
Findi it: Riverside Park, 118 The Boulevard, Aberfeldie
2. Dore Reserve Playground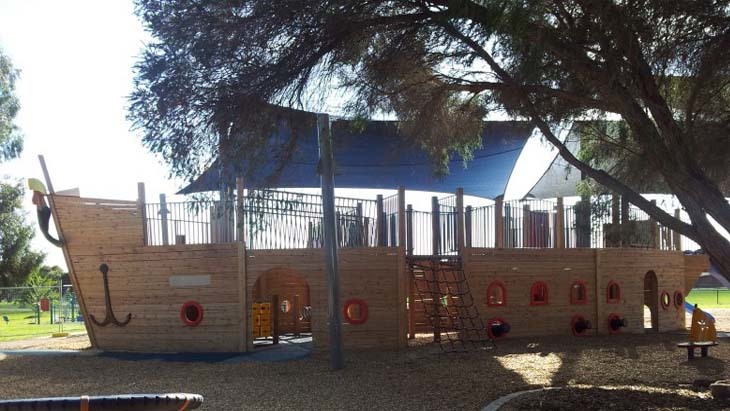 See if you can spot the mermaid on the bow of this awesome ship for kids at Dore Reserve, featuring two long wave slides, rope ladder and high nets (so probably best for older kids as they're the only way to access the slides), cubbies, gangplank, tic-tac-toe, mirrors, balance beams and a "find the pirates treasure" maze panel. On land, there are cannons to shoot into the shady seashore (aka sandpit)
The smaller boat nearby has a smaller wave slide for those who wish they could go on the big ship - steering wheel included! Alongside regular playground equipment, albeit with a marine twist. The dolphin is very cute and the surfboard is harder than it looks to stand on! The waterways with giant octopus certainly isn't something you see at every park!
Toilets and water fountains available, alongside picnic and BBQ areas.
Find it: Dyson Road, Carrum
3. Geelong Play Space
A really popular spot for families, the recently re-done Geelong Play Space is a natural choice for pirate fun! You absolutely can't miss the giant Skull & Crossbones flag letting folks know there's some serious action happening here.
Take your pick from rope ladders, tyre steering wheel music-making paddles (in fact the entire park is quite musical with lots of machines and bits and pieces to make noise), the ubiquitous wave slide, sloped climbing wall, stand-on spinners, several springers, musical bridge, tunnels, stepping stones, sandpits, mazes, hand pumps and even a creek spring! It's a fantastic space with lots to entertain kids of all ages. And best of all, it's fully fenced!

Another big tick for this park is the number of shaded areas for hanging out in, large shelter with picnic tables and barbecues, toilets and water fountains.

Find it: Eastern Park Cct, Geelong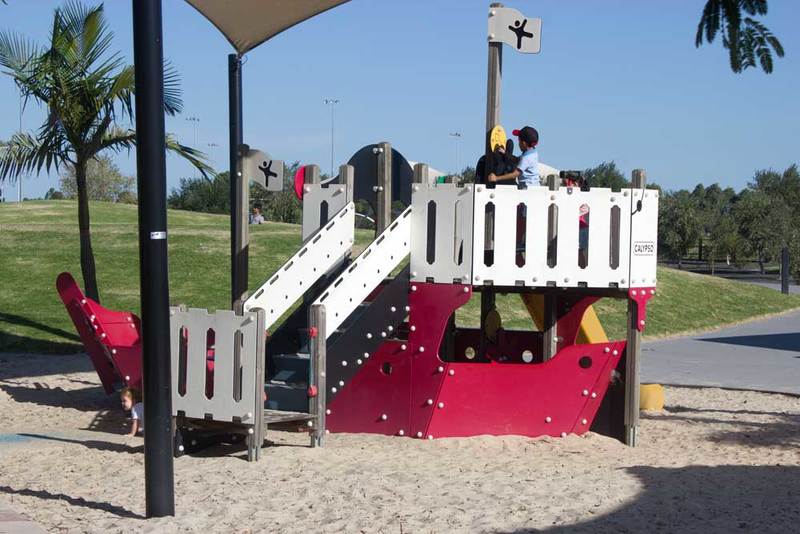 4. Casey Fields Regional Playspace
Suitable for the younger crowd in the larger (and excellent) Casey Fields playground, the cute pirate ship is just the right size for folks 5 and under.
While you're not sailing the seven seas, kids can play on the adventure hill with giant slide, climbing nets, rope bridge, and smaller play equipment while you chill out on the huge and beautifully landscaped grounds.
Find it: 160 Berwick-Cranbourne Rd, Cranbourne East
5. Ferguson's Paddock
A large plastic structre in the shape of a pirate ship for toddlers awaits at Ferguson's Paddock, one of six play areas in the spot behind Hurstbridge Primary School.
Each section is fully laid out with fun play equipment for kids of all ages, in amongst a huge grassy area just right for a picnic or fun afternoon.
Area number 4 is where you'll find your pirates ready to set sail, alongside two spiral slides, curved climbing wall, steps, tunnel and spiral ladder with a maritime theme.
Find it: 950 Heidelberg-Kinglake Rd, Hurstbridge
6. Coogoorah Park Playground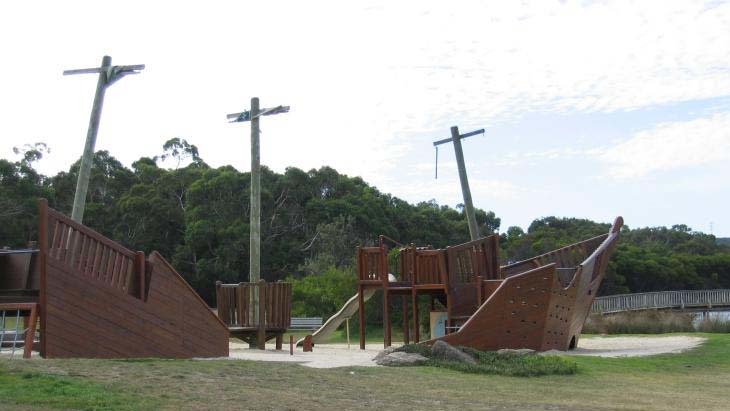 For shipreck fun, head to Coogoorah Park and the wreck of the Inverlochy, complete with wave slides, pointed bow, climbing walls, chain ladder, rope ladder, balance fireman's pole and a cute place to stash your treasure or hold your prisoners underneath. Even better, there's a crow's nest from which you can see the enemy advancing!
Set up on a sandy shore sandpit, kids can also play with the digger, and nearby swings and seesaws.
Plenty of shelter, picnic spots, barbecues and toilets, and the park is set next to a wetlands area perfect for stretching the legs with a nature walk.

Find it: River Reserve Rd, Anglesea