6 of the Best Melbourne Playgrounds Made from Natural Materials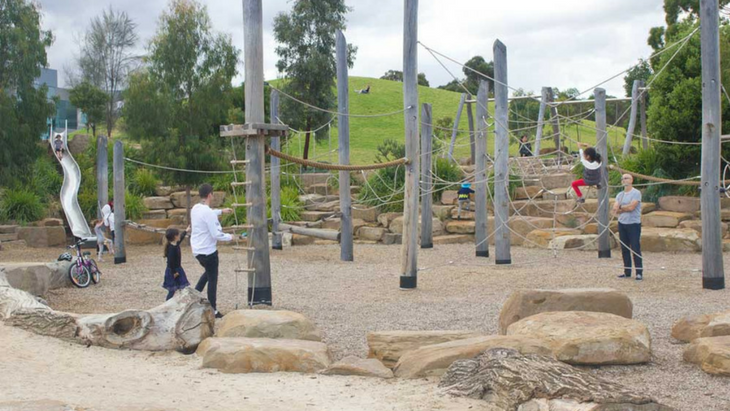 While the super-multicoloured childrens wonderlands have their playground place, I can't help but love a slightly more chill environment sometimes when taking the kids out to play.
There's something about a rope bridge and wooden climbing fort that gets me all Huckleberry Finn nostalgic and wish my kids played more with what nature gave us. I've rounded up a list of our favourite places to go when the natural landscape calls and we can no longer ignore it...
1. Nature Play
Nature Play playground at Royal Park is a bit of a no-brainer when you think of natural play space materials - it's a wondrous space filled with timber, ropes, sand, rocks, grasses, and waterplay over pebbles.
The swings and ropes courses are super popular, and it's pretty hard to resist the slides down the hill... even me!
There is also a natural water play area with channel, hand pumps, and water sprays, sandpit, bridge, tunnels, birds nest swing, and even a huge metal dinosaur. Our kids love the cubby made from a combination of metal and tree branches, and I love that the entire area has been landscaped with native species. It feels a world away from the middle of the busy city it inhabits.
Flemington Rd & Gatehouse Street, Parkville
2. Rye's Up Community Playground
Rye Pier has a fantastic wooden playground in the shape of a huge ship built by locals a few years ago. It's got everything - wave slides, portholes, boat decks, swings, tunnels, monkey bars, balance beams, all decorated in a marine theme.
A few steps away is a smaller play area centred around a lighthouse, with a wider slide and a tunnel. You can definitely get into the nautical spirit here and sail out over the seven seas!
2376 Point Nepean Rd, Rye.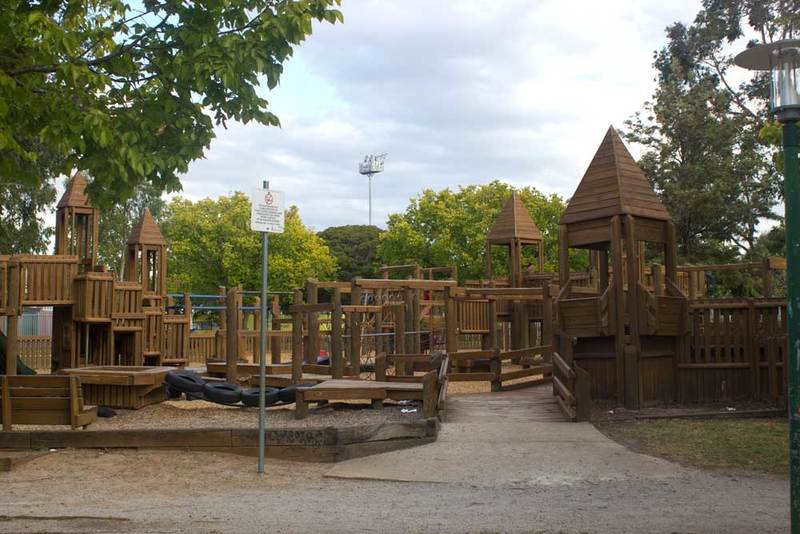 3. Victory Park
Victory Park in Ascot Vale is a royal wonderland of wooden fortress nooks and crannies. It's huge, mostly-fenced, and filled with wooden structures, bridges, tunnels, towers and hideouts, tyres to climb, and monkey bars to swing on. There is literally something interesting to do every single time you turn around!
BYO imaginary dragons! Oh and bikes/scooters for the paths around, or even a picnic or barbecue, they have great facilities.
Cnr Langs and Epsom Road, Ascot Vale
4. Ruffey Lake
Ruffey Lake Park actually has two playgrounds across its 68 hectares, but the one off the main entrance is a timber and steel play palace. The landscaping melds into the native environment, and is a stunning park with incredible views across the valley.
You can also find a huge metal tower complete with spiral staircase, slides, flying foxes, sandpit, tyre swing, rock-climbing, water play with river bed, climbable sculptures, and almost more equipment than you could get through in one visit.
99 Victoria St, Doncaster East.
5. Valley Reserve Adventure Playspace
Once you go to Valley Reserve Adventure Playspace, it's easy to see how it won the Parks and Leisure Australia Award for Excellence for the best playspace in Australia in 2016.
In amongst the rope-climbing courses (shoes off or shoes with good grip are best for some parts, it's not for the faint-hearted!), and cool tree house, you'll find a huge bird nest swing quite a way off the ground, a couple of regular swings, slides, and bird-shaped climbing structures, which all blend seamlessly into the surrounding nature reserve, thanks to the natural materials used to build them.
There are two flying foxes, one with a regular disc-shaped seat, and one with a much larger bucket-style seat for smaller folk – although it does get quite a bit of speed up so make sure they're holding on tight, or someone is at the other end.
There is a small water pump and creek play area which is tucked away to the side among the picnic/barbecue area, so don't miss it!
80 Waimarie Dr, Mount Waverley.
6. Bollygum Adventure Playground
Bollygum is a real treat - based on the book of the same name by Garry Fleming, the playground is full of hidden pockets of native fun.
From bower bird nests to "Wombat's House", you'll find a dry watercourse, shaded sandpit (complete with digger), tunnels, musical elements, wave slide, funhouse mirrors, hanging discs, bridges, dry watercourse, high ropes course, swings, flying fox, monkey bars, biking paths, and artwork everywhere you look. Each area has a different feel and different equipment to explore.
For your little fishing enthusiasts, check out the dry creek with provided rods and reels.
The whole beautiful playground iis exactly like the book come to life! Bollygum is "A tale of precious places and treasured friends", and you'll find all that and more at the Kinglake park.
40 Whittlesea-Kinglake Rd, Kinglake.