Ideas for Healthy and Fun Meals to Make with the Kids on a Rainy Day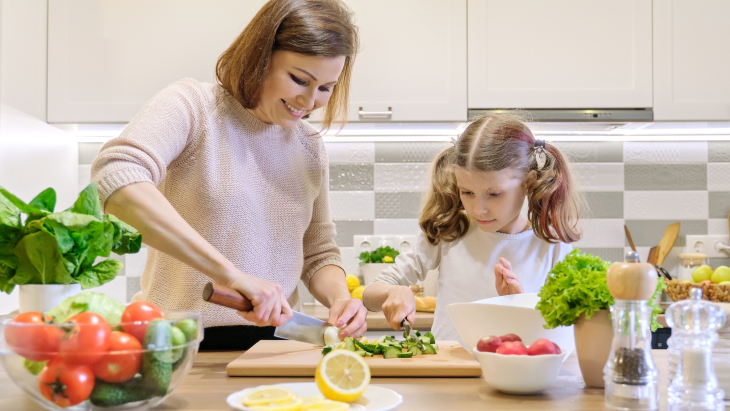 If your day out with the kids has been ruined by poor weather, it doesn't mean you can't still have fun with them at home. Once you're done with the board games and other indoor activities, you can get full use out of your kitchen while having fun with the kids by making something from the nutritious recipes collection of your choice.
If nothing springs to mind, then you can check out the list below of fun meals you can make with the kids when you're stuck indoors on a rainy day.
Fruit & Vegetable People
Turning the fruit and veg that you have in the house into the shapes of people, animals, or objects can be an amusing distraction on a rainy day. This activity will also encourage healthy eating habits and will work to familiarise younger children with these essential food items.
Older kids can become fussy about certain fruits or vegetables because they were not acquainted with them at a young age. This can be an excellent opportunity to make sure your kids get familiar with a variety of fruits and vegetables.
Make a goal to recreate a movie scene that the kids love or to build their own versions of the family using the fruit and veg available to them. If you want to avoid the kids mashing shapes and creating a mess, you can help them by using utensils to cut out individual shapes that act as the 'building blocks' they can use in their creation.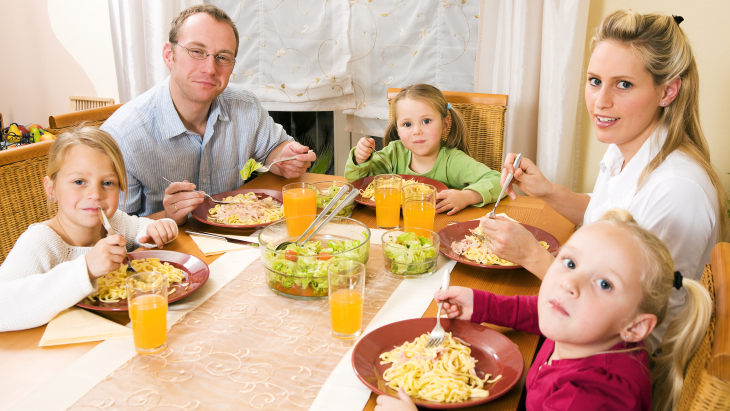 Mini-Burgers
Kids love burgers, so it's not hard to get them excited about making them on a rainy day indoors. The great thing about mini-burgers is that you can get away with merely using pieces of bread rolls as the buns, and fill them with whatever you like, so it's not hard to make sure they are healthy for the kids.
Try to make them resemble your favourite burgers that the kids are used to eating while out. Make sure you stack things up rather than spread them across like you would with a sandwich. You can easily make them vegetarian by not using any meat in their creation and filling them out with something else, like mushrooms or tofu.
Do-It-Yourself Pizza
Building your own pizza is always a fun home cooking activity that isn't hard to convince kids to participate in. The health factor will be determined by the ingredients you choose to supply, so make sure you offer a good selection of protein and vegetables for the kids to use as toppings.
While all the oven work will be down to you, the actual decorating can be left to the kids. Sit back and let their imaginations run wild as they prepare their own creations. However, be prepared for them to eagerly ask you when the pizzas will be finished cooking every couple of minutes.
Sweet Potato Chips
The sweet potato chips you get at most restaurants aren't actually much healthier than the white potato variety, as they are often cooked in oil or deep-fried and covered in salt. However, you can make a healthier alternative at home by baking them in the oven using a minimal amount of olive oil and seasoning with some fresh herbs like rosemary or thyme.
Kids love their chips, so it won't be hard to get them to help out in the kitchen. While your kids might not be old enough to be able to use vegetable peelers or slicers, you can still ask them what kind of thickness they want the chips to be and let them help you with it comes to seasoning.
Frozen Orange Pops
If you're looking to make a healthy treat at home with the kids, frozen orange pops are both easy-to-make, and filled with vitamin C. Using a quick blend of orange juice, honey, yogurt, orange zest and vanilla; your kids can pour the liquid into the moulds themselves and place them in the freezer for an afternoon treat to enjoy in a few hours.
Use the time it takes for the pops to set to do some other games and activities. When the pops are frozen, you can remind the kids that the work they did earlier is ready to be enjoyed.
More Ideas For Foodies Here
Top Picks For Online Food Delivery + Meal Kits
A Dietitian Reveals The Takeaways You Should Be Eating
Creative Cooking For Foodie Kids
Have you signed up to our newsletter? Join ellaslist to get the best family and kid-friendly events, venues, classes and things to do NEAR YOU!