The Best Burgers in Sydney
Taking the kids out for burgers goes back generations, but there is no need to settle for typical fast food fare, now that there are family-friendly restaurants with seriously tasty burgers popping up all over Sydney. Next time you treat the kids to a burger make it a treat for yourself as well, with our top ten burgers in Sydney.
8Bit Burger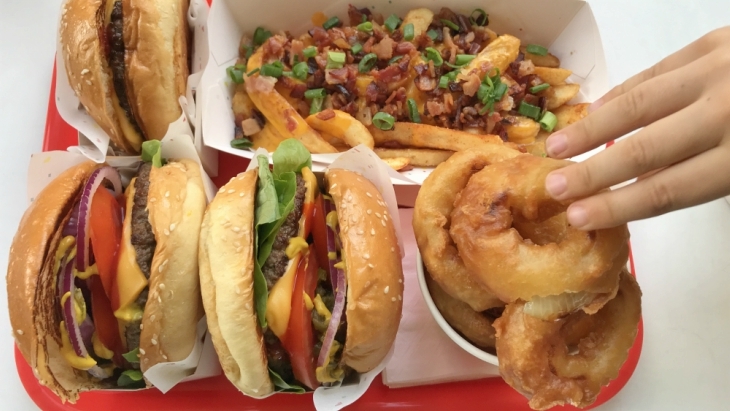 Two of my son's favourite things combined - burgers and video games! This burger joint has a cult following in Melbourne so when it landed in Sydney we just had to see if it was the best thing since sliced bread. Spoiler alert -- it lives up to the hype! I'll even go as far as saying that it's the closest thing to Shake Shack that we have in Australia. They've got that juicy patty, American cheese and creamy special sauce taste down pat. And the milk buns are pillowy yet sturdy enough to carry the fillings. The After Burner Burger is your pick if you like a burger with a kick. And even though it's not on the menu, they'll do a kids burger which is exactly as they'd like it - plain!
While they wait kids can take advantage of FREE video games - we're talking old school games too, like PacMan and Donkey Kong.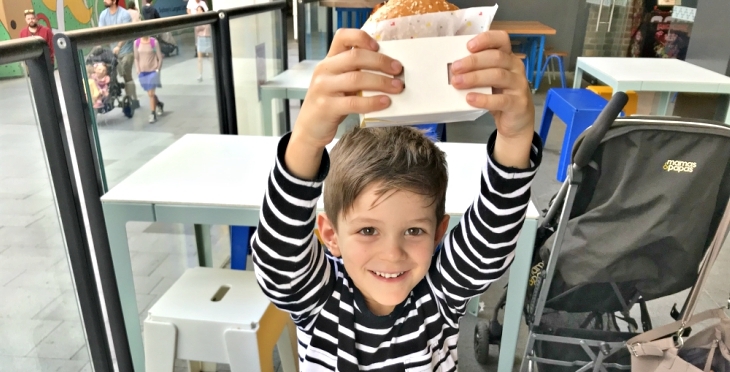 Find 8Bit Burger near Haymarket in the new Steam Mill Lane which is worth checking out with the kids (bring the scooters and burn off those Wagon Wheel milkshakes).
The Milk Bar by Café Ish, Redfern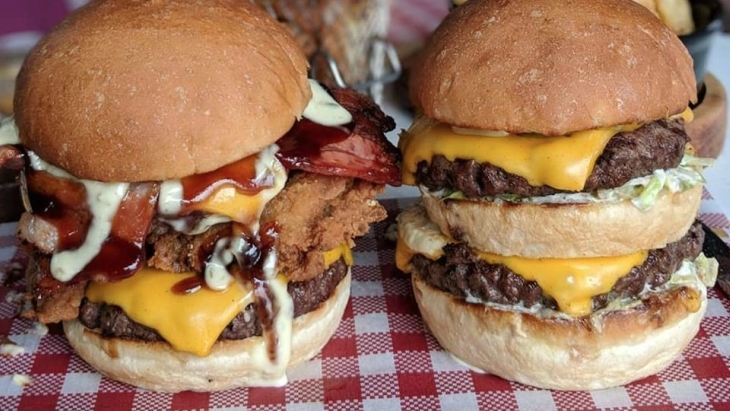 Start by choosing from eight burgers then add your choice of topping (basically the salad part) to create your perfect burger. With everything from a classic cheeseburger to Korean fried chicken there is a burger for everyone. There are smaller dishes like mac'n'cheese if you have little kids that couldn't finish a whole burger, although you could always finish it for them! You can't come to The Milk Bar and not try one of the deservedly famous shakes, but with 18 to choose from you may need to come back more than once. Prices are pretty reasonable too, with a cheeseburger, chips and a shake deal for just $17.50. The meat is sustainable sourced and free-range and they make all the milkshake syrups themselves. An old-fashioned jukebox and arcade game table are a fun addition for the kids too.
Chur Burger, Surry Hills, Rooty Hill & Sydney City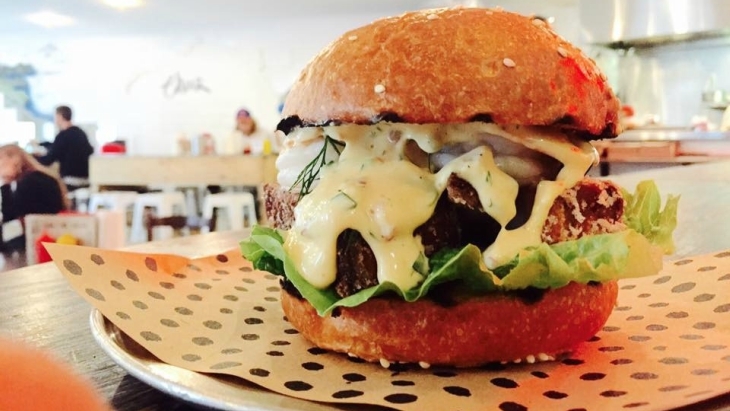 When Chur Burger opened in Surry Hills, it caused a revolution. One of the early diner-style burger bars selling top notch burgers, Chur Burger was the word, and the burger on everyone's lips. But they haven't let the fame go to their heads. Their succulent burgers are still only $10-$12 and you can get a burger, fries and a milkshake for $15. Although not specifically aimed at families, burger lovers of all ages are welcomed. They also have a Chur Express in the city and two shops in Brisbane. Having made it to just about every "best burgers" list around, if you haven't tried on of their burgers yet, you owe it to yourself to go.
LABLD, Marrickville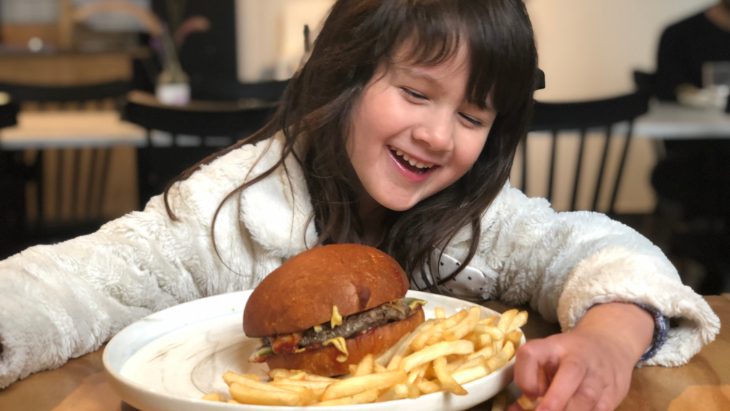 This inconspicuous cafe and grocer is a local favourite, supporting the inner west's organic and ethical businesses. The Big Kahuna Burger at LABLD is basically a cheeseburger on steroids with an injection of tequila jalapeno aioli - and yes even the kids give this burger the thumbs up. If you'd rather have this all to yourself you can always ply them with free babycinos - we think this cafe is most egg-cellent.
The Burger Shed, Mosman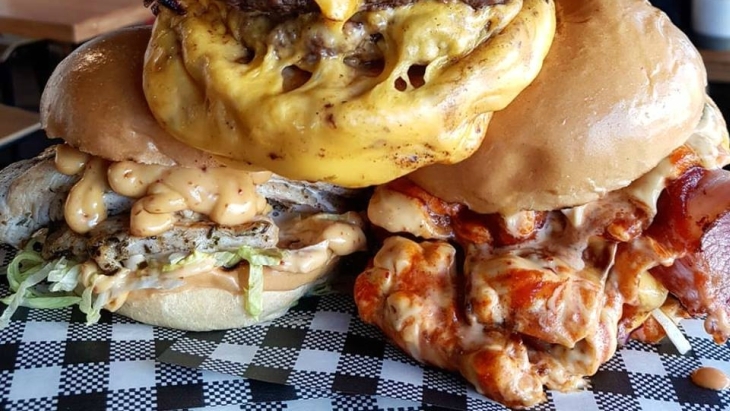 The Burger Shed seems to have all the ingredients for the perfect burger joint – Justin North – one of Sydney's top chefs at the helm, free-range grass-fed meats, home-made sodas, a casual ambience, great prices and friendly staff. The beef is all grass-fed Angus & purebred Wagyu, and they also do chicken burgers and a veggie option. Add a side of truffle and parmesan fries for decadent treat. There is a small but tasty kids menu, and take away specials for a family consisting of two burgers, two fries and two kids meals for just $40. A good excuse not to cook tonight!
Excelsior Jones, Ashfield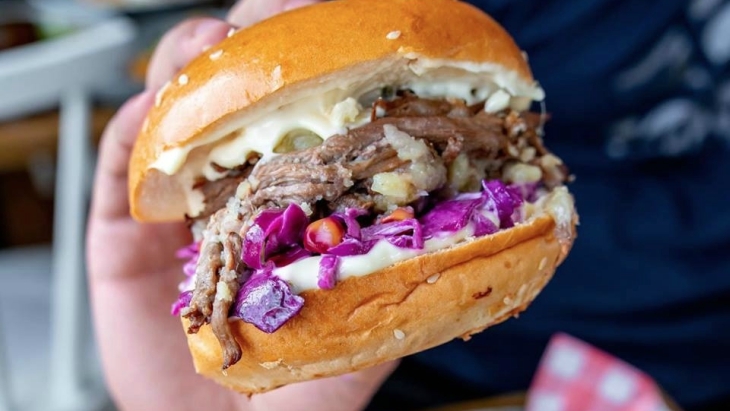 The owners of Excelsior Jones moved from Le Monde in Surry Hills to open this neighbourhood gem in Ashfield. The much more family-friendly vibe of the area has been catered for beautifully. While not a dedicated burger restaurant, the juicy cheeseburger is becoming famous in its own rite. There is a kids menu and other diner classics including an old school lime spider. They are open for breakfast and lunch, seven days.
The Tuckshop, Glenhaven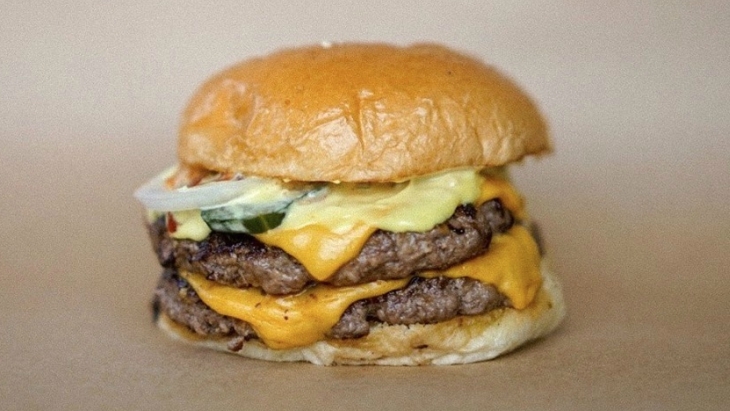 This suburban milk bar has been transformed by the boys behind The Baron and Nathan Hindmarch, of Eels fame, into a contemporary "tuckshop". But this is no school canteen, and has already earned some serious foodie cred. Produce is sourced locally so meals are super fresh and tasty, as well as having a feel-good factor. The burgers are definitely the drawcard at The Tuckshop, but they also have tasty salads and an all-day breakfast menu. This is parent heaven, or Glenheaven, as their sign cheekily calls it. The kids menu has a choice of chicken nuggets, or a healthy option of fruit and veg with Avo smash and they'll lend you a rug to picnic at the adjoining park with a playground, so the kids can run wild, while you relax with a well-earned cheeseburger and single-origin coffee.

Burgers By Josh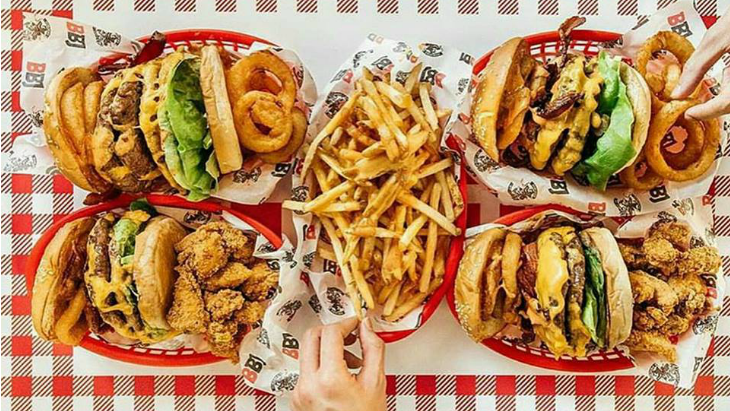 This Josh has a cult following and you literally have to follow him - he pops up all over the place. Currently you'll find him at the Native Rose Hotel in Rozelle. He's super popular and his burgers really break the mould. One burger special in the past saw a burger filled with corn chips and guacamole, so keep an eye out for their burger of the week which is usually something incredible. Like the GAME OF BONES, featuring their house made bone marrow butter and game wild boar patties - ohmygod.
Burger Co. By Kingston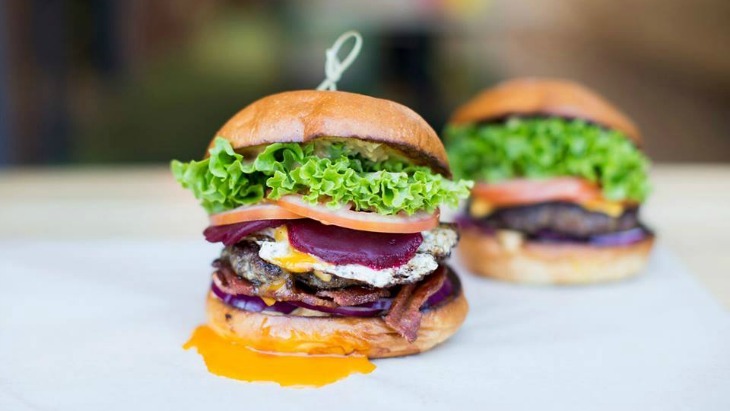 Westfield Hurstville's Burger Co. are so pure you can tell yourself you're eating healthy. These guys mince their own patties each day using brisket, chuck and flank. Locals just love these juicy burgers set in a super convenient location. Other menu items include mac and cheese in heated tubs, Buffalo chicken wings with blue cheese sauce and fries topped with bacon and gravy. Oh and don't forget to try their imported sodas.
Bar Luca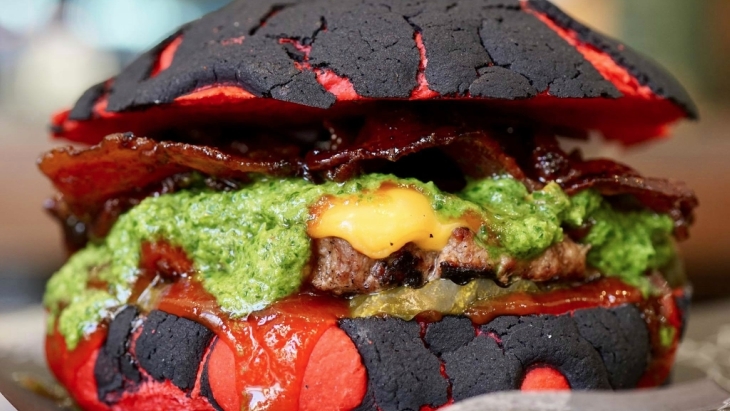 This joint is like the Willy Wonka's of burger factories! Every week there is an experimental burger that really pushes out the boat, think: peanut butter and cheese, duck bacon and layers of potato crisps. I mean just look at their Halloween themed burger above. They also do your classics and if you want to mix it up a bit, their selection of sauces is extensive! Find Bar Luca in the city.
Paul's Famous Hamburgers, Sylvania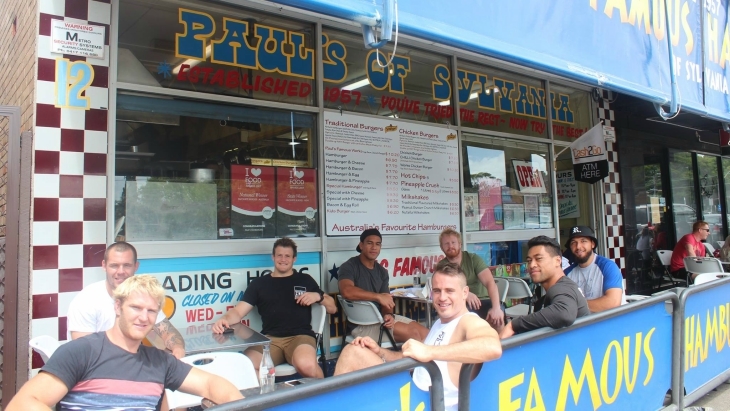 The burger revolution in Sydney has brought us a slew of slick establishment serving seriously tasty diner food drawing foodie families and hipsters in equal measures, but what has become of the old fashioned burgers we grew up with? You'll find them at Paul's Famous Hamburger's and they are better than ever. Opened in 1957, this hole-in-the-wall burger bar has been serving traditional burgers for generations. Touted the best value burgers in Sydney, locals and visitors queue out the door to get their burger fix. There is a kids' burger too, but no veggie option. Grab some burgers and a two-litre pineapple crush drink, which has been described as liquid sunshine, and head down the hill for a picnic by the Saint Georges River. The whole thing won't set you back much more than $30 for a family.
More Tasty Sydney Ideas
Where To Go For Hot Chocolates
Best Buffets In Sydney
Best Pizza Experiences For Kids
Have you signed up to our newsletter? Join ellaslist to get the best family and kid-friendly events, venues, classes and things to do NEAR YOU!
Reviews
best burger way better than Grill is Bonarche burgers in Leichhardt!