Top Sunflower Fields to See at Least Once
Top Sunflower Fields to See at Least Once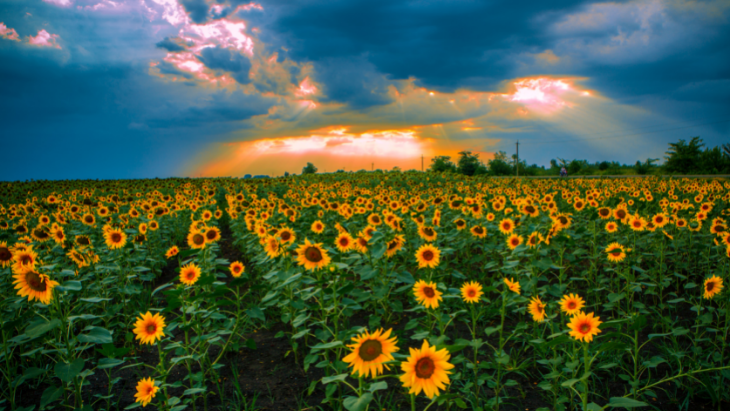 If you've been anywhere near the internet over the past few years, you would've seen sunflowers popping up on your feed, left, right and centre. The must-have accessory du jour can be found in sunflower fields across the east coast of Australia, which means your next grammable moment could be (literally) just around the corner.
Sunflower Fields NSW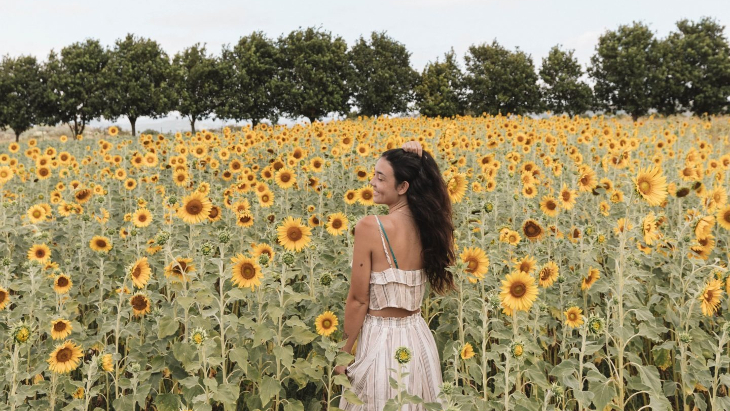 Throughout the sprawling state of NSW there are plenty of places to catch a glimpse of these beautiful sunny blooms. There isn't a particular sunflower region per se, but rather, some impressive patches scattered across the state. Whether you're travelling up near the Far North Coast or if you're looking to get out of Sydney city for a day trip with the kids, these sunflower fields will be sure to put a smile on your face.
Located just off the dusty roads of a small farm county called Cudgen just 15 minutes south of the Queensland border, you'll find a sweet vegetarian cafe, farm animals and rows of sunflowers.
Farm & Co address: 529 Cudgen Rd, Cudgen NSW
Four hours north of Sydney along the New England Highway you'll find Willow Tree in Liverpool Plains. Check here to find the exact location of the latest crop of sunflowers. The Liverpool Plains Sunflower Crop should be ready for picking in mid-January 2022.
Liverpool Plains address: Willow Tree Visitor Centre, New England Highway, NSW
If Tik Tok and Instagram viral videos are your indicators of a cracking sunflower field then look no further than the scene of the crime in a small town an hour west of Sydney in Kurmond at the Glenbernie Family Farm.
Glenbernie Family Farms address: 610 Bells Line Of Road Kurmond, NSW
Sunflower Fields Victoria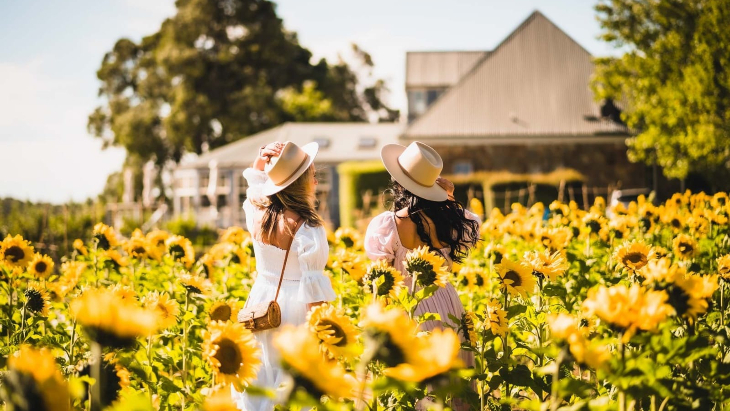 Every year flora fiends flock to Melbourne to attend the International Flower and Garden Show, so it's no surprise the state takes pride in boasting some of the most stunning blossoming fields in the country. Amongst the tulips, roses, natives and lavender, you'll find rows and rows of golden sunflowers.
As the name suggests, if you head along to Dunnstown just outside of Ballarat to spend the day at the farm where you can pluck some stems of your own to take home.
Pick Your Own Sunflowers address: Dunnstown Rd, Dunnstown, Vic
Known for its iconic restaurant in Daylesford, the team at Sault have now added a sunflower field to their charming grounds!
Sault Restaurant address: 2349 Ballan-Daylesford Rd, Sailors Falls, Vic
2800 square metres of sunflowers next to the Woodlea Town shopping precinct in Melbourne's Aintree suburb sounds pretty spectacular to us!
Woodlea address: 2 Lim Way, Aintree, Vic
Sunflower Fields Queensland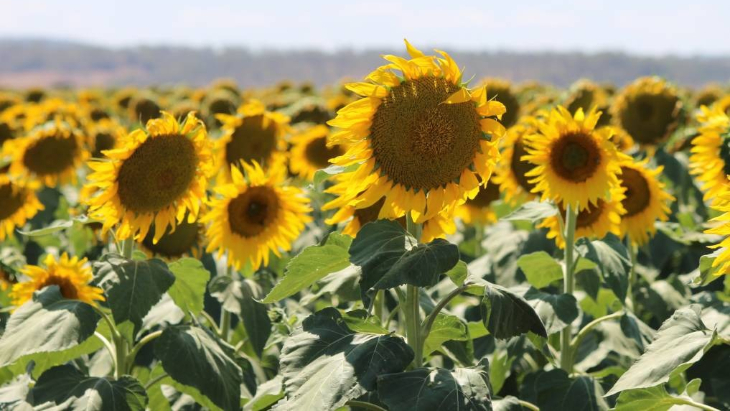 If you're in Queensland and you've been up at night wondering 'is there a sunflower field near me?' the answer is a resounding YES! In fact, the Sunshine State is home to a very impressive sunflower trail (aka the Sunflower Route) expanding across multiple country towns.
Old Allora Racecourse
Drive two hours outside of Brisbane and you'll find acres of towering sunflower fields at the Old Allora Racecourse.
Old Allora Racecourse address: Old Allora Racecourse, Allora, Qld
Along the Warrego Highway 40 minutes west of Ipswich, you'll find Koala Farms, home to some of the freshest fruit and veg produce, and yep, you guessed it - sunflowers!
Koala Farms address: 7 Hawley Rd, Lake Clarendon, Qld
Willowvale Road
For the adventure seekers out there, head to Willowvale just North of Warwick and drive through the sunflower scenic route to catch a glimpse of these beauties. There isn't an exact location but you'll know them when you see them!
Address: Willowvale Road, Willowvale, Qld
Need More Sunflower Information?
What time of year do Sunflowers bloom in Australia?
Typical sunflower season runs from summer through autumn but like many crops, they can be temperamental due to changes in the weather.
When should I go to sunflower fields?
The best time of year to visit sunflower fields to catch them at their bloomin' best is between January and March, however, depending on the farmer's crop cycle this could change. Your best bet is to keep an eye out online for updates - most of the acreages will be keen to let you know when the best time is to visit them and their sunny friends.
How long do sunflower fields last?
Such is life, all nice things must come to an end. Sunflower plants are usually in bloom for around 8-12 weeks so make sure you plan accordingly so as not to miss out on seeing these lovelies in the wild.
Other Family Adventures
Long Weekend Getaways Near Melbourne
Beach Camping Spots for Families
The Best Zoo Sleepovers in Australia

Have you signed up to our newsletter? Join ellaslist to get the best family and kid-friendly events, venues, classes and things to do NEAR YOU!