The Coolest Sushi Train We❜ve Ever Seen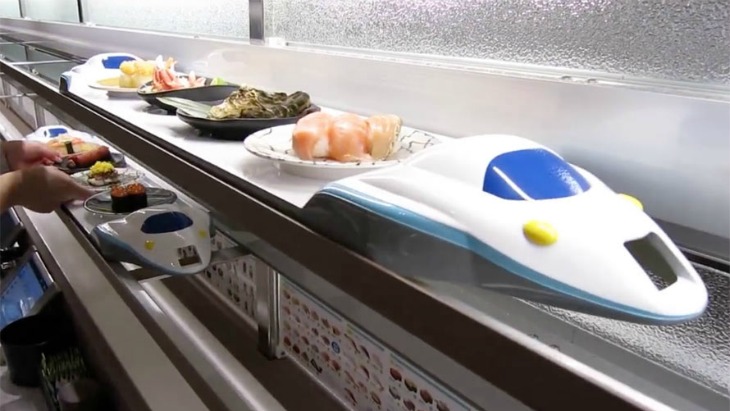 By: Phoebe Ackland, ellaslist
The only downside of sushi train is seeing the plate you want on the other side of the restuarant...it seems like an eternity before it actually reaches you, and only if someone doesn't pluck it off first! Sushi delivered by bullet train could be the perfect solution- check out this super-speedy sushi from Magic Touch restaurant in California.
Source: Food Envy Facebook
There's Bullet Train Sushi All Over The World
Apparently, 'Magic Touch' isn't the only restaurant serving sushi via bullet train. At 'Smart Sushi' in Suidobashi, they offer the same system of ordering via a tablet or iPad, and shortly after, a mini "shinkansen" meaning bullet train will be steam rolling towards your table in record time. At Genki Sushi in Hawaii, they have sushi bullet trains too, just press buttons to order your food, and press another button to send the train hurtling back to the kitchen-it couldn't be easier! Or there's Uobei also in Japan, (pictured) that looks more like a computer lab than a sushi train or restaurant. Plates go for a modest $1 or so, so it's not the grandest of sushi, but it's a cool experience nonetheless. High-speed conveyor belts stocked with up to 3 plates of sushi whizz to you in record time, and you just press a button to send the empty plates back.
As if sushi train couldn't get any better....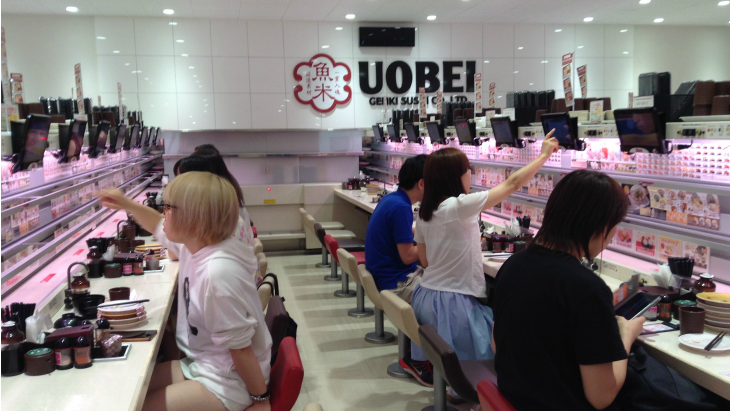 For more awesome sushi news, check out where you can grab a sushi burrito, indulge in a sushi donut, paint your nails with incredible sushi art, or satisfy your cravings with all-you-can-eat sushi in Sydney!