Sydney❜s Best Bike Parks and Trails for Kids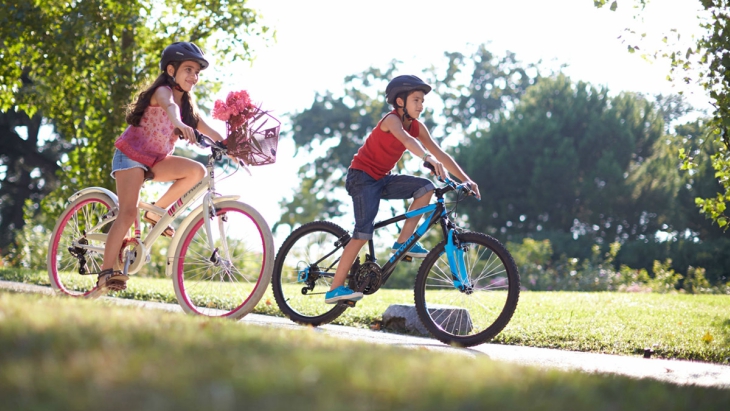 Kids love to ride. It's fun and super exciting for them. It gives them freedom and builds their confidence. What's more, it gets them outdoors into the fresh air, gets them active and, once you've invested in the bikes or scooters and helmets, it's totally free.
But knowing where to go with your little learners or bigger riders looking to explore further afield is key. We've put together some of Sydney's best bike parks and bike trails for kids according to their ability.
18 of Sydney's Best Bike Tracks and Trails
For the Under 5s
1. Children's Learner's Cycleway at Centennial Parklands, Moore Park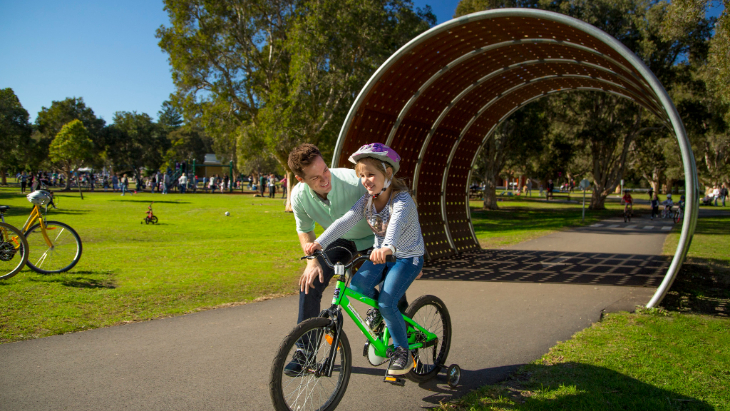 In the southwest corner of Centennial Park, you'll find the family-friendly Fearnley Grounds precinct. As well as a playground, toilets, café and bike rental shop, there's the Children's Learners Cycleway; a dedicated bike track that loops around the playground and through the trees. It's completely flat and wide enough for 2-3 bikes side by side making it safe for little ones on trikes, scooters and bikes. It's also worth mentioning, for families with older kids, Centennial Parklands allows mountain bikers to ride the trail just inside the perimeter fence which loops the entire park. Find out more about Centennial Parklands here.
2. Brightmore Reserve, Cremorne, North Shore
Brightmore Reserve is a North Sydney gem for learner riders under 10yrs to practice new skills on the simulated public road system complete with roundabouts, pedestrian crossings, road signs and a play village with a petrol station, fire engine and a row of shops. Set within the track is a fenced playground. The reserve is flat and easily accessible with plenty of shady picnic tables and lots of open green space for more informal play. Toilets, sports fields, BBQs and a swing-set are across the road in Primrose Park.
3. Ryde Park, Ryde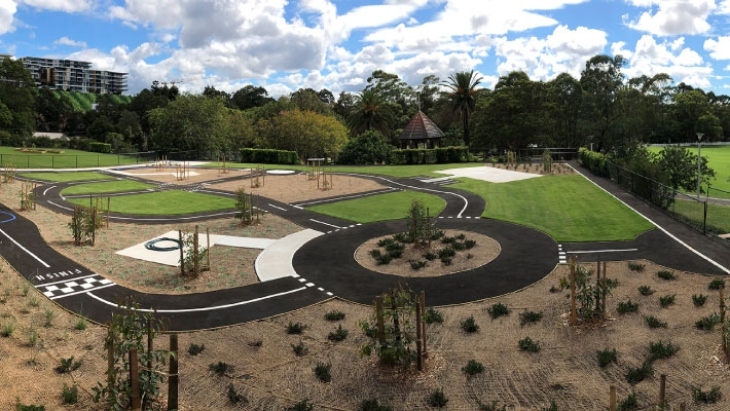 The new upgrades to the Ryde Park Bike/Scooter track include an amazing scooter track for children, complete with traffic signs, a roundabout and traffic lights.
4. The Sydney Park Cycling Centre at Sydney Park, St Peters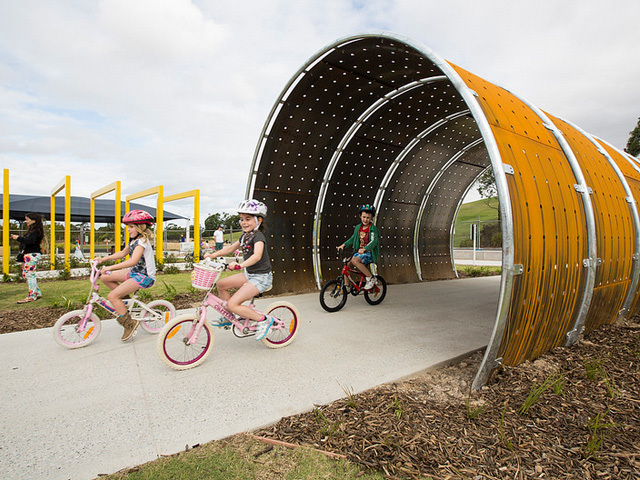 Sydney Park Cycling Centre is a Sydney favourite among parents for their young children to learn and gain confidence on wheels. Kids will love the tunnel and refuelling station.
Just over the brow of the hill, you'll find a café, playground and beautiful wetlands. Sydney Cycleways offer FREE Balance Bike Clinics for 3-8yr olds every Saturday from 9-11 am – bikes and helmets provided. No need to book.
5. Heffron Pedal Park, Maroubra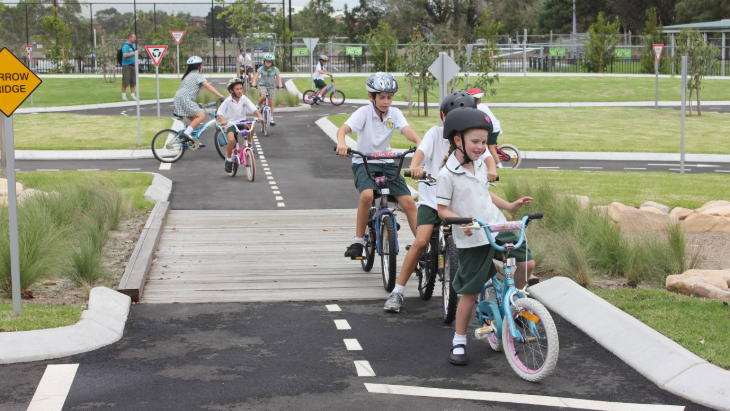 Heffron Pedal Park is a great spot in Sydney's East for youngsters to practice their bike and scooter skills. The fun, miniature road network features road signs, road markings, traffic lights and roundabouts. There's also road rule information to help kids learn essential riding safety rules. There is ample parking nearby, a children's playground, public toilets, shade and seating areas.
6. Campbelltown's Bicycle Education & Road Safety Centre, Campbelltown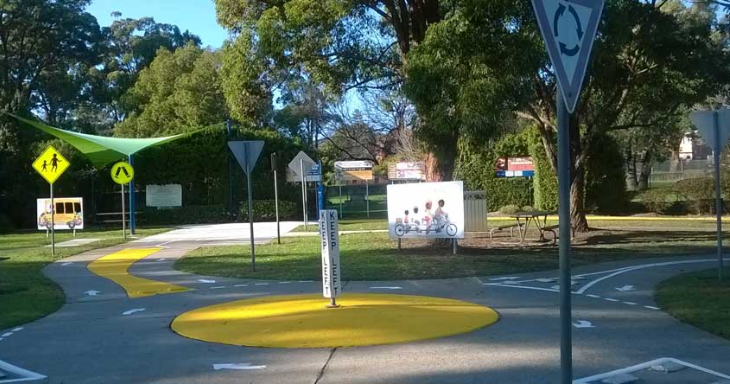 The Campbelltown Bicycle Education & Road Safety Centre comes highly recommended by ellaslist readers. At the Centre, you'll find a road circuit with signage and traffic lights, a junior track for toddlers, a shaded bicycle skills area, a bicycle repair station, children's playground plus all the facilities you might need including toilets with baby change table, sheltered picnic area, free BBQ and a vending machine. Coffee is available on the other side of the park. The Centre offers FREE open days every Sunday at 10 am-3 pm and during school holidays from Monday to Friday, 10 am-3 pm. It also offers Learn to Ride programs and private hire. The Centre is situated at the end of King Street, Campbelltown. Enter the main car park and the Centre is adjacent to the Tennis Courts and the Showground.
7. Old School Park, Gymea, The Shire
Another ellaslist reader recommendation, Old School Park in Gymea Bay the little track surrounding a partly gated playground (fenced off from the road) is perfect for toddlers and preschoolers practising their balance and steering skills.
8. Livvi's Place Elara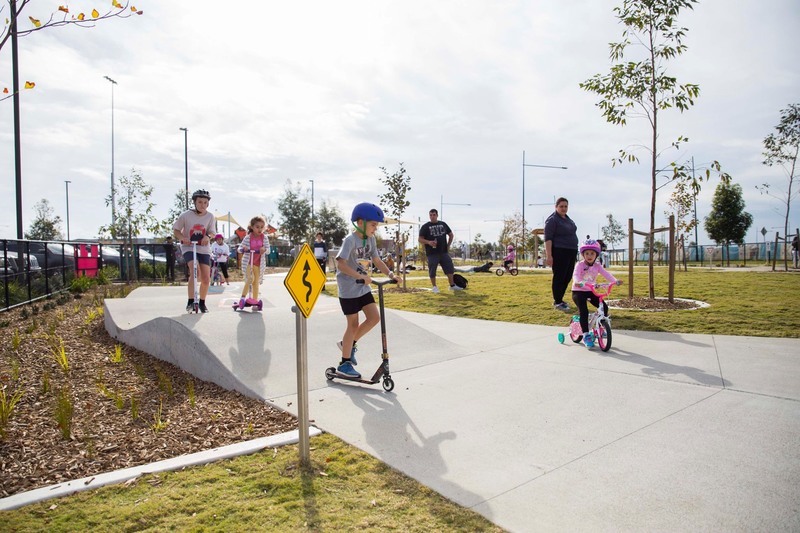 This new one in Marsden Park is super cute and great for little ones on wheels. They have a purpose-built scooter & bike track with road signs, markings, mini-roundabouts, and a waving ramp – all within the fenced playground. There is also a cool pretend petrol station and some bike racks.
9. Werrington Lakes, Penrith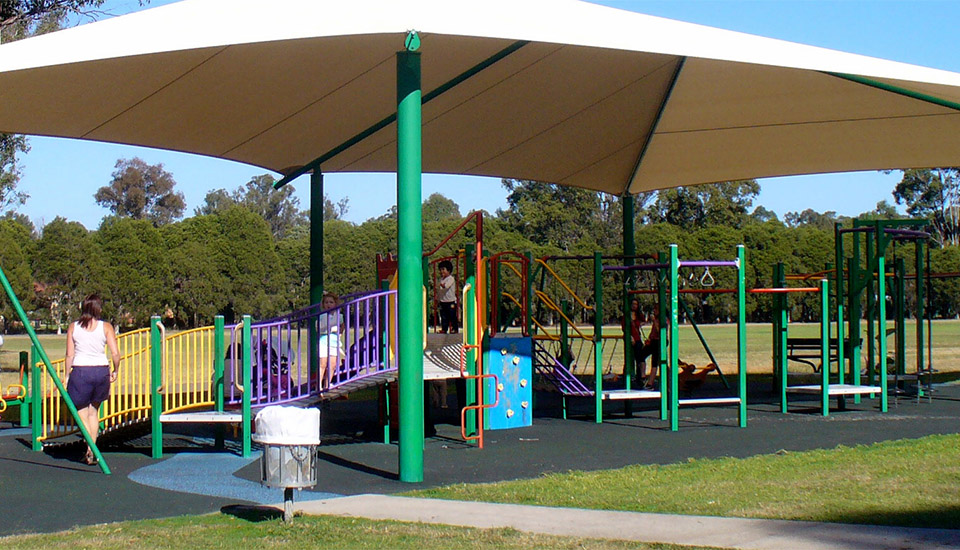 Werrington Lakes is a sprawling reserve, home to a lake, cycle tracks, walking paths and BBQ facilities. The covered playground has it all including a fort, swings, fireman's pole and obstacles to test out your kids' balance and coordination. Kids will enjoy cooling off in the playground's new splash pad water feature too!
Sydney's Best Bike Tracks for Older Kids
10. Sydney Olympic Park, Newington, Greater West Sydney
With over 35kms of cycleways and 3 circuits ranging from 5-11kms (suited to kids from 5 years), Sydney Olympic Park is a haven for families looking for a scenic, safe trail to enjoy together. Go on a two-wheeled adventure discovering lookouts, bird hides, mangrove boardwalks, shipwrecks and outdoor art along the way. Bikes are available for hire (including children's bikes and bikes with child carriers) from Bicentennial Park (open 7 days) and Blaxland Riverside Park/Newington Armory (weekends only). Don't miss the amazing playground at Blaxland Riverside Park on your way around. There's a café, toilets and plenty of space for picnics.
11. Bay Run, Leichhardt, Inner West
The Bay Run follows the natural course of Iron Cove. It's flat, well-maintained and has lanes designated for walkers and cyclists. It's an enclosed loop which means you can start and finish in the same place – popular starting points are King George Park, Leichhardt Park or Callan Park. Never more than 20 metres from the water, you find the harbour views stunning with points of interest along the way including with information about aboriginal tribes that used the area, convict history and local flora and fauna. The track passes at least 10 parks so your choice of playgrounds, coffee and toilet stops is endless! See The Bay Run website for more information.
12. Glebe Foreshore Parks, Annandale to Pyrmont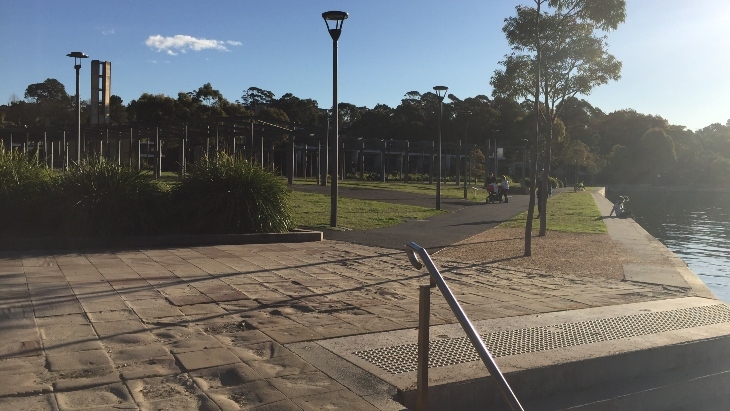 The Glebe Foreshore is a bit of a local icon. It runs from Bicenntial Park in Annandale (or even start further back for a coffee at the Tramsheds) and wraps right around the bay until you hit the Sydney Fish Markets in Pyrmont. It's approx 2.4 km in length. Bikes, dogs, walkers and picnic-goers all share the space.
13. Winnererremy Bay Playground, Mona Vale
Also known as Flying Fox Playground, Winnererremy Bay Playground is rated as one of the best playgrounds on the Northern Beaches but it's not the only attraction that brings families flocking here. Its oval bike track is great for young learners and older siblings to gain confidence. As well as the playground and bike path, you'll find a family-friendly café, picnic shelters and BBQs.
14. Lane Cove National Park, North Shore
The picturesque fire trail from Pennant Hills Park to West Pymble winds its way through the eucalyptus forests of Lane Cove National Park. There are lots of scenic spots along the way where you can enjoy a picnic lunch. It's around 3kms in length and graded medium difficulty with some steep hill climbs, so only suitable for older kids confident in mountain biking. Alternatively, Blackman Park in Lane Cove West has lovely paved paths. $8 park entry fee per car.
15. Woolooware Bay Cycleway, The Shire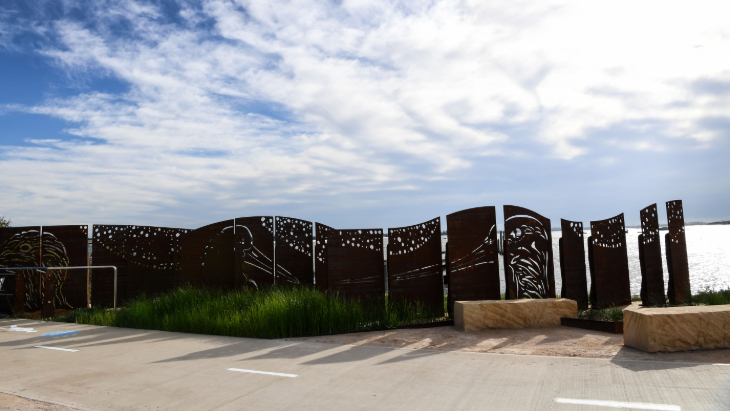 Woolooware Bay Cycleway is an easy shared pedestrian/cyclist track (1.9km) along the mangrove-lined foreshore of Woolooware Bay between Mangrove Lane and Solander Playing Fields (Captain Cook Drive). It attracts walkers, beginner and young riders, as well as more experienced cyclists.
16. The Great River Track, Penrith, Greater Western Sydney
The Great River Walk is a picturesque 8km track that runs beside the Nepean River. It's a shared pedestrian/bike paved trail with plenty of resting and picnic spots along the way. You'll also find a number of playgrounds to stop off at.
17. Narrabeen Lagoon Trail, Narrabeen, Northern Beaches
The Narrabeen Lagoon trail is an easy, flat 8.4km circuit track around Narrabeen Lakes. It's perfect for kids 6-12yrs and will take around an hour. As well as fabulous views, you start and finish at the same point. Tie a bike ride in with a swim at Narrabeen Beach, lunch at one of the cafes or kayaking on the lake. It's a great day out.
18. Wylde BMX and Mountain Bike Facility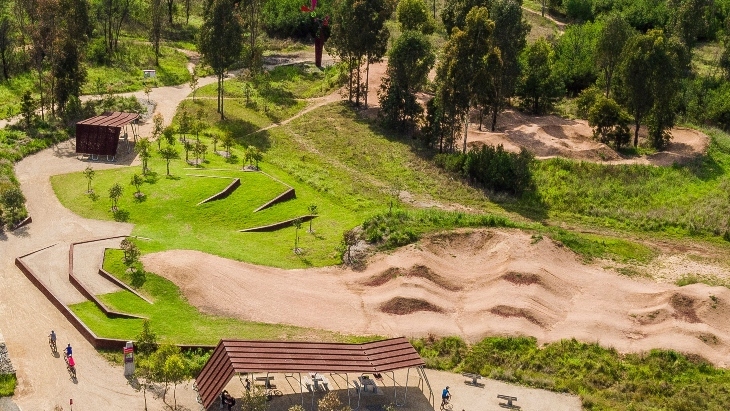 *Closed until June 2022 for the final stage of construction.
Welcome to Australia's Largest BMX & Mountain Biking trail! The Wylde BMX and Mountain Bike Facility recently opened at Western Sydney Parklands and is already a huge hit with kids keen to get their mountain-biking on! While the new track is geared more toward mountain biking, the addition of a Kids Loop, three to six-km trails, the Jump run and Pump Tracks means that it does cater to kids of all ages - just watch out for the older kids practising their jumps!
More Outdoor Adventures
A New World-class Inclusive Playground for Sydney
15 Secret Beaches in Sydney
10 of the Best South Coast Beaches
Have you signed up to our newsletter? Join ellaslist to get the best family and kid-friendly events, venues, classes and things to do NEAR YOU!
Reviews
Mini track for mini me's learning to bike ride. Surrounds good play equipment suitable for kids up to 8 years. Entire playground fenced off from road but keep an eye kiddies don't disappear into the bush at the bottom of the park. Best for pre schoolers but take the whole family for a picnic. Gymea Bay Rd, Gymea Bay.