Six of the Best Family Foodie Spots in Penrith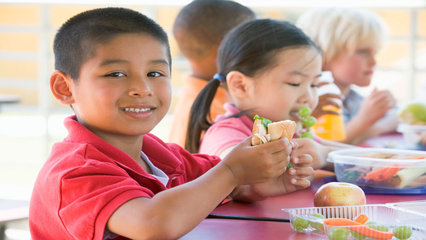 By Lenore Pearson, ellaslist explorer
I'm a planner. I love to research a place extensively before a visit so I know all the cool and hip places. Most importantly, to keep my kids happy, I need to find the kid—friendly attractions and wonderful foodie places that are suitable for families. So in typical fashion, before a recent trip to Penrith with my family, I studied the Visit Penrith Website www.visitpenrith.com.au and was thoroughly impressed with the considerable number of venues that catered for families.
1. Nutrition Station

Address: 7/16-19 Lambridge Pl, Penrith NSW 2750
Trying to encourage healthy eating during the school holidays is about as productive as trying to clean with kids in the house; however, I happened to find a great little place, Nutrition Station, that not only delivered a healthy menu for adults and kids but was also equipped with a gated outdoor play area. The kids had no idea that what they were eating was healthy for them because it was created in such a manner that appeals to kids – pancakes, pasta and meatballs, toast fingers and milkshakes.
2. Cold Rock Ice Creamery

Address : 2/191 High St, Penrith NSW 2750
The Picasso of ice creams – an exceptionally wonderful idea for that special treat to keep the kids going after a fun-filled day in Penrith. Cold Rock not only offers all the favourite ice cream flavours, but the kids get to create a delightfully twisted artistic masterpiece by choosing from a range of add-ons in the form of sweets and chocolates to be mixed into their ice cream.
3. Spur Steak Ranch

Address: 123 Mulgoa Rd, Penrith NSW 2750
The ten-gallon hat of family friendly foodie spots in Penrith! Eating was secondary to the kids play area at Spur Steak Ranch. My husband and I actually got to enjoy a proper meal because the kids were being entertained by a movie room, iPads and soft play area. The kids menu is sensational, with every meal accompanied by free ice cream and a drink. The Tex-Mex inspired adults menu is equally impressive.
4. Waffle Co.

Address: Shop 2, 134-138 Henry St, Penrith NSW 2750
Waffle Co is tucked away down Henry St and referred to as Penrith's 'Hidden Gem'. Unfortunately, we didn't get there in time as they close at 1pm on a Saturday but I am yet to read a bad review about their amazing waffles, fabulous coffee and superb customer service. Let's face it, waffles smothered in ice cream and chocolate sauce is bound to keep kids (and adults) thoroughly satisfied!
5. Hogs Breath Cafe

Address: Westfield Penrith, Shop R4, Level 1/ Corner of Jane & Riley Street, Penrith NSW 2750
Hogs Breath is always a good option. With its fun, friendly atmosphere Hogs Breath boasts a kids menu that offers a free soft drink or juice and ice cream for dessert with every meal. The menu is out of control with choice. You would be forgiven for asking for extra time before deciding on what to order. Personally, I rate a restaurant by the desserts they have on offer and Hogs Breath well and truly meets my standard of dessert excellence!
6. Harry's Cafe de Wheels

Address: 123 Mulgoa Rd, Penrith NSW 2750
With so much history in such a small establishment, the iconic Harry's Cafe is over 70 years old and still delivering 'Sydney's Best Pies'. Harry's distinctive chrome trailer is located in the Penrith Panthers Complex and you'll love introducing a whole new generation to a delicious pie made to their time-honoured recipe. Or maybe try, what in my book is still considered, the best hot dog ever!
Hello! My name is Lenore, proud mumma to three gorgeous kids, amazingly awesome wife to one cool dude and self-professed travel addict! I started out my career as a primary school teacher for five years, which, second to having my own kids, was extremely rewarding for me.
While I was pregnant with baby number 3, and slowly going insane pacing (waddling) up and down the house, I felt I needed to keep my mind active and decided to take up a Diploma in Travel and Tourism, because I clearly wasn't going to have my hands full enough with three kids!
I am all about exploring. For me, living a full life is about collecting amazing experiences from as many incredible places as possible. Travel and adventures fuel my imagination and I love sharing them in the hopes of inspiring the explorer in each of us! Along with my family, I have been fortunate enough to have discovered lots of places already.
I am super excited to be an ellaslist Explorer, aiming to provide very real and practical information for families looking to create their own adventures and experiences. I am forever researching new and exciting things to do with the kids and I look forward to sharing them with you.
I have also just launched my own travel blog 'Little Miss Piggy' a treasure trove of travel inspiration and unique experiences in and around Sydney and abroad.