Best Indoor Playgrounds In Shopping Malls In Sydney
By: Serina Hajje & Phoebe Ackland, ellaslist
Shopping with kids doesn't have to be a disaster! Dragging them through the aisles of Coles or Woolworths is exhausting, not to mention the constant interruptions of 'Mum, we really really NEED this!'. But when a shopping centre blesses parents with a playground then it makes the whole ordeal more manageable. We've found the best playgrounds in shopping centres around Sydney, that'll make shopping with kids a lot easier.
Eastern Suburbs
Westfield Eastgardens Shopping Mall
Right at the entrance on the top level is a play area that's situated next to a cafe and Woolworths. It's the perfect place to sit down and relax after shopping and it's very easy to supervise the kids. It's not enclosed though so you need to watch out for runaway kids. There are also several small rides around the shopping centre that kids can enjoy for $2 a ride. On Level 2, there is a Kids Playworld designed for children aged 2-6 years, open every day of the year.
Where: 152 Bunnerong Rd, Eastgardens
Westfield Bondi Junction
Placed right outside Woolworths on Level 3 Kids Playworld has a cool pirate ship theme that'll thrill any adventure lovers. It can get a little crowded and manic and the area is not gated so you'll need to keep a close eye on your kid. It's free, but children must be supervised at all times.
Where: 500 Oxford St, Bondi Junction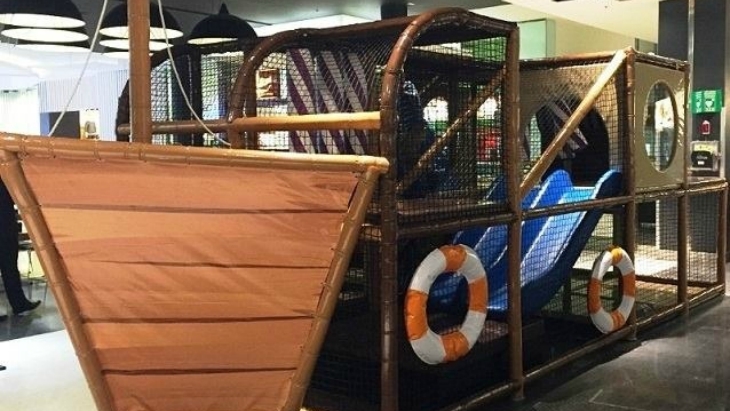 City
Broadway Shopping Centre
Designed for 6 years and under, Broadway Shopping Centre Playground has a specially created surface that kills bacteria and reduces fungi. This hidden treasure is on Level 3 across from Priceline. It's one of our favourite play areas for kids and best of all it's gated so no escapees.
Where: 1 Bay Street, Broadway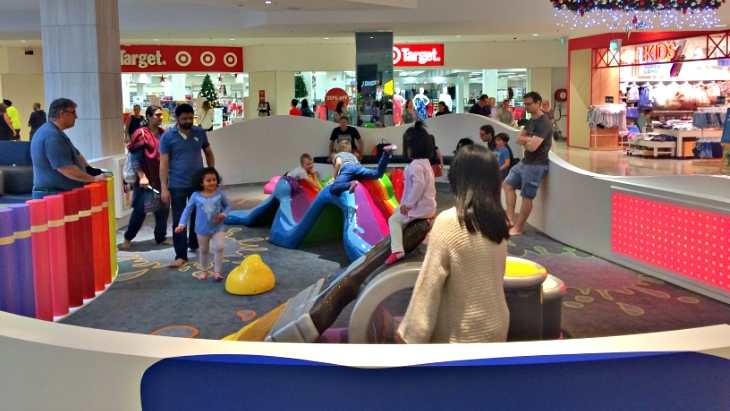 North Shore
Macquarie Centre
Macquarie Centre has two fantastic kids area. The Little Explorers Playground, located on Level 4 near the ABC Shop, is a free play area for young children. Chipmunks Playground is also located on Level 4, and this is a separate indoor play centre for kids up to the age of 11. Entry for children starts at $10.90. They offer a 'drop off' service for kids 5 and over, if you're looking to shop on your own in peace. There's also a brand new one for toddlers called Kids Play, which you'll find right outside Target and in the middle of all the Christmas festivities.
Where: Corner Herring and Waterloo Roads, North Ryde
Chatswood Chase
On Level 4 (top level) in the homewares precinct, you'll find a children's 'playpod' rather than a soft play area, where children can be entertained with 6 iPads, and a large interactive touchscreen for games and puzzles.
Where: 345 Victoria Avenue, Chatswood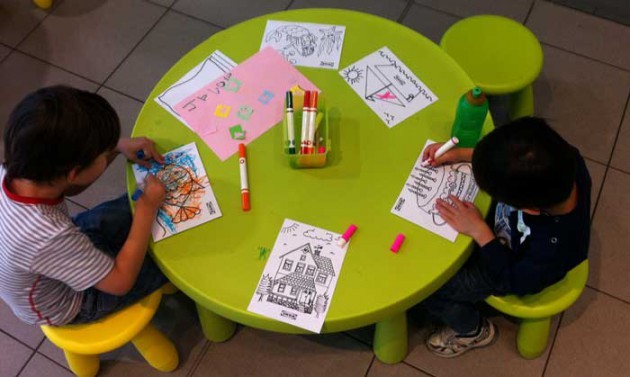 Inner West
Ikea -Tempe
Ikea is full of interesting things to see but kids may get bored after a while. Luckily, there's Småland, Ikea's free supervised play area. Available for kids aged 3-10 for supervised 1-hour sessions.
Where: Stores in Tempe, Marsden Park and Rhodes
Burwood Westfield: Located on Level 2 near Woolworths, is a free Kids Playworld area for all ages. The Mall also has special kids events and competitions.
Where: 100 Burwood Rd, Burwood
Alexandria Homemaker Centre: There's a small but entertaining playground near a cafe here- after some home decor shopping, enjoy a coffee whilst your little ones play! We've heard it's usually pretty quiet, too.
Where: 49-59 O'Riordan St, Alexandria
Greater West
Primewest Auburn Megamall
Kids can play at the pirate-themed kids' space, located on level 1, outside My Baby Warehouse and Smart Choice Furniture.
Where: 265 Parramatta Rd, Auburn
Parramatta Westfield
Outside Coles on Level 5, there is a large play area for kids, and a much smaller one on Level 4.
Where: 159-175 Church St, Parramatta 2150
Rouse Hill Town Centre
There's an interactive play area for children in The Backyard fit with musical play areas, an environmental education trail and plenty of room for exploring, climbing and running as well as a family respite area in The Secret Garden (with water play!). It's also free!
Where: Windsor Rd & White Hart Drive, Rouse Hill 2155
Lidcombe Centre: There is an outdoor play area for children on the balcony area conveniently near the Chow Bella Cafe.
Where: 92 Parramatta Rd, Lidcombe
Stocklands Merrylands: There is an indoor play area for children aged 3-12 years located on Level 1 near Target.
Where: McFarlane St & Pitt Street, Merrylands
Rhodes Waterside: Brand new, this is our TOP PICK FOR PLAYGROUNDS IN SHOPPING MALLS! You won't believe that it's free- it has 6-metre tall climbing towers, crawl tunnels suspended over the mall's escalators, slides, and just about everything else. There's a play space for 2-8 years olds, with the more difficult equipment only available to 4-6-year-olds. You've GOT to check it out.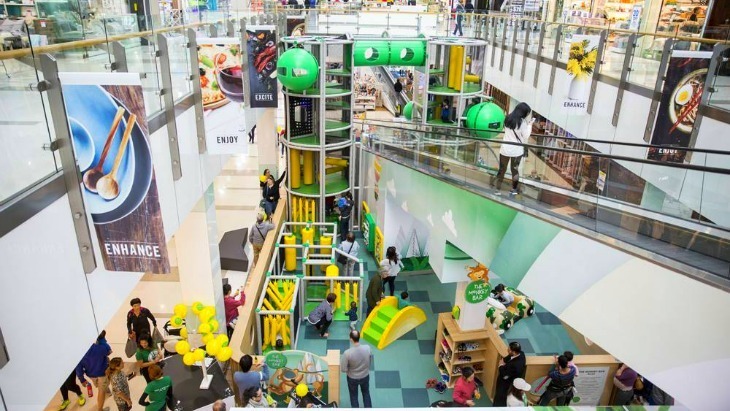 Northern Beaches
Dee Why Grand
At Dee Why Grand there's a great free play area Grand Playland for kids under 5yrs on the lower ground floor near the food court, open from 9am-5pm every day.
Where: 15-18 Pacific Parade, Dee Why
Westfield Waringah Mall
On the ground level next to the Jacaranda tree, you'll find a soft play area for children opposite the Just Jeans.
Where: Condamine St & Old Pittwater Rd, Brookvale
Northwest Sydney
Top Ryde City
There are two free children's play areas located on Level 1. The 0-2 Play Zone is for the tiny tots who are just starting to explore whilst the larger playground (pictured below) is for the 3-12 year olds.
Where: Devlin St & Blaxland Rd, Ryde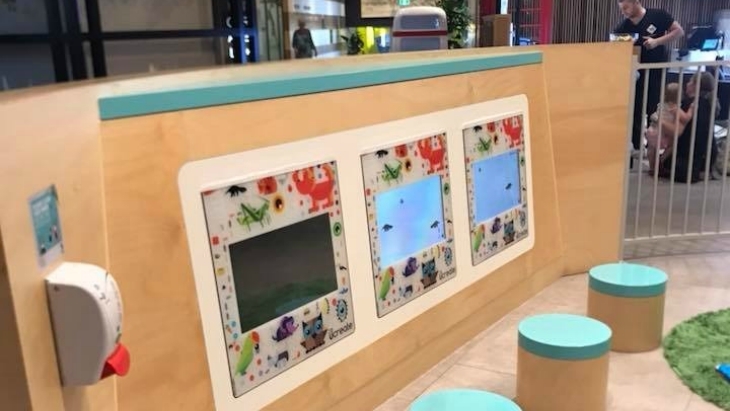 Stockland Baulkham Hills
Perfect for children aged 3-12 yrs, there is a play area called MyFunland conveniently located on Level 1 opposite Little Rock Cafe.
Where: 375-383 Windsor Rd, Baulkham Hills
Stanhope Village
There are 2 play areas here, an indoor one for toddlers near the Leaf Cafe, and an outdoor one for older children near Michel's Patisserie.
Where: 2 Sentry Dr, Stanhope Gardens
Sutherland Shire
Miranda Westfield
The pirate shaped playground is no longer there, however there is a play area on the lower level near MyHouse. There is also a Playtime full of arcade games and a SkyZone.
Where: 600 Kingsway Miranda
To discover more family inspiration, events and news click here.
Reviews
Hi, suggest adding the free indoor play area (and there is an outside under cover one as well) - in Belrose Super Centre. Cafe's / Food nearby ... the indoor one outside Adairs for Kids. They also have a free kids activity program during school term on Wednesdays and other activities during school holidays. La
Westpoint blacktown has great indoor kids play areas, also during school holidays they have great entertainment on stage or roaming
Thank you for your comment Kellie, it's really helpful. I've added the Parramatta one but I can't find what the North Rocks play area has anywhere.
Thanks Philippa! I've added it onto the list.
Please add the rouse hill town centre - enclosed, free near by coffee shop and toilet.
Thanks for the helpful list. There are a few more though that can be added for western Sydney, such as Parramatta Westfield that currently has two free kids zone and a cafe with an enclosed play area, rouse hill shopping centre and north rocks Westfield.
i would add the playground next to Oliver Browns at Rouse Hill Town Centre.