Are Swimming Classes Essential For Kids?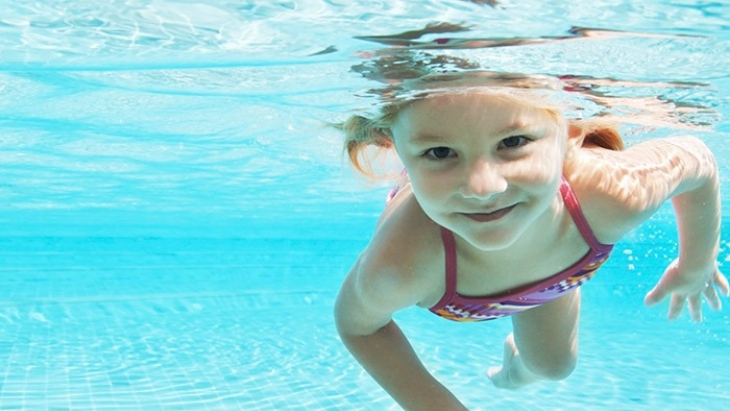 Swimming lessons feel like a rite of passage for little ones—and it's no secret that building confidence around water from a young age is super important, especially in Australia due to the beachy, outdoorsy lifestyle we enjoy here. So are they essential? We think yes! Here's why.
Why It's Best To Start Early

Image: Shutterstock
The earlier your child starts swimming lessons, the easier it is to integrate them into the aquatic environment and the more comfortable the child be will both in and around, the water. Providing lessons at an early age also makes it easier for their child to progress as they have more time practising their newly learnt skills and thus greater opportunities to learn.
Some parents may feel that their child won't learn much at such a young age or that it's just a lot of splashing around. However, lessons are designed for maximum learning, and the movements practised are the building blocks for basic swimming and water safety skills, which are done in a fun, friendly, non-threatening and progressive manner.
It's a scary reality that children under 5 are the age group most at risk of drowning, and an average of 30 children under the age of 5 have drowned in Australia each year for the past 10 years—so instilling confidence and skill in young ones is super-important in the quest to lower these statistics.
Starting them early at one of Sydney's many pools is a great idea for their confidence. If you're wondering where to start—take a look at centres like the Drummoyne Swim Centre, Annette Kellerman Aquatic Centre, Whitlam Leisure Centre, Auburn Ruth Everuss Aquatic Centre or the Prince Alfred Park Pool.
What Age?

Image: leisurecentre.com
So starting early is all well and good, but what age exactly should you wait until before introducing swimming lessons into a little one's weekly routine?
Well, according to the Australian Swim Schools Association, the recommended guidelines is that infants can start a formal program of swim lessons at 4 months of age. Some of the reasons for waiting until 4 months are to allow a medical history to develop, allow the infant's immune system to strengthen and allow bonding to occur with the primary caretaker. After 4 months, infant swimming lessons in a gentle and developmentally appropriate program can, and should, be started right away.
Once a lesson program has begun, how long should it go on? Swimming lessons are not an event, but rather a long-term process. Attending lessons as a regular part of a child's weekly routine through their infant, preschool and early school years is a great plan to ensure proper development of their aquatic skills.
Find A Heated Pool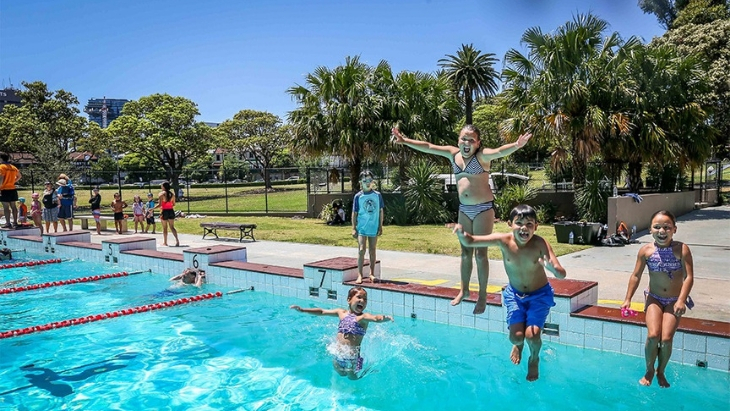 To ensure year-round progression and learning, it's best to find a heated pool for your little one to practice in. Some of our favourites include Victoria Park Pool, with its year-round outdoor heated 50-metre swimming pool, Andrew Boy Charlton Pool with its stunning city backdrop and two outdoor heated pools, plus the Ian Thorpe Aquatic Centre with three indoor heated pools.
A Life Long Skill

Image: 12WBT
The coastal lifestyle that we enjoy as Australians lends itself perfectly to swimming at every age, and every stage of life. It's a life-long skill that we can start as infants and continue into old age—so it's one that's well-worth practising and getting a handle on early. After all, having confidence in the water as a child is integral to having confidence in the water as an adult!
Swimming is also great a great form of physical exercise, and it's low impact to boot. It builds endurance, muscle strength and cardiovascular fitness all while helping to maintain a healthy weight, healthy heart and lungs. What a resumé!
Hero image: Belgravia Leisure
Want More Pool Inspiration?
Have you signed up to our newsletter? Join ellaslist to get the best family and kid-friendly events, venues, classes and things to do NEAR YOU!